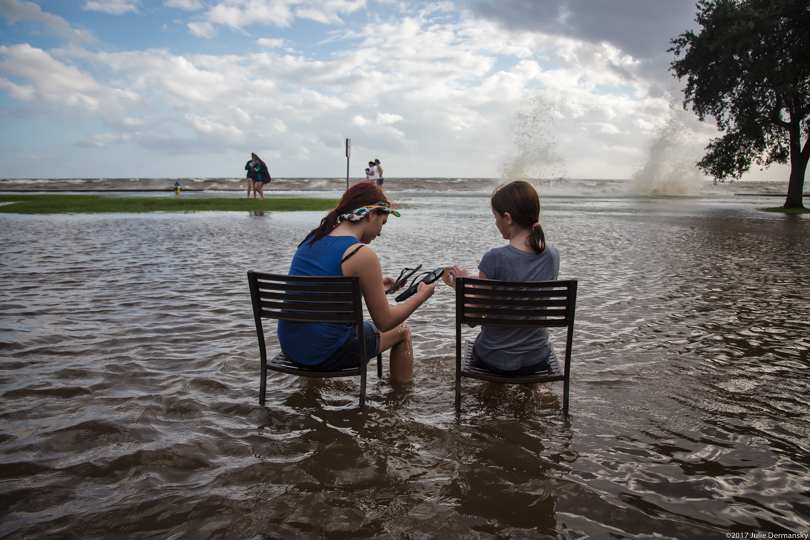 Two girls sit on Lake Pontchartrain's flooded lakefront in Mandeville, Louisiana, after winds from Harvey, downgraded to a tropical storm, pushed water into the streets on August 30, 2017.

A family waits on a bus helping evacuees escape from Vidor, Texas, as waters continued to rise following Hurricane Harvey.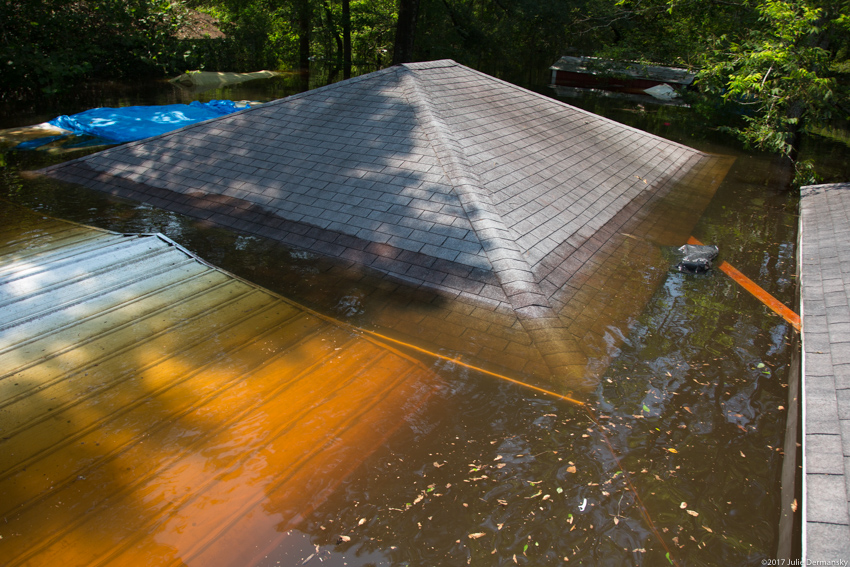 A home in Vidor, Texas, flooded up to its roof from Hurricane Harvey's extreme rainfall.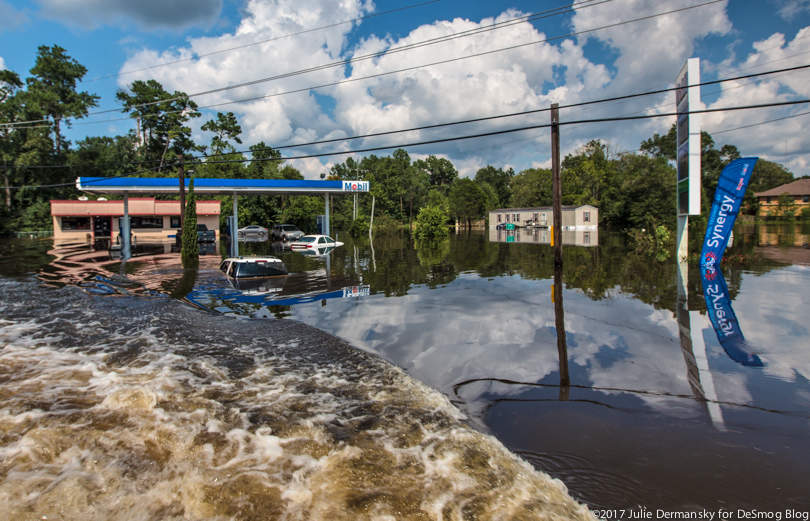 A Mobil gas station in Vidor, Texas, overwhelmed by Hurricane Harvey's excessive rainfall.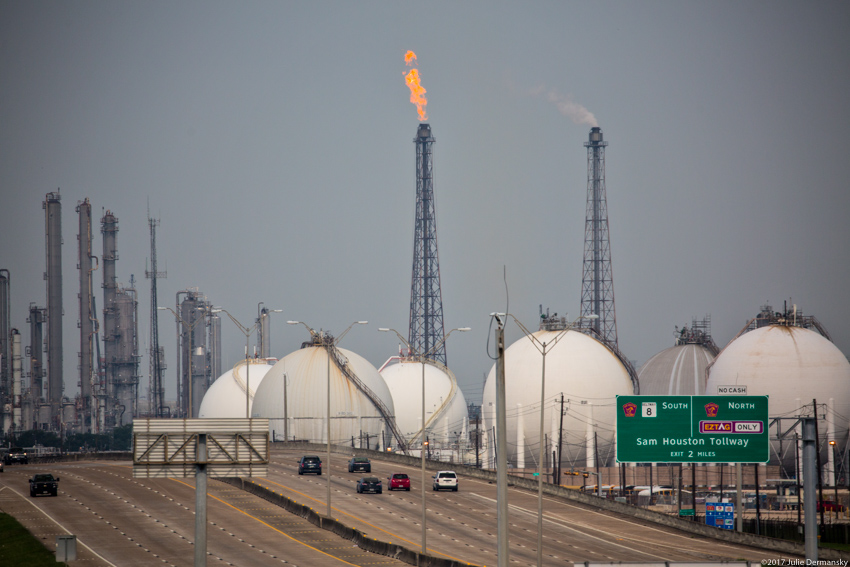 A flare at a Deerpark, Texas, refinery as it struggles to come back online after shutting down due to Hurricane Harvey. This process generally causes spikes in local air pollution.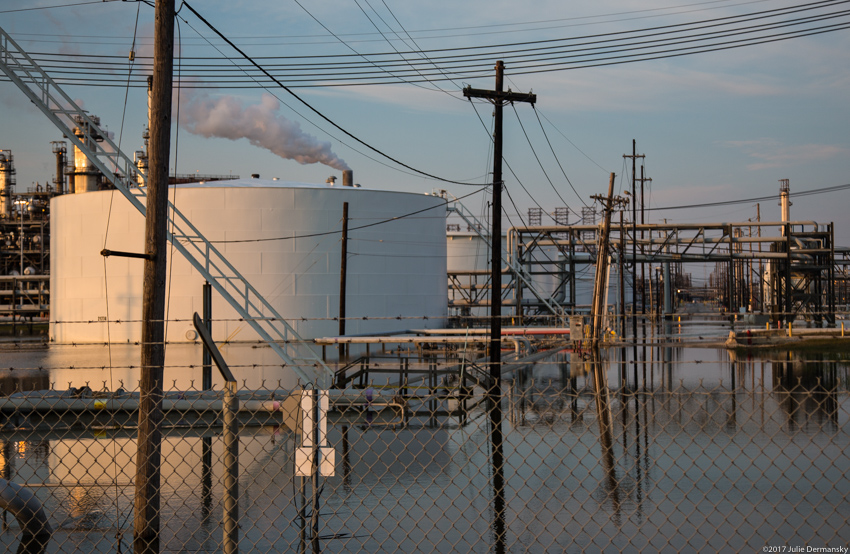 Standing water remains on the grounds of Motiva's refinery in Port Arthur, Texas, days after Hurricane Harvey flooded the area.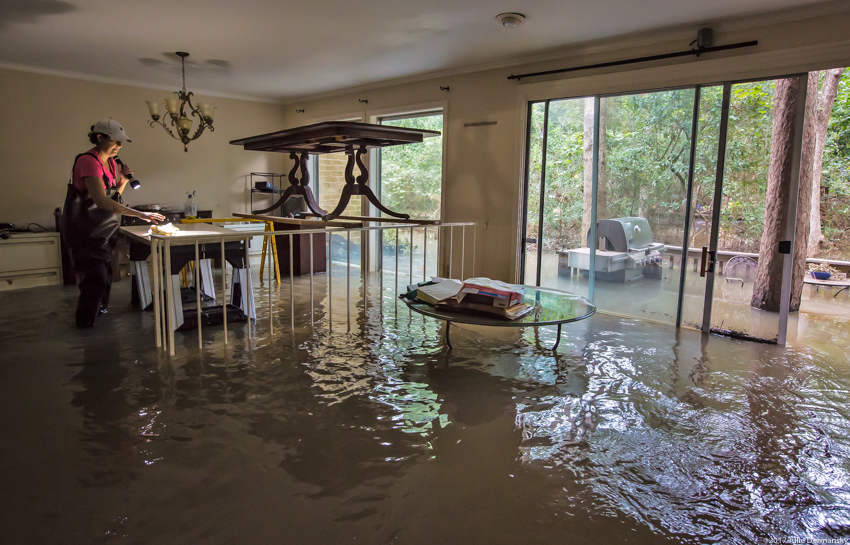 Inside the Purcell family's home on the west side of Houston, Texas, on September 1, 2017. Here, Hurricane Harvey's flooding was compounded when the U.S. Army Corps of Engineers began releasing water from the Addicks Dam, which had already started to overflow.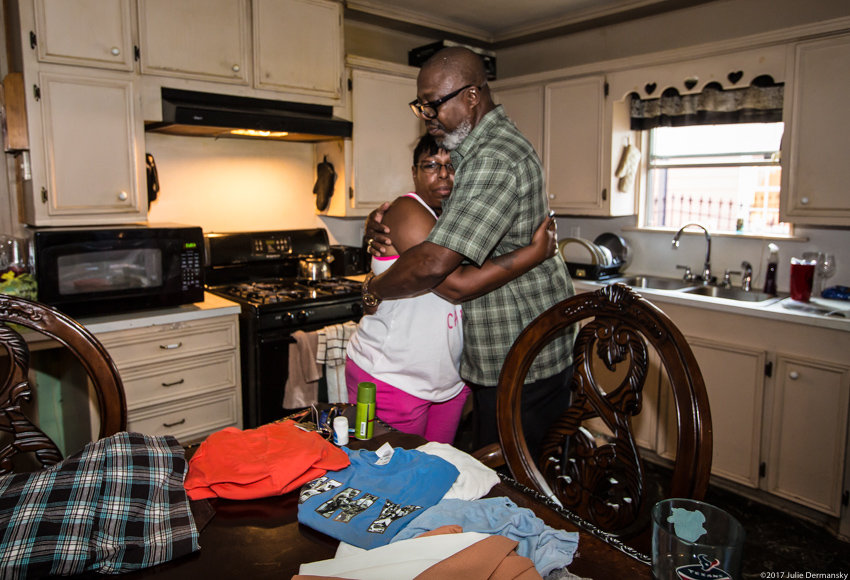 Environmental activist Hilton Kelley and his wife Marie returned to their home and business for the first time since evacuating near Port Arthur, Texas, due to Hurricane Harvey.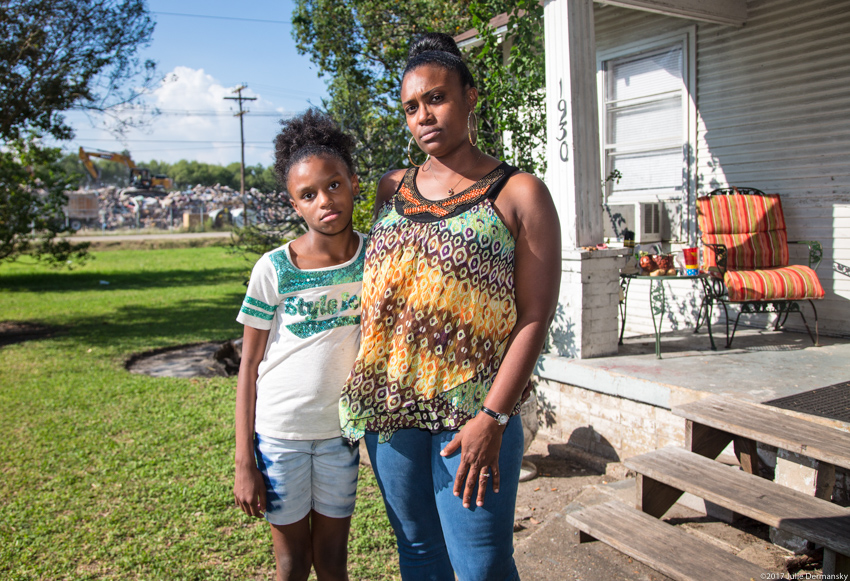 Tami Thomas-Pinkney with her daughter Trinity Handy on their front lawn in Port Arthur, Texas, across from one of the city's temporary dump sites for sorting debris from Hurricane Harvey. Hilton Kelley fought to have the site shut down due to concerns the dump affecting the health of the nearby African American community. The site did eventually close earlier than expected.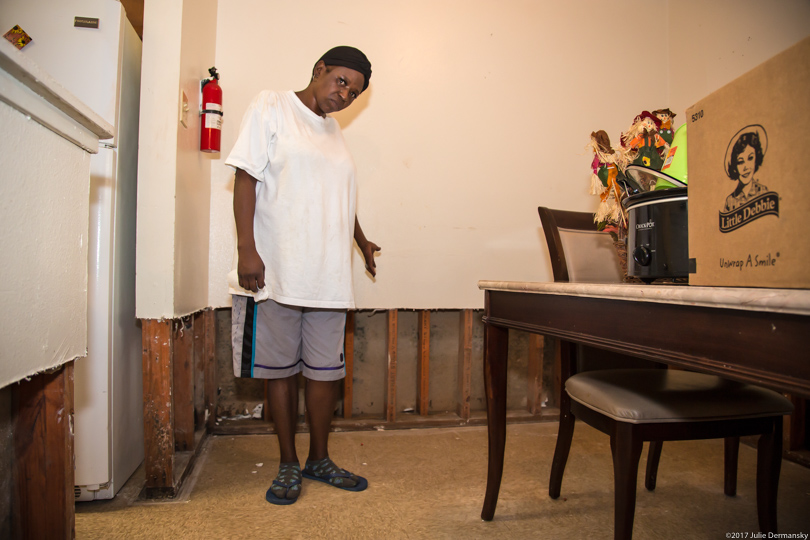 On October 13, 2017, Angela Andgelle pointing out the mold growing in her apartment in the Prince Hall housing complex in Port Arthur, Texas, which was flooded by Hurricane Harvey.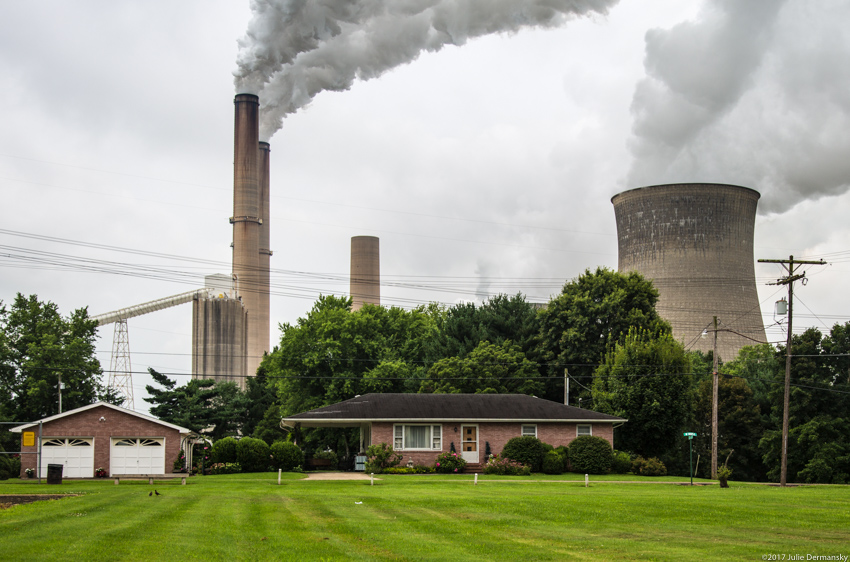 The Gavin Coal Power Plant in Cheshire, Ohio, looms over nearby homes.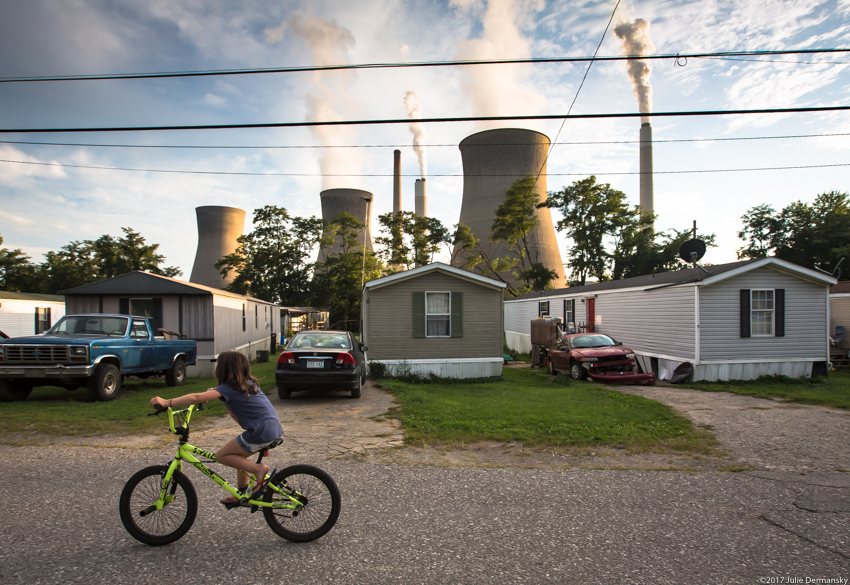 A girl rides her bike in front of trailer homes near the John Amos coal-fired power plant in Raymond, West Virginia.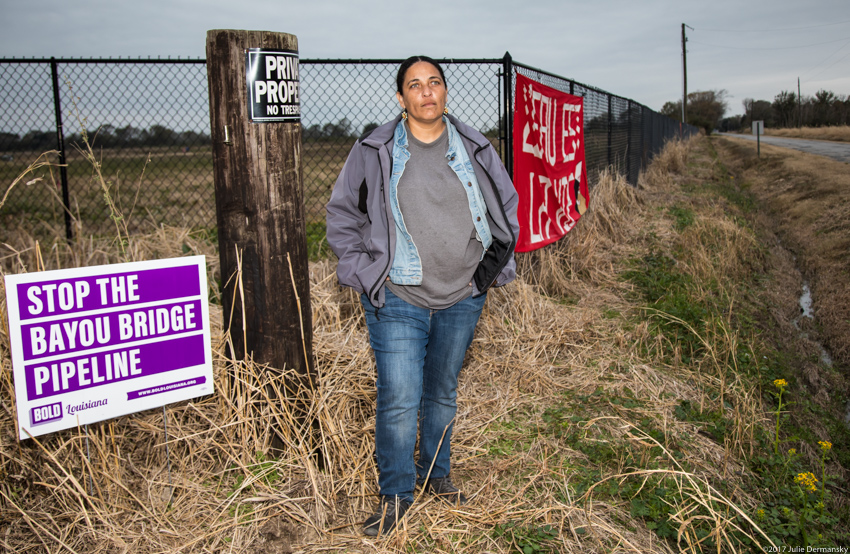 Activist Cherri Foytlin at the entrance to her new land in Louisiana which the Bayou Bridge pipeline is slated to cross.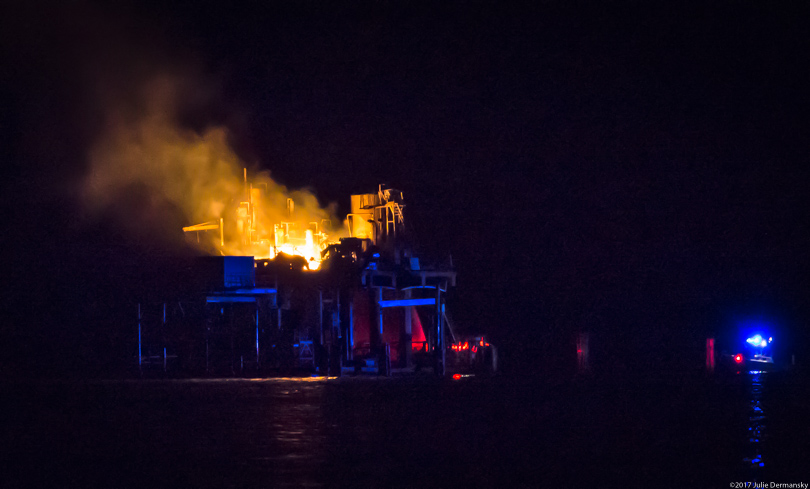 A rescue boat at the base of an oil and gas storage platform owned by Clovelly Oil in Lake Pontchartrain. The platform was in flames after an explosion October 15, 2017 near Kenner, Louisiana. Seven crewmembers were rescued and one person is missing.