In October 1989, Shell researchers wrote a confidential report warning that climate-fuelled migration could swamp borders in the United States, Soviet Union, Europe, and Australia. "Conflict would abound," the document said. "Civilisation could prove a fragile thing." 
Now, that memo — first reported by
DeSmog
and Dutch investigative journalism platform
Follow The Money
— features in a new court
brief
alleging that Shell, ExxonMobil, Chevron, and BP knowingly concealed the climate hazards of their fossil fuel products for decades. 
A group of climate disinformation researchers and nonprofits filed the brief on April 7 in support of a 2020 lawsuit brought by the District of Columbia, part of a wave of litigation by at least 20 U.S. states and cities seeking to hold the oil industry to account for climate damages.
The 50-page brief cites academic studies and media reports to show how the oil industry was warned about the risks posed by a build-up of carbon dioxide in the atmosphere from burning fossil fuels in the late 1950s. Companies such as Shell and ExxonMobil went on to develop detailed internal knowledge of the problem, while backing industry associations waging sophisticated campaigns to cast doubt on climate science, the brief argues.
"While their tactics have changed, Defendants' overall strategy of deception continues to this day," the brief said. "Defendants now acknowledge that the climate is changing and claim to be leaders in efforts to combat climate change. However, they continue to run marketing and lobbying campaigns intended to mislead policymakers and the public about climate change and Defendants' role in causing it."
A Shell spokesperson said the company's position on climate change had been a matter of public record for decades, and that it was reducing its own emissions, and working closely with customers to help them reduce theirs.
"We do not believe the courtroom is the right place to address climate change as litigation does not enable the global cooperation needed," the spokesperson said. "It is for government to determine the right trade-offs for society and put in place smart policy to enable fundamental change in the way society consumes energy."
BP, ExxonMobil, and Chevron did not immediately respond to requests for comment.
'No Place To Go'
The brief marks the first time that documents obtained through a 14-month congressional investigation into allegations of climate misinformation by Shell, ExxonMobil, Chevron, and BP have been cited in a climate accountability lawsuit.
The confidential Shell document is from a separate source, however: a dossier of 201 company publications, official correspondence, reports, academic studies, and other materials compiled by Dutch researcher and climate activist Vatan Hüzeir. Documents from the collection, reviewed by DeSmog, can be viewed at Climate Files, a project of the nonprofit Climate Investigations Center.
Titled "SCENARIOS 1989 – 2010," the Shell memo outlines a high-emissions "global mercantilism" scenario in which average global temperatures rise by "considerably more" than 1.5 degrees Celsius.
The report warned that "many species of trees, plants, animals and insects would not be able to move and adapt."
It also projected a grim future for people: "The changes would, however, most impact on humans [sic]. In earlier times, man was able to respond with his feet. Today, there is no place to go because people already stand there. Perhaps those in industrial countries could cope with a rise in sea level (the Dutch example) but for poor countries such defences are not possible. The potential refugee problem in GLOBAL MERCANTILISM could be unprecedented. Africans would push into Europe, Chinese into the Soviet Union, Latins into the United States, Indonesians into Australia. Boundaries would count for little – overwhelmed by the numbers. Conflicts would abound. Civilisation could prove a fragile thing."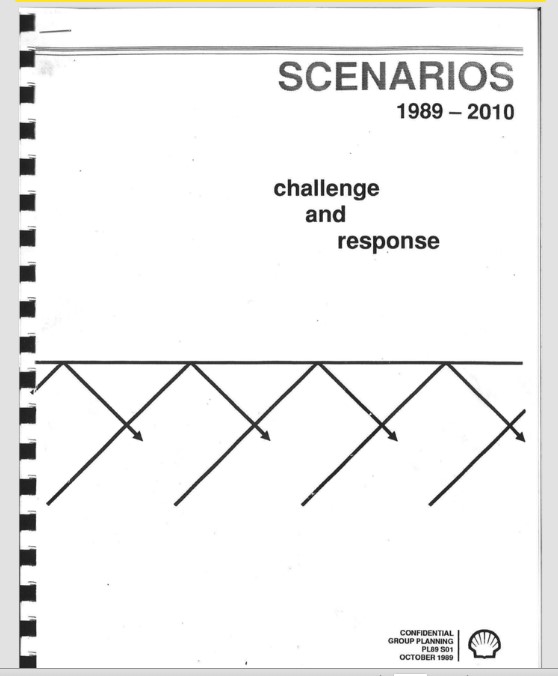 Ben Franta, senior research fellow in climate litigation at the University of Oxford, who was among the academics who filed the brief, described the document as a "bombshell" in an April 2 twitter thread summarising the significance of the scenarios it outlined.
"Compiled by @VatanHuzeir, the latest cache of internal documents describing Big Oil's concealed knowledge of global warming is a gold mine," Franta tweeted. "One bombshell is a confidential @Shell scenario report from 1989 which imagined two futures: SUSTAINABLE WORLD and GLOBAL MERCANTILISM."
The latest documents have renewed calls among climate campaigners for greater scrutiny of the fossil fuel industry's early knowledge of climate change, and what it told the public.
Sen. Sheldon Whitehouse (D-RI) tweeted in response to DeSmog coverage of the documents uncovered by Hüzeir: "Hmmmm. Looks like a bit like a scheme to defraud. Maybe an honest investigation by DOJ [Department of Justice] could help answer that question." Whitehouse represents Rhode Island, which filed a lawsuit seeking climate damages from Shell and other oil companies in 2018.
Last year, a federal judge ruled that the District of Columbia's case against Shell, BP, ExxonMobil, and Chevron could proceed in D.C. Superior Court, where it was filed. The companies are now appealing that ruling to the D.C. Court of Appeals.
Six other federal appeals courts have rejected industry arguments to escape trials in state court in similar climate accountability cases, according to the Center for Climate Integrity, one of the nonprofits that filed the brief. The other backers were Chesapeake Climate Action Network, the Union of Concerned Scientists, Naomi Oreskes, Geoffrey Supran, Robert Brulle, Justin Farrell, and Stephan Lewandowsky.