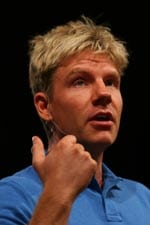 The Guardian's Science Podcast this week features interviews with Bjorn Lomborg, the self proclaimed "Skeptical Environmentalist" and Tony Juniper of the Friends of the Earth environmental society.
Lomborg makes his same old argument against action on climate change, that the world's economic resources are finite and that we should dedicate them to his top priorities – a list that misses climate change.
To quote Lomborg, "We're  focussed very much on climate change, and we are not focussed very much on all the other issues in the world and quite frankly we don't have infinite resources." Friend of the Earther, Tony Juniper retorts, "Lomborg's logic breaks down somewhat in trying to trade these things off against each other. I don't think the world works like that."
No, the world doesn't work like that, but yes, as Lomborg most astutely observes, we don't have infinite resources. But as the more innovative northern European countries are already demonstrating, addressing climate change can be affordable – and can create economic opportunity – if approached sensibly. To do otherwise, on the single issue that could remake the face of the earth's environment as we know it, would be irresponsible in the extreme.
Lomborg is smart enough to know it. The fact he won't admit it makes the rest of his arguments equally suspect.