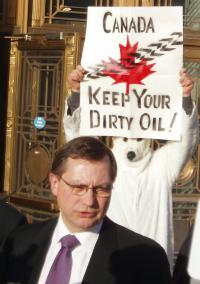 Alberta Premier Ed Stelmach was in Washington, DC today hyping his province's vast reserves of oil-soaked tar sands.
Not everyone was applauding Stelmach, and rightly so.
According to news reports, Stelmach, "bemoaned what he termed the myth that the environmental cost of the oilsands is too high, saying calls from 'some quarters' to slow or stop production doesn't make sense."
Here's a few of the supposedly "mythical" facts about the Alberta tar sands:
Tar Sands operations could eventually cover 149,000 square kilometers of pristine forest – that's an area roughly the size of Florida. 
Each day the tar sands use 600 million cubic feet of natural gas to, in effect, melt the tarry sludge into a usable form – that's enough natural gas to heat more than 3 million Canadian homes. 
Producing a barrel of oil from the tar sands produces three times more greenhouse gas than a barrel of conventional oil. 
Tar sands operations use about the same amount of freshwater in a year that the entire City of Calgary uses (population 1 million) – 90% of this freshwater ends up in toxic tailing ponds. 
Toxic tailing ponds already cover more than 50 square kilometers and are considered to be one of largest man-made structures in the world.
It appears that Premier Stelmach is living in his own little fantasy world.
I would suggest that instead of bird-dogging the Premier in a polar bear costume, a mythical beast like a unicorn or a minotaur might be a little more appropriate.
(High resolution event photos are attached. Credited to Oil Change International. Location: Dirksen Senate Office Building, Washington DC).