The night before Tim DeChristopher's sentencing was like any other before an action – we were all up way too late, distressed about work that hadn't gotten done, going over every last detail for the morning rally. Still somewhat fixated on our laptops, we all waved goodbye as Tim got up to go home to finish his speech for court the next day.
As I sat in the courtroom listening to Tim speak to the judge, all I could think about was what if I were in Tim's place – what would I say, could I be as composed and articulate as Tim? Would I even be willing to put myself in the position to risk long-term federal incarceration?
During his speech to the judge, Tim could finally say what he was not allowed to during the jury trial. "The people who are committed to fighting for a livable future will not be discouraged or intimidated by anything that happens here today," Tim said as he explained how our current destructive institution has not only threatened the planet, but taken the power to hold government accountable for unjust policies and practices away from its citizens. "You may have authority over my life, but not over my principles." [Read Tim DeChristopher's offiical statement from the sentencing hearing at PeacefulUprising.org.]

But any hope for probation was quickly deflated by the judge. "This has been one of the hardest cases to judge, and in my 20 years, never has a courtroom been this full," he started off, "but I'm afraid I'm going to upset a lot of people today."
Judge Dee Benson felt Tim's lack of respect for the law was unacceptable, and that if he hadn't gone out preaching about directly breaking the law, he may not have faced a prison sentence. He didn't feel the climate problem had reached such a state that yet warranted civil disobedience, and that Tim's punishment should promote to others the government's intolerance of speaking and acting out for political cause.
The shock that came over us as the judge announced Tim's two-year sentence hadn't even worn off when the marshals unexpectedly and immediately took Tim out of the courtroom, leaving no time for goodbyes.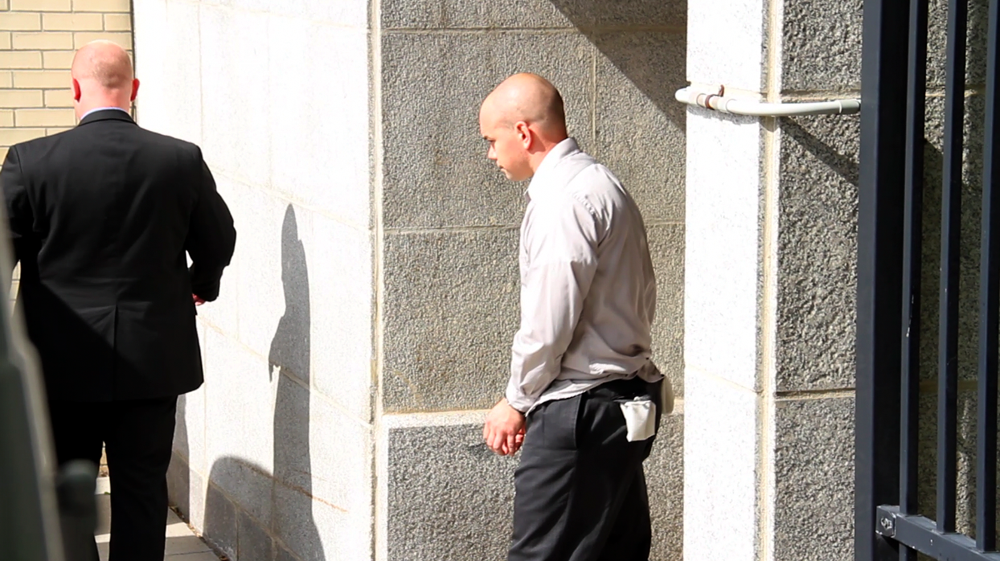 On the steps of the courthouse, emotions erupted as people inside came out to explain what happened to the crowd.
"He's not coming out; they took him away. He's gone for at least two years. He didn't hurt anyone, he hurt the status quo," cried Ashley Anderson, co-founder of Peaceful Uprising, through a bullhorn.
"Our hearts are broken today," said a teary-eyed Henia Belalia, an organizer with Peaceful Uprising. "Consider this the spark that will ignite this movement."
Wanting to show support for Tim and derision for the judge, 30 to 40 people locked themselves together with zip ties in a large circle in the intersection in front of the courthouse. Police refused to arrest them on the courthouse steps, so protesters escalated by obstructing rush hour traffic, including the light rail train.
Said Flora Bernard, "This is our way to stand with Tim, to honor his his sacrifice. We will show that we are unafraid and undeterred by threats from a corrupt justice system, by getting arrested."
In the end, 26 people – 13 men and 13 women, old, young, some with children – were hauled off to the Salt Lake County jail in a bus, one holding a "Bidder 70" sign against the window as it drove off.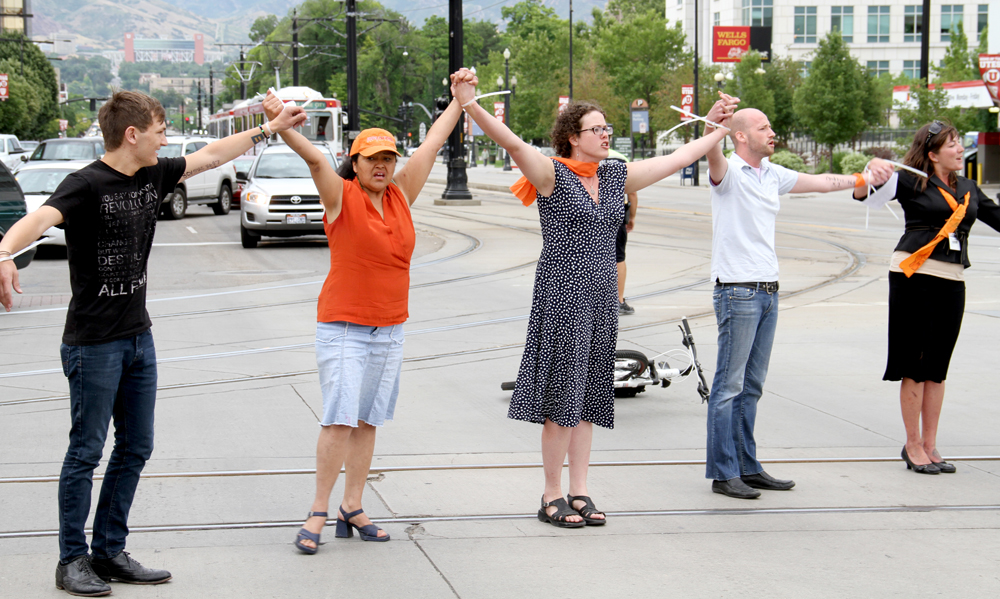 As the news of Tim's sentencing reverberates around the country, the discussion has finally started: Where does civil disobedience fit into this movement?
For decades now, the climate movement has failed to force change with petitions, lawsuits, government policies, and other mainstream mechanisms. Lobbying the government has failed, mainly because the climate movement has no political power in Washington, and we'll never be able to buy our way into a livable future with the impenetrable grip the fossil fuel industries hold over our politicians. The economy is flailing; the climate crisis will only compound the suffering if we don't fight to maintain a livable planet.
Climate scientists have said that there is no silver bullet to solving the climate crisis. It is very unlikely that one solution will solve all of the problems we face. In the absence of action by politicians, a growing number of activists now see an opportunity to use Tim's sacrifice to inspire movement leaders to employ a mixture of political, social, and media strategies to transcend the climate movement. Civil disobedience may be the last necessary piece to the puzzle. Perhaps we need to try something new and not be afraid to fail?
A few days after he was sentenced, we heard a report from Tim. In prison, Tim was greeted by a throng of inmates with their fists held in the air, who brought him presents of candy bars—the staple of prison currency. That night in his cell, Tim could see a TV monitor through his door. Although he couldn't hear, he could see the local nightly news report of the protesters in front of the courthouse, the same news report the arrested protesters were watching from their holding pen in a different county jail.
"In these times of a morally bankrupt government that has sold out its principles, this is what patriotism looks like," Tim said in the last few words of his speech in front of the judge before being hauled off to jail. "With countless lives on the line, this is what love looks like, and it will only grow. The choice you are making today is what side are you on."
Photos courtesy of Ryan Suffern