As the Northern Gateway Pipeline Project Joint Review Panel begins hearing over 4,000 comments submitted by community members, First Nations, governments, and environmental groups, the tar sands front group EthicalOil.org has launched its latest PR offensive in support of the pipeline.
OurDecision.ca, the new astroturf ad campaign, is another dirty PR attempt to undermine the real and growing grassroots opposition to Big Oil's plans to ram through this destructive pipeline. 
The controversial Northern Gateway project is opposed by 70 First Nations and a majority of British Columbians, who fear the inevitable oil spills that will accompany tar sands expansion, and in particular the threat of offshore tanker accidents on BC's coast.
Viewers of Ethical Oil's disingenuous new ad campaign aren't being told about the intricate web of industry influence peddlers behind the effort and their connections to the Harper government and oil interests. In the middle of this web is Hamish Marshall, a Conservative strategist deeply connected to oil interests as well as both the Conservatives and ultra-right wing Wildrose Alliance Party. In this case, the lines between politics and big business interests are so blurred, it is nearly impossible to distinguish them.
OurDecision.ca is the Ethical Oil Institute's attempt to dupe northern BC citizens into supporting the Northern Gateway pipeline and tanker infrastructure, claiming that it's "our choice" as Canadians to exploit the tar sands and pipe it to foreign export terminals. The fact that the oil boom will actually enrich foreign investors from China, Europe and the multinational oil companies with a major stake in Alberta oil patch is nowhere to be seen in Ethical Oil's propaganda. (The hypocrisy of their arguments here is reminiscent of their previous attempt to claim the mantle of women's rights to greenwash the tar sands.)
Since the overwhelming public opposition to the project is hard to argue with directly, Ethical Oil decided to change the subject entirely by claiming a foreign conspiracy because some of the environmental organizations working to oppose tar sands expansion receive funding from U.S. foundations. 
Stephen Harper was quick to echo EthicalOil.org's talking points by decrying the foreign influence that is "overloading" the Northern Gateway review process. Natural Resources Minister Joe Oliver took a page from Harper's playbook, writing that environmental groups "threaten to hijack our regulatory system to achieve their radical ideological agenda," using funding from "foreign special interest groups."
The "foreign special interests" in question are progressive American foundations that fund a wide range of initiatives: from education and infrastructure in developing countries, to the performing arts and urban poverty in North America and around the world.
Since climate change recognizes no political borders, the foundations have supported the efforts of a wide range of Canadian and American groups to raise awareness about the consequences of expanding tar sands development. This is a global issue, no doubt about it, and that's why people from all over the world are watching Canada and weighing in on this. Tyler Mccreary covers this point well today at Rabble.
Yet, Ethical Oil's OurDecision.ca website refers to these foundations and environmental groups as "foreigners and their local puppets."
ETHICAL OIL? 
Ethicaloil.org is a classic case of dirty energy industry astroturf. Visit OurDecision.ca's donation page, and you'll be linked to a PayPal account for the Ethical Oil Institute. As previously noted, the Ethical Oil Institute was incorporated to the Edmonton law firm McLennan Ross, which has many tar sands industry clients.
The Ethical Oil Institute's Board of Directors has two members, Ezra Levant (the creator of the 'Ethical Oil' myth) and Thomas Ross, Levant's lawyer and a McLellan Ross partner. Thomas Ross is also one of ten lead partners in McLellan Ross's OilSandsLaw.com initiative, a "slick new oilsands cross-selling strategy" and marketing campaign.
But that's just the beginning of the connection. The websites of both OurDecision.ca and EthicalOil.org are hosted on exactly the same server and IP address as strategicimperativesonline.com. Normally this wouldn't be surprising – it's common for many websites to be hosted on the same server. But this isn't a coincidence. Strategicimperativesonline.com is registered to GoNewClear Productions, a business incorporated in British Columbia to Travis Freeman, Brendan Jones, and Hamish Marshall.
WHO IS HAMISH MARSHALL?
Hamish Marshall is the President and COO of GoNewClear Productions. He is a well-known strategist and activist trainer within Conservative circles, and also served as one of two British Columbia representatives on the federal Conservatives' national council between 2008 and 2010.
He started his political career working for Canadian Alliance MP Joe Peschisolido from 2001-2002, and for the Conservative Party doing outreach for the Office of the Leader of the Official Opposition from 2002-2003. He then left his position at the Conservative-Party connected NaiKun Energy in 2006 to work in the Prime Minister's Office as Harper's Manager of Strategic Planning until September 2007. In 2008, he managed polling for the Conservative re-election campaign.
The Ethical Oil-Harper government revolving door doesn't end there. Hamish Marshall is married to EthicalOil spokeswoman Kathryn Marshall, who took over last fall when her predecessor Alykhan Velshi moved into the Prime Minister's Office as the director of planning.
Hamish Marshall, through strategicimperativesonline, has registered 32 websites. Nearly all are connected to EthicalOil.org, the Conservative Party of Canada, and the right wing Alberta Wildrose Alliance Party.
Both ethicaloil.org's americans4opec.com and chiquitaconflict.com are hosted on the server, as is Kathryn Marshall's personal website, kathrynmarshall.ca.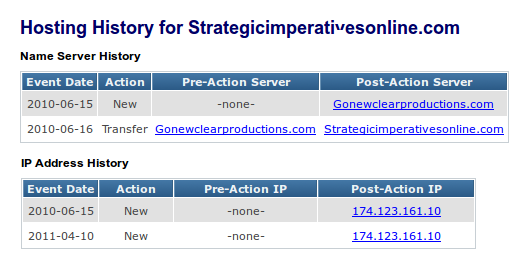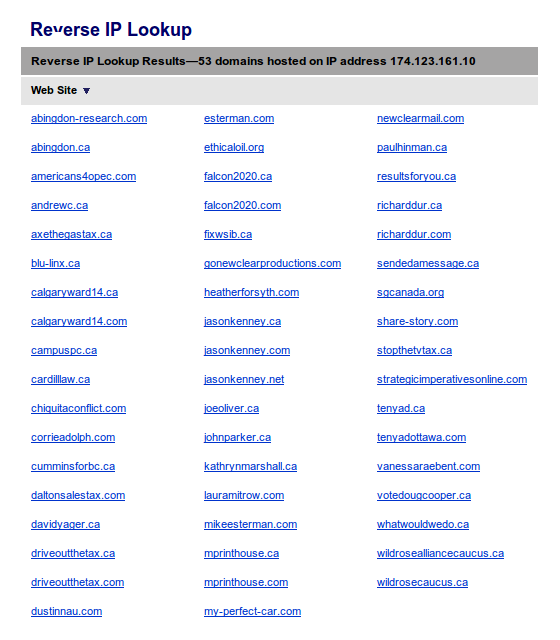 DEEP TIES TO CONSERVATIVES
The web gets really interesting when you look at the other sites registered on Marshall's server.
Conservative Party candidates with websites hosted on Hamish Marshall's server include Natural Resources Minister Joe Oliver, one of the most vocal proponents of the tar sands. Oliver's open letter last week refers to the "environmental and other radical groups that would seek to block this opportunity to diversify our trade". See the WhoIs profile for www.JoeOliver.ca.
Pierre Poilievre's www.ResultsForYou.ca website is hosted on the strategicimperativesonline server as well. A Calgary-school graduate, Poilievre is Harper's former Parliamentary Secretary, and is currently the Parliamentary Secretary to the Minister of Transport, Infrastructure and Communities. Poilievre also worked for Jason Kenney, whose site www.JasonKenney.com is hosted on the same server. 
Former EthicalOil.org spokesman Alykhan Velshi used to serve as the Director of Communications for Kenney. And Velshi's mother, Rumina Velshi, was just appointed by John Oliver to the national nuclear safety commission, raising ethics questions among critics. 
For the pro-tarsands Wildrose Alliance Party, Hamish Marshall hosts both the official party websites, wildroseallancecaucus.ca and wildrosecaucus.ca, as well as numerous Wildrose Party candidate websites. This includes former leader Paul Hinman, and candidates Doug Cooper, Corrie Adolph, Dave Yager, Heather Forsyth, and Richard Dur. Dur is also the Chairman of Policy for Jason Kenney's Conservative Party constituency association.
Toronto City Councillor John Parker's website is also hosted on Marshall's server. 
Back in BC, Marshall hosts the website of former BC Liberal candidate Kevin Falcon. After working on Falcon's unsuccessful run for BC Premier, Marshall went to work for BC Conservative leader hopeful John Cummins as his campaign manager. His website is also registered on Marshall's server. Hamish Marshall is now one of the directors of the BC Conservative party. 
Finally, Marshall's server hosts a website that makes campaign signs for Conservative MPs, as well as the website of the Ontario Progressive Conservative Association (OPCCA), the campus youth wing of the PC Party of Ontario is hosted on this server (campuspc.ca).
This is certainly only the beginning of an expansive web of connections between EthicalOil.org and the Conservative Party. The dizzying connections between them suggest that EthicalOil.org and the Ethical Oil Institute are acting as shadow arms of the Harper government and its desire to protect tar sands interests ahead of the public interest.
(Update: See DeepClimate's extensive look at this entangled web.)
What is most disingenuous about EthicalOil.org's campaign is its work to systematically discredit the hard-working individuals in the Canadian environmental movement who work to protect public health, robust ecosystems and the global climate from the tar sands threat. The real threat to Canadian sovereignty is the greedy foreign corporations and governments buying up financial stakes in the Alberta oil patch, and EthicalOil.org's support of them.
Ask yourself: who are the real patriots in this scenario?
Will the Harper government and ethicaloil.org own up to their cozy connections and finally recognize the importance of a rapid transition away from an oil-addicted economy towards a clean energy economy that relies on the robust, renewable resource of Canadian ingenuity and sustainability know-how? The clock is ticking.