Earlier this month British Columbians were surprised to hear that Enbridge, the main proponent of the proposed Northern Gateway Pipeline, was unable to explain how the company's world-class spill prevention and clean up practices were either world-class or preventative.
At a
public hearing
in Prince George, Enbridge failed to instill confidence in the audience, admitting the company had no land-based spill prevention plan at all. During cross-examination the company admitted
they will not have a spill-response plan
until six months before the proposed pipeline would begin operation.
The company was unable to explain how they would respond to land-based spills from a pipeline designed to cover 1,172 km, crossing more than 770 of British Columbia's pristine watercourses. 
BC
Environment Minister
Terry Lake said
"the responses that Enbridge/Northern Gateway representatives are giving our legal counsel are long on promises, but short on solid evidence and action to date," adding, "the company needs to show British Columbians that they have practical solutions to the environmental risks and concerns that have been raised. So far, they have not done that."
Enbridge will be cross-examined regarding maritime spill prevention in Prince Rupert on November 22, less than one month after the town was on
high emergency alert
after the
second largest earthquake in Canada's history
threatened coastal towns with tsunami warnings. The 7.7 magnitude quake put the entire Pacific Northwest on tusnami alert, with late-night sirens prompting regional evacuations from Alaska to Hawaii.
The October 27 earthquake is a poignant reminder of the unique maritime challenges posed by British Columbia's untamed west coast, a region of rugged terrain, narrow passages, and rocky shores overlying one of the most temperamental fault lines in the world.
The quake struck off the coast of Haida Gwaii (formerly the Queen Charlotte islands) about 17.5 km underwater.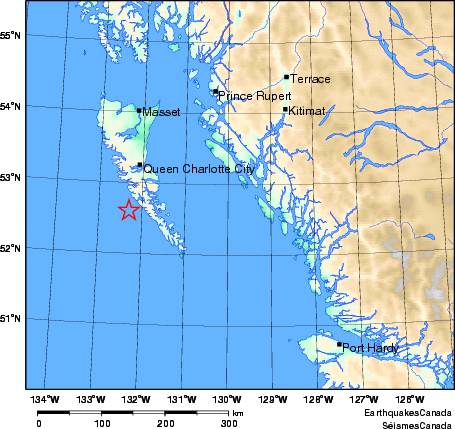 Bearing a striking resemblance to
Canada's worst earthquake
, which hit in 1949, Saturday's seismic event did not come as a surprise to those familiar with the region's subterranean geography. The 8.1 magnitude quake in 1949 caused a 500-km long piece of the Queen Charlotte fault (the Pacific's version of the San Andreas fault) to break. When this
historic quake
hit the Haida Gwaii cows were knocked from their feet, an oil tank collapsed in Cumshewa Inlet, and residents said standing on the street felt like being on the "heaving deck of a ship at sea." One geologist described falling during the quake and being unable to get back up. Windows shattered in Prince Rupert.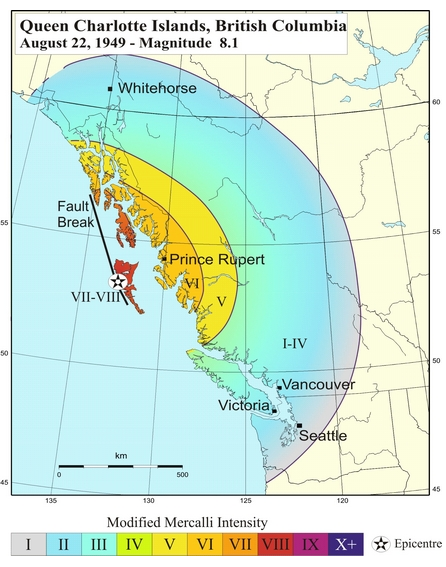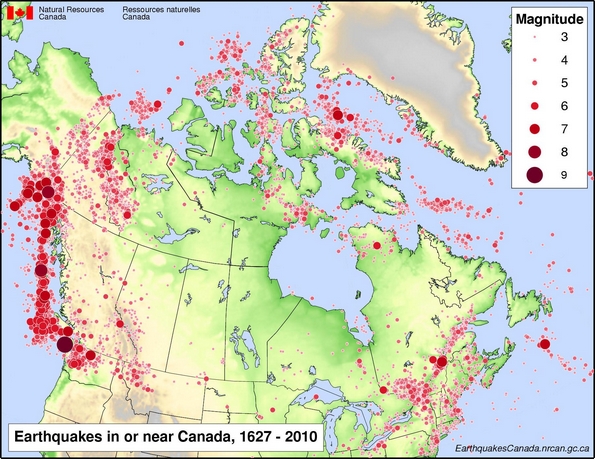 Saturday's quake has given cause to reconsider not only the threats posed by the pipeline Enbridge plans to build from Bruderheim, Alberta to Kitimat,
BC
, but also the dangers of supertanker traffic along a volatile coastline.
"I think we have all been complacent about what happens, or what can potentially happen, with an earthquake," Haisla Nation Chief Councillor
Ellis Ross told the Globe and Mail
.
"We have to think about that in the context of supertankers carrying crude oil in Douglas Channel or outside Hartley Bay or outside Haida Gwaii. … I think that has to be part of the discussion."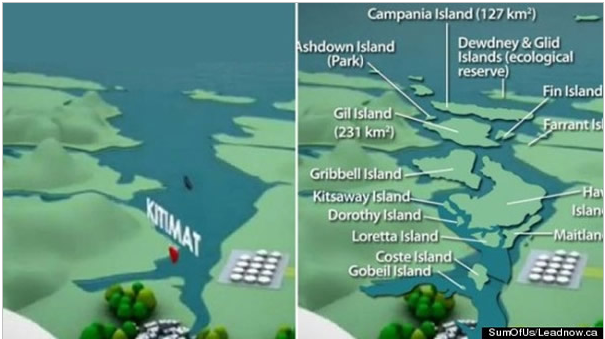 Of particular concern to
BC
residents is the unique danger tar sands' oil poses to marine ecosystems. 
Oil from Alberta's tar sands is a heavy, viscous crude called bitumen. In order to transport the thick, tarry oil from Alberta through pipelines, bitumen must be diluted. The resulting mixture of diluted bitumen or '
dilbit
' is a corrosive blend of thick oil and benzene, naphtha, hydrogen sulphide and other toxic chemicals.
The cleanup in Michigan has been the most expensive on-shore spill effort in
U.S.
history, already
exceeding $800 million
. The toxic spill, which spread for kilometers through connecting waterways, seeped into the riverbed, meaning remediation efforts have decimated the local ecology. Along large segments of the river, cleanup crews have literally dug up and removed contaminated portions of the riverbed.
Estimated cleanup costs
for conventional oil run at about $2000 per barrel. Bitumen clean up efforts run a tally of an estimated $29,000 per barrel. 
In August, the Department of Fisheries and Oceans (
DFO
)
criticized Enbridge
for failing to consider the unique composition of dilbit and the threat the mixture poses to waterways. Dr. Kenneth Lee, head of
DFO
's Centre for Offshore Oil and Gas Energy Research (
COOGER
), complained Enbridge's pipeline plan had "strong limitations due to inaccurate inputs."
"The Northern Gateway pipeline proposal lacks key information on the chemical composition of the reference oils used in the hypothetical spill models."
Dr. Lee sought approval to study the "toxic effects of reference oils to marine species" in relation to Enbridge's Northern Gateway Pipeline proposal.
According to the Globe and Mail
, the
DFO
would not say whether Dr. Lee's proposal was approved, although Dr. Lee confirmed his research position had recently been threatened by federal government budget cuts. 
It remains to be seen how Enbridge will respond to inquires regarding maritime spill prevention and cleanup on November 22.
One can only hope they come prepared this time – although preparation isn't their strong suit.