Most DeSmogBlog readers have heard for years about how the likes of the billionaire Koch Brothers, and major energy companies like ExxonMobil, have pumped tens of millions of dollars into industry front groups that are paid to attack and deny the scientific realities of climate change.
But the landscape has taken an abrupt change today, with the most stunning report so far by the UK's Guardian newspaper, on a little known organization called Donors Trust. 
Here's the Guardian's graph showing that in and around 2006, Donors Trust began to support climate science attack groups, like the Heartland Institute and the American Enterprise Institute, to the tune of more than $20 million a year: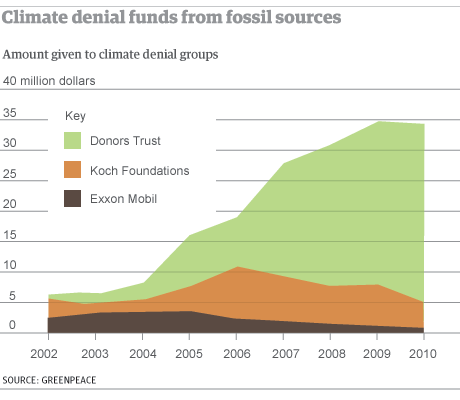 In her article breaking the story, Guardian reporter Suzanne Goldenberg does the math for us:
By 2010, the dark money amounted to $118m distributed to 102 thinktanks or action groups which have a record of denying the existence of a human factor in climate change, or opposing environmental regulations.
More than five years ago, I wrote a story called "Why Exxon makes Koch Giggle" around the idea that while ExxonMobil was being harshly (and rightly) criticized for their funding of climate science denier groups, the Koch brothers were pumping millions more into the same groups while remaining almost completely under the radar. Now it seems that the story is "Why the Koch Brothers make Donors Trust Giggle."
But like the Koch Brothers, who have since become the target of mass rallies and negative press almost daily, I suspect that as this Donors Trust story builds and people begin talking about it, there will be a lot of late nights for the people behind this massive new funding machine.