As Think Progress has just reported, a bizarre technicality allowed Exxon Mobil to avoid paying into the federal oil spill fund responsible for cleanup after the company's Pegasus pipeline released 12,000 barrels of tar sands oil and water into the town of Mayflower, Arkansas.
According to a thirty-year-old law in the US, diluted bitumen coming from the Alberta tar sands is not classified as oil, meaning pipeline operators planning to transport the corrosive substance across the US – with proposed pipelines like the Keystone XL – are exempt from paying into the federal Oil Spill Liability Trust Fund.
News that Exxon was spared from contributing the 8-cents-per-barrel fee to the clean-up fund added insult to injury this week as cleanup crews discovered oil-soaked ducks covered in "low-quality Wabasca Heavy Crude from Alberta." Yesterday officials said 10 live ducks were found covered in oil, as well as a number of oiled ducks already deceased.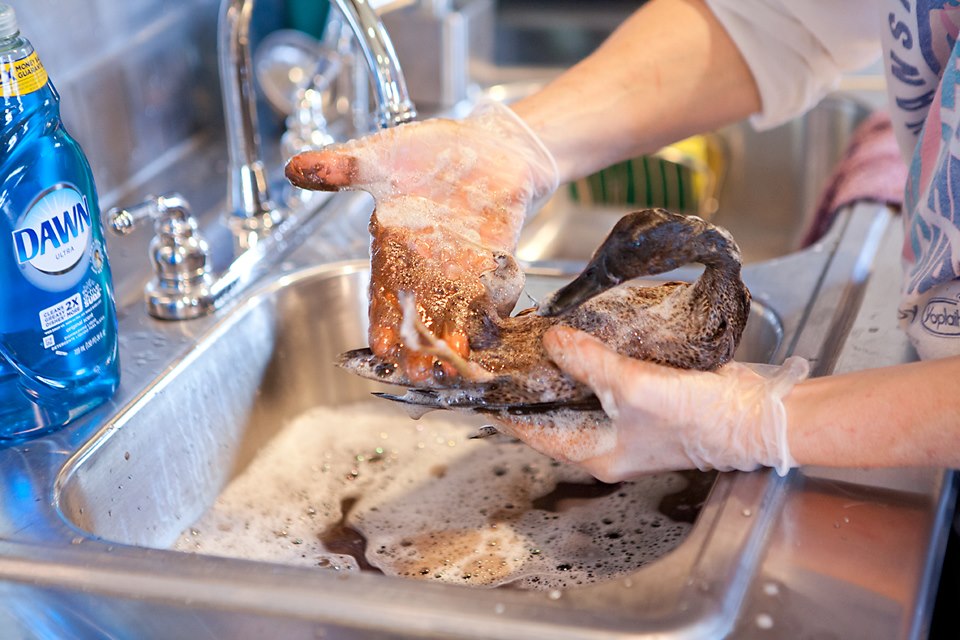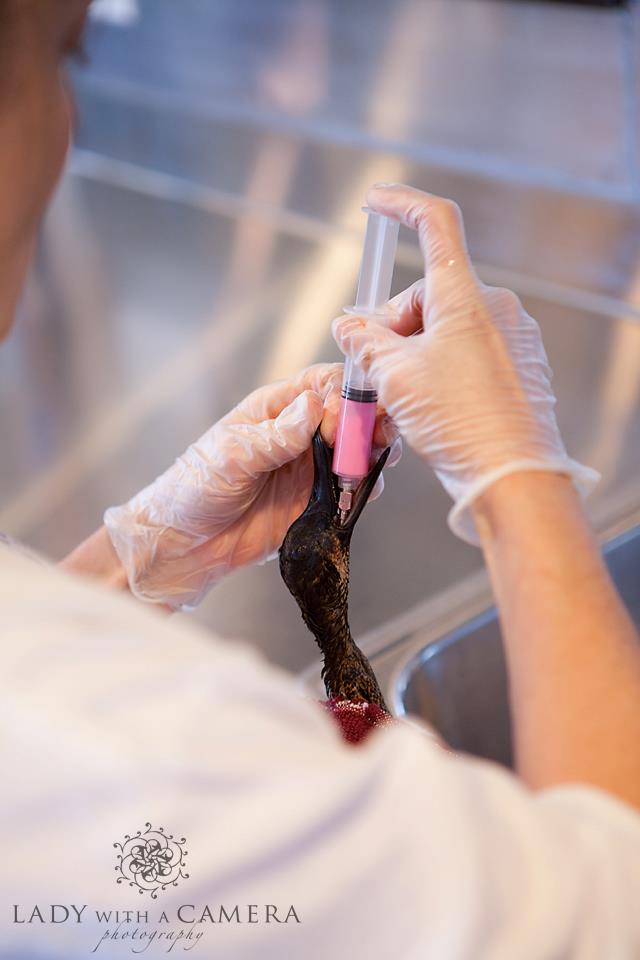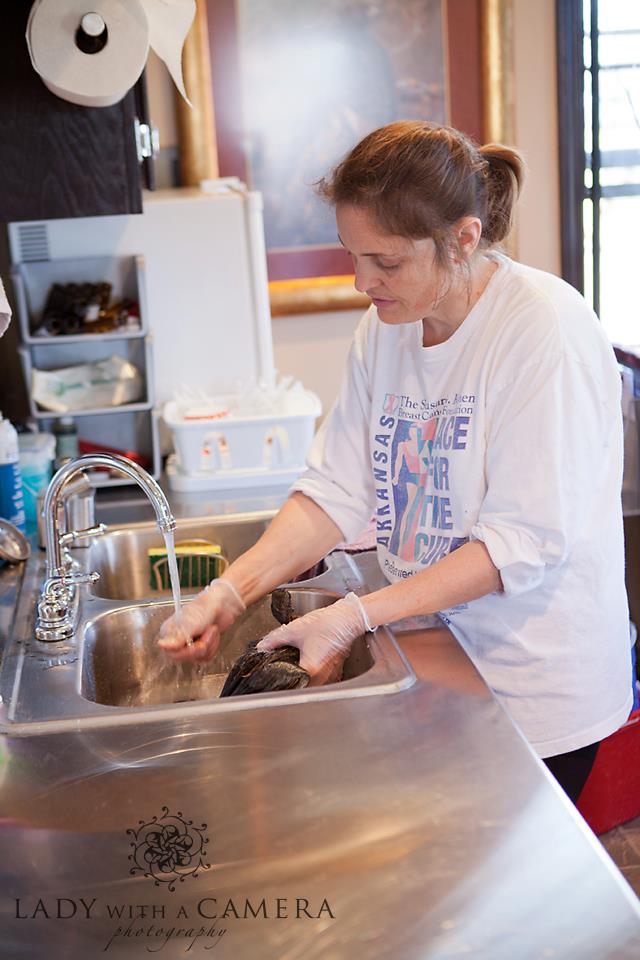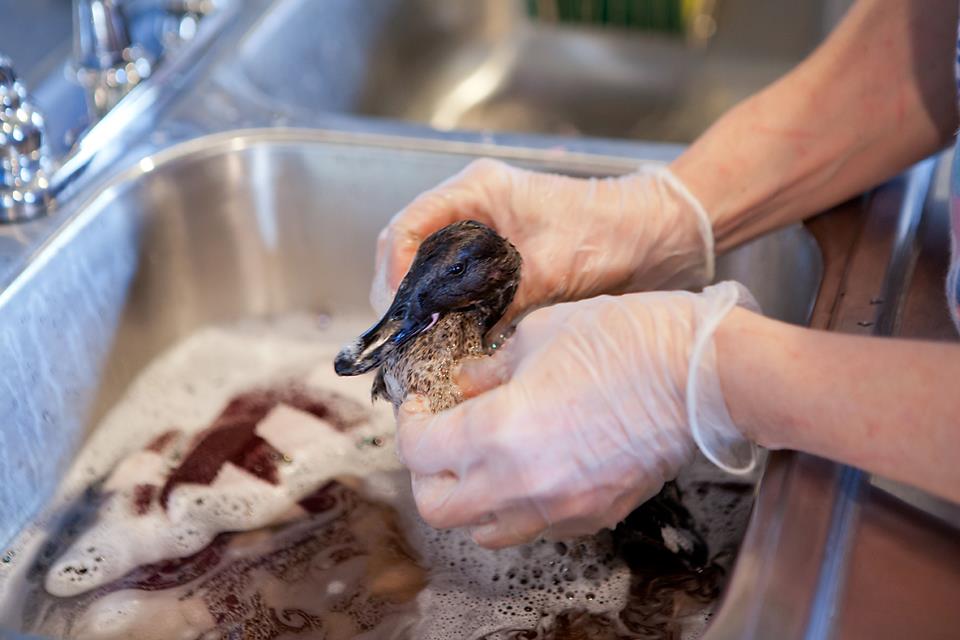 Photographer Eilish Palmer, known as Lady with a Camera, has been working with HAWK (Helping Arkansas Wild Kritters), a wildlife rehabilitation centre, to locate and help ducks and other animals affected by the spill.
When I connected with Eilish on the phone today, she was outside in the rain searching for more oil-covered wildlife: "I'm actually out in the woods right now looking for animals. We just found two dead ducks and one live one…We actually saw a dead wood duck and we saw its mate, it couldn't fly away, only walk. It was pretty saturated." 
Eilish said HAWK was the first responder for affected wildlife in the area but has since seen Exxon establish a local mobile unit to treat animals on site. "As the number of animals increased Exxon brought in their own rehabilitation centre because we were taking the animals to a centre about an hour away. HAWK doesn't have a mobile unit."
In addition to ducks, the team working with HAWK also found this oil-laden male muskrat, suggesting a number of species may be affected.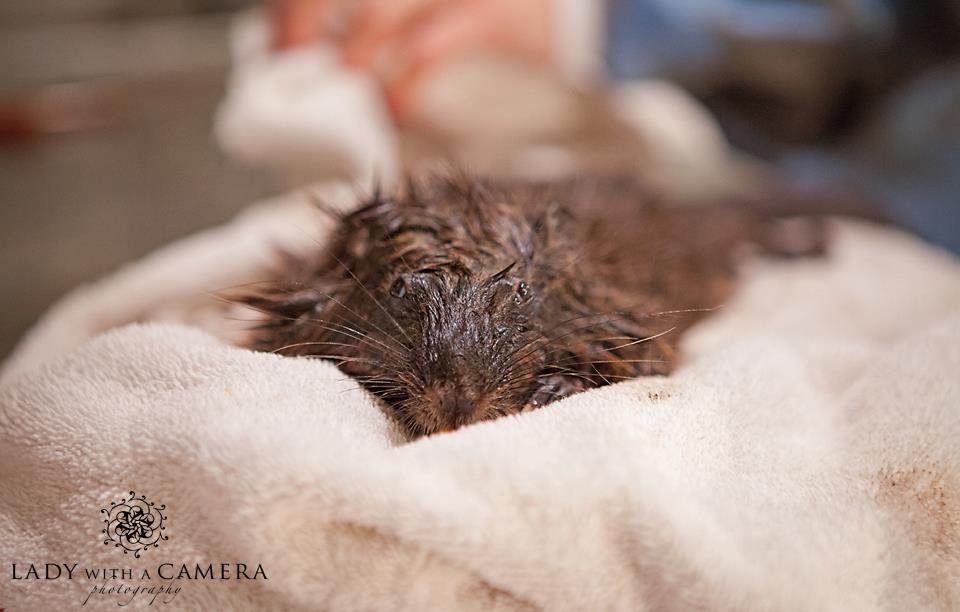 Faulkner Country Judge Allen Dodson said "I'm an animal lover, a wildlife lover, as probably most of the people here are. We don't like to see that. No one does."
He added, "Crude oil is crude oil. None of it is real good to touch."
The Exxon spill leaked 80,000 gallons of oil into an Arkansas residential area, causing the evacuation of 22 homes. This weekend Exxon Mobil Pipeline Co. president Gary Pruessing told displaced homeowners, "If you have been harmed by this spill then we're going to look at how to make that right." 
According to InsideClimate News, Exxon is currently preventing the media from accessing the spill scene. Today the Arkansas Attourney General announced an investigation into the cause of the 60-plus-year-old pipeline's rupture. 
The Pegasus pipeline was originally built in the 1940s and was recently dormant for four years before its flow was reversed to carry Alberta diluted bitumen from Illinois to the Gulf Coast. In 2006, Exxon called the line's reversal a win-win for the people of the Gulf Coast and Canada.
The revelation that companies transporting diluted bitumen in the US have some concerned about pre-existing pipelines, as well as the proposed Keystone XL pipeline that will transport the tar sands-derived oil across a number of ecologically sensitive areas. 
According to the NRDC, in 2011 a number of pipelines carried Alberta bitumen in the US: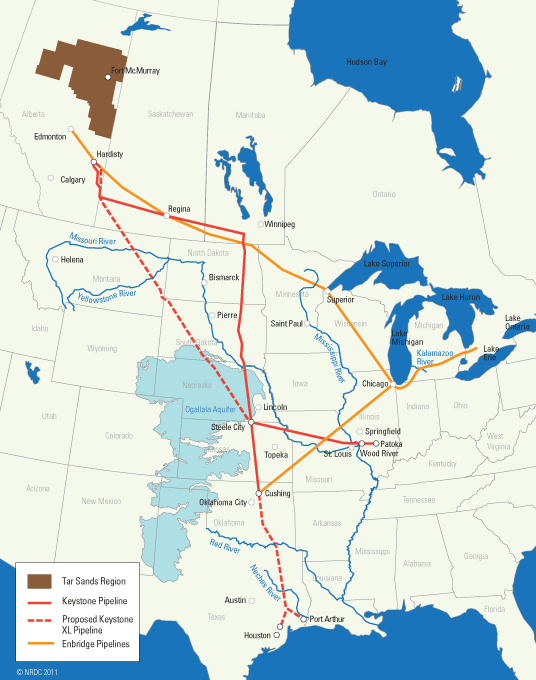 Although the spread of oil refineries across the US receiving bitumen suggests the network of tar sands oil transport is much more widely spread across the States: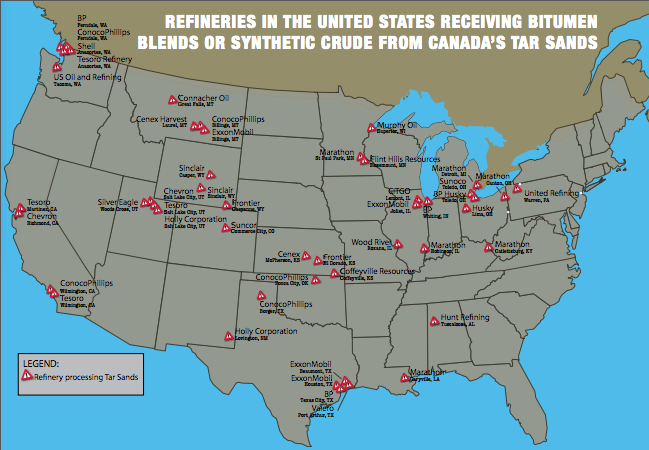 The network potentially connecting bitumen-carrying pipelines with other pipelines is quite extensive across the US: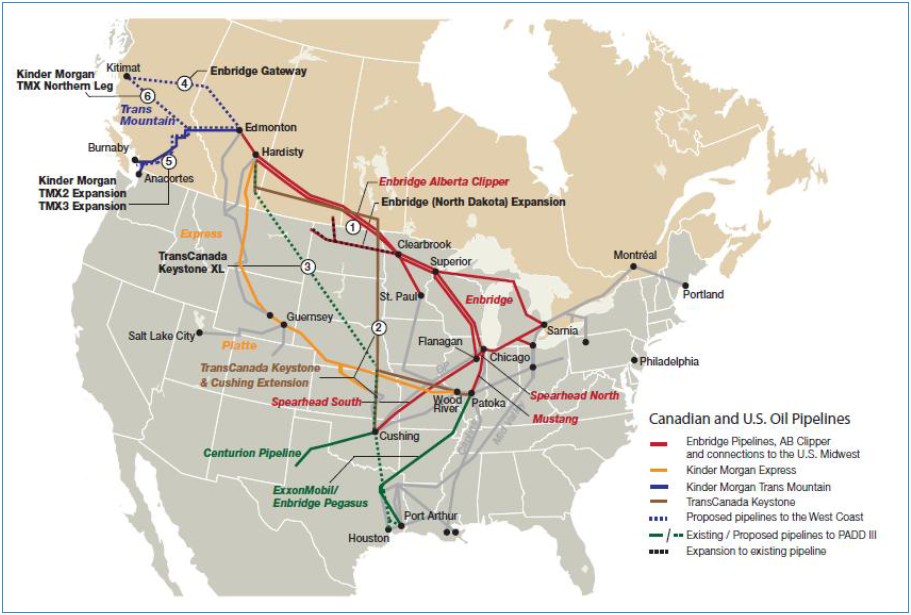 Last week a coalition of environmental groups, communities and inviduals petitioned the US EPA and Pipelines and Hazardous Materials Safety Association (PHMSA) to place a moratorium on pending tar sands pipelines, including the Keystone XL pipeline, until new safety rules are established. 
"Simply put, diluted bitumen and conventional crude oil are not the same substance," the petitioners wrote. "There is increasing evidence that the transport of diluted bitumen is putting America's public safety at risk. Current regulations fail to protect the public against those risks. Instead, regulations … treat diluted bitumen and conventional crude the same."
Image Credit: Refinery map by ForestEthics. Wildlife photos courtesy of Eilish Palmer, Lady with a Camera, used with permission.