This is a collaborative report by DeSmog's Steve Horn and Mint Press News staff writer Trisha Marczak.
Within immediate vicinity of a central battleground of the Black Hawk War of 1832, land rife with a resource necessary for hydraulic fracturing ("fracking") is in the crosshairs of an industry prepared to turn the area into a battle zone once again.
The resource? Frac sand – officially known by the industry as fine-grained silica sand – used as a proppant when blasted thousands of feet down the well during the ecologically volatile fracking process as part of the chemical cocktail that serves as the subject of Josh Fox's new documentary film, "Gasland 2."
The rolling hills of Northeastern Iowa's Allamakee County defy the state's stereotypical flat-land geography, and local residents boast of the serene beauty and rich geological history. Yet those same bluffs also play host to robust reservoirs of frac sand.
In order to extract the frac sand, mining corporations have adopted a method of newfangled mountaintop removal of sorts, blasting away entire hills laced with this frac sand to access this new "prize." While devastating the landscape, it's justified by Big Oil as necessary because the Midwest's unparalleled geological characteristics have transformed it into a "New Saudi Arabia for frac sand."
The Ominous Situation in Allamakee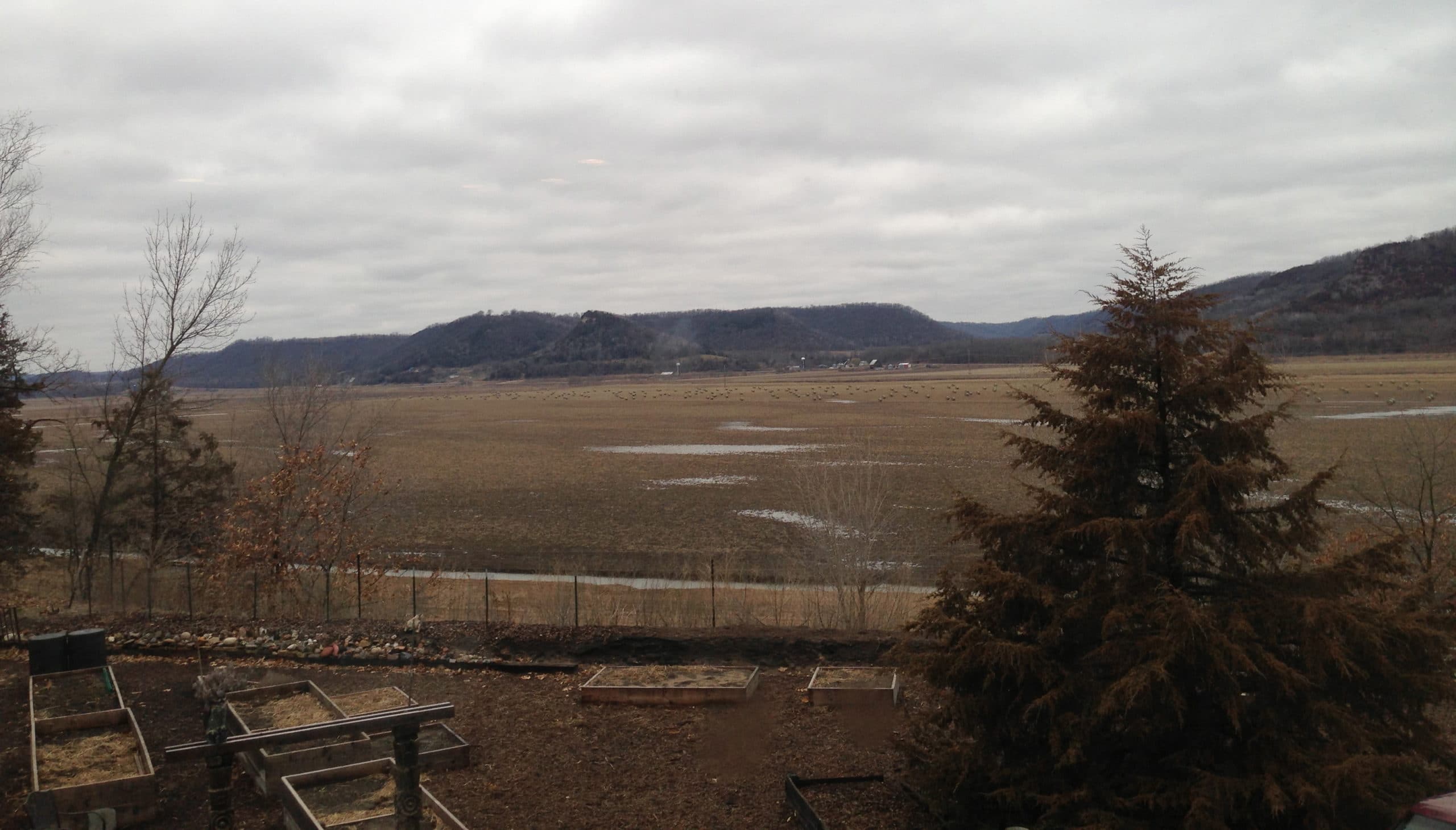 Frac sand extraction is temporarily on hiatus in Allamakee, where the County Board issued an 18-month moratorium in February 2013. Despite this legislative move, concerned residents living in the county see the writing on the wall. That's because permits are already being issued for frac sand-centric rail construction loading zones. Citizens see it as a question not of "if" but of "when."
Allamakee County residents don't have to look far to see evidence the industry is creeping in.
Less than 30 miles away, one of Pattison Sand Company's mines located south of McGregor, Iowa, is already churning out frac sand, blasting away whole sections of ancient bluffs to obtain it. A quaint 150-foot bluff that stood near the mine just two years ago has now been replaced by barren land.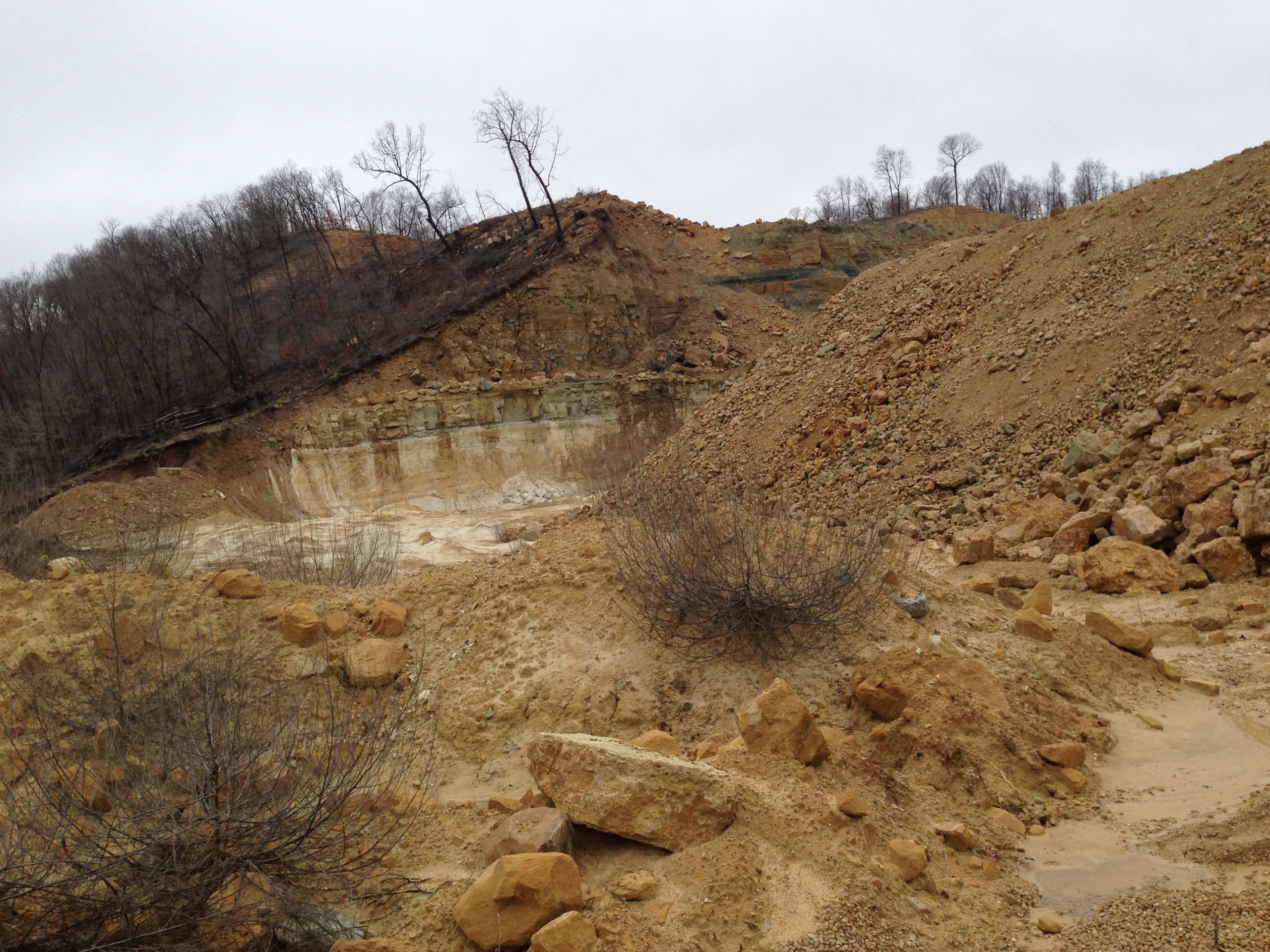 "This is why we're fighting this," Allamakee County resident Jeff Abbas told us while standing near Pattison's mine, located feet away from what used to be the enormous bluff. "It took hundreds of thousands of years to build this landscape the way it is."
Like his neighbors, Abbas's motive for opposing frac sand mining in his County has numerous rationales, yet at the core is his appreciation for the land's historical significance and beauty.
"It's incredibly fragile, it's incredibly rare … and now, it's incredibly gone," he said. "It will never be replaced in our lifetime … in anybody's lifetime."
The landscape is an issue that tugs on the heartstrings of locals, yet it's just one concern on a long list of objections.
The silica-rich land of Allamakee County sits atop the Jordan Aquifer, a source of water for 300,000 Iowans not expected to last much longer with current usage rates. Areas of the aquifer are already expected to reach depletion in the next 50 years, according to an Iowa Geological and Water Survey.
The health impacts of frac sand exposure are also alarming for residents and workers, as recently documented in a June 2012 Occupational Safety and Health Administration bulletin, which highlighted that fine-grained silica exposure causes silicosis which can lead to lung cancer. This sordid scientific reality is also acknowledged in Pattison Sand Company's own literature.

Pattison's Political Connections to the Powerful
Pattison Sand is a Clayton, Iowa-based multi-tentacled corporation incorporated in 2005 and is co-owned by the "Pattison Brothers": Jeff and Bernard. It has financial ties to the highest levels of Iowa's state- and federal-level government.
The brothers also own Pattison Brothers Mississippi River Terminal, Inc., incorporated in 1970. This tentacle predominantly barges fertilizers, grains and other commodities to market along the Mississippi River on behalf of Iowa's multinational agribusiness corporations. Soon, this wing of the corporation could also barge frac sand to key markets throughout the U.S. along the Mississippi, as well.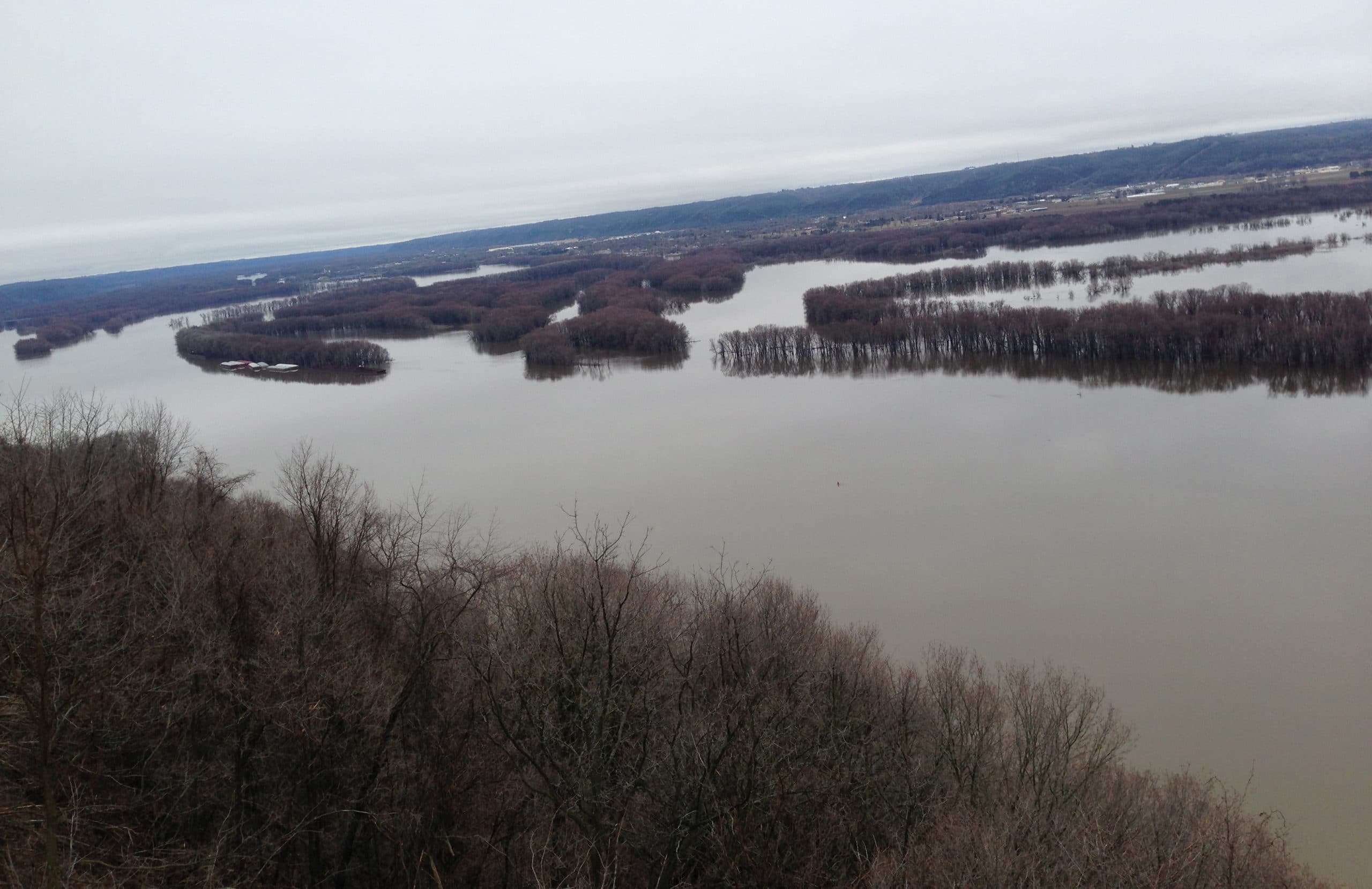 Bernard has donated a generous $35,375 toward Iowa Republican Gov. Terry Branstad's campaign dating back to before he won his November 2010 electoral race, according to the state's campaign finance database.
Branstad is one of the founding members of the American Legislative Exchange Council (ALEC) and winner of its "Pioneer Award" in 1996. ALEC is a corporate-funded "bill mill" and "dating service" that brings together corporate lobbyists and legislators to vote on "model bills" that end up disseminated in statehouses nationwide.
Bernard gave another $5,000 toward Wisconsin Republican Gov. Scott Walker's recall election effort, another state run by governor with deep ALEC ties and one where Pattison Sand has a frac sand mine proposal set to sit in Bridgeport, Wis. His brother Kyle gave Walker an additional $1,100 toward his recall campaign effort.
The lobbyist and registered agent for Pattison Sand and Pattison Brothers Mississippi River Terminal is Steven Schoenbaum, who is also registered to lobby on behalf of agribusiness behemoths Dow AgroSciences and Syngenta.
Accidental Activists
Robert Nehman heard a knock at his door on Oct. 1, 2012.
On the other side of that door stood a neighbor delivering disturbing news: Minnesota Sands had applied for a permit to mine for frac sand on a bluff site less than a mile down his quaint gravel road. Nehman immediately launched into action, first through research, and then through grassroots efforts with fellow community members.
Not familiar with frac sand mining, he was astonished by his findings. The industry brought heavy truck traffic to the area, with estimates of more than 200 semi-trucks a day on his road that now sees – at most – a dozen vehicles daily.
Heavy traffic is only the tip of the iceberg of his long list of qualms, which include the threat of blasting away bluff tops and the health impacts of silica dust debris. The icing on the cake is the role it plays in permitting the ecologically hazardous fracking process to take place itself.
Nehman's role as a leading state activist wasn't a chosen path.
"I don't even look at myself as a protester or activist. I'm a concerned citizen who has a stake in this," Nehman said in an interview.
Nehman is a founding member of Allamakee County Protectors, a network of residents successful in lobbying for a temporary county-wide frac sand mining reprieve. The Protectors journey began the day Nehman heard the knock on his door and went into full swing Oct. 14, 2012, when they were joined by 200 fellow county residents and sympathizers at a town hall meeting.
Two days after the meeting, residents once again showed up at a gathering hosted by Minnesota Sands. Days after the industry's meeting, Minnesota Sands pulled its permit application for mining in Allamakee County. It was a small victory, but far from the end of the uphill battle for Allamakee County Protectors.
In February 2012, the group had successfully lobbied the County Board to issue a moratorium on the frac sand mining effective through June 4, 2014. The moratorium gives the Protectors time to research and write ordinances that would sufficiently protect their interests if the moratorium goes unextended.
As of April 2013, the Protectors had constructed 63 different ordinances pertaining to frac sand mining, including provisions mandating that mining corporations restore land to its original state – essentially an impossible task.
For ordinance enactment, they must be approved by the County Board, comprised of three Republican supervisors: Larry Schellhammer, Dennis Koenig and Sherry Strub. While the supervisors approved the temporary moratorium, they didn't give the protectors the totality of the initially requested two-year moratorium.
Koenig said in an interview that he'll take the next 18 months to assess the lack of laws and regulations for the industry before making any further decisions regarding regulations or moratorium extensions.
"I'm concerned about the folks in Allamakee County, if there'd be a burden to bare – with road repair, when you change the scenery … all of these things need to be addressed," Koenig said. "I don't want to see our taxpayers have to pay for these things."
Wisconsin has served as a crucible for what residents in Iowa don't want to happen to their communities.
In a documentary produced by Nehman titled, "Frac Sand Land: The Incredible Story of the Vanishing Hills," he interviews Wisconsin residents who have seen their communities turned upside-down by the industry, changing from peaceful farming communities to heavy-traffic industrial mining zones.
Koenig said he plans to visit the mines and mining communities to learn firsthand how the industry could impact Allamakee County.
"All I hear are horror stories," Koenig said. "I want to know for myself."
The Writing's in the Rail
While a moratorium exists and permits for frac sand mining have been temporarily pulled, there's another issue at hand: frac sand transportation, a boom industry of its own.
Reilly Construction is in the process of creating a rail loading station just 1.5 miles from the once-proposed mine site, less than a mile from Nehman's home and from the local school his young daughter attends.
In November 2010, Reilly Construction appeared before the county planning and zoning commission requesting the area be rezoned for industrial use. Reilly proposed adding 8,000 feet of rail to create a loading zone capable of accommodating 100 train cars at any given time.
At the time of the initial proposal, Reilly Construction made no mention of frac sand loading. The company has since acknowledged, though, that the loading zone would be used to transport frac sand.
Yaggy Colby, a Reilly Construction consultant, testified to the Allamakee County Board in 2010 that a Flood Plain Development Permit from the Department of Natural Resources (DNR) was not necessary, as it was not a designated flood zone. However, FEMA maps indicate the area just outside of New Albin is in fact a flood zone and one that was devastated by major floods in 1993 and 2011.
An Environmental Assessment Worksheet for proposed expansion of Minnesota's Quarry frac sand mining operations indicates transportation will be provided by Reilly Construction from Minnesota's Fillmore County to Allamakee County's New Albin siding site, with an estimated 240 truck trips per day. This would lead to heavy traffic and potential health impacts from sand loading, a major issue for area residents.
This has county residents on alert, as the moratorium on frac sand mining was issued based on the understanding that, among other concerns, the health-related impacts of transporting frac sand have not been explored. With more than 100 uncovered train cars expected to be loaded with frac sand on a daily basis, residents question whether the current moratorium should prevent the project from moving forward.
Preparing to Protect the Land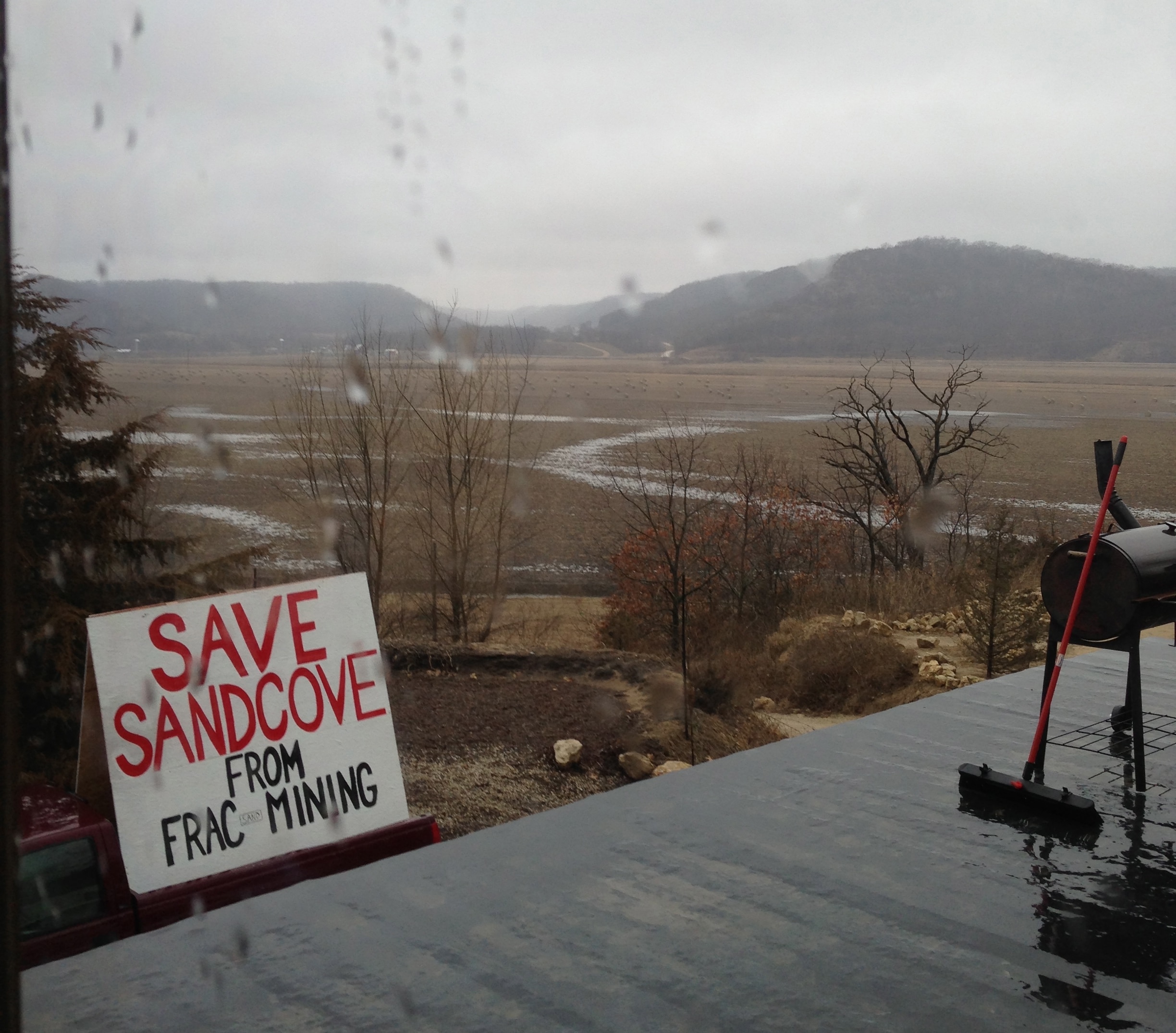 The deck is stacked high against citizens concerned about industrial frac sand mining in the Hawkeye State, a place where Republican presidential candidate Rick Perry came in 2011 for a campaign pitstop, stating Iowa should begin fracking underneath its Forest River Basin.
Far from a mere local issue, the Obama administration's U.S. Department of Agriculture – as a case in point – gave $22 million in stimulus money to industry giant, Preferred Sands, in May 2010.
"USDA Rural Development's Business and Industry Guaranteed Loan provided American Recovery and Reinvestment Act support that will help the company preserve 50 jobs at Preferred Sands," the USDA website explains.
In a complex arrangement of money maneuvering, the $22 million was first handed to Preferred Sands by Siemens, backed by the USDA loan guarantee. Siemens, as covered on DeSmogBlog in November 2012, is one of the world's largest private water corporations in the world. It stands to gain as water becomes an increasingly scarce commodity, as could be the case with the Jordan Aquifer.
Further, several frac sand mining corporations are publicly-traded on Wall Street, including EOG Resources (Enron Oil and Gas), which is involved of all aspects of the fracking process from cradle to grave. U.S. Silica Sand also became publicly-traded in February 2012, becoming the first frac sand mining-centric corporation to go public.
Fending the industry off via Iowa's Home Rule charter will also be an uphill battle. ALEC has a model bill that essentially guts Home Rule authority and was already utilized in Pennsylvania in 2012. That model bill is part of the broad-sweeping PA Act 13, currently the subject of a state-level Supreme Court case to be decided later this year.
In the sphere of agribusiness, Iowa Governor and ALEC founding member Terry Branstad has shown he is willing to carry the water of the "bill mill," helping ram through its infamous "ag-gag" legislation that criminalizes filming of corporate factory farms.
Given the tough state of play, Iowa activists we spoke to stated that civil disobedience – though a last straw – is a real possibility.