Travel Alberta is not pleased with Andy Cobb and Mike Damanskis, two L.A.-based comedians raising funds to travel to the province's tar sands, the world's largest industrial project. Today, Travel Alberta filed an official complaint with YouTube, claiming the comedy duo's crowdfunding pitch video "Welcome to Fort McMoney" was in violation of copyright law for commenting on segments of the tourism board's "Remember to Breathe" advertisements. YouTube has since removed the video. (Update 15.08.2013: a new version of the video can now be found on Vimeo).
Cobb and Damanskis were hoping to take the oil industry up on its invitation to visit the tar sands in person, a welcome that features prominently in ads by the Canadian Association of Petroleum Producers (CAPP), Canada's largest oil and gas lobby body. CAPP's ads, designed to play up the benefits of fossil fuel consumption, begin with the invitation "Canada's Oil Sands: Come See for Yourself."
Cobb and Damanskis decided they should do just that.
Travel Alberta also welcomes tourism to the province with the tagline "remember to breathe," a marketing scheme Cobb and Damanskis find somewhat baffling.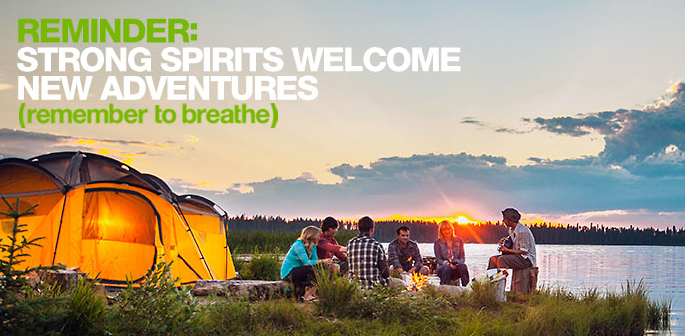 "It's just so egregious on so many levels," Cobb told DeSmog in a recent interview. "I mean, can you imagine the brainstorming session of supergeniuses that came up with that? 'We're making an entire region smell like someone broke wind in a refinery, while destroying the climate for like, everybody everywhere. What's our theme?' 'I know, respiration!'"
"It's hard to imagine actual functioning human beings capable of spelling 'Alberta,' 'remember,' 'breathe,' and 'to' actually thought that was a great idea worth writing down," Cobb said, "but it happened."

The province of Alberta and tar sands supporters like Premier Alison Redford and Minister of Natural Resources Joe Oliver have attracted attention in recent months for their undisguised praise of the project and Canada's lagging environmental record. Prime Minister Stephen Harper even traveled to Washington to convince Americans that Canada's environmental standards are top knotch. President Obama recently announced the fate of the proposed Keystone XL pipeline rests in Canada's ability to handle its growing emissions problem.
Canada recently devoted $16.5 million to advertisements expressing the economic benefits of tar sands development.
Canada's need to appear 'green' has never been so pressing. Yet attempts to 'green' the tar sands, including Oliver's reference to bitumen – the mixture of heavy oil and sand that makes up the tar sands – as a "greener alternative" to other fuels, has made the general public increasingly skeptical about the veracity of this country's claims.
The increasingly exaggerated claims regarding Canada's tar sands, including the 'ethical oil' argument, stating the fuel source is morally superior to others, has onlookers, especially to the south of the border, shaking their heads.
"When I first saw former tobacco lobbyist Ezra Levant refer to the tar sands as, Ethical Oil,' I nearly lost my mind," said Damanskis. "He says they're the 'fair trade coffee of the world's oil industry,' conjuring feel-good images of happy little subsistence elves that are just making an honest living. He might as well have said that they're 'the artisanal craftsmen of renewable, sustainable planetary destruction.'"
Cobb and Damanskis plan on traveling to Fort McMurray, home to the tar sands in Alberta's north, to unravel the government and industry spin surrounding the resource. A part of that plan is a crowdfunding campaign hosted on the popular fundraising site Indiegogo.com where creatives can feature project pitch videos.
But for now, Cobb and Damanskis will have to improvise while they get a new video prepped for the site. (New Video here)
Although the team has filed a counter-claim with YouTube, according to Damanskis.
"Our project definitely falls within YouTube's realm of Fair Use," he said.
"Whenever anyone files a copyright claim or counter-claim on YouTube, you have to click this box that says the following: 'I consent to the jurisdiction of the Federal District Court for the district in which my address is located, or if my address is outside of the United States, the judicial district in which YouTube is located, and will accept service of process from the claimant.'"
The complaint falls under the purview of U.S. law, says Damanskis.
Although unlikely, he adds, "I am prepared to fight this in court."
"It takes years – sometimes decades – for society to make changes. This climate change fight is different than other battles throughout history. Our planet really doesn't have decades – we have just a few years before we pass the tipping point," Damanskis previously stated.
As for a comedic approach to one of Canada's most contentious energy, environmental and First Nation concerns, Cobb and Damanskis say the merits are apparent.
"We aren't trying to preach to people – it's harder to make changes in society that way. Individual choices are important, yet our energy policy is not determined by everyday citizens – it's determined by a very small number of wealthy and powerful individuals who spend millions of dollars to spread lies so they can get rich. We're using comedy to fight back," says Damanskis.
Cobb remembers how the humor of the Daily Show opened him up to thinking about the Iraq war in a who new way.
"There was nothing funny about the Iraq war, and there's nothing funny about the tar sands. But there's absurdity to be had by the eyeful, which is the base material for satire. That's the foundation for this project: finding the stories and comedy in human beings bravely responding to inhumanity. There's a rich deposit of it there to be mined. As it, y'know, were," said Cobb.
Cobb and Damanskis will be running their crowdfunding campaign on Indiegogo for another 17 days. They are nearly one-quarter of the way towards meeting their $20,000 goal.