Pennsylvania Democratic Party gubernatorial candidate and former head of the PA Department of Environmental Protection, Kathleen "Katie" McGinty, has hired powerful PR firm SKDKnickerbocker for her campaign's communications efforts.
SKDKnickerbocker – once known as Squier Knapp Dunn – is co-owned by President Barack Obama's former Communications Director Anita Dunn and a member of Obama's national media team for his 2008 run for President, Bill Knapp. Both Dunn and Knapp previously did PR for U.S. Secretary of State John Kerry's 2004 run for President, as well.
One of SKDKnickerbocker's key clients is TransCanada, owner of the Keystone XL tar sands export pipeline.
Another key SKDKnickerbocker client: Association of American Railroads, that industry's version of the American Petroleum Institute. Rail is an increasingly viable alternative to pipelines for bringing tar sands – and fracked oil – to market. 
Both McGinty and Dunn also have key marital connections with skin in the game for the looming decision over the prospective northern half of Keystone XL: Karl Hausker and Robert "Bob" Bauer, respectively. 
Like Husband, Like Wife
Karl Hausker: Photo via LittleSis.org
ICF and the more-publicized Environmental Resources Management, Inc. (ERM Group) concluded that Keystone XL's northern half would have negligible climate change impacts. Keystone XL's southern half – TransCanada's Gulf Coast Pipeline – is 95-percent built and ready to send 700,000 barrels a day of tar sands from Cushing, Oklahoma to Port Arthur, Texas by year's end.
A previous DeSmog investigation also revealed Hausker and McGinty have myriad ties to the controversial horizontal drilling process known as hydraulic fracturing ("fracking"), both at the federal and state level.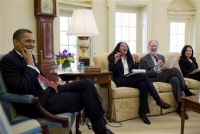 Photo Credit: Facebook  
Bauer is President Obama's personal attorney, former White House Counsel and Obama's election law attorney for the 2008 and 2012 elections, as well as John Kerry's 2004 election law attorney. Best known for bending election law to help corporations flood electoral races with more and more money, the private law firm he works at – Perkins Coie – has an attorney-client relationship with TransCanada in Alaska.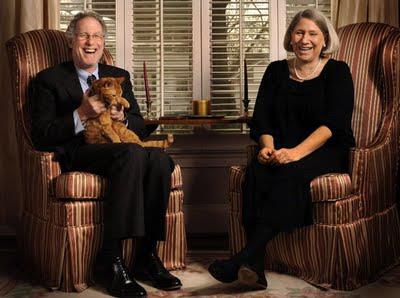 Photo Credit: Facebook
Pennsylvania's Fracked!
The top three front-runners for governor in Pennsylvania's gubernatorial campaign are all fracking cheerleaders: McGinty; DEP head after McGinty, Democrat John Hanger
McGinty currently works for the shale gas industry as a business partner of Ed Rendell's at Element Partners, which provides investment capital to shale gas industry start-ups.
She also sat on the industry-stacked U.S. Department of Energy Fracking Subcommittee, which penned the fracking chemical disclosure standards that would eventually become an American Legislative Exchange Council (ALEC) model bill and part of President Obama's Department of Interior's rules for fracking on public lands. 
John Hanger – a key character in "Gasland" – has increasingly become a fracking apologist since leaving the DEP when Corbett won the 2010 election. So much so, in fact, he was interviewed for the Energy In Depth-produced propaganda film, "Truthland."