New video filmed in Bayou Corne, Louisiana by the Assumption Parish Office of Emergency Preparedness shows the latest "slough in" at an ongoing sinkhole sucking in whole trees. The toxic sinkhole was discovered by a resident on August 3rd, 2012. At that time, it was three acres but it's since grown to over 24 acres in size. According to OEP Director John Boudreaux, "The sinkhole continues to be active and grow." 
Petrochemical company Texas Brine is being held responsible because a salt cavern they were drilling collapsed, causing the sinkhole. The state of Louisiana is suing Texas Brine for environmental damage. Citizens have either accepted buyouts or joined a class action lawsuit against the company. The area has been under mandatory evacuation since August 3. Many of the 350 residents evacuated, but others have stayed. Parish Police Jury President Marty Triche, who called for the evacuation, recently reminded citizens at a ceremony marking a year since the disaster started that the danger is very real.
The sinkhole caused gas to be released into the aquifer and spread underneath the town. The gas has the potential to fill a home undetected and explode. Those who have stayed have gas monitors in their homes. They are willing to risk the danger of staying because what they have isn't easy to replace. Bayou Corne has been described by many as a hidden paradise. But now there is constant construction, active flares and bubbling methane in the surrounding bayou. And when there's a "slough in," as shown in the video, the rancid smell of hydrocarbons permeates the air.
Watch footage of the sinkhole swallowing trees whole, filmed by Assumption Parish:
Texas Brine is pointing the finger at three other companies that they feel could be to blame, filing their own lawsuits. Texas Brine has not acknowledged any fault, although it is paying residents $875 a week as required by law since it was their salt mine that collapsed.
General Rusel Honore, who has been advocating for the community in a volunteer capacity, points out the laws in Louisiana are not strong enough to protect citizens from industry. "Democracy has failed the community," Honore says. He is helping spread the word that the sinkhole disaster is both an environmental and a human disaster.
A community is being lost. For those who've gone and those who've stayed, their lives have been forever changed.
No one knows how big the sinkhole will grow or if the area will ever be safe to live in again. Sonny Cranch, the PR spokesman for Texas Brine, says what is happening in Bayou Corne is unprecedented. So far that is the only fact all parties involved have been able to agree upon. 
Footage from yesterday of the sinkhole swallowing trees whole, filmed by Assumption Parish:
Watch my latest video from July 29th of methane bubbles in the bayou behind the sinkhole:
Here are some of my recent photos from the scene: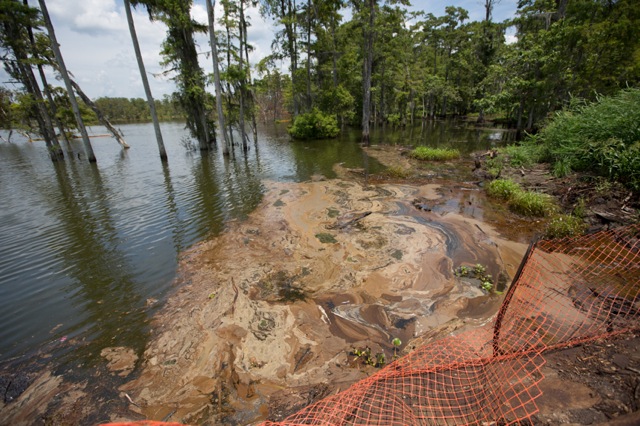 August 3, 2013, Bayou Corne, Louisiana. Oil and debris on the surface of the sinkhole. When there is a "slough in" or burp new crude oil rises to the surface. ©2013 Julie Dermansky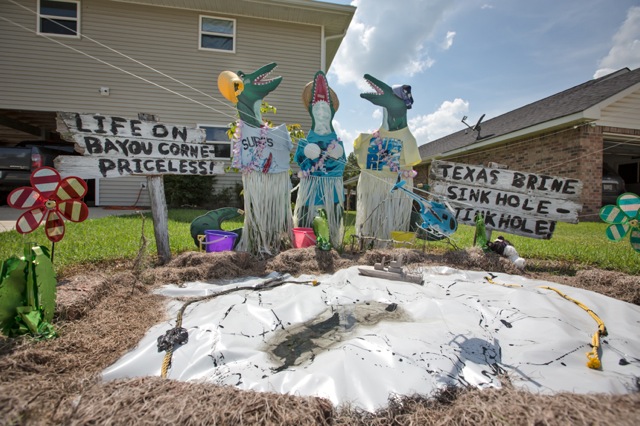 Bayou Corne, Louisiana. Satirical lawn art depicting the sinkhole that was created when a salt cavern being mined by Texas Brine Co. failed. Over the course of the year the sinkhole has grown from 3 acres to over 24 acres. ©2013 Julie Dermansky
Photo credits: ©2013 Julie Dermansky