New figures released yesterday from the Alberta Energy Regulator (AER) show a concerted effort is still underway to clean up the growing amount of bitumen emulsion – a mixture of tar sands oil and water – that is pooling in a forested area surrounding Canada Natural Resource Ltd.'s Cold Lake project.
The cause of the seepage, which shows no sign of subsiding, has yet to be determined.
AER's updated volumes show that the total amount of bitumen emulsion recovered on four separate spill sites amounts to 1444.4 cubic metres, a volume equivalent to 1.4 million litres of oil.
In addition, cleanup crews have removed 494 cubic metres of oily vegetation from the forested landscape and an additional 1049.62 metric tonnes – equivalent to 2.3 million pounds – of "impacted soils."
The AER's previous figures, released August 29th, stated 1275.7 cubic metres of bitumen emulsion had been recovered to date, the equivalent of 1.2 million litres.
Between the dates of August 29th and September 6th roughly 168,800 litres of bitumen emulsion were recovered, equaling around 1062 barrels of oil equivalent, or an average of 150 barrels per day.
CNRL, the company responsible for the in-situ operations that led to the seepage, put out a release dated August 25-31 that claims the rate of bitumen emulsion release amounts to less than 20 barrels of bitumen emulsion per day.
The disparity between CNRL's figures – a release of 20 barrels per day – and the AER recovery figures – of 150 barrels per day – is due to unrecovered bitumen emulsion on site, according to CNRL public affairs advisor Zoe Addington. CNRL is cleaning up more per day than is currently leaking, she said.
Original CNRL images released to reporter Emma Pullman show oil pooled high in a forested area, presenting both the company and provincial regulators with an extraordinarily difficult cleanup.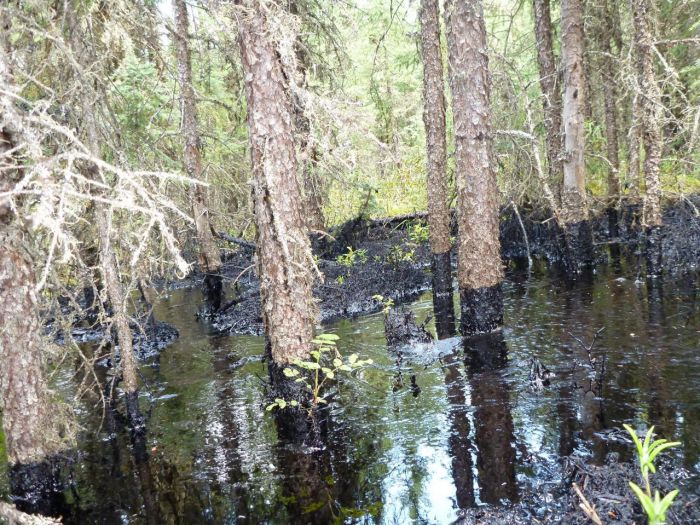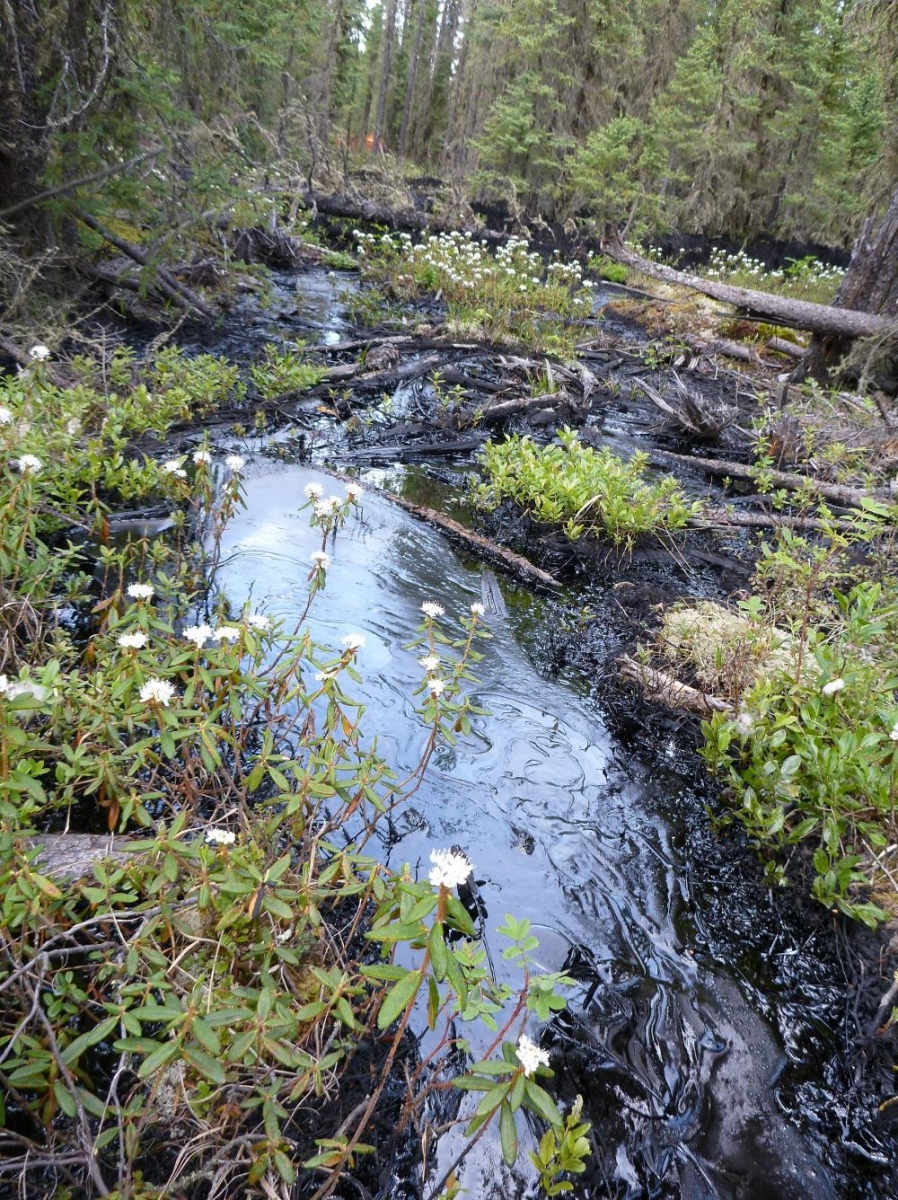 The CNRL statement also claims the company is "focusing on a reduced impact area of 13.5 hectares, a 35% reduction" since original reporting.
The AER report states 20.7 hectares have been impacted from the ongoing release.
CNRL is still working to recover bitumen, remove soil, manage contaminated water and expose fissures where bitumen emulsion is migrating to the surface on three of the leakage sites, says the AER. The company is also recovering bitumen, agitating and skimming oil from the surface of a water body and removing vegetation from the fourth site.
The AER also reports that to date 2 beavers, 43 birds, 104 amphibians and 40 small mammals are deceased as a result of the release.
CNRL's latest statement reads, "unfortunately some animal fatalities have occurred and three beavers, seventeen birds and two small mammals are being cared for at a Wildlife Rehabilitation Centre…"
As part of an ongoing subsurface investigation CNRL is drilling hydrogeological and delineation wells around the affected locations and has cited "mechanical failures" as the presumed cause of the continuous leaks, although the AER recently told DeSmog Canada the cause remains unknown.
CNRL was responsible for a similar release in 2009 that was likely caused by underground fractures, according to a report by the Energy Resources Conservation Board, the former AER.
According to Cara Tobin, spokesperson for the AER, the current spill "is in the same operational area" as the 2009 release. "These are releases coming up from basically cracks in the ground, not from the well pad," she said. Although, she adds, it is too early to say what might be the cause of this particular series of underground leaks.
"We do not have the technical data or evidence to verify what that cause might be…We will determine that through our investigation process," she said.
Last week Environment Canada announced a federal investigation into the seepage is underway alongside two separate investigations at the provincial level.