DeSmogBlog has learned that TransCanada cleared the final hurdle for the southern half of its Keystone XL tar sands pipeline, receiving a green light last week from the Pipeline and Hazardous Materials Safety Administration (PHMSA) following a review of several safety concerns.
TransCanada announced this week that it has begun injecting oil into the southern half of its Keystone XL pipeline in preparation for commercial operations.  
Leading up to PHMSA giving Keystone XL south the go-ahead to start up, Public Citizen raised several questions about the safety of the pipeline. 
Will TransCanada respond to greivances raised about dents, faulty welding, pipeline material designated "junk" and other issues raised in the consumer advocacy group's November investigation? And what about September 10 and September 26 warning letters obtained by Public Citizen raising similar concerns from PHMSA to TransCanada?
Both TransCanada and PHMSA have provided DeSmogBlog answers to these questions.
Rebranded the "Gulf Coast Pipeline Project" by TransCanada, the 485-mile Cushing, Oklahoma to Port Arthur, Texas Keystone XL southern half — approved via a March 2012 Executive Order from President Barack Obama — is set to open for business by mid- to late-January.
PHMSA

's Initial Concerns

In September, PHMSA drafted two letters to TransCanada expressing concerns over the integrity of the pipeline during its construction phase. 

"During the months of June and July 2013, a representative [from PHMSA]…inspected the construction of the Keystone Gulf Coast Project," reads a September 10 warning letter from R.M. Seeley, Director of PHMSA's Southwest Region Office to TransCanada's Vice President Pipeline Safety and Compliance, Vern Meier. "As a result of the inspection, it appears you have probable violations of the Pipeline Safety Regulations, Title 49, Code of Federal Regulations."

PHMSA's September 10 warning letter said TransCanada had done a suboptimal job installing Keystone XL's southern half.

PHMSA also wrote that the coating utilized for Keystone XL's southern half could easily degrade over time in the September 10 letter. 

Two weeks later, PHMSA sent another warning letter to TransCanada on September 26, calling out TransCanada on its poor welding procedures.
PHMSA could fine TransCanada up to $2 million, along with additional enforcement actions, if the company had failed to comply with PHMSA's dictates outlined in both warning letters. 
PHMSA

Delays

FOIA

 Response

After playing the "bad cop" role in its two September letters to TransCanada, PHMSA's Southwest Office has backed off a bit.

In response to a FOIA request submitted by Public Citizen upon learning of the two September letters, PHMSA responded that, due to commercial reasons and the possibility of an ongoing investigation, Public Citizen will likely not be eligible for many of the records requested.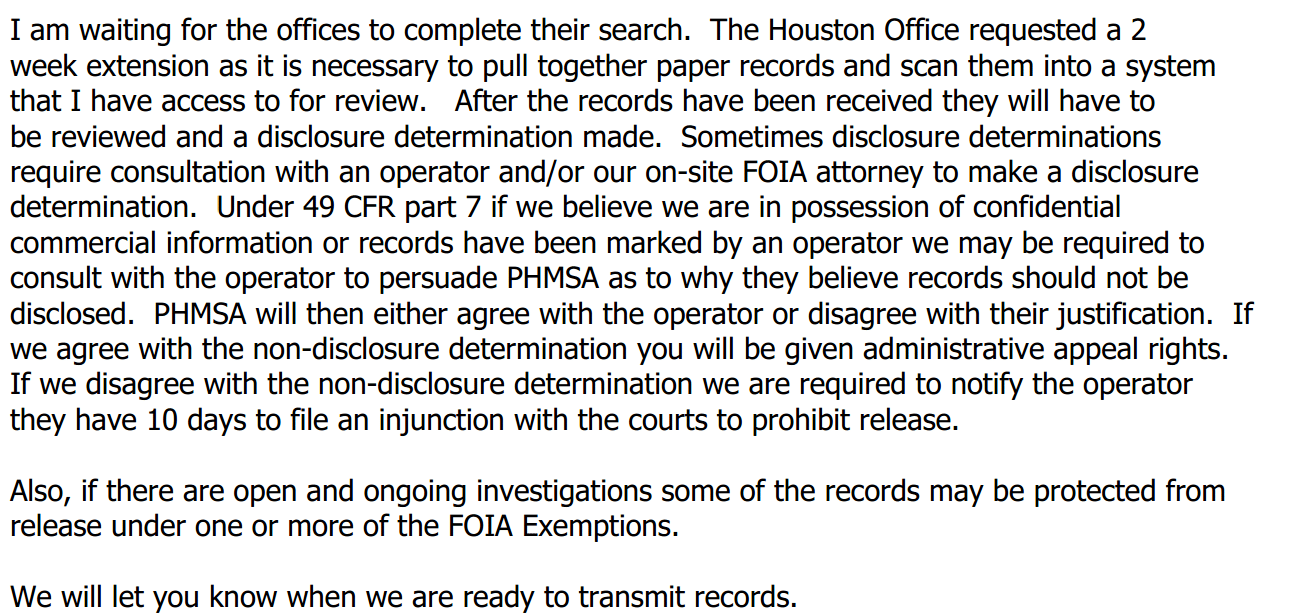 PHMSA

Gives

KXL

South Green Light

TransCanada spokesman Shawn Howard told DeSmogBlog he believes all is safe and sound with Keystone XL's southern half. 

"The fact that the anomalies on the exterior of the pipe were discovered in the first place is a direct result of the 57 special safety conditions we agreed to implement on this project and Keystone XL, many of which are not required by regulation but are standard practice on all TransCanada pipeline construction projects," said Howard. "None of these issues that TransCanada identified involve the quality of the pipe itself, and the Gulf Coast Pipeline will be the safest pipeline built in the United States to date."

Public Citizen Texas Officer Director Tom Smith offered a rebuttal to Howard's statement.

"Forty of the 57 conditions that TransCanada says constitute unusual safety measures are just standard practice. The other 17 are insignificant measures that do improve the quality and safety of the pipeline," Smith remarked. "Meanwhile, the 50 percent weld rejection rate – 205 of 425 welds on a single section of the pipeline – sited in PHMSA's warning letter to TransCanada is not insignificant. There is nothing more critical to pipeline safety than the quality of welds."

On December 4, TransCanada wrote a point-by-point letter in response to PHMSA's concerns obtained by DeSmogBlog.

"[TransCanada] hereby certifies to [PHMSA] that it is ready to introduce hydrocarbons into the TransCanada Gulf Coast Pipeline for the purpose of commencing line fill," reads the cover letter for the document addressing PHMSA's concerns from TransCanada's President of Energy and Oil Pipelines, Alex Pourbaix.

"TransCanada now has provided responses and supporting documentation with respect to all questions and requests posed by…PHMSA. TransCanada confirms that all requirements precedent to commencing line fill of the Pipeline have been satisified and it is our intent to commence line fill on December 5, 2013, pending receipt of PHMSA's concurrence."

PHMSA confirmed to DeSmogBlog that it had received TransCanada's response, and that the agency is sufficiently satisfied to allow the company to begin commercial operations. 

"PHMSA's safety inspectors have spent over 150 days inspecting the construction of the Gulf Coast Pipeline project overseeing welding, coating, installation, backfilling, testing and all other construction activities to ensure that the newly constructed pipeline will operate safely," Jeannie Shiffer, PHMSA's Director for Governmental, International, and Public Affairs told DeSmogBlog. 

"Now that the construction phase is complete, PHMSA will continue to monitor TransCanada's compliance with federal pipeline safety requirements and keep the public updated on our safety activities."
Critics Chime In
With the debate still raging over Keystone XL's prospective northern half, it appears the debate over its southern half is coming to a close.
Yet former TransCanada engineer-turned-whistleblower Evan Vokes believes the PHMSA response is inadequate. 
"The pictures collected by Public Citizen and Tar Sands Blockade indicate systemic problems with the south half of the pipeline's coating quality," Vokes told DeSmogBlog. "PHMSA said nothing about the evidence of this systemic problem."
Agreeing with Vokes, Public Citizen's Smith offered an ever deeper critique of PHMSA's response to TransCanada's December 4 letter.  
"It appears that TransCanada, in its Dec. 4 letter, is saying 'here are your answers, we're starting tomorrow,'" Smith told DeSmogBlog. "Has PHMSA verified that TransCanada completed all the work to the agency's satisfaction? Has TransCanada correctly repaired the more than 200 welds, or fixed the dents and coating problems that could lead to corrosion and ultimately leaks? What can the agency tell the public about how the concerns about flaws have been addressed?"
"So far, the agency hasn't been responsive to the public. Congress should hold oversight hearings to ensure the concerns about the pipeline have been adequately addressed"
Image Credit: Public Citizen Texas Office