When Jean Marie Neal and her husband moved to Calvert County, Maryland, she knew natural gas was imported nearby at the Dominion Cove LNG plant. 
"We did not object," Neal says, "because we knew at that point the United States needed to import gas." But now, with Dominion's proposal to build a liquefied natural gas export terminal (LNG) on land not far from her neighborhood, Neal's feelings on natural gas infrastructure have changed dramatically. "It's not even for us," she says.
Dominion Energy plans to obtain gas from Marcellus Shale frack fields in Pennsylvania and transport it via pipeline through the Old Line state. The proposed $3.8 billion Dominion Cove Point liquefied natural gas (LNG) export terminal, located in Lusby, Maryland, would liquefy more than 750 million cubic feet of natural gas per day for shipments to India and Japan.
Now Neal, formerly a chief of staff in both the House of Representatives and the Senate, represents the Cove of Calvert homeowners' association. She says the residents of Cove Point are speaking up because they're having trouble finding answers.
Neal echoes the sentiments of many Marylanders, who say their opposition to the Cove Point export plan is more than a NIMBY concern. It's part of a larger debate about whose interests natural gas exports are really in — corporate interest or the public interest?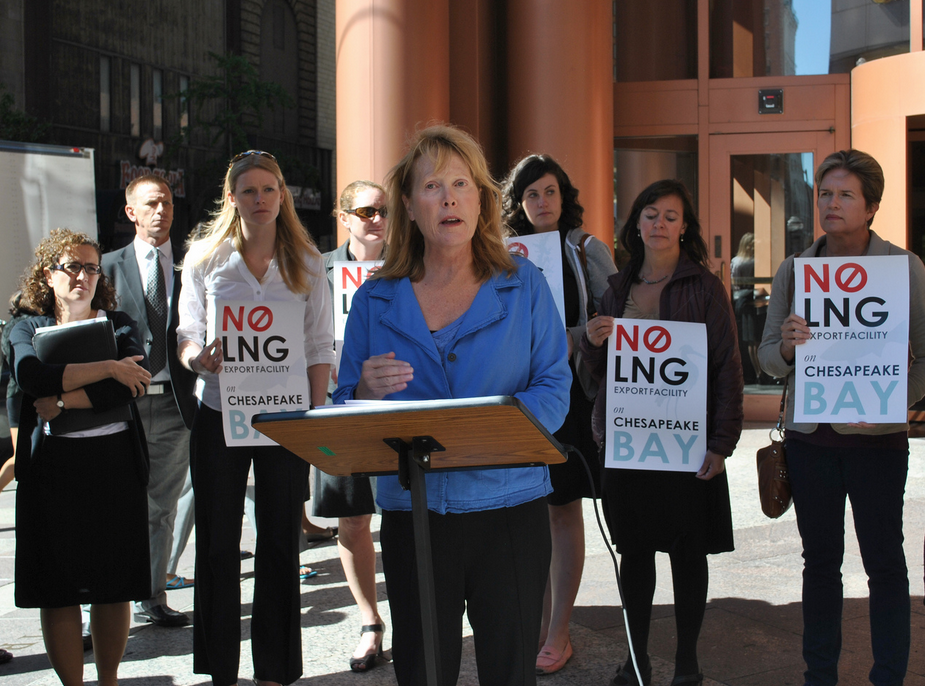 Jean Marie Neal speaking at a press conference. Credit: Chesapeake Climate Action Network via Flickr.
The Cove of Calvert community, where Neal lives, contains about 60 homes and is located on the Chesapeake Bay. The homeowners are familiar with potentially dangerous energy infrastructure: the community is just a short drive from the Dominion Cove Point LNG import terminal near Calvert Cliffs State Park, and not far from the Calvert Cliffs nuclear power plant, which experienced an unplanned shutdown of both reactors just last week.
Home mainly to retired couples and young families, Cove of Calvert is quiet and secluded, and many houses back directly onto the beach.
Dominion's export terminal plans would bring more pollution, noise and industry to the area, according to Neal and the Chesapeake Climate Action Network. 
In fact, research by the coalition shows Dominion's proposed liquefaction facility "would emit more heat-trapping carbon dioxide than all but three of the state's existing coal plants." The entire LNG export process, the coalition says, would release more greenhouse gases than Maryland's seven coal-fired power plants combined.
Neal says local government officials have not been receptive to homeowners' concerns.
"Dominion and the County Board of Commissioners have done everything they could to keep the facts and details away from residents," she says. "There have been no public hearings. Dominion is not a good neighbor: they did not reach out to our homeowners' association across the street. They did not reach out to other [homeowners' associations] in the area. We have repeatedly asked the county commissioners to hold hearings and they've turned us down."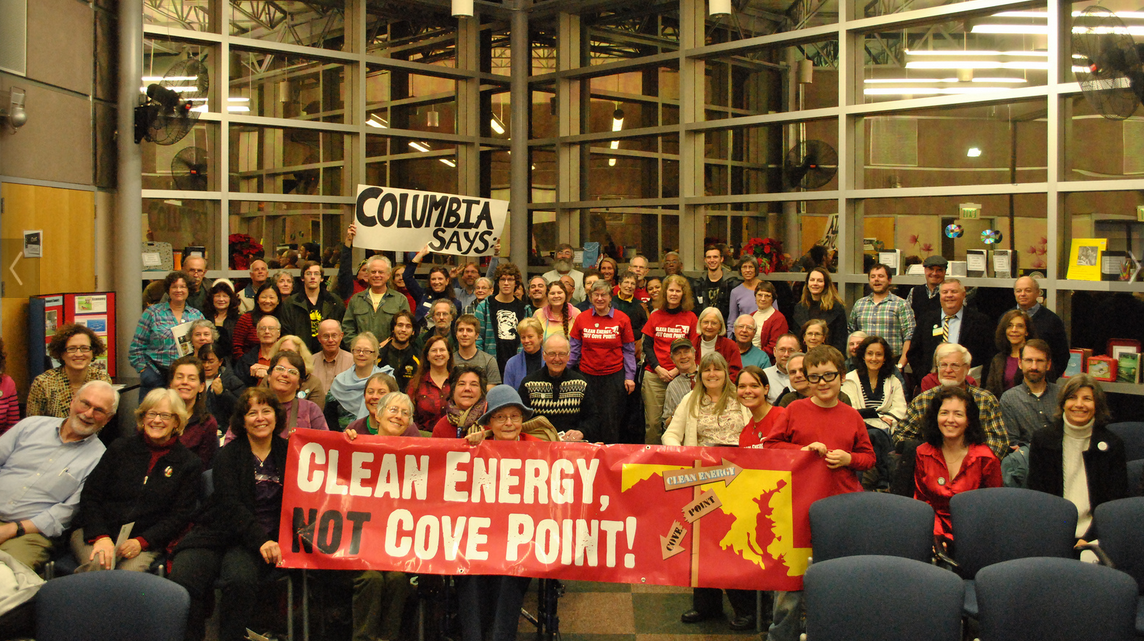 Concerned citizens oppose Cove Point LNG export terminal. Credit: Chesapeake Climate Action Network via Flickr.
Before a hearing to exempt the proposed facility from zoning regulations, County Commissioner Susan E. Shaw posted on Facebook discouraging community attendance. "It is a waste of time to come to the zoning hearing if you have concerns about the Dominion Cove Point Project," she wrote. "[Federal Energy Regulatory Commission] hearings will be held later. Of course, if you want to waste your time, feel free."
Neal says that approach has people enraged. "The meeting after the vote, people were standing up and screaming 'shame on you,'" she says. "These are local, mild-mannered people who are incensed by this. These are not environmentalists. These are local residents. There were elderly people talking about their fears and how they couldn't get their questions answered."
Residents are also upset by the proposed tax breaks for Dominion, which they see as essentially subsidizing the pollution of their community. In May, Maryland Governor Martin O'Malley signed a law giving Calvert County the authority to discount Dominion's taxes. Now, the matter rests in the commissioner's hands. Neal, for one, doesn't place much trust in her local officials.
Currently, only about 150 of the 1,000 acres owned by Dominion are used for industrial operations. The expansion, Neal says, "is going to turn the whole area into an industrial site."
Image credit: Chesapeake Climate Action Network via Flickr