The Alberta Energy Regulator (AER) has released new figures tallying the total volume of bitumen emulsion recovered at the Canadian Natural Resources Ltd. (CNRL) Primrose site in Cold Lake, Alta. The new total — 1,177 cubic metres or 1.1 million litres — is more than a third lower than previously reported amounts.
An earlier incident report from November 14, 2013, states more than 1,878 cubic metres of emulsion was recovered at the four separate release sites, where the mixture of bitumen and water had been leaking uncontrollably into the surrounding environment for several months without explanation. That's enough liquid to fill an Olympic-sized swimming pool three-quarters of the way full.
CNRL's July 31, 2013, statement (pdf), released to investors just over one month after the leaks were reported to the AER, said that within the first month of cleanup, 1,000 cubic metres of bitumen emulsion had been collected.
Scientist Kevin Timoney, who's authored several reports on the CNRL leaks, said the reported figures just don't add up.
"The bottom line is, how do you go from essentially 1,900 cubic metres, which is what you get if you listen to the president of CNRL when he was talking in January, down to 1,177 cubic metres. How does that happen?" Timoney said. "And nobody has answered that."
Bob Curran, spokesperson for the AER, told DeSmog Canada the provincial regulator has no ownership of the volume amounts they report to the public and publishes figures given to them by CNRL without verification.
"Those numbers on that site are estimates. They are provided by the company. They are not confirmed AER numbers, nor have they ever been," he said. "So if the company changes the estimate then we would change a number on the site, until such a time that we arrive at a final number. We haven't done that in this case so those numbers continue to be estimates supplied by the company."
Timoney said the U.S. regulator, the Environmental Protection Agency, would never rely on industry for that type of data. "They'd be out there gathering data and determining how much had been spilled and how much had been cleaned up," he said.
When pressed on the disparity between current reported figures and previously reported figures, CNRL spokesperson Zoe Addington said the difference was a matter of "reconciliation."
CNRL has removed oil, processed water, fresh water, vegetation and soil from the site. Addington was unable to clarify if the decrease in recovered bitumen emulsion volumes was due to an increase in reports of removal of other materials, such as fresh water and vegetation.
A CNRL report states, "Numbers have changed since the last reporting period based on a reconciliation of volumes with the receiving facility."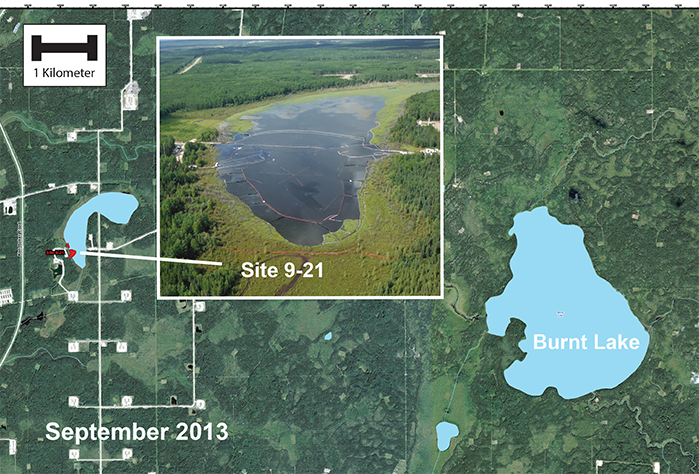 Timoney, an ecologist with Treeline Ecological Services who just released a new report this month called CNRL's Persistent 2013-2014 Bitumen Releases near Cold Lake, Alberta: Facts, Unanswered Questions, and Implications (pdf), said he'd like to see the data.
"Reconciliation is a nice word, but show me the numbers," he said. "I'm a scientist so I really want to see how this comes about."
He said even the AER and CNRL's own figures at times don't match. In mid-January AER published the 1,177 cubic metre volume while CNRL was still posting 1,864 cubic metres.
"Since I can't get on site and they won't give me the raw data, I just really have to report what they say and point out when it doesn't agree," Timoney said.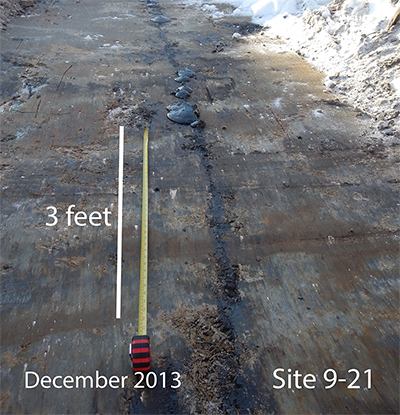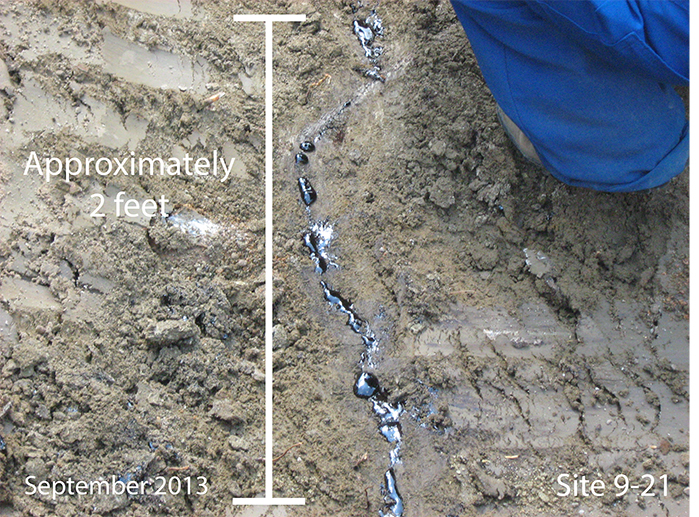 Canadian Natural Resources Ltd. images show the continued seepage of bitumen to the surface at location 9-21, the site of a water body now partially drained.
As a scientist, Timoney finds the lack of transparency dangerous, especially to the regulatory process. 
"This is one of the problems with the whole regulatory system, because … AER just simply reports, apparently reports, what industry tells them. They don't do any checking."
Reproducing industry figures in the name of public disclosure isn't much of a solution, he said. 
"I think the regulator has a responsibility to provide an accurate assessment of the company's activities. So if the regulator is not verifying information, it's just simply acting as a clearing house for information industry gives it, it's not doing its job. It's not acceptable."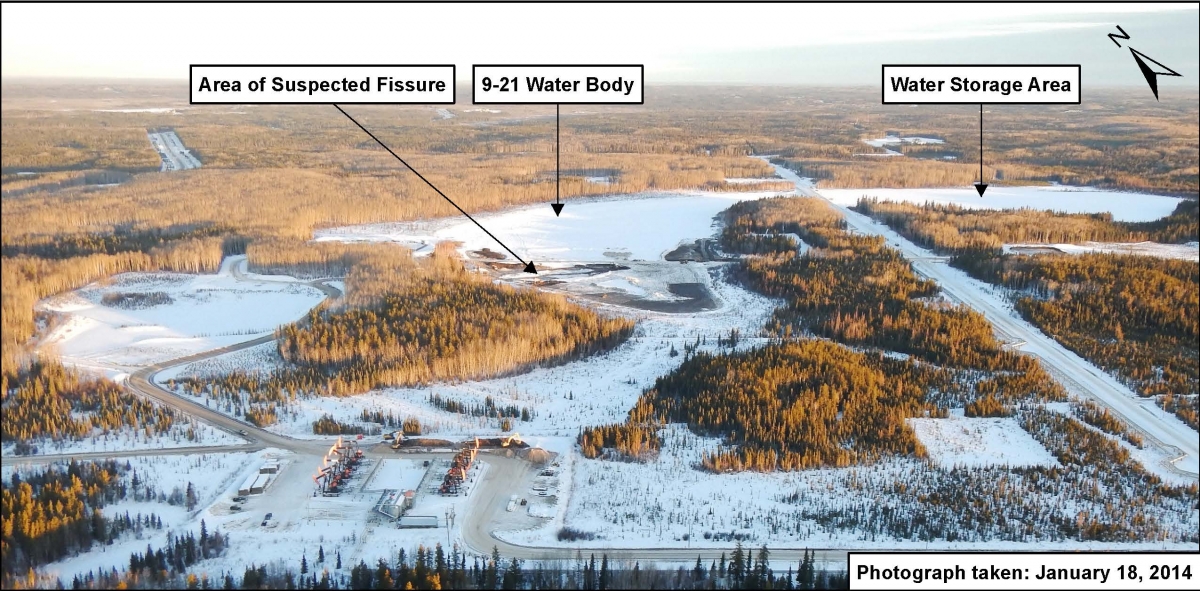 He added: "It's a problem that's only gotten worse over the years, in the sense that now AER is basically a non-governmental entity. It's funded by industry. It's not an agent of the crown so we don't have the same sort of access to information we would if they were a government agency. So the AER can basically do whatever it wants to do and the public doesn't have any recourse. It's unbelievable, really, when you think about it."
CNRL says cleanup is now complete at three of the terrestrial seepage sites. The final site, 9-21, located beneath a body of water that has since been partially drained, continues to seep bitumen.
According to Addington: "Seepage from the fissures has slowed to an almost imperceptible rate." CNRL currently reports the rate of seepage for all sites at less than one cubic metre (1,000 litres) per month.
All images courtesy of CNRL.