A freight train owned by CSX Corporation has erupted in downtown Lynchburg, Virginia, which sent "flames stories high" into the air, creating a large black cloud.
ABC's WSET has reported four of its cars were "labeled crude oil" and one witness interviewed on WSET who is an employee at Lynchburg's Market at Main restaurant, Randy Taylor, told show hosts it "sounded like a jet" when it exploded. 
"The train that derailed and caught fire in Lynchburg, Virginia, belongs to CSX Corp. and was carrying crude oil," explained a Reuters breaking story. "The accident occurred near the waterfront and some crude oil is leaking into the James River, which feeds into the Chesapeake Bay."
Around 300 people were evacuated following the accident because of the black, billowing smoke. Though the incident happened in the heart of downtown, no injuries or deaths have been reported. 
This story will be updated as further information becomes available. 
Update, 3:46 PM EDT: WSET has reported some of the oil has spilled into the James River and three of the train's cars, in derailing, are now in the River.
The Huffington Post has also reported that the cars carrying oil "may be" what are categorized as DOT-111 rail cars, which have been reported on extensively here on DeSmogBlog. "These black, pill-shaped cars, known as DOT-111s, have been involved in recent notable oil train derailments in North Dakota and Quebec," The Huffington Post explained. 
Update, 3:57 PM EDT: LuAnn Hunt, a spokesperson for Lynchburg, confirmed with the Richmond Times-Dispatch that "There is some spillage in the river of crude oil." Pat Calvert of Upper James Riverkeeper, a local branch of the Waterkeeper Alliance, further told the Times-Dispatch, "The first report I received from a citizen was the river's on fire. It would appear a part of the river's on fire." 
The city will be switching immediately to an alternative water supply. 
Update, 4:06 PM EDT: "sherifelipe" on Instragram has posted a video of the explosion happening from live on-the-scene in downtown Lynchburg. 
Update, 4:14 PM EST: Upper James Riverkeeper has put up a photo of oil slicks in the James River on Twitter.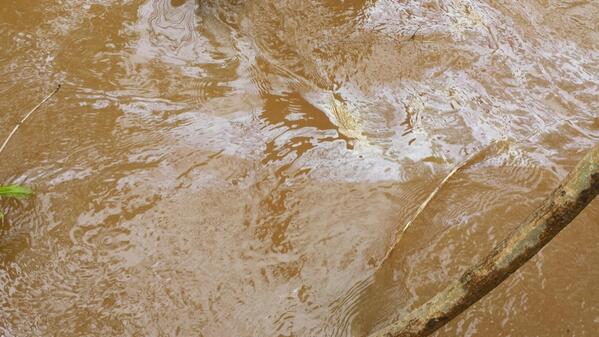 Photo Credit: James Riverkeeper | Twitter
Update, 4:45 PM EDT: Jenna Zibton of NBC's local affiliate WSLS-10 has posted a photo of rail cars that have derailed and now have fallen into the James River up on Twitter.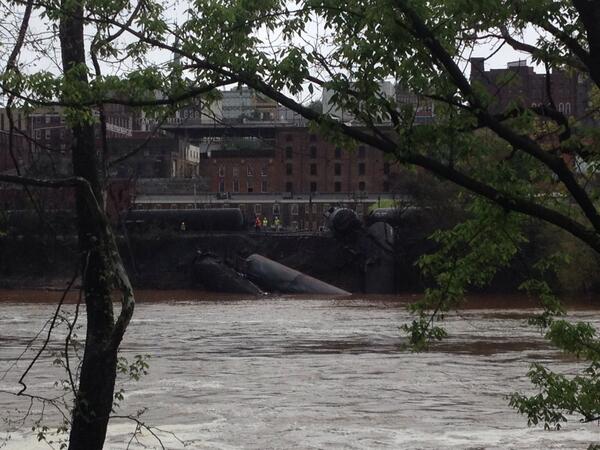 Photo Credit: Jenna Zibton| Twitter
Update, 5:00 PM EDT: Lt. Dave Gearhart of the Lynchburg Police Department told WSET in an interview that he believes the train derailed first and not the other way around, but the investigation is ongoing.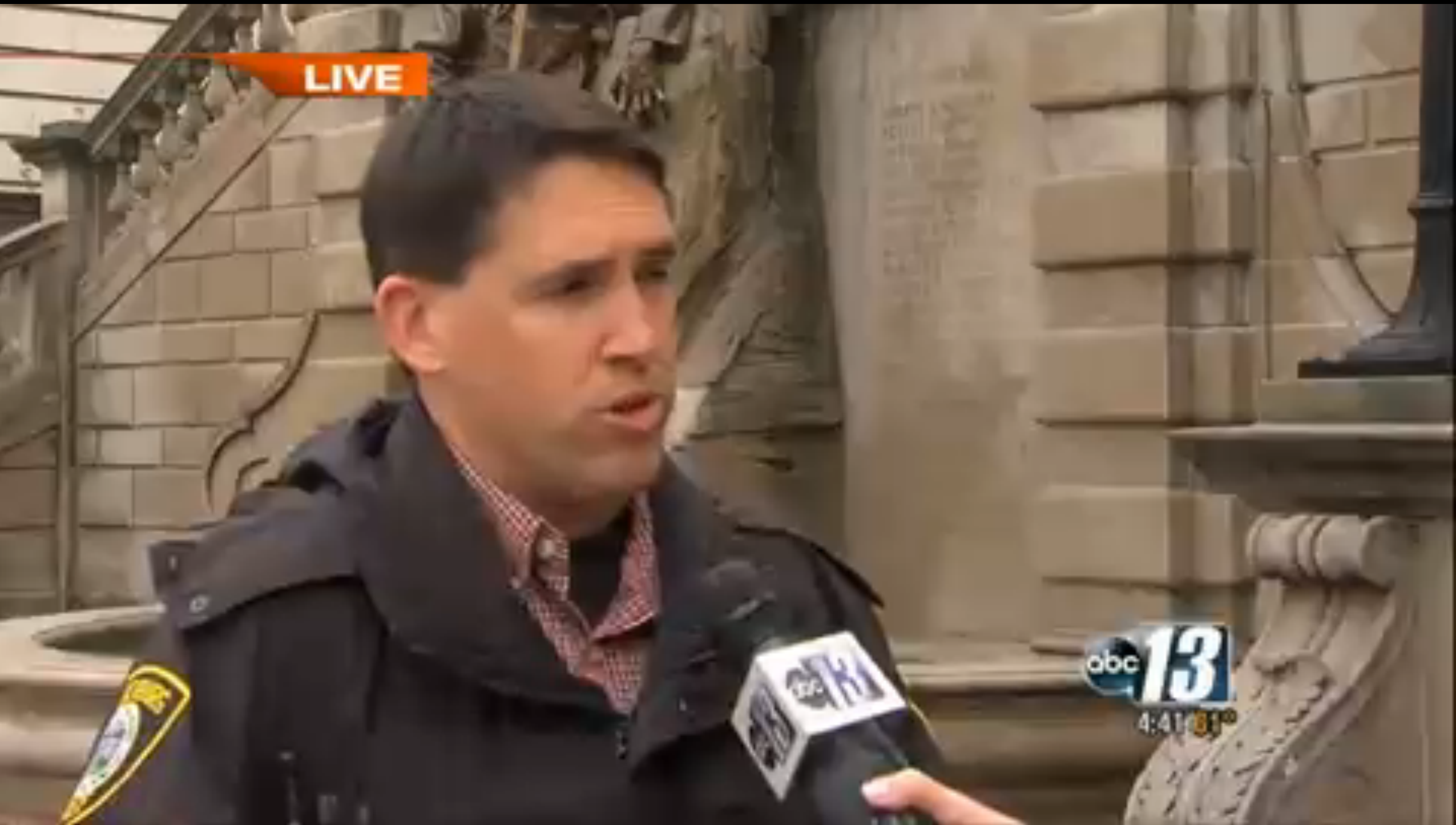 Photo Credit: Screenshot
Update, 5:11 PM EDT: KSET obtained unmanned aerial drone footage from a third party source and played the footage handed to them live on-air. Some screenshots of those images are below: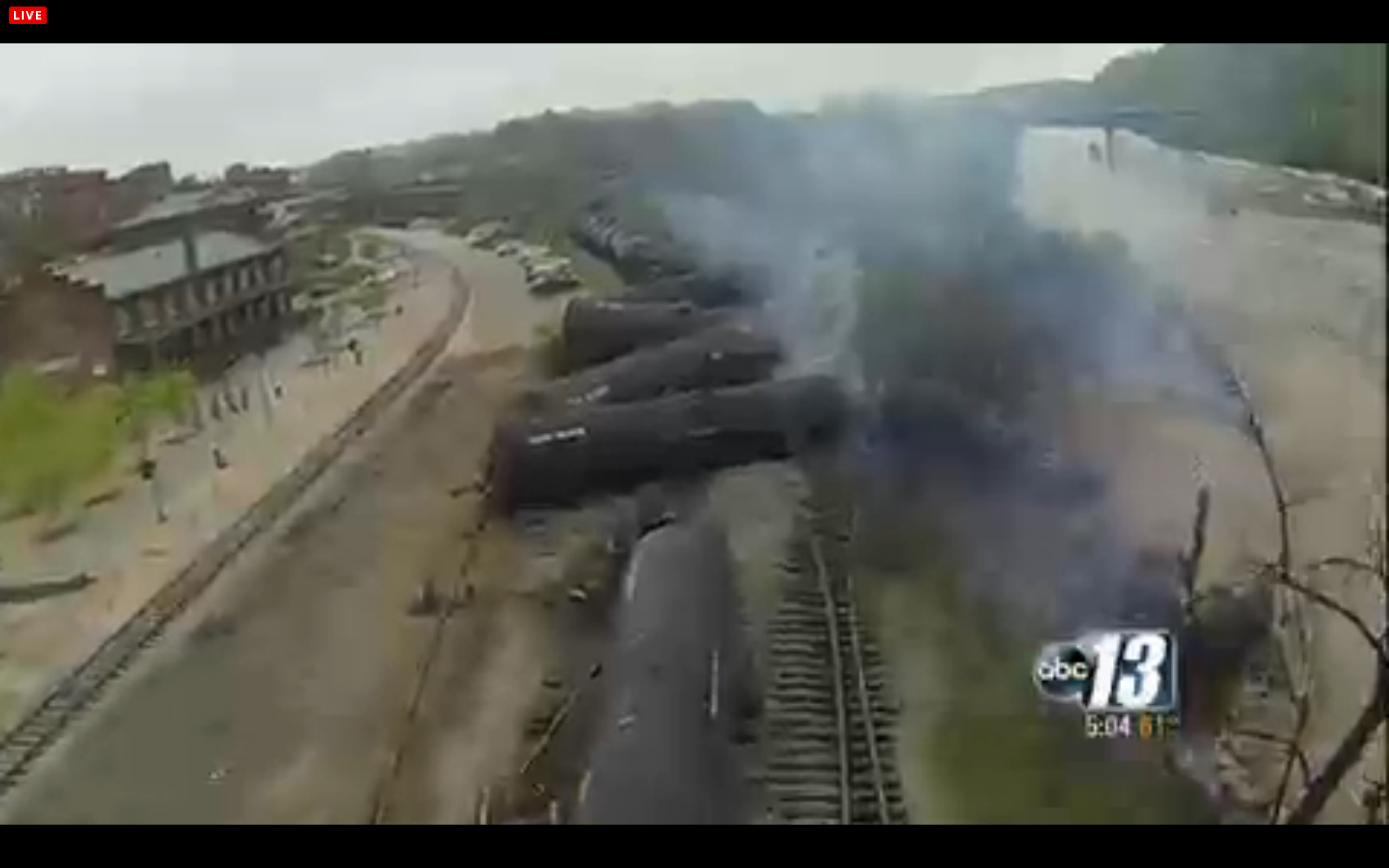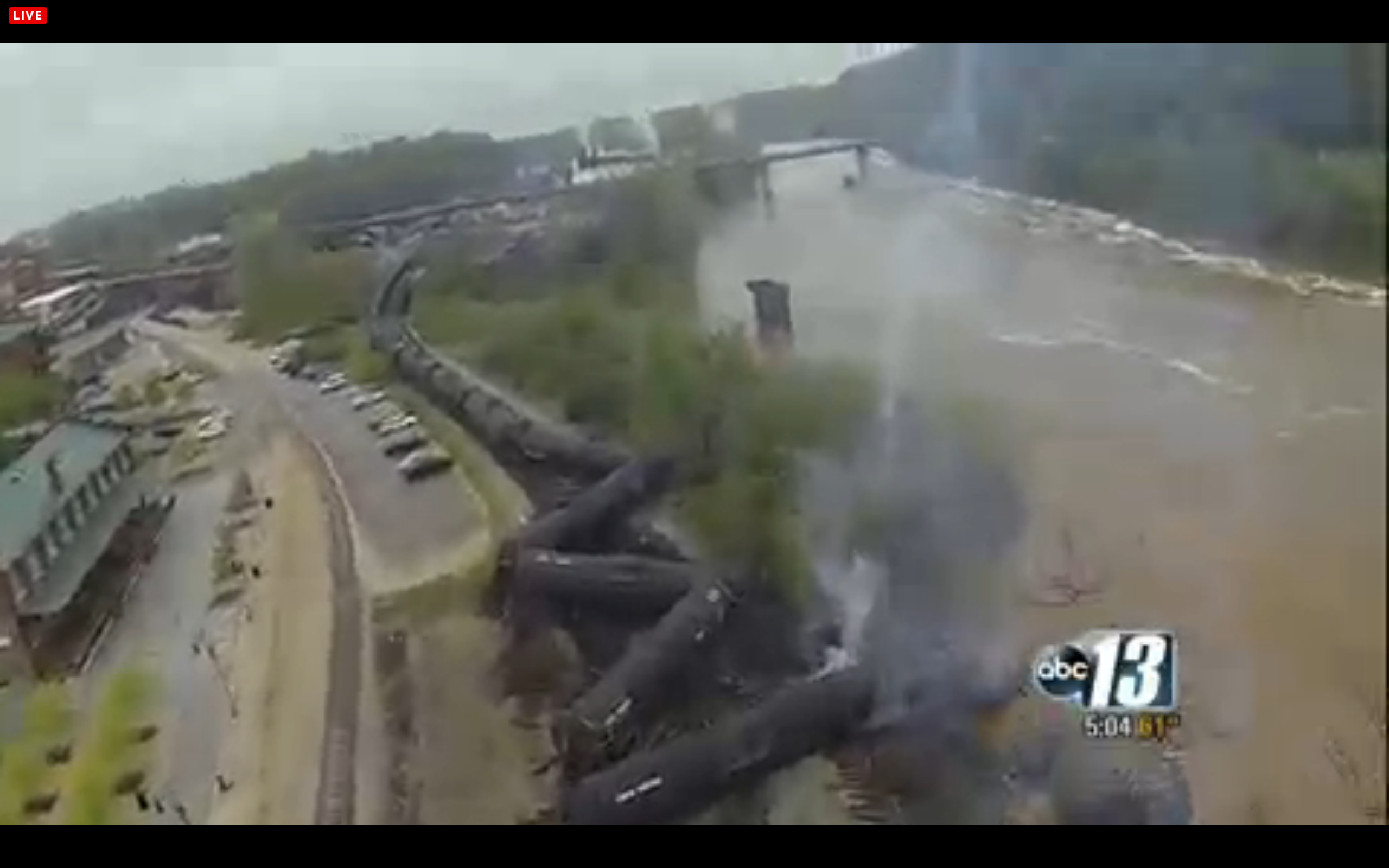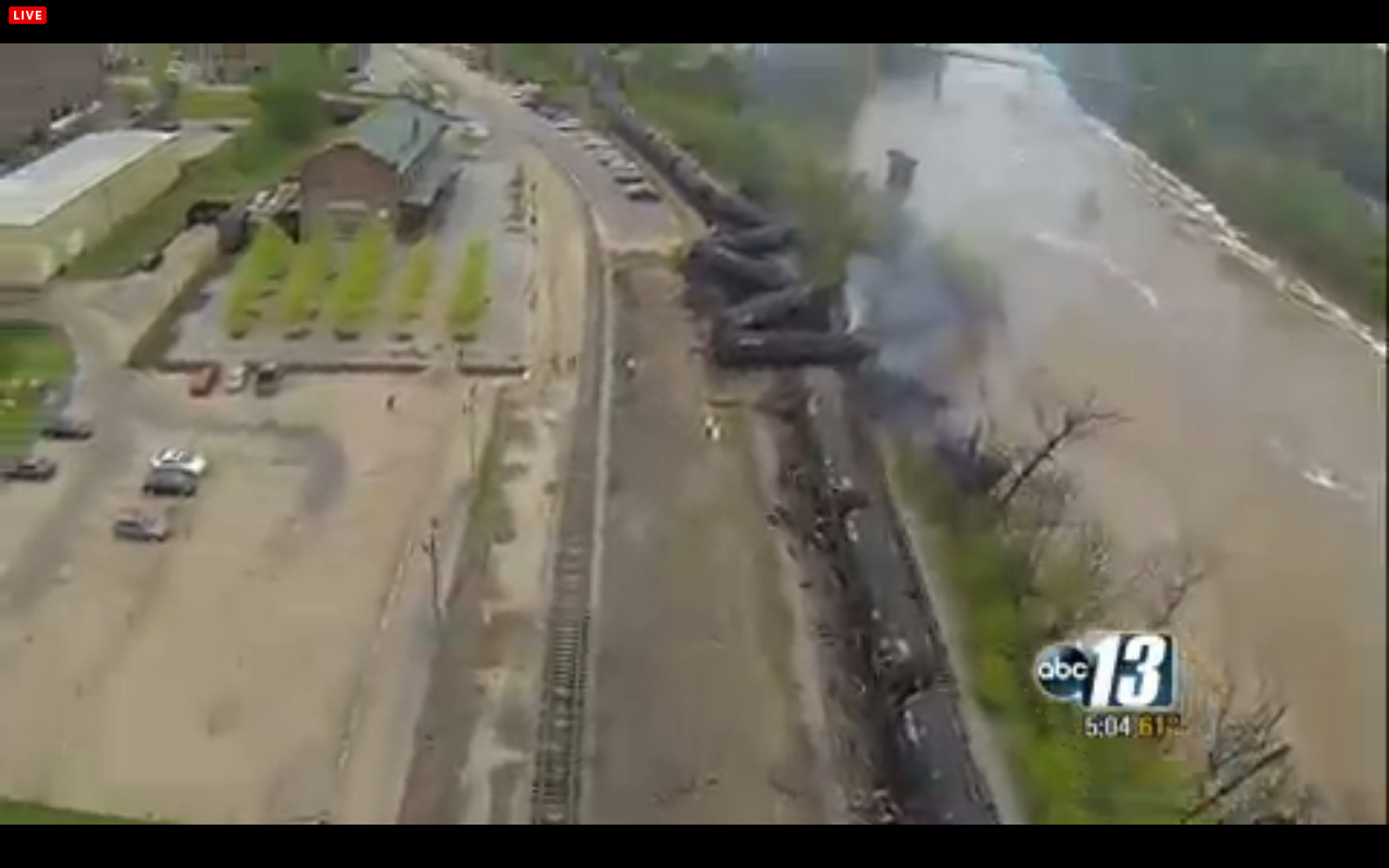 Update, 5:30 PM EDT: Reuters has provided another eye-witness description of the explosion from attorney John Francisco at the firm of Edmunds & Williams
"[H]e heard a loud noise that sounded like a tornado and then watched as several cars derailed," wrote Reuters. "He said flames streaked as high as the 19th floor of his office building in Lynchburg, the commercial hub of central Virginia."
Update, 6:06 PM EDT: Reuters also noted that "One of the only oil facilities to the east of Lynchburg is a converted refinery in Yorktown," but that the "company did not immediately reply to queries."
That Yorktown refinery-turned-storage facility owned by Plains All American Pipeline, LP — at one time owned by BP/Amoco — and the trains bringing oil to it has been at the epicenter of a Virginia battle between oil companies and rail companies on one side, environmentalists on the other. Oil shipments to Yorktown began in December 2013.
Newport News, Virginia's Daily Press reported on April 5 that CSX carries crude oil obtained via hydraulic fracturing ("fracking") to that refinery.
Bakken fracked oil also exploded in Casselton, North Dakota in a freight train owned by Warren Buffett's Burlington Northern Santa Fe (BNSF) in December 2013, as well as in Lac-Mégantic, Quebec in July 2013 in a train owned by Montreal, Maine and Atlantic Railway.   
"These trains are traveling through Lynchburg along the James River through Richmond and on to the York County facility on the York River," Glen Besa of the Virginia chapter of the Sierra Club told the Daily Press foreshadowing what was to come just weeks later.
"We're concerned that a train derailment could result in an explosion and the loss of life, or an oil spill that could jeopardize our drinking water supplies and the environment."
Another Daily Press story from January 2013 pulled information from a Virginia Department of Environmental Quality and revealed key details about the Yorktown facility that point to an explicit business partnership between Plains and CSX. 
"The permit outlines several improvements including plans to allow the facility to receive around 800 trains per year with each train having the capacity to carry 60,000-65,000 barrels of oil per train," the story explains. "Plains announced in August that it had partnered with CSX to provide rail transportation for the terminal."
Plains All American has the capacity to intake 140,000 barrels per day of "sweet crude," according to its 2013 Securities and Exchange Commission Form 10-K.
Update, 7:09 EDT: U.S. Sen. Charles Schumer (D-NY) has chimed in on the Lynchberg explosion, tweeting, "Lynchburg could be Rochester, Syracuse, Utica or Kingston tomorrow if we don't make these oil trains safer & prepare our first responders."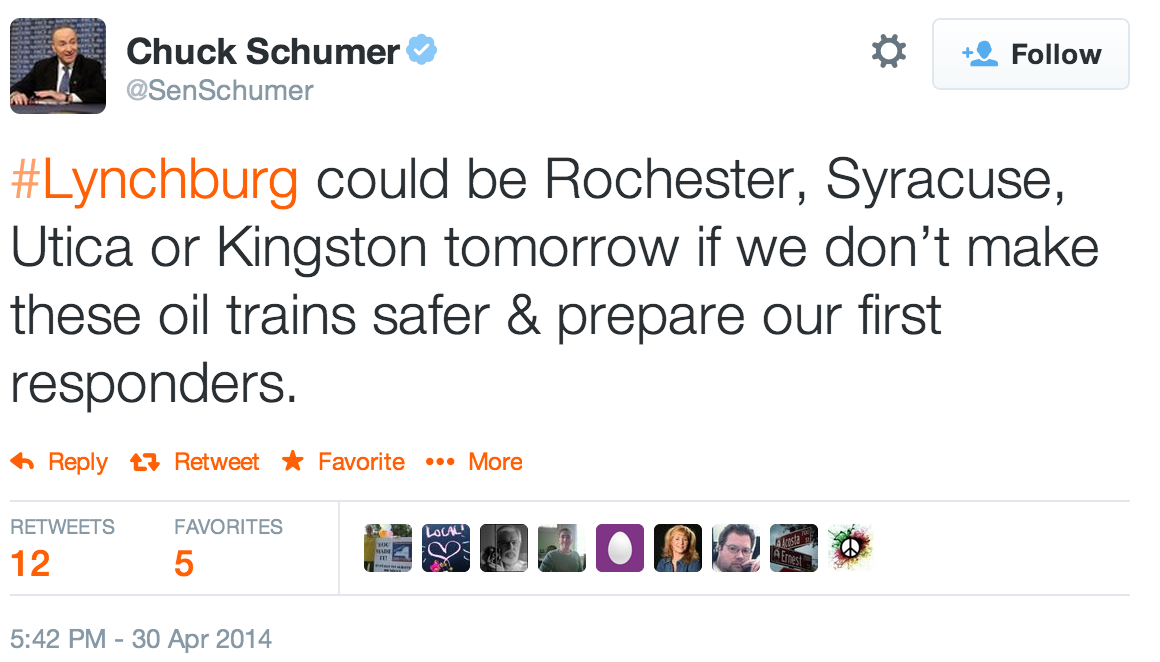 Update, 7:15 EDT: Another video of the explosion has surfaced and is now up on YouTube. This one was shot from afar.
Update, 7:33 PM EDT: A story appearing in Bloomberg Businessweek points out that President Barack Obama has yet to comment on the DOT-111 rule-making process, though he has executive authority to change the landscape on the issue. Associate Editor Matthew Phillips explains:
The derailment comes as DOT Secretary Anthony Foxx is preparing to send his list of "options" on crude-by-rail safety to the White House Office of Information and Regulatory Affairs. From there, the industry will have a chance to comment before any final rules are enacted. The deadline for new rules doesn't come until the end of the year, but DOT officials say they're hoping to be done before then. President Obama has the authority to circumvent this entire process and issue what are called interim final rules, but he has yet to indicate a willingness to do so. 
Update, 7:39 PM EDT: On April 24, InsideClimate News reported that the federal agency that oversees oil-on-the-rail (and pipelines) in the U.S., the Pipeline and Hazardous Materials Safety Administration (PHMSA), will cut 9-percent of its staff in June. 
Further, InsideClimate also reported in that same story that the "National Transportation Safety Board, which conducts investigations following major pipeline or other accidents, recently noted that it has just 10 rail inspectors to handle 20 ongoing investigations involving railroad oil tankers."
Update, 1:03 PM EDT: DeSmogBlog has published a follow-up piece on the Lynchburg disaster. We have confirmed that CSX's train was carrying Bakken crude on its way to the Yorktown holding facility owned by Plains All American.
Plains also owns a mega-complex in Cushing, Oklahoma that stores tar sands shipped it way via TransCanada's Keystone Pipeline System. And Plains' Yorktown holding facility could become a key export hub if the ban on U.S.-produced oil is lifted in the coming weeks, months or years.
Update, 6:11 PM EDT: Eric de Place of the Sightline Institute revealed that some of the tank cars on the CSX exploding train were not antiquated DOT-111's. Rather, they were the new ones deemed safer by industry experts.
While still unclear if any of the cars that exploded were not DOT-111's, one thing is clear: a whole new Pandora's Box of problems just opened up for the oil industry and the rail industry if the "safer" ones also exploded. As de Place points out, it raises the question of whether Bakken sweet crude is ever safe to carry on the rail at all. 
Photo Credit: @jakeholla | Twitter