For the first time, DeSmogBlog has published dozens of documents obtained from the North Dakota government revealing routes and chemical composition data for oil-by-rail trains in the state carrying oil obtained via hydraulic fracturing ("fracking") in the Bakken Shale.
The information was initially submitted to the U.S. Department of Transportation (DOT) under the legal dictates of a May 7 Emergency Order, which both the federal government and the rail industry initially argued should only be released to those with a "need-to-know" and not the public at-large.
North Dakota's Department of Emergency Services, working in consultation with the North Dakota Office of the Attorney General, made the documents public a couple weeks after DeSmogBlog filed a June 13 North Dakota Public Records Statute request.
"There is no legal basis to protect what they have provided us at this point," North Dakota assistant attorney general Mary Kae Kelsch said during the June 25 Department of Emergency Service's quarterly meeting, which DeSmogBlog attended via phone. "It doesn't meet any criteria for our state law to protect this." 
Initially, oil-by-rail giant Burlington Northern Santa Fe (BNSF) and other rail companies sent boilerplate letters — one copy of which has been obtained by DeSmogBlog from the Idaho Bureau of Homeland Security through the state's Public Records Act — to several State Emergency Response Commissions (SERCs), arguing train routes should be kept confidential.
BNSF also sent several SERCs a boilerplate contract proposal, requesting that they exempt the information rail companies were compelled to submit to the SERCs under the DOT Emergency Order from release under Freedom of Information Act. A snippet of the proposed contract can be seen below: 

Dan Wilz, homeland security division director and state security advisor of the Department of Emergency Services, said the claims did not hold legal water. 
"Joe can stand on a street corner and figure that out within a week's period," Wilz said at the quarterly meeting. "They watch the trains go through their community each and every day."
BNSF, Canadian Pacific Railway (CP Rail) and Northern Plains Railroad all submitted information to the Department of Emergency Services.
CP

Rail: 7 Trains/Week, "Highly Flammable"

In its submission to the North Dakota Department of Emergency Services, CP Rail revealed it sent seven oil-by-rail trains through 13 counties in North Dakota the week of June 9-15. CP Rail also estimated it generally sends 2-5 trains through those same counties during an average week.

Some oil-by-rail trains, dubbed "bomb trains" by some due to their propensity to explode, carry over 2,677,500 gallons of fracked oil. The trains are often over a mile in length and contain over 100 cars. 

The company also released information on the chemical composition of the Bakken oil it sends on its rail cars, conceding that Bakken oil is "highly flammable" and "easily ignited by heat, sparks or flames."

Further, CP Rail admitted that Bakken oil has "a very low flash point" and that "water spray when fighting [its] fire may be inefficient."
BNSF

: Bakken Oil-By-Rail King 

BNSF, owned by Warren Buffett — a major campaign contributor to President Barack Obama both in 2008 and 2012 and one of the richest men on the planet — is widely considered the king of oil-by-rail in the U.S. The documents BNSF released to the Department of Emergency Services back up the notion.

One document shows BNSF sent 31 oil-by-rail trains through Cass County, North Dakota during the week of May 29 – June 4, also saying it sends between 30-45 trains per week on average through the County. That same week, 30 BNSF trains zoomed through Barnes County, North Dakota.

A document filed the next week, covering June 5 – June 11, shows 45 trains passed through Cass County that week. Another 37 passed through Ward County, North Dakota and another 33 through McHenry, Pierce and Mountrail counties.

Northern Plains: Chemical Composition Revealed
In its DOT submission, Northern Plains included an expansive Bakken crude oil sample chemical composition test submitted by Musket Corporation, which has a terminal and transload site in North Dakota.
Northern Plains also submitted a Bakken Crude Safety Data Sheet, created by Musket, as well. The Sheet echos CP Rail in stating that Bakken oil is a "highly flammable liquid and vapor."
Further, the Sheet explains that Bakken oil contains Benzene, a carcinogen.
A record amount of Bakken oil spilled into waterways that are a drinking source for many as a result explosions of oil-by-rail trains in 2013. Most recently, the exploding oil-by-rail train in Lynchburg, Virginia spilled into the James River.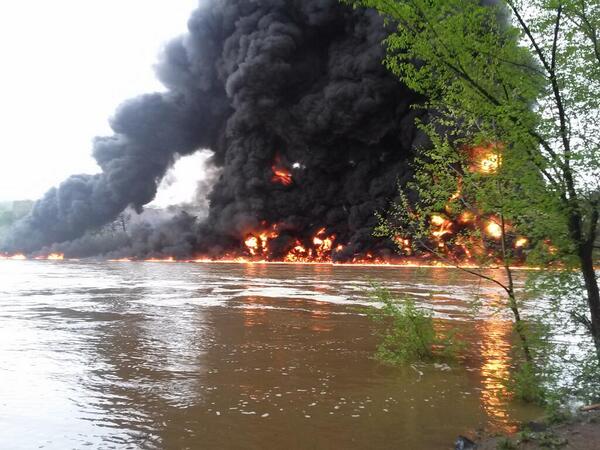 Photo Credit: Erin Ferrell – ABC 13 News | Twitter
Compared to CP Rail and BNSF, Northern Plains is a minor player in terms of the amount of oil it carries by rail in North Dakota. It submitted that it carries 12 trains per year and all within Walsh County, North Dakota, also including a map of its route.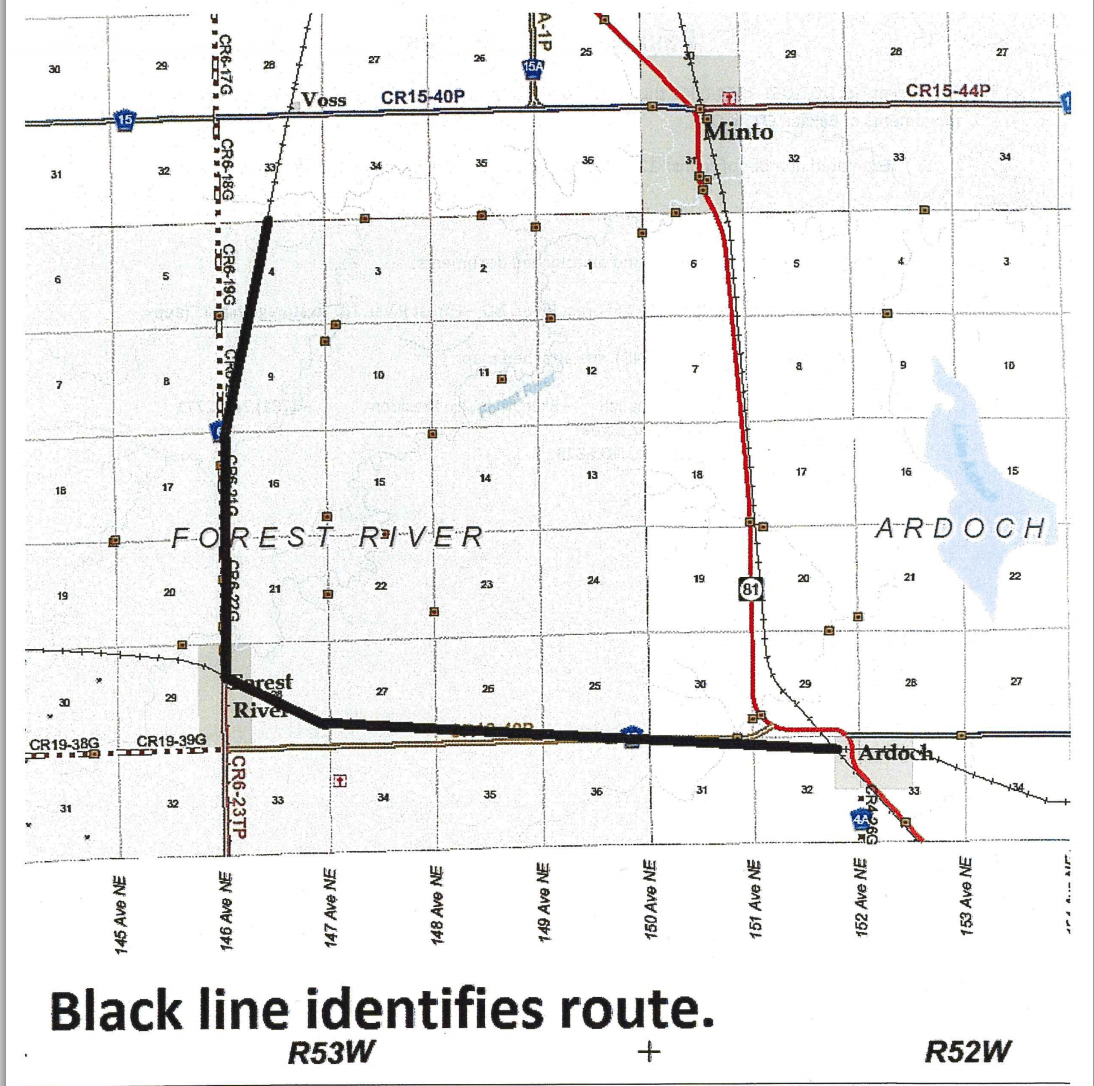 "Right to Know" vs. "Need to Know"
Despite the fact dozens of oil-by-rail trains pass through North Dakota counties on a daily basis, carrying a substance that contains a known carcinogen and is "highly flammable," Big Rail and Big Oil used its legal might to claim only a select few "need to know" where these cars travel. 
"For some reason this entire rail oil industry, they just fill these rail cars and send them without really knowing what's in them," Scott Smith, chief scientist for Water Defense said in an article appearing in the summer edition of the Earth Island Journal. "And it's the only industry I'm aware of that gets away with that."
But this time around, due to the North Dakota Public Records Statute, Big Rail and Big Oil didn't get away with it. 
Photo Credit: Kyle Potter | Forum of Fargo-Moorhead