Heather Zichal, former deputy assistant for energy and climate change to President Barack Obama and nominee to sit on the board of directors of LNG export company Cheniere Energy Inc., held two meetings with Cheniere executives while working for the White House. 
White House meeting logs show Zichal attended the meetings with three executives from Cheniere, owner of the Sabine Pass LNG (liquefied natural gas) export facility, the first terminal to receive a final approval from the U.S. Federal Energy Regulatory Commission (FERC) during the hydraulic fracturing ("fracking") boom.
The meetings appear to have taken place just over two weeks apart from one another, according to the meeting logs. The first meeting was on January 14, 2013, and the second on January 29, 2013. Just over eight months later, Zichal resigned from her White House job, with Reuters citing "plans to move to a non-government job."
Cheniere CEO Charif Souki — who is facing a major ongoing class-action lawsuit — sat in on both of those meetings. He was joined by Cheniere executives Patricia Outtrim, vice president of governmental and regulatory affairs, and Ankit Desai, vice president of government relations.
Desai, a Cheniere lobbyist, formerly worked with Zichal on U.S. Secretary of State John Kerry's 2004 presidential campaign, serving as his budget director. Desai also formerly served as political director for then-U.S. Senator and now Vice President Joe Biden.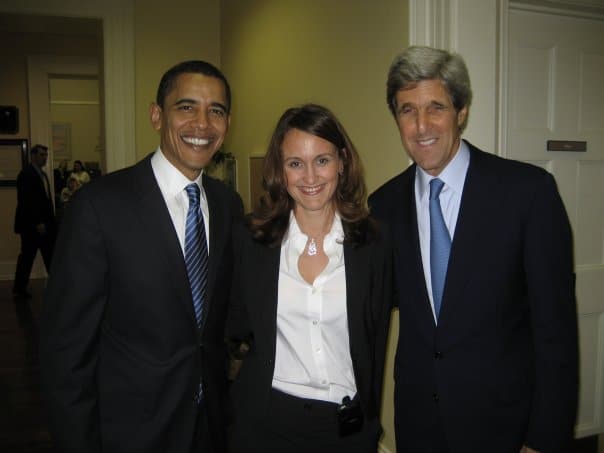 President Barack Obama (L), Heather Zichal (Center), Sec. of State John Kerry (R); Photo Credit: Facebook
Zichal served as Kerry's energy and environment policy adviser for the 2004 campaign and in 2006, became his legislative director, a job she held until becoming policy director for energy, environment and agriculture for President Barack Obama's 2008 presidential campaign. 
"Ms. Zichal served as the top energy advisor to the President of the United States at a time when Cheniere was beginning construction on [Sabine Pass LNG]," Katie Pipkin, Cheniere's senior vice president of business development and communications told DeSmogBlog. "The meeting was simply to inform and update the administration on that project."
Pipkin also denied that two separate meetings took place in January 2013 between Cheniere and Zichal, telling DeSmogBlog, "Our records indicate only one meeting with Zichal on the 29th." She did not respond to repeated requests for clarification on that claim. 
While at the White House, Zichal earned a salary of $140,000 per year. If elected to the Cheniere board, she will make $180,000 per year, plus own 6,000 shares of Cheniere stock.  
White House Open Door for Cheniere
According to a DeSmogBlog review of White House meeting logs, between 2009 and 2013, the Obama White House held 32 meetings with Cheniere board members and lobbyists, including the two attended by Souki, Desai and Outtrim.
Together, Souki and Outtrim attended four other meetings with White House officials and eight more each, either on their own or as part of other meeting blocs.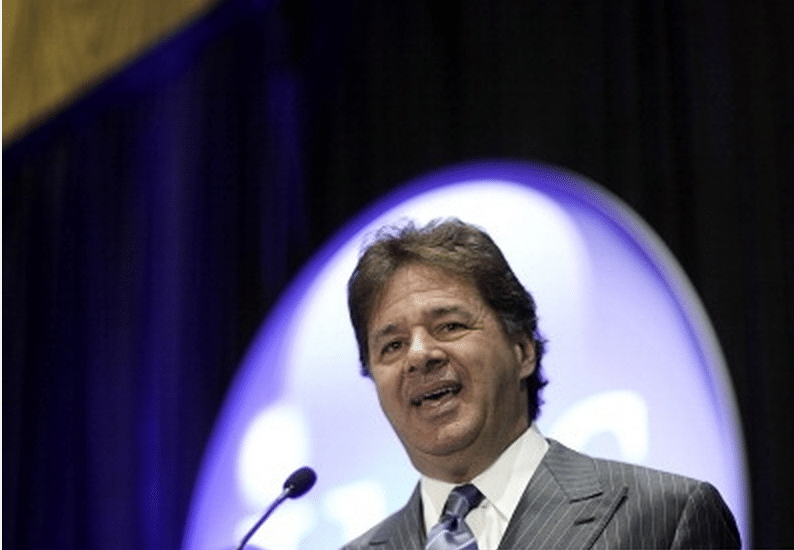 Cheniere CEO Charif Souki; Photo Credit: Getty Images
The Obama White House door has remained open to Outtrim even though she donated $10,000 to Republicans running in the the 2014 mid-term elections, according to OpenSecrets.org. Outtrim has also co-hosted a fundraiser for U.S. Sen. John Cornyn (R-TX). 
Just 10 days after Cheniere landed its final approval from FERC to export LNG from Sabine Pass on April 16, 2012, the White House hosted a meeting with Outtrim and fellow board member R. (Robert) Keith Teague. 
Majida Mourad, vice president of government relations for Cheniere, also met five times with the White House.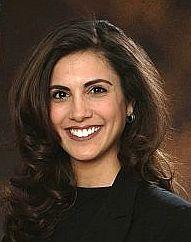 Majida Mourad; Photo Credit: DC Bureau
Two of those meetings were held directly with President Barack Obama himself, one on December 4, 2011, and another on January 18, 2013. First Lady Michelle Obama also attended the second meeting. 
Prior to becoming a lobbyist for Cheniere, Mourad served as a senior aide for Spencer Abraham, former secretary of energy during the first term of the Bush Administration. 
"Not Uncommon"
Some wonder whether Zichal will provide Cheniere even further top-level access to the Obama Administration if elected to the company's board.
"Heather Zichal taking a position on Cheniere's board of directors would be another example of the revolving door between those who set energy policies and the corporations that reap financial benefits from those policies," Emily Wurth, water program director at Food & Water Watch, told DeSmogBlog.
"Cheniere will clearly profit from the Obama administration's support of LNG exports and now so could Heather Zichal."
Matt Lehrich, assistant press secretary for the White House, described the meetings with Cheniere as "not uncommon" in response to a request for comment from DeSmogBlog.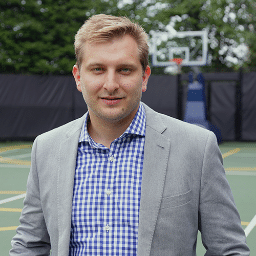 Matt Lehrich, White House assistant press secretary; Photo Credit: Twitter
"In the five years she worked at the White House, it was not uncommon for Heather to have multiple meetings in a day with a range of stakeholders, from environmental groups to industry to state and local officials," said Lehrich.
"All told, I'm sure she had hundreds of meetings with dozens and dozens of organizations and companies. Hearing input from across the spectrum was an important part of her position."
Lehrich denied comment on questions about ethics concerns and lack of a "cooling off period" between the time Zichal left the White House in October 2013 and accepted the Cheniere Board membership offer half a year later in April.
Zichal did not respond to multiple requests for comment from DeSmogBlog.
Door Closing for Zichal?
There is no guarantee Zichal will ever actually serve on the board, who arrives on the scene at a delicate time with Cheniere under intense legal fire.
Though the company has filed a motion to dismiss the class-action lawsuit in the Delaware Court of Chancery, shareholders have doubled down and requested expedited processing.
"[P]laintiffs respectfully request your honor's immediate consideration of plaintiffs' pending motion to expedite proceedings," a letter on behalf of shareholders reads. 
Disquiet among shareholders — with the annual shareholder meeting moved from June 12 to September 11 in the aftermath of the lawsuit filing — could mean Zichal's election to the board is far from a rubber-stamp prospect. 
In other words, though Zichal and the Obama White House have kept the barn door open for Cheniere lobbyists, board members and executives, there is no guarantee the company's disgruntled shareholders will return the favor for Zichal.
Photo Credit: Heather Zichal speaks to the American Petroleum Institute in May 2012 | YouTube Screenshot