Today, legislative and lobbyist members of the American Legislative Exchange Council (ALEC) voted on model legislation promoting both exports of gas obtained via hydraulic fracturing ("fracking") and vehicles powered by compressed natural gas (CNG). 
Dubbed a "corporate bill mill" by its critics, ALEC is heavily engaged in a state-level effort to attack renewable energy and grease the skids for exports of U.S. oil and gas. Today's bills up for a vote — as conveyed in an ALEC mailer sent out on June 25 by ALEC's Energy, Environment and Agriculture Task Force — are titled "Resolution In Support of Expanded Liquefied Natural Gas Exports" and "Weights and Measures and Standards for Dispensing CNG and LNG Motor Fuels." 
An exclusive investigation conducted by DeSmogBlog reveals that Cheniere — the first U.S. company to receive a final liquefied natural gas (LNG) export permit by the U.S. Federal Energy Regulatory Commission (FERC) — has acted as the lead corporate backer of the LNG exports model resolution. 
Further, Clean Energy Fuels Corporation, owned by energy baron T. Boone Pickens, of Pickens Plan fame, and trade associations it is a member of, served as the main pusher of the CNG model resolution.
ALEC has served as a key vehicle through which the fracking industry has curried favor and pushed for policies favorable to their bottom lines in statehouses nationwide. Now ALEC and its corporate backers have upped the ante, pushing policies that will lock in downstream demand for fracked gas for years to come. 
With Cheniere becoming an ALEC dues-paying member in May 2013 and with America's Natural Gas Alliance (ANGA) — the fracking industry's tour de force — crowned an ALEC member in August 2013, it looks like many more fracking-friendly model bills could arise out of ALEC in the months and years ahead.
According to a document obtained by the Center for Media and Democracy, top ALEC 2014 Annual Meeting sponsors in Dallas include ANGA, ExxonMobil, Chevron, Devon Energy, and TransCanada, among others.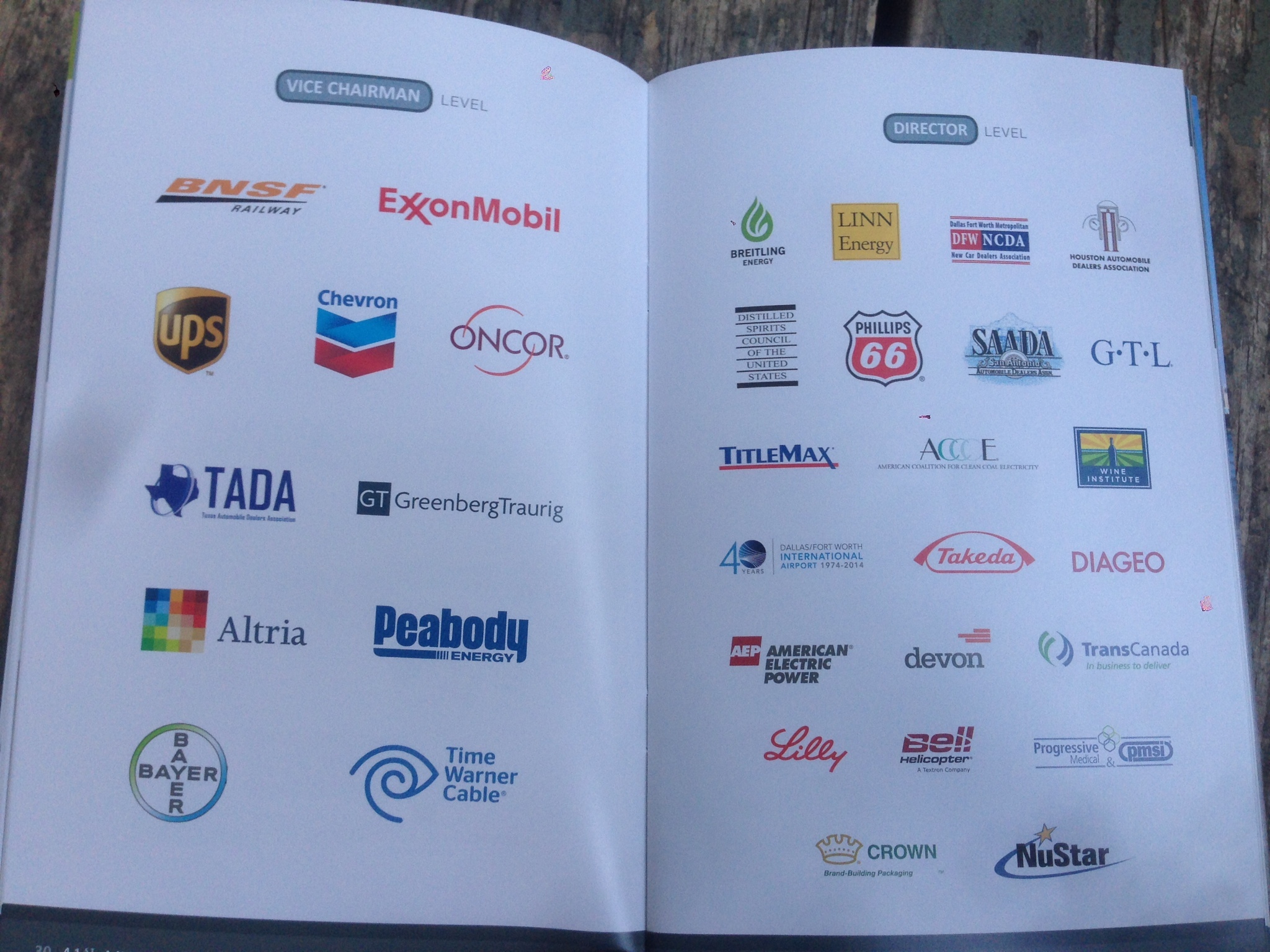 Photo Credit: Nick Surgey | PR Watch 
LNG exports will serve as the focus for part one of this series, while CNG vehicles will serve as the focus for part two. 
"
LNG

 Day"

The genesis of the Cheniere-backed model bill is tied to a March 26 "LNG Day" reception put together in Baton Rouge, La. on March 26 by the influential lobbying firm, The Picard Group. 

"LNG Day gives Legislators the opportunity to learn more about the benefits of natural gas," exclaimed a press release featuring a photo of the event taken by Dawn Cole of The Picard Group. "Attendance was great and the day was successful."

That release was disseminated by the Louisiana Mid-Continent Oil and Gas Association, of which Cheniere is a member. Among The Picard Group's clients: Cheniere, which it is registered to lobby for in Louisiana.

Emails obtained by DeSmogBlog under Louisiana Public Records Act reveal that Laura MacDiarmid, who works as a government and environmental affairs analyst for Cheniere, was copied on email outreach by The Picard Group to Louisiana state representatives inviting them to participate in LNG Day.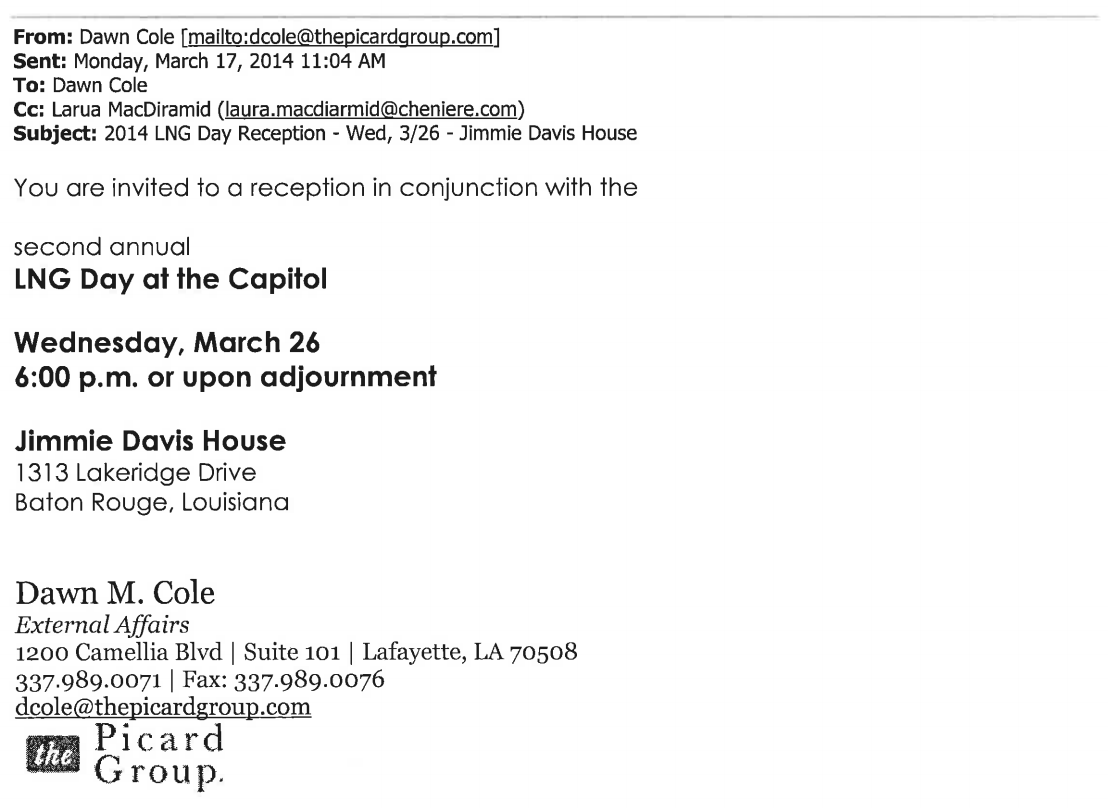 Image Credit: Louisiana Public Records Act
Further, "Our Energy Moment" — the gas industry-funded propaganda campaign promoting LNG exports — put out a release of its own promoting "LNG Day."
That release featured a quote from Jason French, listed only as a "spokesperson for the Our Energy Moment coalition" in the release. In reality, French serves as director of government and public affairs for Cheniere. 
French wrote an article published in the July/August 2013 edition of "Inside ALEC" titled, "LNG Exports – A Story of American Innovation and Economic Opportunity" and also gave a presentation on LNG exports at ALEC's 2013 Annual Meeting held in Chicago, Ill. 
Via email, French confirmed with DeSmogBlog that he will also be giving a presentation at this year's ALEC meeting in Dallas on LNG exports immediately before the model resolution promoting them receives a vote by ALEC member legislators and corporate lobbyists. 
LNG Day, though, was more than a gas industry-manufactured media event. Out of it arose House Concurrent Resolution 29, co-sponsored by Speaker of The House, Rep. Chuck Kleckley and Sen. John A. Alario, Jr. (an ALEC member). 
Alario, Jr. has taken significant campaign money from LNG exporters, such as ExxonMobil, Energy Transfer Partners and Sempra.
After HCR 29 passed the House under suspended rules, it also passed unanimously in a 36-0 vote in the Senate on March 25. The next evening after the lights went off on the day-time LNG Day festivities, lobbyists and legislators convened for a corporate-sponsored reception at the Jimmie Davis House.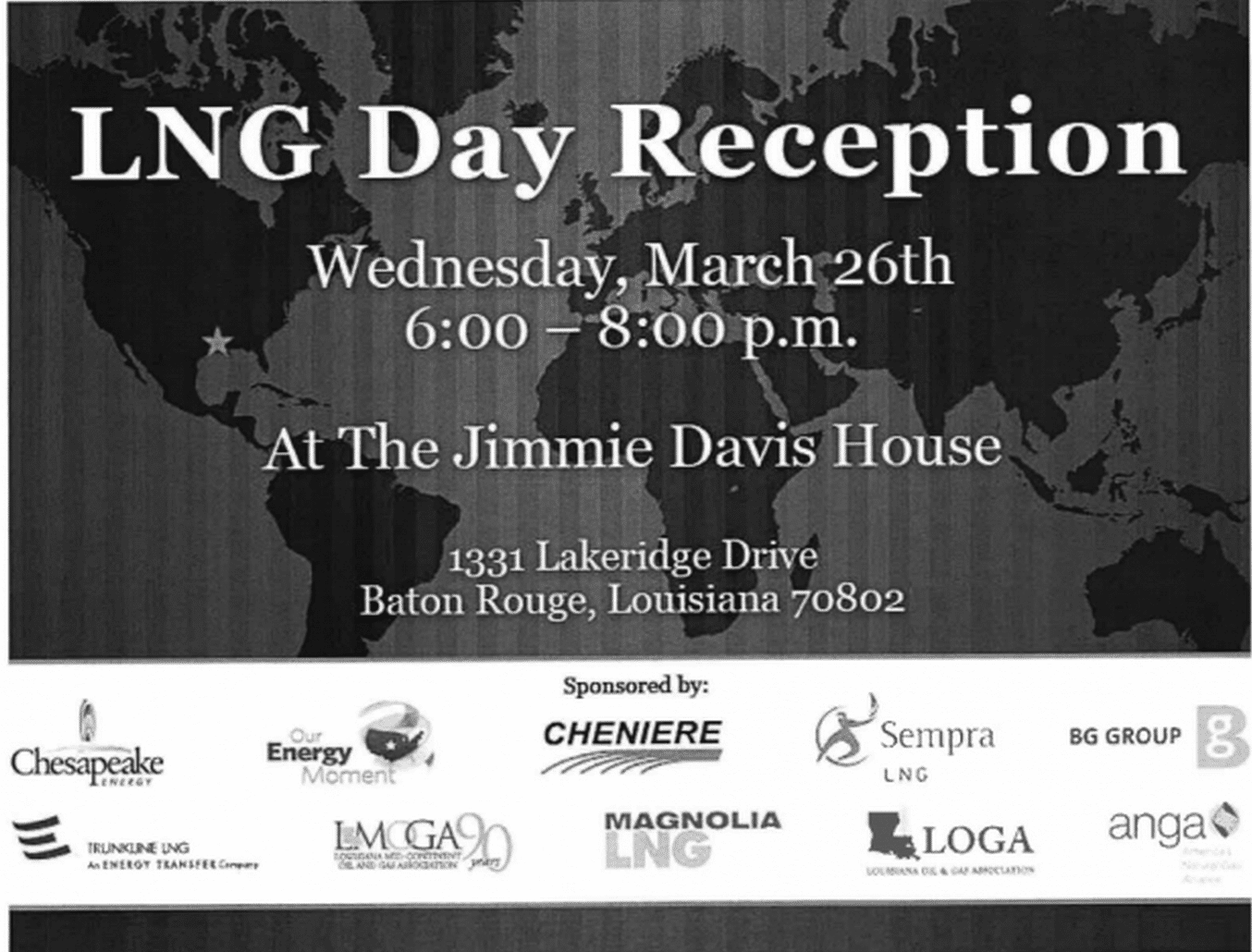 Image Credit: Louisiana Public Records Act
Among the sponsors — a copy of the invitation obtained via Louisiana Public Records Act shows — were those set to benefit most from a policy of plentiful LNG exports: the frackers and the LNG exporters, such as Chesapeake Energy, ANGA, Our Energy Moment, Cheniere, Trunkline LNG, Magnolia LNG and Sempra LNG and others. 
Guessing at Numbers and Figures 
The language found within HCR 29 mirrors that found within the ALEC model resolution.
Both cite "pioneering exploration and extraction methods that have opened vast natural gas resources to development." Both also contend that LNG exports "will support fifty thousand jobs in the exploration and production sectors for every two billion cubic feet per day of exports," literally word-for-word in boilerplate fashion.
French's article appearing in ALEC's "Inside ALEC" in the July/August 2013 edition makes the same exact jobs claim.
"Every 2 billion cubic feet per day (bcf/d) of exported gas will support 50,000 jobs in the exploration and production sectors," he wrote.
In citing the jobs numbers in his article, French points to a study written by the Perryman Group titled, "The Anticipated Impact of Cheniere's Proposed Corpus Christi Liquefaction Facility on Business Activity in Corpus Christi, Texas, and the US." 
Cheniere is listed as one Perryman's clients on the consulting group's website and a review by DeSmogBlog shows the report has been widely cited by Cheniere, including in official legal filings. 
Perryman came under fire by a Cornell University study rebuttal after the consultancy launched a June 2010 study on behalf of TransCanada — also listed as a Perryman client — claiming the Keystone XL tar sands pipeline would create an astronomical 250,348 permanent jobs. 
Louisiana's "Stink Tank"
Given the State Policy Network (SPN) "stink tanks" are a creation of ALEC — as first revealed here on DeSmogBlog in December 2013 — it is only logical that an SPN offshoot played a role in ushering in HCR 29 and what would become the ALEC model resolution on LNG exports.
Enter: the Pelican Institute for Public Policy, the well-connected Louisiana-based SPN offshoot group. In January 2014, Pelican published a report titled, "Risk, Reward & Revolution: Why globalizing the natural gas revolution is smart environmental and economic policy for Louisiana."
Paralleling the Perryman study commissioned by Cheniere and cited in the model resolution and French's article published in "Inside ALEC," the Pelican Institute report cites figures from a November 2013 ICF International report on the economic impacts of LNG exports commissioned by the American Petroleum Institute (API).
Another Perryman parallel: ICF was one of the consulting groups chosen by TransCanada for the State Department's Environmental Impact Statement on the northern leg of the Keystone XL tar sands line. 
"Not a Sponsor of the Resolution"
Contacted via email, French told DeSmogBlog that part of the reason Cheniere has become active in ALEC is because the company is a "leader in engaging and educating the public," for which ALEC provides a platform. 
"Cheniere is a leader in the US LNG Export industry – an industry that is relatively new and unfamiliar to much of the country," said French. "We participate in forums such as ALEC, National Conference of State Legislatures, State Government Affairs Council, the Marcellus Shale Coalition and others as a way to engage with and inform policy makers about the significant economic benefits of our projects and the LNG export industry as whole."
While French did not deny Cheniere's authorship of the bill, he said by technicality, the company was not the sponsor of it either.
"We are not a sponsor of the resolution at ALEC, but are a proud supporter of it. As many organizations do, and as part of our outreach efforts, we provided information that helped shape the resolution."
He says Cheniere has pushed for the resolution's passage since joining ALEC.
"We are pleased that it will be on the upcoming agenda, and hope that our previous outreach efforts to the ALEC membership will be helpful in its passage."
Cheniere's Latest "Market Signal"
Far from a stand-alone case study, Cheniere has used connections to powerful political officals on both sides of the political aisle to win policy gains. 
Most recently, it nominated Heather Zichal — President Barack Obama's former "energy czar" who stepped down in November 2013 — to sit on the Board. And its federal-level lobbying efforts are bolstered by a lobbying team headed by former Bush Administration Secretary of Energy, Spencer Abraham. 
Put another way, ALEC provides a new cheap lobbying entry point of access to literally hundreds of mostly Republican Party officials for Cheniere.
So while merely pushing a symbolic resolution that can be introduced and passed in statehouses across the "United States of ALEC," what Cheniere's investors get out it is an all-important "market signal" to continue investing in climate change causing and ecologically destructive fracking infrastructure.
Or as former ALEC Executive Director Sam Brunelli wrote in a July 1991 letter to an executive at the Tobacco Institute describing ALEC's importance, "Winning is the operative word…[W]inning the public policy debate will continue to have a tremendous positive effect on the 'bottom line' of your company."