CLEAN COAL, it's the two-word catch phrase the coal industry has used for years as it tries to convince the world its climate changing energy source has a future.
While the term "clean coal" is rightly met with ridicule and derision by many, up until this week it has been allowed to stand — at least in the world of advertising.
But now the UK's advertising authorities have told Peabody Energy that it can no longer freely dangle its "clean coal" mythology in front of consumers without explaining itself.
The advert, devised by global PR agency Burson-Marsteller, claimed that Peabody was using "today's clean coal technologies" to "improve emissions".
In an adjudication, the Advertising Standards Authority said:
Notwithstanding the fact that "clean coal" had a meaning within the energy sector, we considered that without further information, and particularly when followed by another reference to "clean, modern energy", consumers were likely to interpret the word "clean" as an absolute claim meaning that "clean coal" processes did not produce CO2 or other emissions. We therefore concluded that the ad was misleading.
The ASA said that the complainant, environment group WWF, had argued the term "clean coal" was misleading and that it "implied that the advertiser's impact on the environment was less damaging than was actually the case".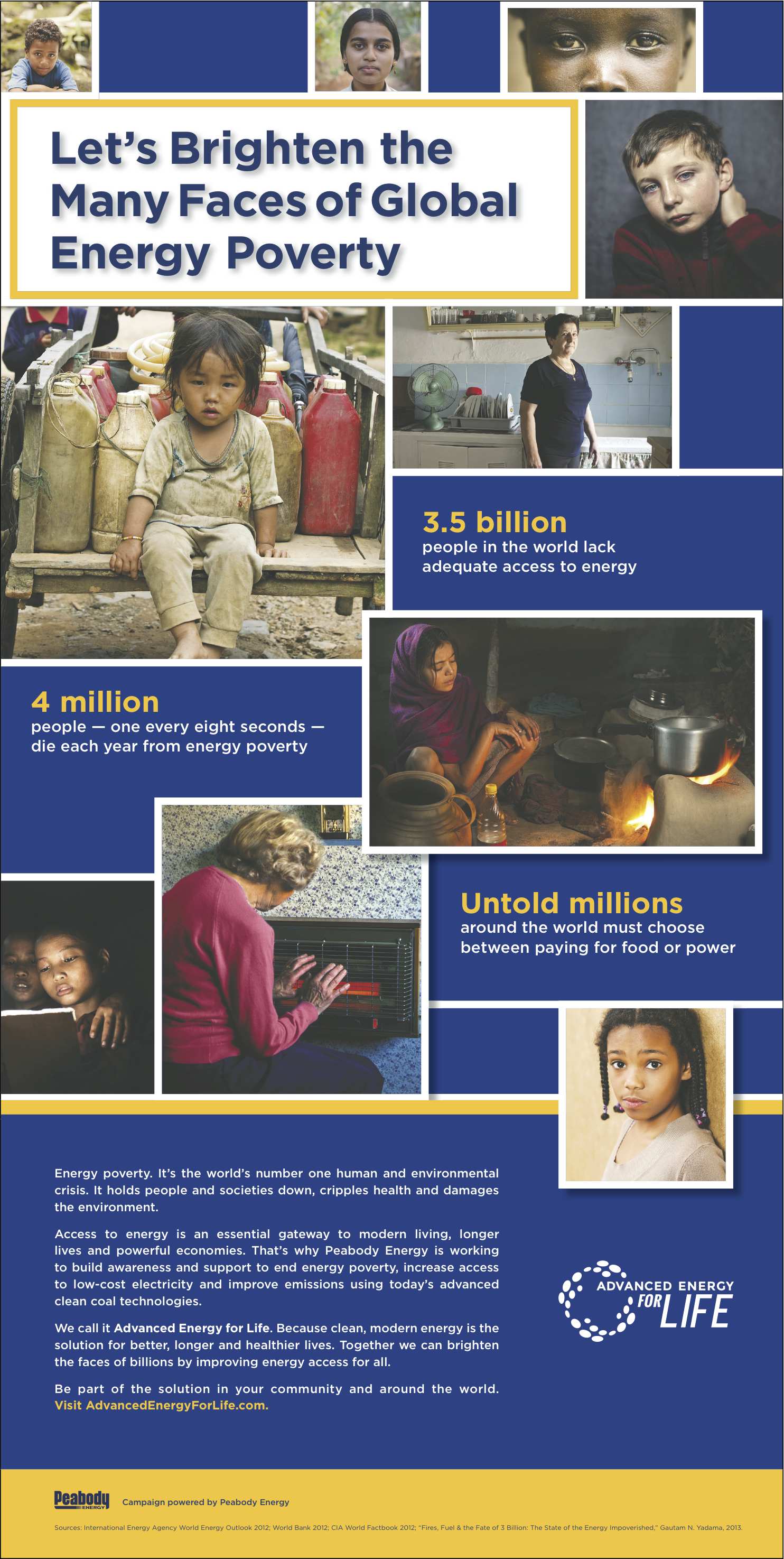 Tony Long, director of WWF European Policy Office, said: "Companies trading and selling polluting energies have a responsibility to be open and honest about their activities and products. The last thing they should be doing is trying to claim spurious environmental benefits from coal consumption. This merely damages the already tarnished reputation
of a struggling sector."
WWF said Peabody, the world's biggest privately-owned coal company,  should "take the ASA ruling seriously" and the group said it would be monitoring media for other examples of misleading adverts.
The advert was part of Peabody Energy's "Advanced Energy for Life" campaign that aims to take a moral high ground by claiming coal is a key to ending "energy poverty" in developing countries. The advert showed images of children in poverty-stricken circumstances.
WWF had also challenged a claim in the advert that "energy poverty is the world's number one human and environmental crisis", but ASA rejected these complaints, saying:
We understood that, in this regard, Peabody Energy considered that they were working towards a solution to energy poverty which, although differing from WWF's understanding of best practice, would nonetheless provide sources of energy to those populations that did not currently have reliable access. Although we appreciated that the use of coal-based energy to do this may be contentious, we did not consider that the ad was misleading by implying that Peabody Energy was attempting to find a solution to global energy poverty or by omitting information about the potential negative effects of coal-powered energy production.
A statement from Peabody said it "applauded" the ASA for standing by its claims to want to use coal to end "energy poverty".
Peabody has now added a footnote in small print to the advert. Bloomberg reported Peabody was "confident" this tweak would satisfy the advertising watchdogs.
The "Advanced Energy for Life" campaign has a website targeting China, the US and Australia and was developed by Burson-Marsteller, one of the biggest PR firms in the world.
Burson-Marsteller has worked with the tobacco industry, aided governments with questionable human rights records and helped Union Carbide spin the aftermath of its infamous Bhopal poisonous gas explosion that killed thousands and injured many more.
The claim that coal burning should not be restricted because it can help lift poor nations from poverty has been an increasingly popular line from coal bosses across the world. Climate science deniers at the last major United Nations climate negotiations in Warsaw claimed coal was the "moral choice". 
The argument is also a favourite of Danish poilitical scientist Bjorn Lomborg, as outlined here on my Planet Oz blog for The Guardian.
Earlier this week, Australia's public broadcaster the ABC screened an episode of its investigative current affairs program Four Corners looking at the impact of coal on the Great Barrier Reef. In the program, the country's environment minister Greg Hunt equated stopping massive coal export projects to "condemning people to poverty".