A DeSmogBlog investigation reveals that Kristina Moore, the Senate staffer listed as the author of U.S. Sen. David Vitter's (R-La.) "green billionaire's club" report published by the Senate Environment and Public Works Committee (EPW) on July 30, has career roots tracing back to the Koch Brothers' right-wing machine.
Metadata from Vitter's green billionaire's club report shows Moore's name as the author, though it remains unclear whether or not she authored it alone. Moore did not respond to a question about her authorship sent via email.
During a July 30 presentation of the report given to conservative transparency advocacy group Cause of Action, Vitter thanked Moore and several other staffers for their help putting together the 92-page document.
Moore — EPW's senior counsel for oversight and investigations — went to law school at George Mason University School of Law, graduating in 2007. David and Charles Koch both serve as major donors to George Mason University and also endow George Mason's Mercatus Center, where Charles sits on the Board of Directors.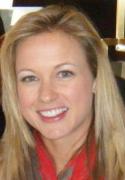 Kristina Moore; Photo Credit: Bertelsmann Foundation
While attending law school, Moore concurrently worked as chief of staff for former U.S. Rep. Tom Davis (R-Va.), according to financial disclosure documents obtained by DeSmogBlog.
As a Davis staffer, Kristina Moore (then Kristina Husar), attended two Mercatus Center-sponsored retreats in 2006 and 2007, held in Richmond, Va. and Willamsburg, Va., respectively.
Husar served as the first Mercatus Fellow for Regulatory Studies. In February 2006, she wrote an article in the Small Business Advocate about attending the Mercatus retreat.
Photo Credit: U.S. Small Business Administration
Originating as the Austrian Economics Program in the late-1970s and then hubbed at Rutgers University, Mercatus — latin for "markets" — has held annual congressional staff retreats from its inception, according to SourceWatch. The Center for Public Integrity pointed to the retreats as example of potentially illegal unregistered lobbying in a 2006 investigative piece.
The retreats fit under the broader umbrella of Mercatus' "Capitol Hill Campus" program, which it devoted over $1.6 million to both in 2006 and 2007, according to Internal Revenue Service (IRS) 990 forms reviewed by DeSmogBlog.
Beyond Moore, a close look into the origins of and people behind the Vitter green billionaire's club report show Koch brothers ties through and through. 
Mercatus-Taught Oversight Techniques
Prior to working for Vitter's EPW Committee, Moore worked for U.S. Rep. Darrell Issa (R-Ca.), serving as senior counsel for the minority staff of the House Oversight and Government Reform Committee, headed by Issa.
The Watchdog Institute revealed in a February 2011 investigation that many of the so-called "oversight" investigations conducted by the Committee benefited corporate campaign contributors.
And many of Issa's Oversight Committee staffers, including Moore, attended Mercatus Center staff retreats. Mercatus schooled them in oversight tactics and techniques.
"In February 2009…Issa…approved a trip to a Mercatus-funded retreat for his committee staff director, Larry Brady," wrote The Watchdog Institute. "On his disclosure form, Brady, who did not respond to an interview request, cited the purpose of the trip: 'Provide in-depth briefings on issues of relevance to oversight investigations.'"
Daniel Epstein's Koch Connection
Daniel Z. Epstein, executive director of Cause of Action — which did the presser premiering the Vitter green billionaire's club report to the U.S. public — formerly served as counsel for Issa's Oversight Committee before launching Cause of Action.
Epstein, who worked alongside Moore for the Oversight Committee's investigations team, introduced Vitter at the event.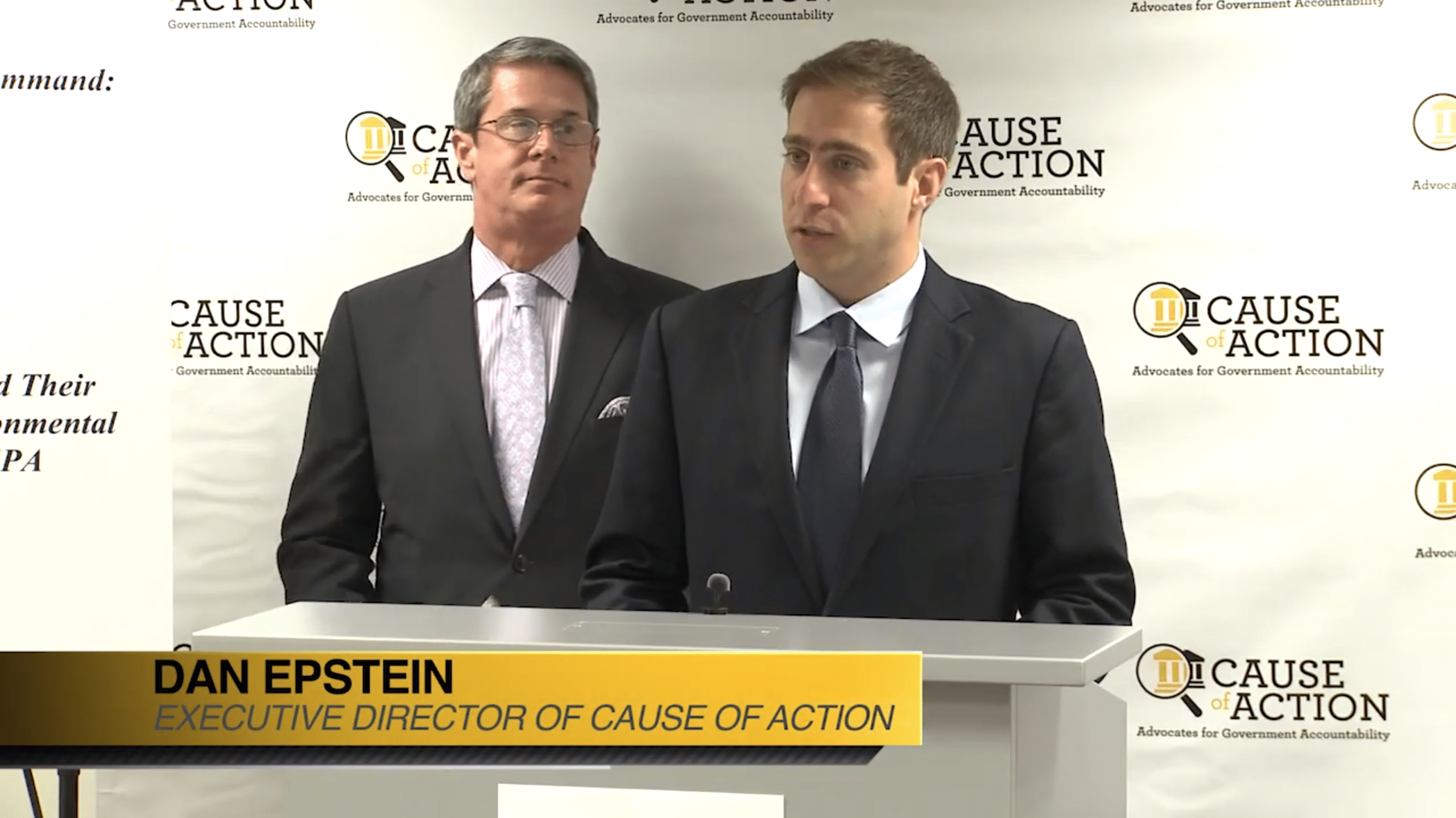 U.S. Sen. David Vitter (L), Dan Epstein (L); Photo Credit: Youtube Screenshot
On the day of the release and the day after the release of the report, Cause of Action published four different items on its website promoting it, including issuing a public statement.
According to a 2009 article appearing in The Hill, Epstein served as "an associate in legal reform at the Koch Foundation, working together with Koch Industries Inc.'s assistant general counsel."
"The job was an interesting mixture of corporate culture with an emphasis on social change — I miss that synergy," he told The Hill at the time. 
On his personal website, Epstein lists that 2008-2009 gig as "Counsel, Legal Reform at CGKF." CGKF is shorthand for the Charles G. Koch Foundation and an in the Marin Independent Journal confirms Epstein worked there from June 2008 through January 2009.
Beyond Koch ties, Epstein also has personal financial ties that may make him averse to environmental regulations.
A financial disclosure form submitted by Epstein when he worked for Issa's Oversight Committee shows that he had (or still has) personal investments in both Dominion Resources and Duke Energy.
Both of those companies stand to lose from President Barack Obama's U.S. Environmental Protection Agency (EPA) coal-fired power plant regulations, as both Dominion and Duke own coal-fired power plant assets.
"God bless the Koch brothers"
Koch Industries front group Americans for Prosperity immediately decried Obama's EPA coal regulations after they were announced in June, an important detail because the Vitter green billionaire's club report alleges the environmental movement controls Obama's EPA.
Vitter also stands to gain personally from his report's dissemination. As first reported by DeSmogBlog, Vitter has tens of thousands of dollars in personal investments in coal-fired power plant corporation, Wisconsin Energy. 
Confronted at a March campaign event about the Kochs, Vitter sang the brothers' praises.  
"I think the Koch brothers are two of the most patriotic Americans," Vitter said at a March campaign stump event. "I'll be honest with you: My reaction is God bless the Koch brothers. They're fighting for our freedoms."
According to OpenSecrets.org, Vitter has taken over $116,000 in Koch Industries campaign contributions since the 2010 campaign cycle. 
Oversight for Who?
At the Cause of Action-hosted presser announcing the release of the Vitter green billionaire's club report, Vitter discussed the importance of Congressional oversight work.
"This is oversight work and I think that is really important work in Congress in general, often work those of us in Congress don't focus on enough," Vitter told the audience. "I think the minority side of the Senate EPW Committee has been dedicated to good, aggressive oversight work, so that's what this [report] is." 
But it's important to ask: oversight for who and overseeing what?
In the case of the Vitter green billionaire's club report, the answer seems clear: the corporate bottom-line of the Koch brothers and Koch Industries.