Australia's Treasurer Joe Hockey barely missed a beat when challenged to justify the country's massive fossil fuel export industry and bottom-dwelling record for domestic greenhouse gas emissions.
"We are exporting coal so that nations can lift their people out of poverty," the Liberal Treasurer told the journalist Stephen Sackur on the BBC's HARDTalk interview program.
Hockey's argument should be recognised for what it is – a line straight out of the coal industry's newest campaign playbook.
As I wrote earlier this week on The Guardian, the coal industry is attempting to hijack the issue of "energy poverty" by claiming the only way that the world's poorest can prosper is by purchasing and then burning more of their product.
The United Nations Environment Programme wouldn't agree. In a
summary report of climate change impacts
,
UNEP
says: "In Africa and other developing regions of the world, climate change is a threat to economic growth (due to 
changes in natural systems and resources), long-term prosperity, as well as the survival of already 
vulnerable populations."
The World Bank says: "
Climate change is a fundamental threat to development in our lifetime. If we do not confront climate change, we will not end poverty."
America's biggest coal company, Peabody Energy, has been leading the public relations push on "energy poverty" with its "Advanced Energy for Life"

PR

campaign with
press advertising
and online video campaigns.
The company even managed to secure a presentation to a G20 meeting in Brisbane in August. One academic who witnessed the Peabody Energy G20 presentation, Dr Matthew Dornan, of the Australian National University, described it is as "self serving", "disingenuous" and "not backed by evidence". Dornan told me:
I was not impressed. The presentation conflated the issue of energy poverty – on which the workshop was focused – with promotion of the coal industry.
Speaking of "promotion of the coal industry" Joe Hockey becomes the third high profile Australian politician to use the coal industry's supposed concern for the world's poor in an interview in recent days.
Prime Minister Tony Abbott opened a coal mine in Queensland earlier this week, where he told reporters that "coal is good for humanity" while enthusing that the opening was "a great day for the world".
Environment minister Greg Hunt was a little more circumspect, telling ABC Radio National that the world had "two enormous challenges" – one was to bring down emissions, but the other was to "bring hundreds of millions of people out of poverty" with "electricity and gas" being fundamental.
Hunt has previously claimed that if he had refused to approve coal export projects in Queensland this would be "condemning people to poverty".
During the HARDTalk interview, Hockey rebuffed Sackur's use of OECD statistics which show Australia is the worst emitter of greenhouse gases per person among the members of the Organisation for Economic Co-operation and Development.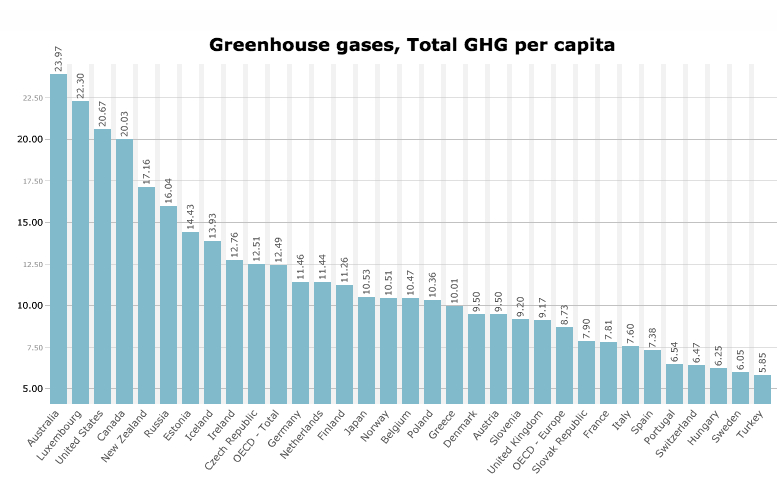 Hockey said the statistics (showing Australians emit 24 tonnes of greenhouse gases per person ahead of Luxembourg's 22.3t and the US at 20.6t), were a "falsehood" because they did "not properly reflect" Australia's role as a major exporter of coal and gas.
The OECD statistics reflect emissions caused within country borders and for Australia, the bulk of this comes from the fossil fuels burned in power stations (52 per cent) and fossil fuels burned in vehicles (16 per cent).  
The other major contributor is agriculture (16 per cent). Regardless of whether Australia exports lots of coal and gas, its own emissions footprint is high mainly because of a continued reliance on fossil fuels for energy.  
So what about all the fossil fuels Australia exports? A 2013 study in the journal Biogeosciences found that the emissions from Australia's exported coal and gas are roughly double the emissions from the fossil fuels Australia burns at home.
What Treasurer Hockey is actually demonstrating is that Australia is not only a greenhouse gas glutton domestically, but also a major contributor internationally. Thanks for clearing that up, Joe.