Less than 24 hours after Denton became the first Texas city to ban fracking within city limits, the city is being sued. The Texas General Land Office and the Texas Oil and Gas Association are the first to challenge the new ordinance. 
Denton voters passed the fracking ban by a 59-to-41 percent margin, becoming the first Texas city to ban fracking. 
Michael Leza, a Denton resident who campaigned for the ban, told DeSmogBlog: "I'm really happy that the city managed to pull together and fight off the flood of industry propaganda and money. It shows that when people feel connected on a personal level with something they will get informed and vote in their own best interest. Unlike the statewide races where people seem more concerned with politics as a game that they are trying to win, here in Denton we saw a true grassroots movement drag the lovers of power kicking and screaming into protecting our health and safety, regardless of the wishes of the powerful to the contrary"

Michael Leza, a Denton resident © 2014 Julie Dermansky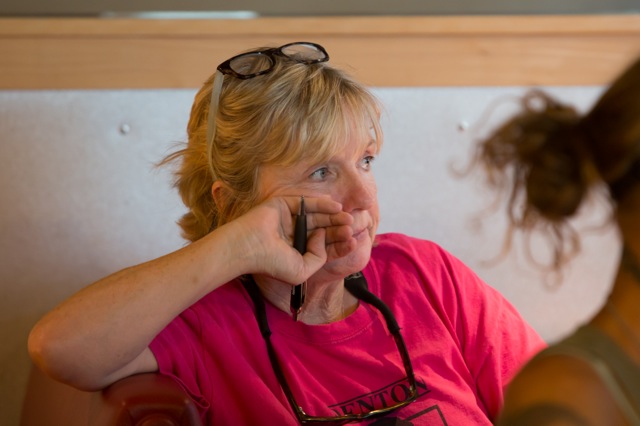 Cathy McMullen at a planning meeting to get out the vote in Denton.  © 2014 Julie Dermansky
The landslide vote was a surprise to Cathy McMullen, one of the founders of the Denton Drilling Awareness Group. She feared the Denton Taxpayers for a Strong Economy, a group formed to fight the ban, might sway voters since they outspent her group by 10 to 1, spending over $700,000 campaigning against the ban.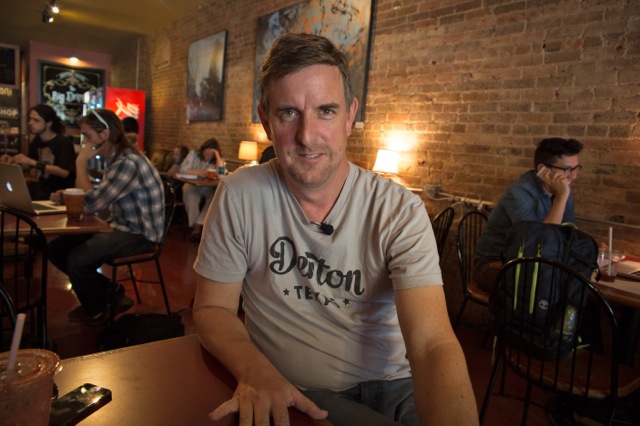 Denton Councilman Kevin Roden.  © 2014 Julie Dermansky
After the victory, Denton Councilman Kevin Roden posted a message to his followers and his children on Facebook: "The bullies don't win, kids. And your city just proved that tonight. Sleep well." 
But Roden knows this victory will only ramp up industry's fight to do what they want.  McCarthy era tactics have already been used by members of the Texas Railroad Commission and industry leaders. The fight isn't over.
"The City Council is committed to defending the ordinance and will exercise the legal remedies that are available to us should the ordinance be challenged, " Mayor Chris Watts said in a statement to the media following the results of early voting. "The City Council is committed to continuing the review of our gas well ordinance to ensure the utmost health, safety, and welfare of our residents, and we will continue to work with industry representatives to ensure full compliance with our gas well drilling ordinance."
The city has over $4 million set aside to fight lawsuits. And the Denton Drilling Awareness group has been consulting lawyers every step of the way while preparing for the passage of the fracking ban. 
Before the vote, Roden told DeSmogBlog the city is ready for the inevitable lawsuits following a ban. He doesn't believe lawsuits will bankrupt the city 
"I had hoped that this vote—especially with the majority we won by–would make industry stop their bullying ways, that they would see they are doing something wrong," McMullen told DeSmogBlog after she got word about the first two lawsuits.  "They don't care what they are doing to this community.  First they will poison us and then they will try to bankrupt us."  But she doesn't think industry will win. Her advise to them: "If you want to prevent more bans, especially in towns that know drilling best, do yourselves a favor and listen to concerned citizens." 
Next up will be the challenges from Texas legislators who have threatened to pass legislation to take away home rule powers from cities that stand up to the oil and gas industry.
Home rule empowers local municipalities to control zoning ordinances by trumping state rules. And it is jeopardizing the fracking industry's unchecked expansion in America.
New York State recently upheld fracking bans put in place by home rule. And a  court in Louisiana recently let St Tammany Parish move forward with their case against Helis Oil. The Parish is using home rule to stop fracking in Abita Springs 45 miles outside of New Orleans.
During the Nov. 4 elections fracking bans were also passed in Athens, Ohio and in San Benito and Mendocino Counties in California.
McMullen points out that politicians trying to crush cities' rights to home rule goes against the Republican principle of being against big government.
"This isn't a ban on fracking everywhere. If you want fracking in your community, fine.  Keep it. But in Denton, we don't. And if you force it on us anyway, that is the very definition of big government," she says.