New rules for Texas injection wastewater well operators offer no relief to people impacted by more than 30 earthquakes that hit Azle, Reno and Springtown almost a year ago. Many buildings in the three small cities, 50 miles west of Dallas, Texas, suffered broken windows, cracked walls, damaged plumbing and foundations. 
Seismic activity is not something the region is known for. It was only after deep injection disposal wells used to house fracking's toxic wastewater went into operation that the earthquakes started. There are several injection wells in the area — three of which some suspect to be the cause of the quakes due to their proximity to impacted neighborhoods and the volume of disposal operations. 

Crack in an Azle, Texas, residence that opened after an earthquake. ©2014 Julie Dermansky 
"Injection raises the underground pressure and can effectively lubricate fault lines, weakening them and causing earthquakes, according to the U.S Geological Survey," reports McClatchy Washington Bureau. 
The Texas Railroad Commission, the agency that regulates the oil and gas industry, was met with public outcry after the first earthquake swarm. The commissioners acted fast (by the agency's standards), coming up with new rules to address the situation released on Oct. 28.  
The new rules require oil and gas companies to check local seismic data from the U.S. Geological Survey before opening a new waste disposal well. They also give the agency the power to change, suspend or revoke an injection operator's permit if the commission determines the well is contributing to seismic activity.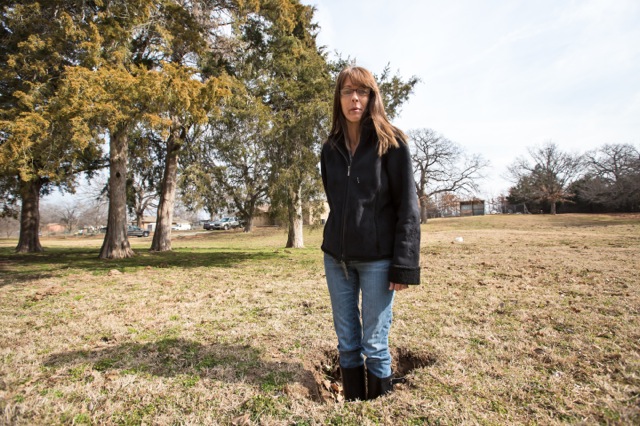 Barbara Brown in a sinkhole on her lawn. ©2014 Julie Dermansky 
"By taking action, the commission acknowledged there was a problem, but by not establishing a connection between the injection well activity and the earthquakes they retain deniability for causing the problem," says Barbara Brown, who lives at the earthquakes swarms' epicenter.
There have been fewer earthquakes measuring over three points on the Richter scale since January but "the shaking has not stopped," she told DeSmogBlog. 
Brown's home has cracks inside and out that weren't there before the quakes and small sinkholes continually open up on her land. She was forced to give her horse away for its own safety. The horse injured its leg after stepping in a hole, and Brown feared it would end up breaking its leg the next time.
"The new rules don't do anything to help pay for damages," Reno, Texas, mayor Lynda Stokes told DeSmogBlog. "They are the first step in a long road that needs to be followed."