How to finance a global shift away from toxic greenhouse gases caused by burning fossil fuels was one of the key talking points during the first week of the annual United Nations climate change conference held this year in Lima, Peru.
The conference, which began Monday and is scheduled to end next Friday, started with a statement by Christiana Figueres, Executive Secretary of the United Nations Framework Convention on Climate Change (UNFCCC), who said negotiators must draft a new, universal climate change agreement that will hopefully be endorsed next year at COP21 in Paris.
Figueres also said negotiators "must enhance the delivery of finance, in particular to the most vulnerable" as well as stimulating "ever-increasing action on the part of all stakeholders to scale up the scope and accelerate the solutions that move us all forward, faster."
In terms of finance, the UNFCCC published a media release saying the amount of money earmarked for climate change action globally was at least $340 billion for the period 2011-2012, but possibly $650 billion or higher.
Support from developed countries to developing countries amounted to between $35 and $50 billion annually, the media release said, adding dedicated multilateral climate funds are set to rise with the recent pledges to the Green Climate Fund
 amounting to nearly $10 billion.
According to Bloomberg, however, Figueres said at a press conference that much more money needs to be raised to effectively fight climate change.
"Although these numbers are encouraging and give us a sense of hope, the fact is that climate finance needs to be in the trillions if we're going to get to where we need to be," she said.
Figueres added finance will be a crucial key for achieving the internationally-agreed goal of keeping a global temperature rise under 2 degrees C and sparing people and the planet from dangerous climate change.
Another major talking point at the conference was the release of a statement by the World Meteorological Organization (WMO) saying that 2014 is on track to be one of the hottest, if not the hottest, years on record.
An accompanying WMO media release said the record high temperatures are largely due to record high global sea surface temperatures, which will very likely remain above normal until the end of the year.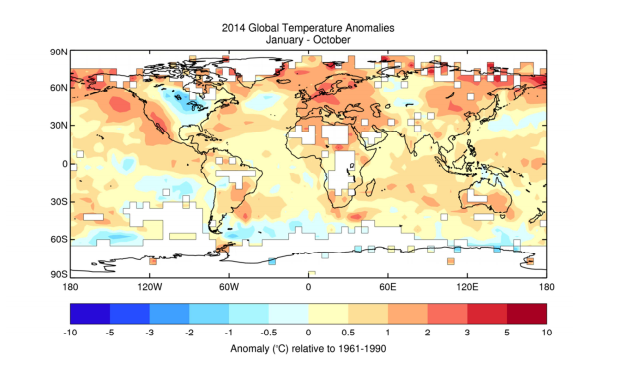 January to October 2014 average air temperatures. Source: WMO Report
Those high sea temperatures, the WMO said, and other factors contributed to exceptionally heavy rainfall and floods in many countries and extreme drought in others.
"The provisional information for 2014 means that fourteen of the fifteen warmest years on record have all occurred in the 21st century," said WMO Secretary-General Michel Jarraud.
"What we saw in 2014 is consistent with what we expect from a changing climate. Record-breaking heat combined with torrential rainfall and floods destroyed livelihoods and ruined lives. What is particularly unusual and alarming this year are the high temperatures of vast areas of the ocean surface, including in the northern hemisphere," Jarraud said.
"Record-high greenhouse gas emissions and associated atmospheric concentrations are committing the planet to a much more uncertain and inhospitable future."
Other developments related to the climate change issue continued to occur outside of the negotiations in Lima.
UN Secretary General Ban Ki-moon told CBC that Canada needs to become "ambitious and visionary" and quit stalling on setting climate change goals.
"It's only natural that Canada as one of the G7 countries should take a leadership role," Ban said.
"There are ways to make a transformative change from a fossil fuel-based economy to a climate-resilient economy by investing wisely in renewable energy choices."
Earlier in the week efforts in Canada to harness the power of renewables became a prominent news story, as reported by DeSmog Canada, showing that clean energy provided more jobs in the nation last year than the oilsands.
Canada's rapidly developing green energy industry has seen investments of more than $24 billion in the past five years while employment in the sector increased by 37 per cent during the same period, according to the report by Clean Energy Canada.
The 34-page Tracking the Energy Revolution — Canada report noted that there were 23,700 total direct jobs in the green energy sector in 2013, compared to 22,340 jobs in the oilsands.
Germany's largest energy company, E.ON, on the first day of the Lima conference, created global headlines with an announcement that it was splitting the company into two with the largest share of employees, about 40,000, getting out of the coal and gas business and focusing entirely on renewables.
"We have seen the emergence of a new energy world," Chief Executive Johannes Teyssen said. "E.ON's existing broad business model can no longer properly address these new challenges."
In the U.S., 223 companies announced their support for the Environmental Protection Agency's proposed carbon standard for electric power plants, including industry giants such as IKEA, Mars Inc., VF Corporation, and Nestlé.
"As businesses concerned about the immediate and long-term implications of climate change, we strongly support the principles behind the draft Carbon Pollution Standard for existing power plants," states the letter, which was sent to the EPA, the Obama Administration, and Senate and House majority and minority leaders.
"The proposed Carbon Pollution Standard represents a critical step in moving our country towards a clean energy economy," said the letter.
Also spurring headlines was the release of a Munich Re poll that showed 83 per cent of Americans now believe the climate is changing, and 63 per cent are concerned about changes in the frequency and intensity of natural disasters, such as floods, hurricanes, and tornadoes.
"Our survey findings indicate that national sentiment over whether or not climatic changes are occurring has finally reached a tipping point," said Tony Kuczinski, President and CEO of Munich Re America.
The Associated Press also contributed to the pressing global conversation on climate change, saying that in the more than two decades since world leaders first got together to try to solve global warming, life on Earth has changed, not just the climate.
"It's gotten hotter, more polluted with heat-trapping gases, more crowded and just downright wilder," the AP reported.
"The numbers are stark. Carbon dioxide emissions: up 60 per cent. Global temperature: up six-tenths of a degree. Population: up 1.7 billion people. Sea level: up 3 inches. U.S. extreme weather: up 30 per cent. Ice sheets in Greenland and Antarctica: down 4.9 trillion tons of ice."
Negotiators in Lima will no doubt be discussing these developments, and more, next week as they work towards — as they have said repeatedly in the past — an ambitious legally-binding greenhouse gas emissions agreement next year in Paris.