The U.S. State Department recently announced that Amos Hochstein, currently the special envoy and coordinator for international energy affairs, will take over as the State Department's top international energy diplomat.
Hochstein will likely serve as a key point man for the U.S. in its negotiations to cut a climate change deal as part of the United Nations Framework Convention on Climate Change (UNFCCC), both at the ongoing COP20 summit in Lima, Peru and next year's summit in Paris, France. Some conclude the Lima and Paris negotiations are a "last chance" to do something meaningful on climate change.
But before getting a job at the State Department, where Hochstein has worked since 2011, he worked as a lobbyist for the firm Cassidy & Associates. Cassidy's current lobbying client portfolio consists of several fossil fuel industry players, including Noble Energy, Powder River Energy and Transwest Express. 
Back when Hochstein worked for Cassidy, one of his clients was Marathon Oil, which he lobbied for in quarter two and quarter three of 2008, according to lobbying disclosure forms reviewed by DeSmogBlog.
Hochstein earned his firm $20,000 each quarter lobbying the U.S. House of Representatives and the U.S. Senate on behalf of Marathon.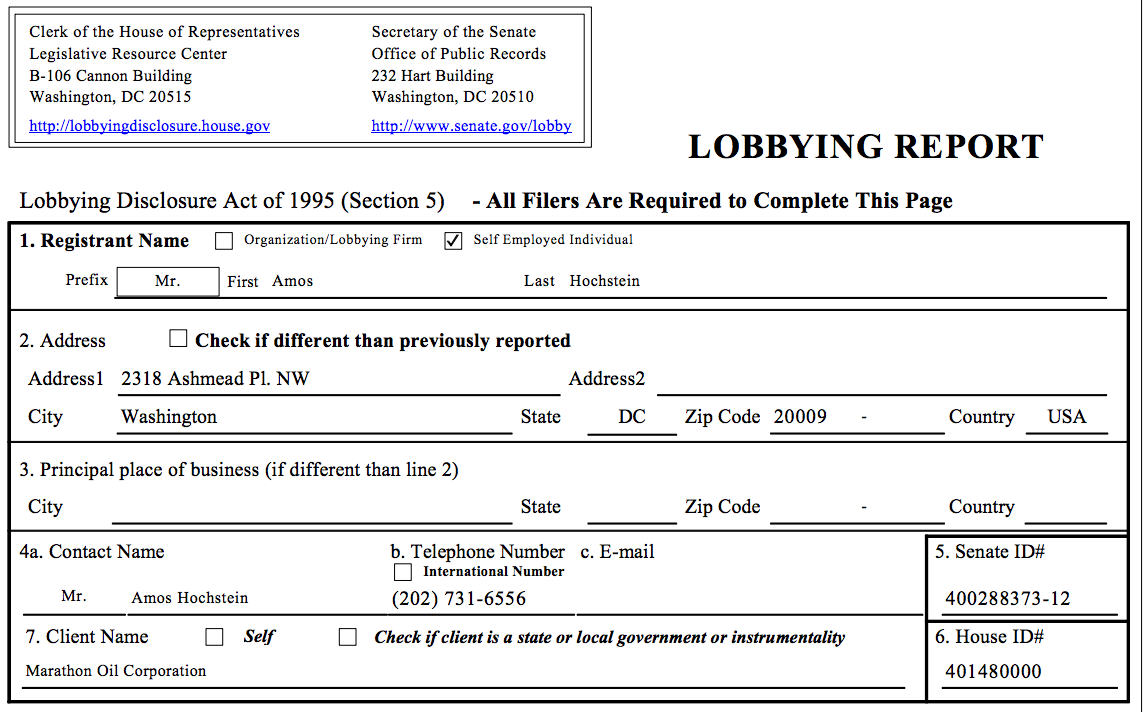 Image Credit: Office of the Clerk, U.S. House of Representatives
Hochstein Lobbied for Qaddafi Dictatorship
The lobbying forms for Marathon Oil disclose that Hochstein was lobbying for the National Defense Authorization Act of 2008. More specifically, for "provisions regarding terrorism exception to immunity" found within the omnibus bill.
In practice, this meant lobbying on behalf of Colonel Muammar Qaddafi, the former and now deceased Libyan dictator.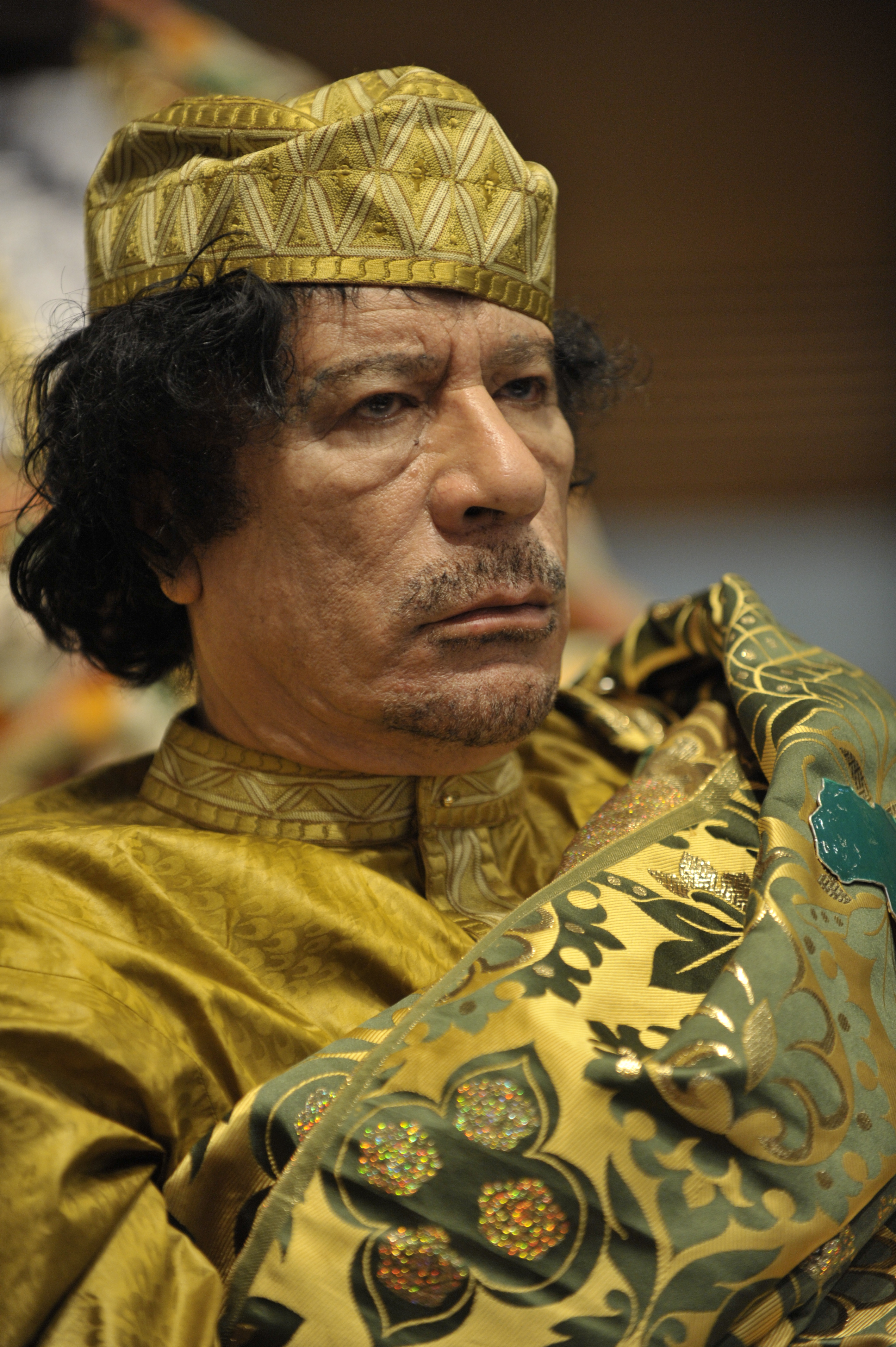 Colonel Muammar Qaddafi; Photo Credit: Wikimedia Commons
The provision would "get Libya exempted from a law signed the previous month by President George W. Bush letting American terrorism victims seize assets of countries found liable," explained Bloomberg. "The dictatorship was an explicit target of the legislation. Qaddafi had taken responsibility for the 1988 crash of a Pan Am flight in Lockerbie, Scotland, that killed 270 people, including 189 Americans."
Hochstein's lobbying paid off, as the exemption — sponsored by then-U.S. Sen. Joe Biden (D-DE) and now Vice President — passed unanimously and without debate on the same day as the Libyan Claims Resolution Act in the Senate and House. Within days, President George W. Bush signed the bill into law.
"For the companies operating in Libya at the time…[including Marathon Oil]…the exemption was a relief," wrote Bloomberg. "It meant a continuing opportunity to tap Libya's coveted light, easily refined crude and to solidify ties with a country that has the largest proven reserves in Africa."
A State Department diplomatic cable made public via Wikileaks through whistleblower Chelsea Manning shows Qaddafi had "threatened to dramatically reduce Libya's oil production and/or expel out U.S. oil companies" if the U.S. government did not exempt Libya from the National Defense Authorization Act's terrorism provision.
At a meeting with ConocoPhillips CEO James Mulva, Qadaffi told him "Libya would rather 'keep its oil in the ground' and wait for a more favorable overseas investment climate than continue high levels of production in an environment in which sizable portions of its oil-related assets could be seized," the State Department diplomatic cable reveals.
David Goldwyn, one of Hochstein's predecessors in his new position at the State Department, also formerly lobbied on behalf of the Qadaffi dictatorship. 
John Kerry Praises Hire
In the aftermath of the announcement, U.S. Secretary of State John Kerry said he was "pleased to announce appt of Amos Hochstein as Special Envoy & Coordinator for Intl Energy Affairs" on Twitter. 


Image Credit: Twitter
Hochstein will replace Carlos Pascual, who now works at Columbia University.
Prior to becoming a lobbyist, Hochstein served as deputy campaign manager for Sen. Christopher Dodd (D-CT), a Democratic Party presidential candidate during the primaries in 2008. He also formerly worked as a senior advisor for the U.S. House Committee on Foreign Affairs. 
He will now also head up the State Department's controversial Unconventional Gas Technical Engagement Program — formerly known as the Global Shale Gas Initiative — in which the State Department acts as a global "missionary force" of sorts for hydraulic fracturing ("fracking"). 
Photo Credit: U.S. Department of State