Bayou Corne, 77 miles west of New Orleans, can be added to the growing list of communities destroyed by industrial accidents.
"I wanted to stay in Bayou Corne for the rest of my life. I wanted to die here," Mike Schaff, who recently moved out, told DeSmogBlog. "Texas Brine took that away from me. It's like a ghost town now."
The area was known as a picturesque sportsman's paradise for its waterways teeming with fish and alligators, but is now famous for a giant sinkhole that opened up on August 3, 2012 after a salt dome cavern owned by Occidental Chemical Corp. and operated by Texas Brine Co. LLC, collapsed.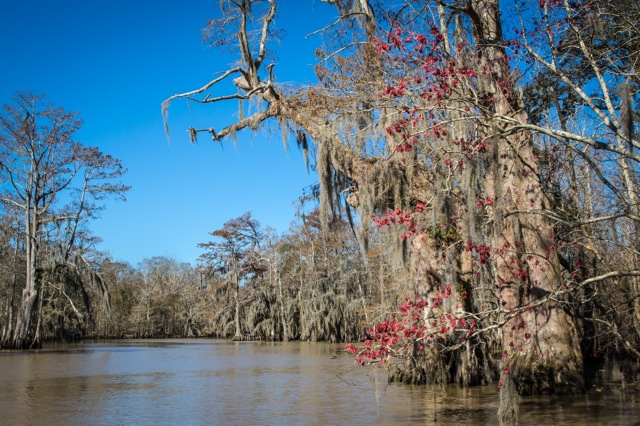 Swamp maple blossoms near the sinkhole in Bayou Corne. ©2015 Julie Dermansky
Scientists working for the state concluded Texas Brine drilled too close to the dome's edge, leading to the formation of the sinkhole.
The Department of Natural Resources (DNR), which regulates oil and gas drilling in Louisiana, held Texas Brine responsible, though the company has never acknowledged fault. Texas Brine was forced to pay a weekly $875 evacuation assitance check to residents and still must do so for the few that didn't sell their property to the company.
The sinkhole released natural deposits of methane gas into the aquifer that spread underneath Bayou Corne, leading officials to call for a mandatory evacuation. The gas under a home has the potential to build up undetected and explode. Of the 350 residents who lived there before the sinkhole, only a small fraction remain.
Despite reports that the sinkhole is showing signs of stabilization, it is still impossible to know when it will stop expanding, or when the gas will make its way out of the aquifer, according to DNR spokesman Patrick Courreges. Though the seismic activity and the gas presure beneath the area have greatly decreased, the once close-knit community is gone.
Longtime resident Mike Schaff never heeded the evacuation order. He couldn't see living in a hotel for an extended length of time.
When Texas Brine began offering home buyouts before the end of the first year, Schaff was hesitant to accept. Not only did he not believe the amount was fair, he wasn't eager to leave. Instead, he hoped the situation might resolve itself, leaving his neighborhood intact.
But that wasn't the case. Many of those who evacuated never came back. And any hopes of returning — or, in Schaff's case, remaining — were made moot by the class action lawsuit against Texas Brine. The settlement for the lawsuit required those who took part to accept buyout offers for their homes from Texas Brine.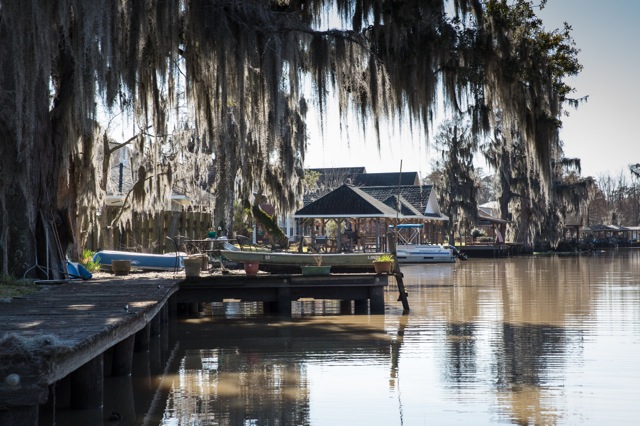 Bayou Corne, where life goes on for the few who stayed despite the sinkhole. ©2015 Julie Dermansky
Before Schaff turned over his keys to Texas Brine in mid-February, he pointed out: "It is no longer Janet and Jerry, Dickie and his wife, and Mr. Jim. It is Texas Brine, Texas Brine, Texas Brine."
He was the last to leave the north side of Route 70, the main road in the region that divides Bayou Corne in half. One residence and one fishing camp remain north of Route 70, and only about 13 residences remain occupied on the south side of the road.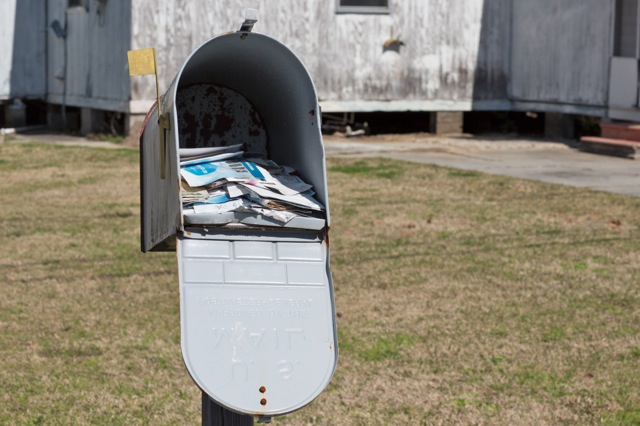 Mailbox on the north side of Bayou Corne. ©2015 Julie Dermansky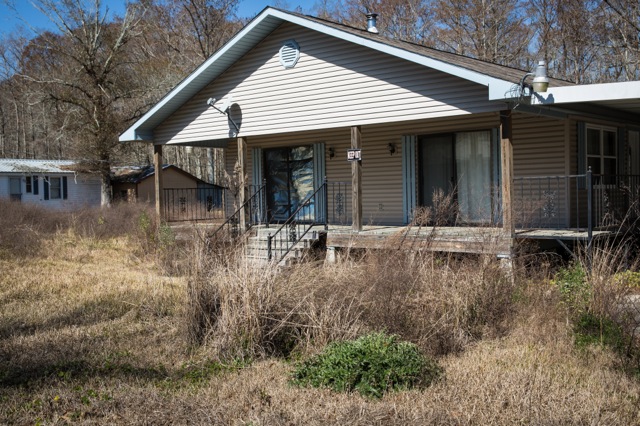 Deserted homes in Bayou Corne. ©2015 Julie Dermansky
A $48.1 million settlement covered 86 home buyouts, and compensation for all other losses, including mental anguish and lawyers' fees. A judge must sign off on the $25 million-plus fee the lawyers have requested.
The amount the lawyers stand to receive angers Jamie Weber, a former resident of Bayou Corne who doesn't believe the class action lawsuit was fair.
"I've never had a lawyer who was representing me bully me, pressure me, interrogate me, care less about each person and their family, and many other things I can list," Weber told DeSmogBlog. She wonders if the firms were paid off by Texas Brine to accept a low settlement since she believes what the lawyers settled for fell short of what people needed in replacement value for their homes.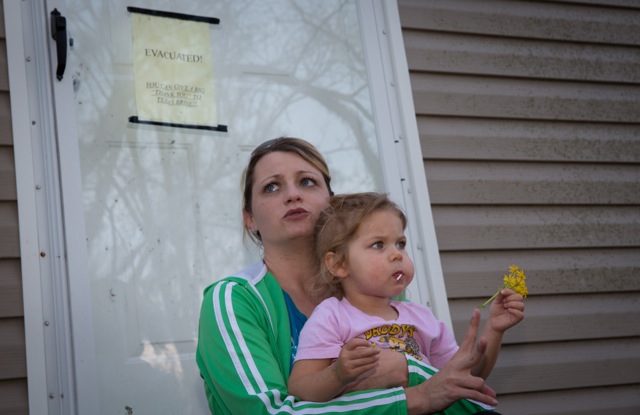 Jamie Weber with her daughter Ariana, in 2012 sitting on the steps of what is now her former home in Bayou Corne. © 2012 Julie Dermansky
Weber's daughter Ariana, two years old at the time the sinkhole started, has been too frightened to sleep alone since they evacuated. The emotional scars from the disaster linger for Weber and her other daughter Jade, too. Both suffer from depression that started after the incident drove them from their home.
Retired General Russel Honoré, famous in Louisiana for his post-Katrina leadership, has become a spokesman for many in the community. He formed the GreenARMY, a coalition of environmental groups that is helping communities statewide fighting back against industries to stop environmental pollution. The group participates in community meetings and permit hearings, and is active during the state's legislative session, weighing in on proposed bills.
Schaff has been part of the GreenARMY since the group's inception. His efforts have shifted from protecting Bayou Corne to Belle River, the town he moved to 15 miles away, where he is up against a new environmental battle: a proposed injection wastewater well transfer station.
"Wherever you move in this state, wherever you move in the country, I believe you are going to have the same problem. You have to become active," Schaff said.
In Belle River, St. Martin Parish officials denied FAS Environmental Services LLC a rezoning request, seemingly stopping it from building a transfer station that would have greatly increased its capacity to accept and dispose of toxic waste. Instead of challenging the Parish decision, the company applied for a state permit. If the state (DNR) grants the permit, the construction of the project will defy local zoning rules.
If built, FAS's new facility would be able to accept fracking wastewater from northern states, including Pennsylvania, assuming the Coast Guard permits barge traffic on the Ohio River for such transport. The Ohio River leads to the Mississippi River, then to the Atchafalaya Basin.
"The Coast Guard has not completed its review of the hazards of hauling shale gas wastewater via the nation's waterways," Sharon Kelly reported for DeSmogBlog. But many Belle River residents fear the permit will be granted.
Belle River could become the newest municipality to sue the state for ignoring local zoning rules. Recently, the city of Abita Springs in St. Tammany Parish filed suit against the state to block a permit for fracking in an area not zoned for industrial use.
Battles are taking place across the country in places where governments have tightened ordinances against fracking or banned it outright. Legislators in Oklahoma, Texas, and other states are pushing for laws to eliminate home-rule altogether when it comes to the oil and gas industry.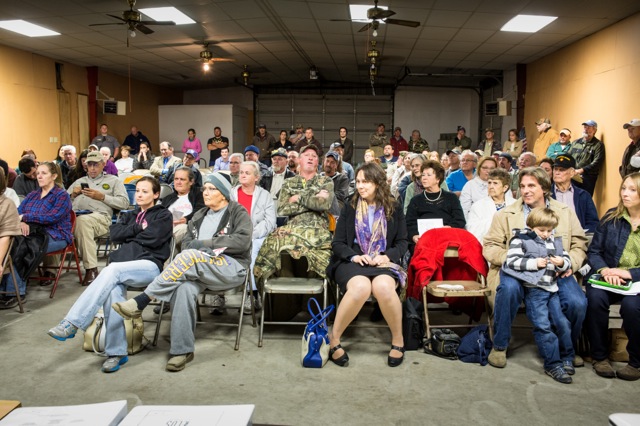 Public Permit hearing in Belle River. ©2015 Julie Dermansky
At a February 28 public hearing held by the DNR on the permit for FAS's transfer station, Schaff and Honoré added their voices to those in the community who have been fighting the proposal for more than a year. Schaff tearfully testified that DNR must prevent another community from being destroyed by denying the permit. Honoré echoed Schaff, adding that DNR would face a court battle if it does issue the permit.
"It just rips your heart out to visit Bayou Corne and see a wonderful community torn to shreds," said Wilma Subra, an environmental scientist who has advised Bayou Corne residents and countless others faced with toxic pollution. "People had a wonderful life and now it is all gone, in the name of industry being careless."
 
All images by Julie Dermansky