With the recent run of exploding oil train accidents, it isn't surprising that the rail industry has publicly expressed concern about hauling highly flammable oils like Bakken light crude and diluted tar sands. But that's all the industry has done: express concern. It certainly hasn't done anything to act on its concerns.
For instance, Hunter Harrison, CEO of Canadian Pacific railway and the man who is on record as saying that regulators "overreacted" to the Lac-Mégantic rail disaster, recently said Canadian Pacific might get out of the oil hauling business.
"Our board of directors looked at this very carefully and said, 'what kind of exposure do we have and what kind of exposure are we [exposing] the public to by hauling some of these commodities?'" Harrison told BNN television. "And in spite of the bottom line—and I was very proud—we've sat back and said we might get out of this business."
Of course, Hunter Harrison is a savvy businessman who has a record of relentless pursuit of profit. Harrison knows full well that the common carrier laws that apply to rail shipments make it so that he would have to shut down Canadian Pacific if he wanted to get out of the oil hauling business. Which isn't likely.
What is more likely is that, just like rail company BNSF's early 2014 public relations stunt in which the company said it was buying 5,000 safer rail cars to haul oil but then never did, Harrison is also just feeding the media a good story.
Because two days after Harrison was telling the media he wanted out of the oil hauling business, and one day after the exploding oil train accident in Galena, Illinois, Glen Wilson, Canadian Pacific's Vice President of Safety, Environmental and Regulatory Affairs, was in Washington, D.C. lobbying against new oil train safety regulations.
Wilson was in a meeting with the Office of Management and Budget's Office of Information and Regulatory Affairs (OIRA) that was set up by the American Association of Railroads (AAR) and included representatives from a wide variety of rail industry players. Based on the presentation that was made to the OIRA representatives, there were two points that the rail industry representatives were arguing. 
First, they argued against the potential regulation to require modern electronically controlled pneumatic (ECP) braking systems on all oil trains. And later in the presentation, the industry lobbied hard against any new speed limits.
That sounds more like the Hunter Harrison we have gotten to know over the past two years as oil trains have continued to crash and explode. The one who said, "I don't know of any incidents with crude that's being caused by speed." And the one who explained the need for speed to investors by saying, "This next stage of growth is driven by a lot of things, a little bit here, a little bit there, but it's effectively all the things that impact train speed and train velocity."
Faster trains make more money, thus Hunter Harrison wants faster trains.
In one slide in the OIRA presentation, the industry did an excellent job of summing up its position, saying, "If there were business benefits that outweighed the costs of ECP brakes, industry would have installed ECP brakes on a widespread basis."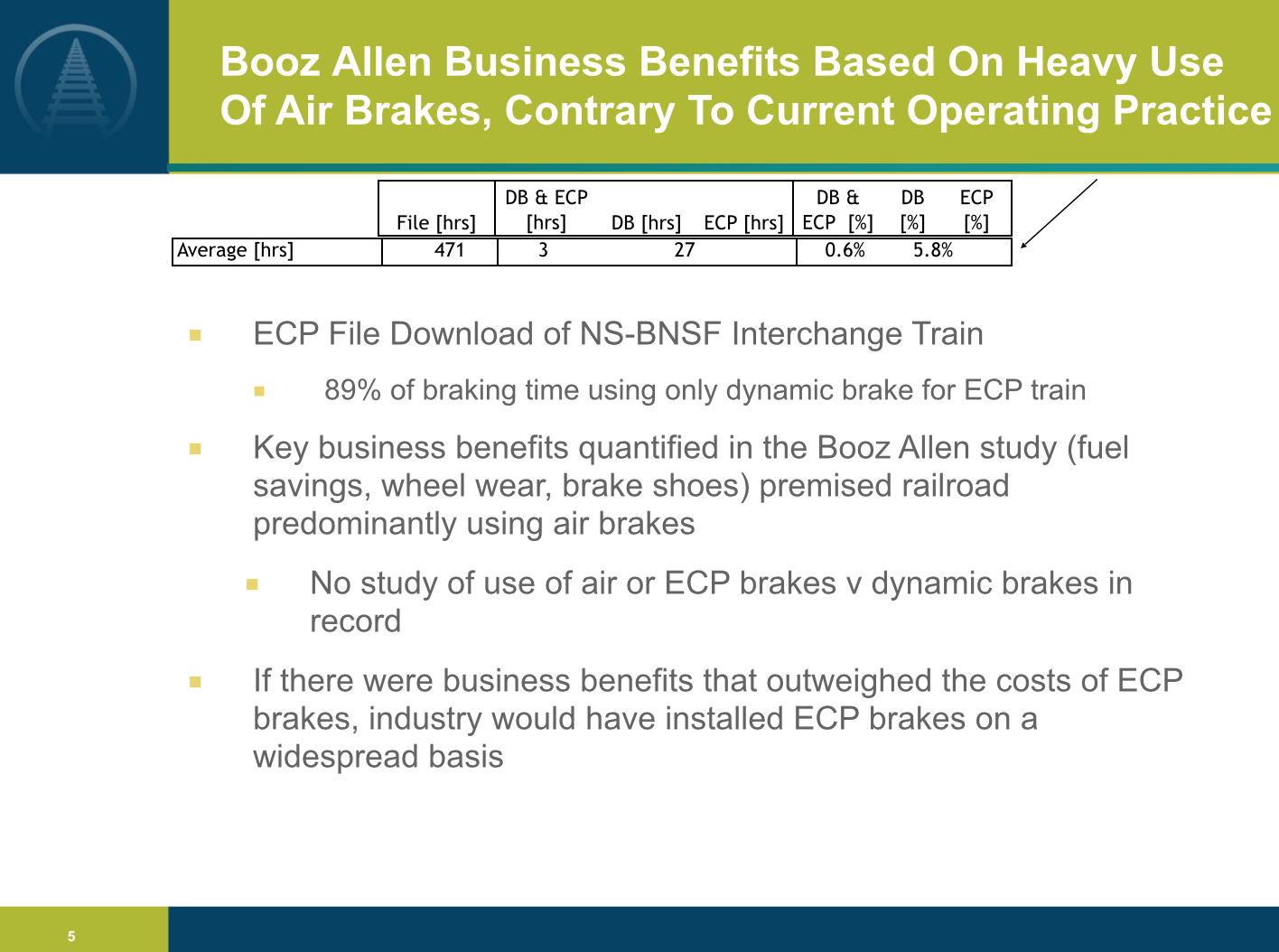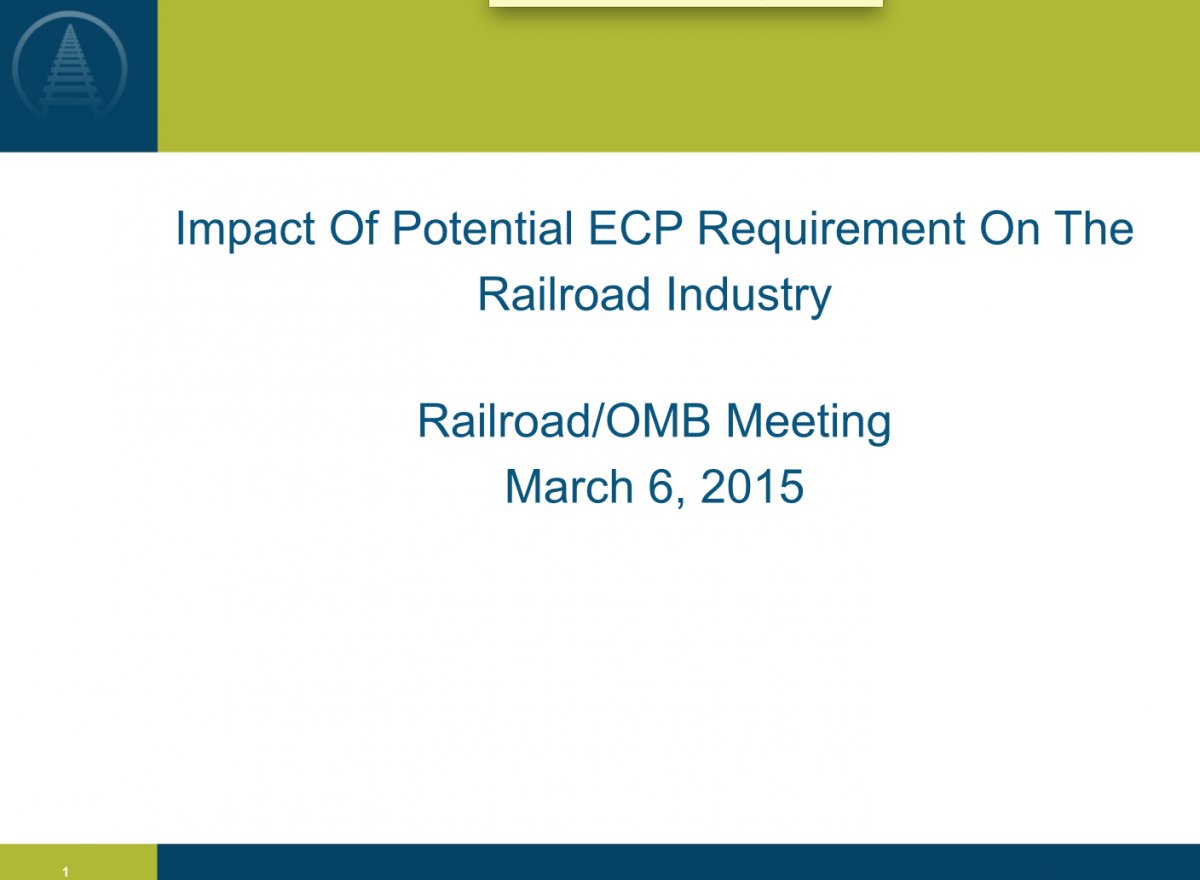 So if the rail companies could make more money (business benefits) by installing modern brakes, they would. But they can't. So they won't.
That is pretty much all you need to know about the rail industry and its position on safety vs. profit.
In the summary of why modern ECP braking is such a bad idea, the presentation includes the following bullet point:
"Would be extremely costly – on top of all the other costs recently steeped [sic] upon the industry by other regulations (PTC, Risk Reduction, Training Standards, etc.)"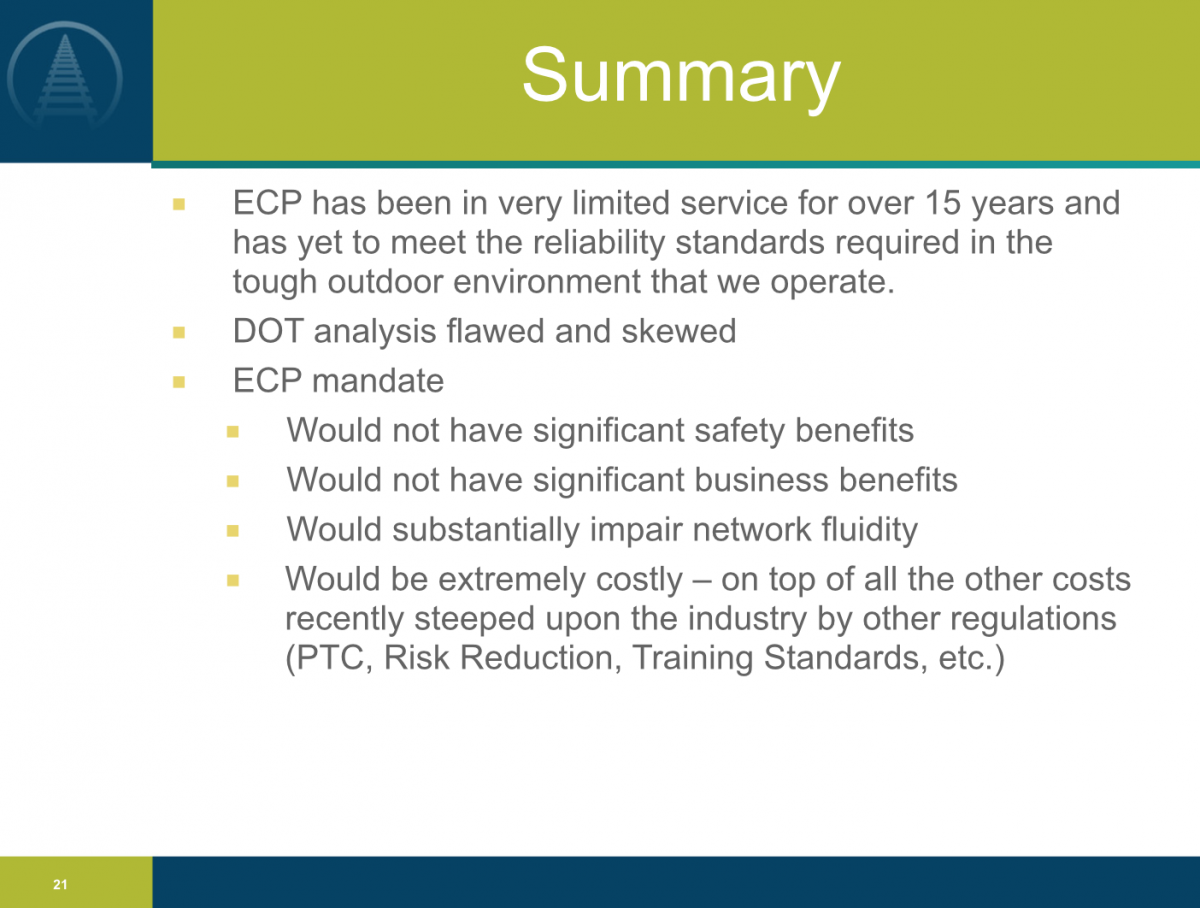 Yes, while the rail industry has been enjoying record profits thanks in part to the lucrative oil-by-rail business that has sprung up over the past several years, it has been burdened by new regulations requiring such things as "training standards" and "risk reduction."
And to really put the industry's complete lack of shame in proper perspective, it's necessary to understand the reality of using PTC as an example of a costly regulation. PTC (positive train control) is a safety requirement first recommended over 40 years ago that was required to be in place by the end of 2015 per a congressional mandate from 2008.
Except at a recent congressional hearing on rail safety, the head of the AAR, the same group that organized the recent meeting with OIRA, told Congress that PTC wouldn't be implemented for at least another five years. So much for congressional mandates.
While it doesn't require an engineering degree and rail experience to guess that better brakes and slower trains might be safer modes of operation, people with that sort of experience have been pretty adamant that this is the case. 
In the many hearings since the deadly Lac-Mégantic rail accident there have been experts who have testified about many options to make these oil trains safer. New brakes and speed limits have been two recommendations.
At a National Transportation Safety Board hearing in April of 2014, for instance, Richard Connor, safety specialist for the Federal Railroad Administration, gave a presentation comparing the conventional air brake system used on most freight trains to the ECP brakes, as reported by DeSmogBlog at the time.
"I'm not sure with the audience if you all understand how the current air brake systems on our freight trains out there operate today, but it's basically 19th-century technology," said Connor, who also described the performance of the brakes in an emergency situation as "painfully slow" when comparing a conventional braking system to ECP's response time.
And Greg Saxton, the chief engineer for rail tank manufacturer Greenbrier, explained why speed was such a factor in accidents: "Kinetic energy is related to the square of velocity. So if you double the speed, you have four times as much energy to deal with. Speed is a big deal."
But profits are a bigger deal. And as previously noted on DeSmogBlog, the oil and rail industries have met with OIRA multiple times in the last year while the new oil-by-rail regulations have been developed, and in all of those meetings the industry lobbyists have argued against new safety regulations.
A report by Reuters that was released the day before this recent meeting explained the success of other recent lobbying efforts by the oil industry regarding oil-by-rail transportation. According to the report, the decision not to require the oil to be made safe to transport via stabilization prior to shipment came from the top levels of the White House.
Reuters reported that Secretary of Transportation Anthony Foxx brought his concerns about the explosive nature of the crude oil being moved by rail to the White House but was told to not include any remedies to the problem in the regulations:
Foxx brought his concerns about the unresolved issue of dangerous gas, commonly measured as vapor pressure, and his agency's limited power to curtail the problem to President Barack Obama's chief of staff, Denis McDonough. The administration decided to just let the existing oil train safety plan take root.
If Hunter Harrison doesn't want to transport dangerous oil, he would be arguing that the oil should be stabilized. But he isn't.
He and the rest of the oil and gas industry have lobbied hard to be able to move the dangerous oil in unit trains of more than 100 unsafe tanks cars with old brakes as fast as they can. And so far, the White House has heard their message loud and clear.
Image Credit: satephoto / Shutterstock.com