DeSmogBlog has obtained dozens of emails that lend an inside view of how the U.S. State Department secretly handed Enbridge a permit to expand the capacity of its U.S.-Canada border-crossing Alberta Clipper pipeline, which carries tar sands diluted bitumen ("dilbit") from Alberta to midwest markets. 
The State Department submitted the emails into the record in the ongoing case filed against the Department by the Sierra Club and other environmental groups in the U.S. District Court for the District of Minnesota. Collectively, the emails show that upper-level State Department officials hastened the review process on behalf of Enbridge for its proposed Alberta Clipper expansion plan, now rebranded Line 67, and did not inform the public about it until it published its final approval decision in the Federal Register in August 2014.
According to a March 17, 2014 memo initially marked "confidential," Enbridge's legal counsel at Steptoe & Johnson, David Coburn, began regular communications with the State Department on what the environmental groups have dubbed an "illegal scheme" beginning in at least January 2014. 

Image Credit: U.S. District Court for the District of Minnesota
Environmental groups have coined the approval process an "illegal scheme" because the State Department allowed Enbridge to usurp the conventional presidential permit process for cross-border pipelines, as well as the standard National Environmental Policy Act (NEPA) process, which allows for public comments and public hearings of the sort seen for TransCanada's Keystone XL pipeline.
Further, the scheme is a complex one involving Enbridge's choice to add pressure pump stations on both sides of the border to two pipelines, Enbridge Line 3 and Enbridge Line 67, to avoid fitting under the legal umbrella of a "cross-border" pipeline.
Hastening the approval process — and thus dodging both the conventional presidential permit and NEPA process — came up in a June 6, 2014 memo written by Coburn and his Steptoe co-counsel Josh Runyan. Enbridge's legal argument centered around ensuring profits for its customers "consistent with its obligations as a common carrier."


Image Credit: U.S. District Court for the District of Minnesota
"Wrap This Up…Running Out of Time"
On March 18, 2014, Ona Hahs, Attorney-Advisor for the State Department's Office of the Legal Advisor, informed her Department colleagues in an email that "we have to wrap this up" because she was informed by Coburn that Enbridge was moving forward with the project and about to break ground on it. 


Image Credit: U.S. District Court for the District of Minnesota 
Just over a week later on March 27, 2014, Hahs emailed her colleagues again, informing them that Coburn had just called her again and they were "running out of time" to offer Enbridge what it requested.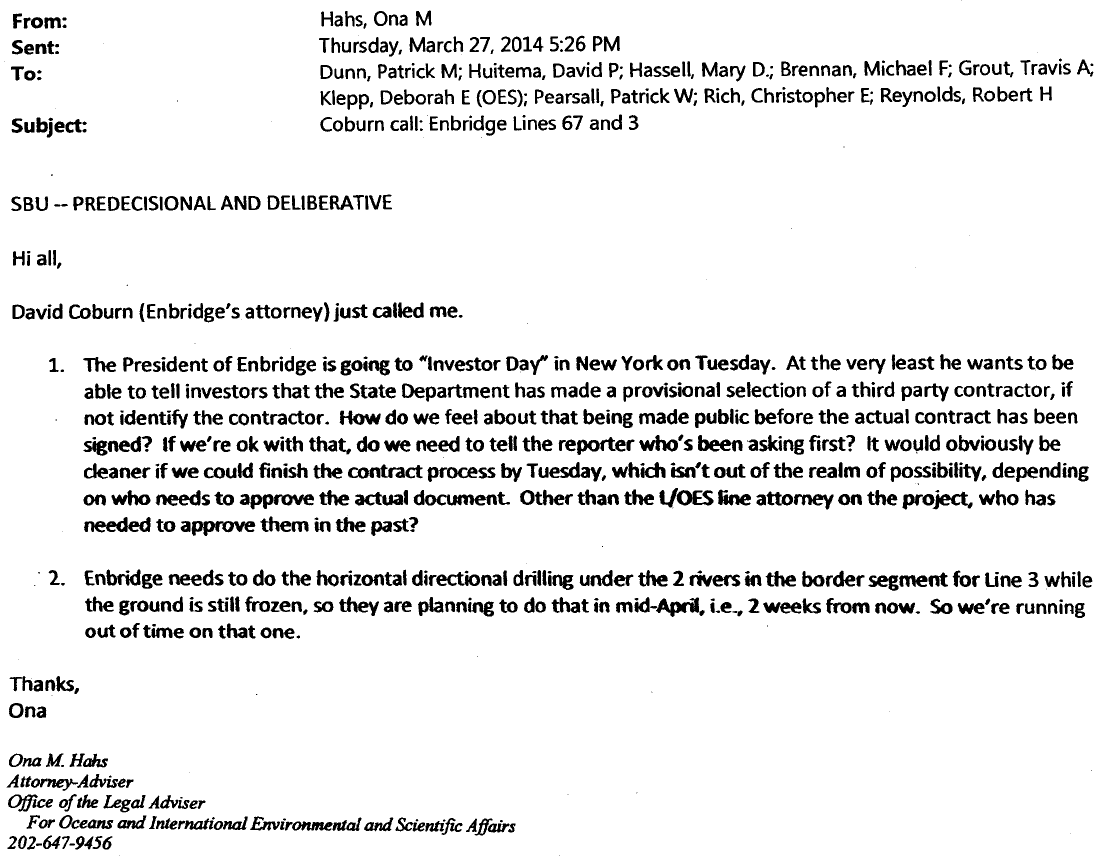 Image Credit: U.S. District Court for the District of Minnesota
A month later, Robert Cekuta — then Deputy Assistant Secretary of State for the State Department's powerful and industry-friendly Bureau of Energy Resources (BER) and now U.S. Ambassador to oil-soaked Azerbaijan — wrote a memo on April 24, 2014 to former BER head Carlos Pascual recommending approval of the "illegal scheme." 
Pascual now serves as a non-resident Fellow at the Columbia University Center on Global Energy Policy, which many suspect is funded by the oil and gas industry, but the Center does not disclose its funding sources. Pascual signed his "CP" initials on the "approve" line, meaning Enbridge's project had the State Department seal of approval.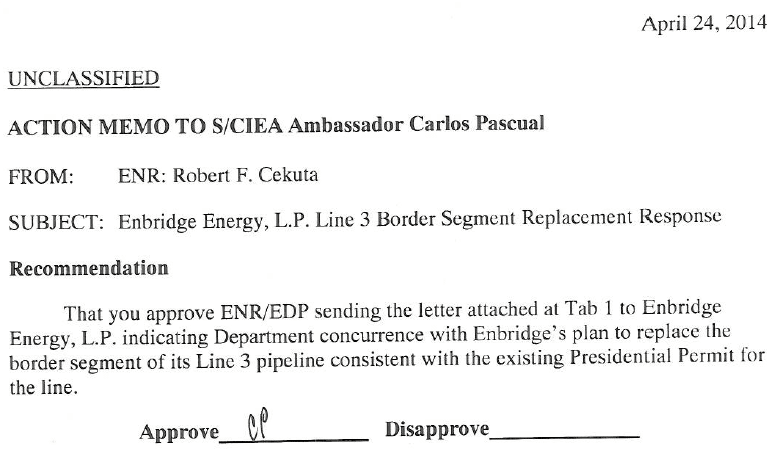 Image Credit: U.S. District Court for the District of Minnesota
Though officially written by Cekuta, the bottom of the memo indicates it was drafted by both Hahs and Michael Brennan. Before serving in various capacities for the State Department beginning in 2003, Brennan worked for Shell Oil as its Manager for Export Sales Business Development in Asia and Latin America, according to his LinkedIn profile.  
Later that same day, Brennan fired an email off to Coburn informing him of the State Department approval decision.
"Keystone
XL

Clone" Precedent Cited

In the June 6 memo penned by Enbridge's counsel, its attorneys explained why "interconnections on Line 67 can take place in advance of the U.S. Department of State's issuance of the Supplemental Environmental Impact Statement ('SEIS') and the requested Presidential Permit to authorize Enbridge to operate the border segment of Line 67 at its design capacity of 880,000 barrels per day."

Among the myriad legal cases cited in the memo, Coburn and Runyan pointed to the Sierra Club, et al v. U.S. Army Corps of Engineers case reported on by DeSmogBlog, which Enbridge argued and won as a defendant. 

Coburn and Runyan wrote that the Sierra Club v. Army Corps of Engineers case rejects the legal "argument that construction of pipeline outside the area of federal permitting jurisdiction could be [prohibited] pending NEPA review."

"Because construction of the pump stations and interconnections are not occurring within the border segment of Line 67, and are independent from the Line 67 border capacity expansion…this activity is not required to await the completion of the SEIS," they wrote.

That case, like the current one, centered around NEPA.

In that one, the U.S. Army Corps of Engineers handed Enbridge a controversial Nationwide Permit 12 permit to build its now-operational Flanagan South pipeline, which Sierra Club argued circumvented the NEPA process. It appears that case set an important legal precedent. 

Flanagan South connects to Alberta Clipper in Flanagan, Illinois and ends in Cushing, Oklahoma via a connection to the Seaway Twin pipeline, which Enbridge co-owns with Enterprise Products Partners. From there, the heavy tar sands dilbit is taken to Gulf coast refineries, the same ones TransCanada's Keystone pipeline system currently feeds into.

Together, all three pipeline pieces make up what DeSmogBlog has called the "Keystone XL Clone" pipeline system.
"Stand Down"
Asked about the emails, Doug Hayes, the Sierra Club attorney working on the U.S. District Court of Minnesota case, wrote in an email to DeSmogBlog that he thinks the State Department is essentially partaking in a dereliction of duty. 
"There is absolutely no question that the State Department has the authority to tell Enbridge to stand down and follow the process that was always intended," wrote Hayes. "The State Department is just not taking its presidential permitting responsibilities seriously and letting Enbridge call the shots."
Neither representatives from Enbridge, the Steptoe & Johnson attorneys nor the State Department officials involved in the behind-the-scenes permitting of the "illegal scheme" responded to requests for comment sent by DeSmogBlog.
A hearing is scheduled for September 10 at the U.S. Courthouse in Minneapolis, Minnesota for the environmental groups' Motion for Partial Summary Judgment, which was submitted on April 6.
Image Credit: U.S. District Court for the District of Minnesota