Today at the annual North American Rail Shippers Association, Carl Ice, president of rail company Burlington Northern Sante Fe (BNSF) had his keynote address interrupted by members of Rising Tide Chicago. The activists carried banners reading, "BNSF: Profits over Safety" and "BNSF: Bomb Trains Kill."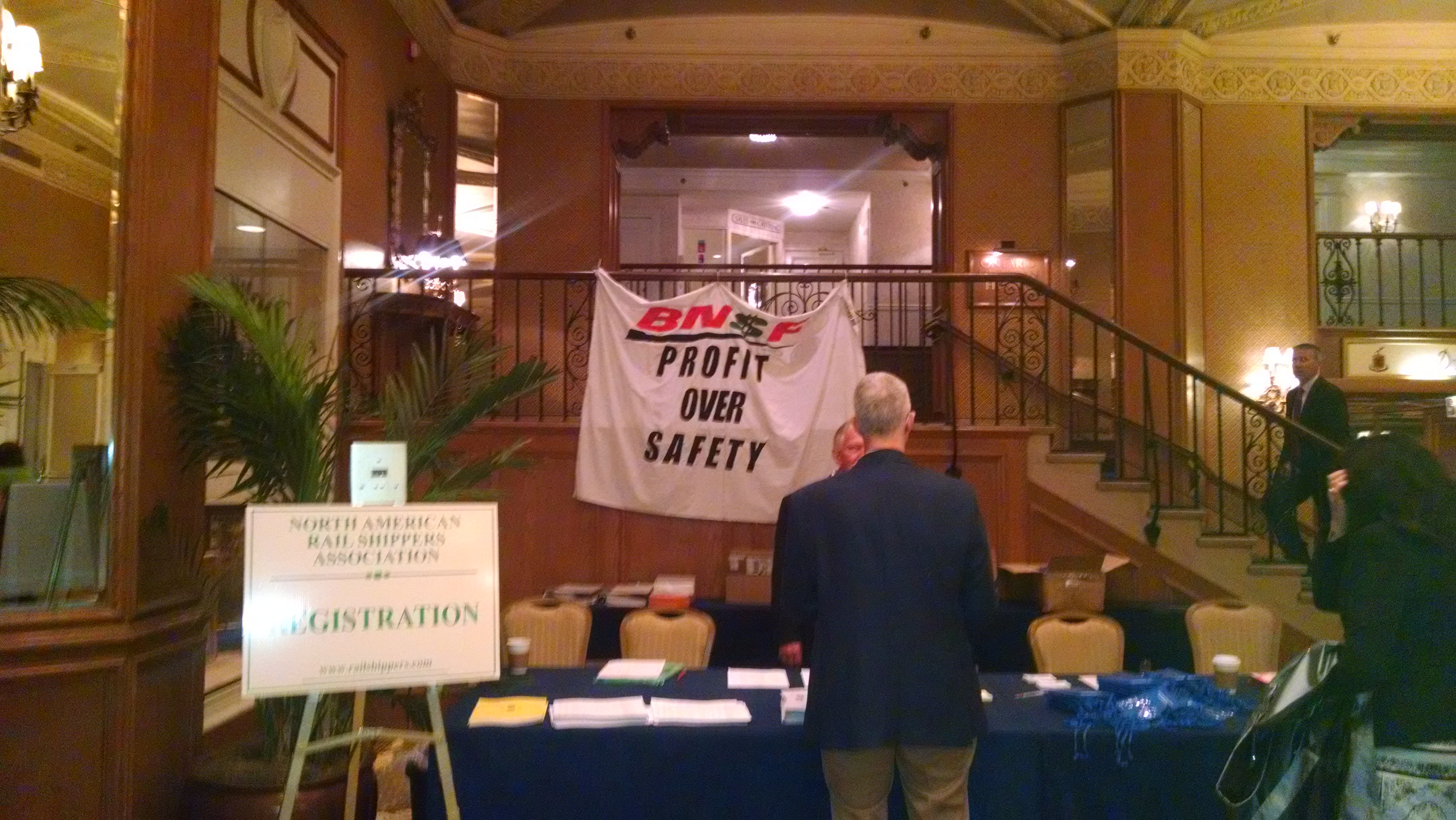 BNSF moves significantly more oil by rail than any other rail company and much of that oil passes through the Chicago area.
In March, a BNSF oil train derailed and caught fire in Galena, Illinois. In May, another BNSF oil train derailed and caught fire in North Dakota.
"BNSF makes billions of dollars putting our communities and climate at risk," said protester Kevin Oliver. "So we took this action to take a stand against the obscene wealth that is being generated at the expense of our safety."
Oliver was correct about BNSF making billions of dollars for its parent company Berkshire Hathaway, run by famed investor Warren Buffett. Berkshire Hathaway purchased BNSF in 2009 and it has turned out to be an amazing investment, if you don't mind the occasionally exploding oil train.
The success of the investment was summed up best by Jeff Mathews who has written books about Berkshire Hathaway.
"He [Buffett] stole it," Matthews told Bloomberg. "He's got to feel really good that he bought it when he did, because it's a wonderful asset, and it's done nothing but get more valuable in the time that he's owned it."
And that increase in value is directly related to the huge increase in moving Bakken crude oil in BNSF unit trains in the past several years. Trains that do not have modern braking systems, which is one of the issues raised by Rising Tide Chicago. And BNSF is certainly in no hurry to part with any of their profits to install modern braking systems.
As reported on DeSmog, BNSF and the rail and oil industries have lobbied extensively against requirements that the industry upgrade the oil trains to use a modern electronically controlled pneumatic (ECP) braking system.
And while the new regulations released earlier this month will require some oil trains to use ECP brakes by 2021 and all of them by 2023, the American Petroleum Institute has filed a lawsuit against the Department of Transportation challenging this requirement, which is likely to delay even that long timetable.
The length of time the oil and rail industries have been allowed by the new regulations to implement safer technologies even surprised the former chair of the Pipeline and Hazardous Materials Safety Administration (PHMSA), Cynthia Quarterman. PHMSA is the agency responsible for the new regulations and Quarterman led that agency for most of the time the regulations were being developed.
"That was the biggest surprise, by far," Quarterman said in an interview with Argus after the regulations were released. "The push-back for five years for most things, I thought it was a substantial push-back in terms of dates."
Extending the timeline for the regulations has been a top priority of the oil and rail lobbyists and their partners in congress in their efforts to weaken the new regulations and protect profits.
Prior to release of the new regulations Quarterman told USAToday that she thought ECP brakes were a top priority when it came to improving oil-by-rail safety.
"The more I think about it, the more I think that the ECP brakes may be more important than the tank car itself," Quarterman said. "Because it would stop the pileup of the cars when there's a derailment or when there's a need to brake in a very quick fashion."
And it isn't just Quarterman who believes in the safety benefits of ECP braking systems. In 2007, long before the oil-by-rail boom, BNSF was touting the impressive safety benefits of ECP brake systems according to this press release.
ECP brakes have the potential to reduce train stopping distances by as much as 50 to 70 percent over conventional air brake systems. ECP brakes utilize electronic signals to simultaneously apply and release throughout the length of a freight train. This differs from conventional brake systems in which each car brakes individually as air pressure moves in a series from car to car.
But since the existing highly profitable and known to be flawed fleet of DOT-111 and CPC-1232 tank cars being used to move Bakken oil do not have ECP braking systems currently installed, BNSF and their allies at the American Petroleum Institute are now against ECP technology. An approach succinctly captured in today's banner reading, "Profits over Safety."
In 2006, the Federal Railroad Administration released a report on ECP brakes prepared by Booz Allen Hamilton which stated that the brakes are a "tested technology" that offers "major benefits" and could "significantly enhance" rail safety. 
The question raised by today's protest and the one that is really at the heart of the whole oil-by-rail discussion is how long will companies like BNSF get to continue to put profits over safety? The answer to that question is most likely the one given by former head of the National Transportation Safety Board Deborah Hersman. Hersman said that we've "seen a lot of difficulty when it comes to safety rules being implemented if we don't have a high enough body count." 
So in all likelihood, the only way that there will be significant safety improvements in the oil-by-rail industry is when the next fatal accident increases the pressure on regulators and the industry to finally part with some of their profits to protect the public.