It's been a really bad week for major U.S. coal companies as we head into the July 4th holiday weekend. 
St. Louis-based Peabody Energy (NYSE: BTU) closed today at $1.87 a share, down from a high of $84 per share in mid-2008. The company's chief financial officer Michael C. Crews resigned abruptly on June 28 amidst the freefall.
Another major U.S. coal company, Alpha Natural Resources (NYSE: ANR) hit a new all-time low yesterday at just 27 cents per share, and sank as low as 24 cents that morning.
Arch Coal (NYSE: ACI) also hit its all-time low of 33 cents per share as well, down from its all-time high of $73.42 in 2008.
All three companies' stock values are down roughly 80% from the beginning of 2015.

2015 year-to-date stock performance on the NYSE for Peabody (BTU), Arch (ACI) and Alpha (ANR). Source: Google Finance.
Arch has received a delisting notice from the New York Stock Exchange for falling below $1 per share, and has only a few months to regain its footing or lose its spot on the NYSE.  Alpha received its own delisting notice a month prior.
Given the global nature of the coal industry and the generally complicated world of commodity trading, there are a myriad of influences at play here. But one cannot ignore the fact that these historic lows are coming at a time of historic commitments to renewable energy and carbon reductions by major coal-consuming and producing countries like the United States and China. 
According to energy analysts at the Institute for Energy Economics and Financial Analysis (IEEFA), the Stowe Global Coal Index has lost 71% of its value since 2010: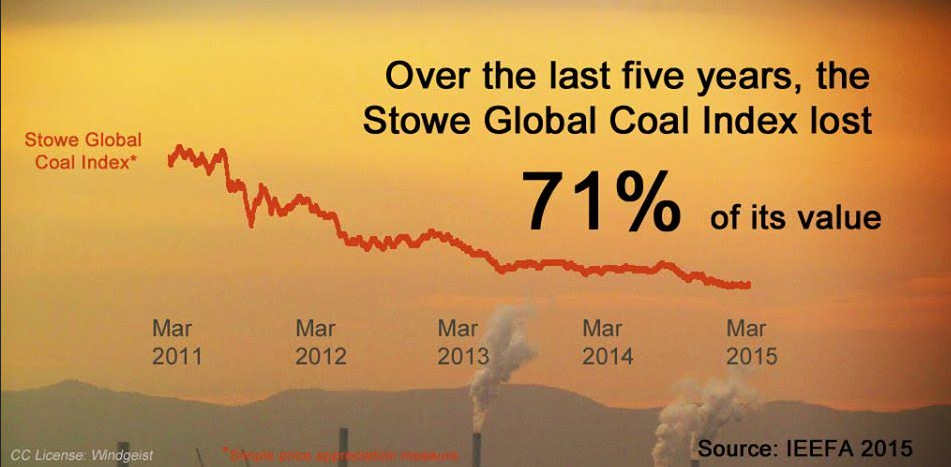 IEEFA's director of finance, Tom Sanzillo, recently told reporters that, "the coal industry is arguably the poorest-performing sector in today's global economy and is in a state of structural decline. It is a shrinking industry with little upside potential." 
That's bad news for coal investors, but frankly it's a welcome development for anyone concerned about the carbon pollution the coal industry is responsible for. 
Image credit: Rich on Flickr