The US Chamber of Commerce's fossil-friendly climate policies have driven away members, but like many think tanks, the Chamber has also helped Big Tobacco in its efforts to stay in business, i.e., by addicting adolescents.
The New York TImes' U.S. Chamber of Commerce Works Globally to Fight Antismoking Measures  and U.S. Chamber Fights Smoking Laws While Hospitals and Insurers Sit on Its Board exposed the Chamber's worldwide tobacco promotion efforts, featuring its President and CEO Thomas J. Donohue.
Donohue took office Sept 1, 1997, soon after the demise of RJ Reynolds' Joe Camel, and quickly courted Big Tobacco, which had grown disgruntled with the Chamber. 
As usual, UCSF's Industry Documents Digital Library is an invaluable source for such topics.  Any of the following searches generate interesting hits: Exxon, "global warming", "Southern Company", Steve Milloy, "Fred Singer", "Grover Norquist", "Koch Industries", but this post focuses on the Chamber:
#results  Search phrase
56,644    "Chamber of Commerce"  – includes all the local Chambers, popular
  7,217    "US Chamber of Commerce"
  2,311   "Chamber of Commerce" invoice
A few further searches found pages of instructive material that showed Donohue's eagerness for tobacco money.
Philip Morris (PM)
PM's Roy Marden, a key think tank funder mentioned often in Fakery 2, had written to Donohue, who replied by January 1998 in a 4-page letter.
"I am extremely sensitive to the concern you raise about big companies having a voice in the Chamber commensurate with their level of support. …

My goal is simple – to build the biggest gorilla in this town …

Roy, I think you also know that my personal style, approach and background is such that big companies will not be neglected or discounted. A major focus of my efforts in these first four months has been to attract bigger players and engage them in a program to revitalize this organization. I am very pleased that Philip Morris has decided to join this select group. If there's one thing I know how to do, it is to provide great value to those who really step up to the plate. …

By agreeing to be such a strong supporter, you will always be heard here and will always have a voice."
Along with many think tanks, the Chamber was set to help PM, p.3, line 140 in the  61-page Sept 1999 FIRESTORM Contingency Planning document. By that time, PM was quite pleased with the Chamber under Donohue:
"With the ascension of Donahue [sic, Donohue] to president about a year ago, the Chamber has become the antithesis of its former self, responsive to the needs of the business community and proactive for its largest members, including PM (see attached letter from Donahue). The Chamber was one of the first (and perhaps most stalwart) members of the ally community to oppose the McCain bill (see attached letter from Donahue to Sen. Abraham), including mobilizing numerous third parties to join the fight. It has also been active in class action jurisdiction, tort reform, tax and other national issues of importance to PM. As a result of this resurgence, PM in 1998 contributed dues of 50K, supplemented by 100K to the Chamber's revitalization project and 30K for the National Chamber Litigation."  (followed by  extensive plans for the future)
R.J. Reynolds (RJR)
By March 1998, Donohue had also sought $100,000/year for two years from RJR and got the first payment later that year.  A few excerpts from the 6-page record of correspondence are:
"Mr. Tommy J . Payne …
Dear Tommy:
Thanks for taking time from your busy schedule to meet with me Monday . I enjoyed our exchange and appreciatied the opportunity to learn more about your company, the issues facing the tobacco industry and how RJ . Reynolds is organizing to advance its interests in Washington, D.C. ….They are lucky to have you.

As we discussed, I am anxious to work with you and other business leaders to return the Chamber to a prominent and influential position representing business here in the nation's capital and around the world . We will work tirelessly towards that goal. …

 I suggested that R.J. Reynolds take a leadership role and commit $100,000 a year for the next two years …

In exchange for your significant contribution, R.J. Reynolds will be invited to play a unique role in determining the future direction of the U .S. Chamber of Commerce. Through an informal "President's Advisory Group" I will take your suggestions about the Chamber's agenda-both broadly and specifically on issues of concern to your company. Through regular personal contact and three meetings annually, I will seek your guidance in forging a new direction for this great institution. …

In the meantime,  please call anytime the Chamber or I can be of any assistance."
Donohue has joined the E-cigarette fight exposed in Familiar Think Tanks Fight For E-cigarettes. As noted there, for most people, nicotine addiction is only possible during adolescent brain development, which often extends to the early 20s.  Smoking is not an adult decision,  but rather an adolescent error promoted brilliantly by "great" marketeers.  For example, see RJR's The Importance of Younger Adults, a few years before the introduction of the successful Joe Camel:


Higher cigarette taxes selectively discourage teenagers, and the Chamber fought such taxes repeatedly.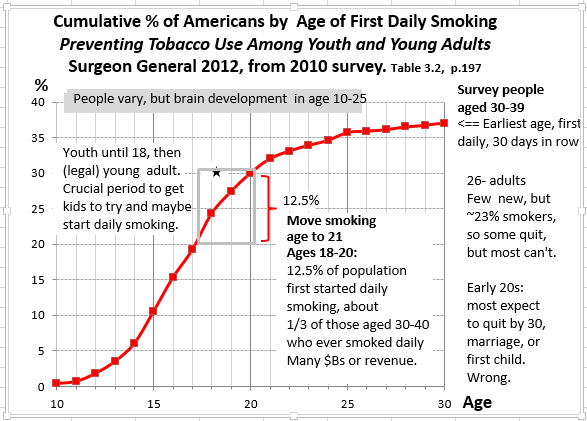 The tobacco industry only stays in business by addicting teens to something that will kill many, and the Chamber has helped for decades, especially under Donohue since 1998.  Most new post-1998 smokers have yet to reach age 40, so the miserable deaths have not really started, but sadly, they will, given how hard it is to stop.  
Perhaps the increasing challenges in the US led to expansion abroad, as described in the New York Times article.
As David Goerlitz, the Winston Man said:
"'Goerlitz then asked whether any of the company's executives smoke and got this answer:
"Are you kidding? We reserve that right for the poor, the young, the black and the stupid."
See also US Chamber of Commerce Promotes Climate Denial. Why are You Surprised They Promote Tobacco Denial, too?  at Climate Crock of the Week.  
Update 07/05/15: Following the NY Times' articles, The Chamber repled with Clearing the Smoke around the Chamber's 'Tobacco Related' Advocacy" writing:
"This organization is not in the business of promoting cigarette smoking at home or abroad, period."
The Times followed with an Editorial, Tarred by Tobacco, and the Washington Post Editorial was The U.S. Chamber of Commerce should quit lobbying for tobacco abroad.  Apparently they did not believe the Chamber.
Update 07/07/15: See The Influence Machine: The U.S. Chamber of Commerce and the Corporate Capture of American Life, by Alyssa Katz.  I just got mine yesterday, Chapter 4 covers the above in more detail, worth reading.
Update 07/07/15:  The Washington Post reports CVS Health leaves U.S. Chamber of Commerce.
Update 06/15/16: California's smoking age raised from 18 to 21 under bills signed by Gov. Brownreferenced  Public Health Implications of Raising the Minimum Age of Legal Access to Tobacco Products (03/12/15), a major study by the National Academies Institute of Medicine.   Searching for "brain" in the full PDF gets many hits, such as:
p.24 "Brain development continues until about age 25. While the development of some cognitive abilities is achieved by age 16, the parts of the brain most responsible for decision making, impulse control, sensation seeking, future perspective taking, and peer susceptibility and conformity continue to develop and change through young adulthood. Adolescent brains are uniquely vulnerable to the effects of nicotine and nicotine addiction…."

p.26 "A critical component in the development of dependence and continued tobacco use is the reinforcing effects of nicotine. Adolescent brains have a heightened sensitivity to the rewarding effects of nicotine, and this sensitivity diminishes with age…"

p.97 "The developing adolescent brain is vulnerable to tobacco use not only because of its biological immaturity but also because some of the brain areas that are critical to the emergence of nicotine dependence may not be fully developed until late adolescence or young adulthood. The ongoing changes in both brain structure and function are likely to heighten an adolescent's vulnerability to tobacco use. … The levels of different receptor types follow a pattern of peaking in adolescence and then declining to adult levels; thus, adolescent brains may be especially sensitive to the effects of nicotine."
Image Credit:  Texelart via Shutterstock