"I hear that you have somewhat of an oil industry here," said Bernie Sanders, Democratic candidate for President, drawing laughter from the crowd of 4,500 at the Pontchartrain Center in Kenner, Louisiana on Sunday evening. 
The audience whistled and cheered when Sanders said we need to end our dependence on fossil fuels. He acknowledged the transition would be painful for some, and that those economically impacted by the loss of jobs must be taken care of. But in no uncertain terms he said it was America's moral obligation to lead the world in saving this planet from the ravages of climate change.
VIDEO: Bernie Sanders speaks about the need to fight climate change at a Democratic fundraising event in New Orleans:

Sanders addressed the disparity of wealth in America, the healthcare system, racism, gun control, and climate change during a riveting speech that led to a standing ovation.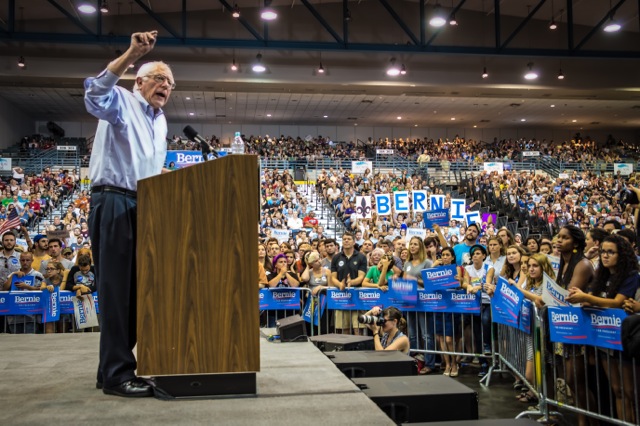 Bernie Sanders at the Pontchartrain Center in Kenner, Louisiana. ©2015 Julie Dermansky  
On Saturday night, after local politicians took the stage at an annual Democratic Party fundraiser dinner and other Democratic Presidential candidates including Hillary Clinton got their messages across via pre-made videos, Sanders took the stage. His team was too busy to make a video, he quipped to the crowd, so he decided to show up in person.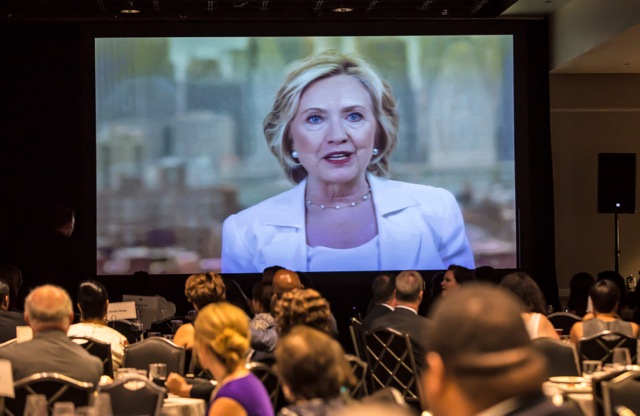 Hillary Clinton's video message plays during a Democratic fundraising dinner in New Orleans. ©2015 Julie Dermansky
After speaking about the importance of doing away with Citizens United, Sanders credited Pope Francis for doing a good job highlighting the need for action on climate change.
"The scientific community is virtually unanimous in telling us climate change is real, climate change is caused by human activity, climate change is already causing devastating problems, and if we do not get our act together the situation will only become worse in years to come," he said. 
Though Clinton may be the front-runner, and announced her own climate action initiative on Sunday, Sanders' speech at the fundraising event had the audience on its feet.
"I have always been a Sanders supporter," Dr. Gilda Reed, a University of New Orleans professor and former candidate for Louisiana's 1st Congressional District, told DeSmog. At first she didn't believe he was a viable candidate, but she does now.
"We can shift the perception that Bernie Sanders is unelectable," Dr. Reed said.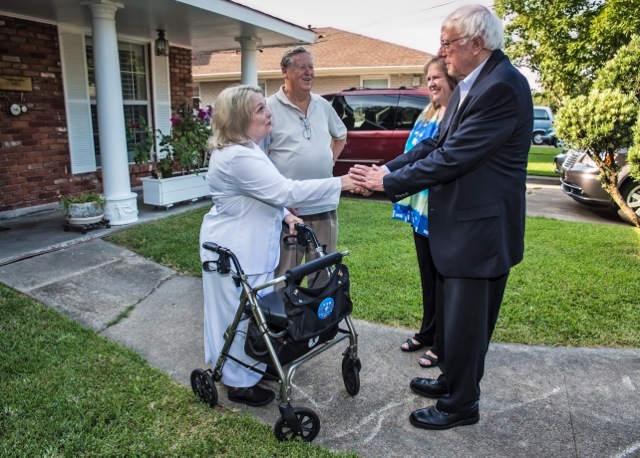 The Reeds welcome the Sanders to their home in Metairie, Louisiana. ©2015 Julie Dermansky
Reed and her husband hosted a gathering at their Metairie home before the rally.  Sanders told the guests he wasn't going to give them a speech, instead he has some questions for them.  
"Why do you think I'm in Louisiana in the summer?" Sanders asked supporters at the Reed's home. His answer: The Democratic Party has blown it by throwing in the towel in southern "red states."  
Some in the Reed's living room told Sanders that many voters in the New Orleans area feel their voices don't matter, a situation Sanders intends to change.
VIDEO: Sanders talks about the Koch Brothers in the Reed's living room:
He reiterated his criticism of the Democratic part at the rally.
"I think my colleagues in the Democratic Party have made a very, very serious mistake and that is they've kind of written off half of America, including Louisiana," Sanders said. "I'm here to tell you that the time is now for us to fight in 50 states."
VIDEO: Bernie Sanders at the Pontchartrain Center explaining why he's in Louisiana: 

Sanders also criticized the mainstream media for not talking about real issues like income inequality and climate change, and described how he hopes to change that with his candidacy. 
"Bernie is contagious," Reed said after the hour-long rally. "He has the fighting spirit I wish I had had when I ran. He is saying all the things I believe, that many of the other Democrats believe, but if we say them in Louisiana, it would be political suicide."
Somehow, Sanders can do it, she said.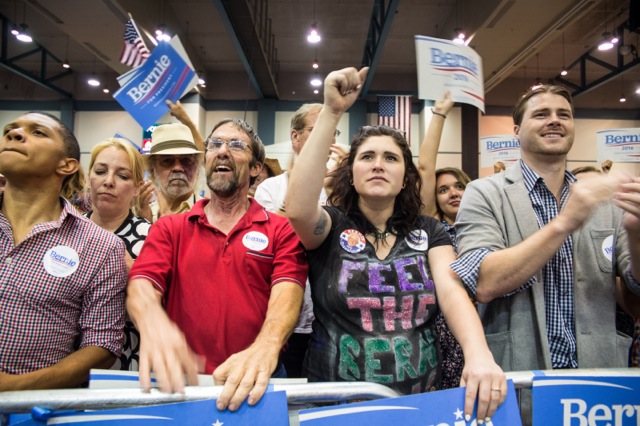 Bernie Sanders at the Pontchartrain Center in Kenner, Louisiana. ©2015 Julie Dermansky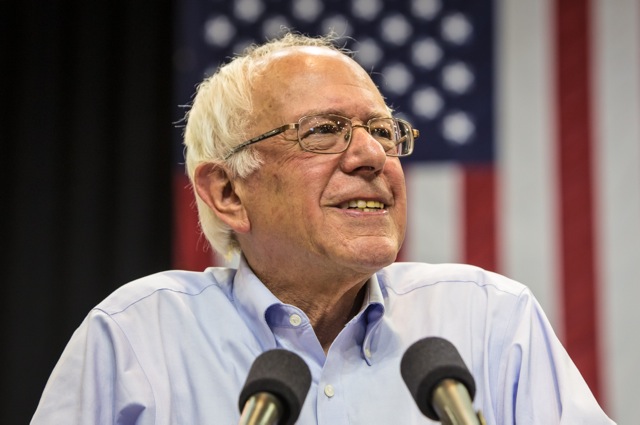 Image credit: ©2015 Julie Dermansky