The Chichura family has flammable well water, most likely due to a fracking job gone wrong in Pennsylvania's Susquehanna County. Their water well, along with those of four of their neighbors, was allegedly contaminated with methane in the fall of 2011, shortly after Cabot Oil started drilling operations near their home.
The Pennsylvania Department of Environmental Protection (DEP) confirmed the Chichuras had methane in their water on September 21, 2011, and advised them to equip their well with a working vent to avoid a possible ignition.
The contamination of wells is not an anomaly. The DEP identified 245 sites potentially contaminated by the fracking industry between 2008 and 2014.
As leaseholders with Cabot, the Chichuras believed the company would take care of them if anything went wrong. "Accidents will happen," was the family's thinking when their water first went bad, Elaine Chichura told DeSmog.
But four years later, after being unable to come to an agreement with Cabot on how much the company should compensate them for the loss of the value of their home, their diminished quality of life, and the length of time the company is obligated to deliver water to them, they doubt that Cabot has any intention of doing the right thing.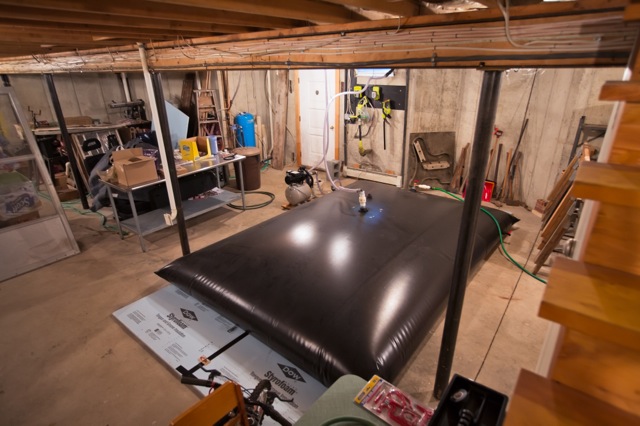 Water bladder in the Chichura family's basement supplied by Cabot Oil. ©2015 Julie Dermansky
Every day, Cabot Oil sends a water truck to fill a giant water bladder the company installed in the Chichura's basement. But not long after an October date was set for the Chichuras and Cabot to meet with a judge who will preside over a legally binding arbitration session, Cabot suggested methane levels were returning to normal and water deliveries would soon cease.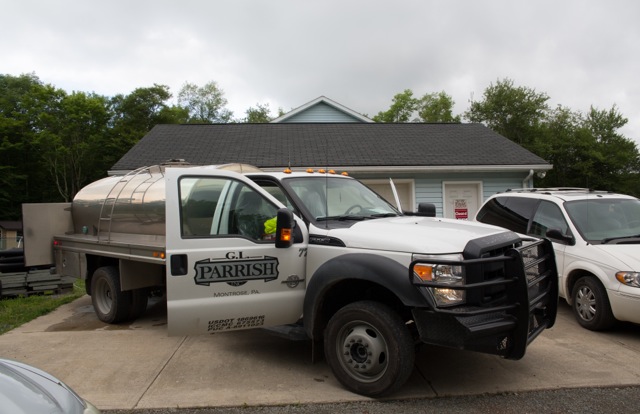 Truck making a water delivery to the Chichura family home. ©2015 Julie Dermansky 
On June 29, DEP geologic specialist Eric Rooney arrived to test the Chichura's water, working alongside Sierra Derby, an employee of Moody and Associates, Inc., the company testing water on behalf of Cabot. Rooney's job was to determine if mitigation work done by Cabot Oil at one of its nearby well pads succeeded in lowering the methane levels in the water.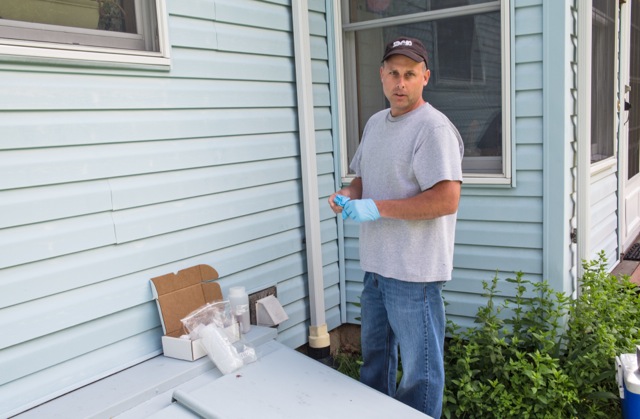 DEP geologic specialist Eric Rooney collecting water samples on June 29 at the Chichura family's residence in Kingsley, PA. ©2015 Julie Dermansky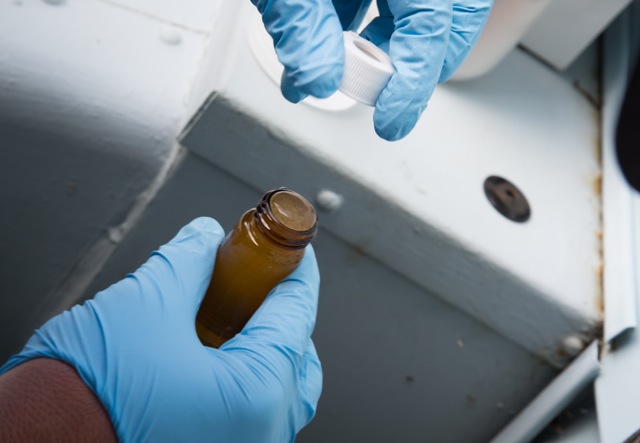 DEP geologic specialist Eric Rooney holding water sample he had just collected at the Chichura family's residence. ©2015 Julie Dermansky
The Chichuras, who doubt that the tests are being done properly, confronted the pair when they realized the water testing began without a knock on their door. The family wanted to observe the entire process, start to finish.
Rooney claimed to understand the family's frustration and apologized for not announcing himself. "You don't know how important water is until you lose it," Rooney told DeSmog.
"Everyone involved treats us like it is just an inconvenience," Elaine Chichura told DeSmog, but it is more than just a nuisance. Their sense of security is gone, she said. No longer do they feel their home is their castle. They're not sure whether it's safe to remain there. Radon detectors remind them that not only their water, but the very air they breathe, could be contaminated. 
Andrew Chichura thinks test results provided to the family by Moody and Associates on behalf of Cabot, showing lower levels of methane in their water occurred because the  water testers did not adequately purge the well before collecting samples. Even to the naked eye, the Chichura's water is effervescent. It can be lit on fire after being contained in a closed jar, indicating the presence of methane.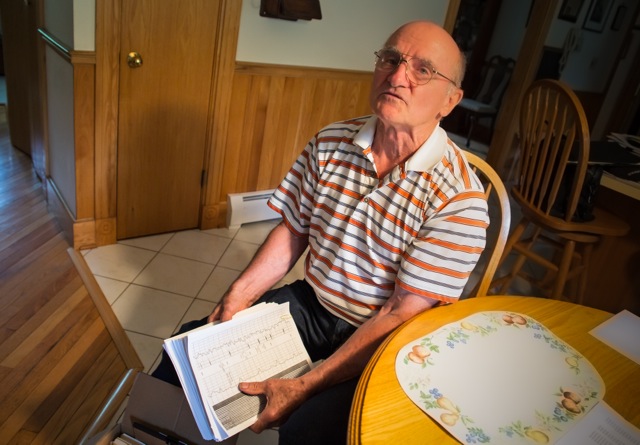 Andrew Chichura with a box full of documents he has collected since he started dealing with Cabot Oil. ©2015 Julie Dermansky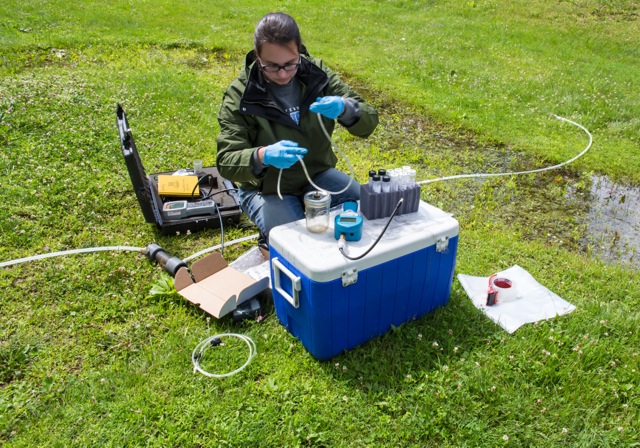 Sierra Derby with Moody and Associates, Inc collecting water samples on June 29 at the Chichura family's residence in Kingsley, PA. ©2015 Julie Dermansky
"The family has good reason to doubt the DEP's test," Joshua Pribanic, a journalist and co-founder of Public Herald, an independent investigative journalism agency, told DeSmog. "Based on our experiences with homeowners, industry, and DEP, we know that DEP more actively communicates with industry than the public," Pribanic said. "The public is being left out of the discussion." 
Pribanic was surprised DeSmog was able to document DEP doing a water test. Many have tried to film the agency in action, but he said the DEP has been known to abort testing if someone with a camera is around.
Rooney and Derby fielded questions from the Chichuras and DeSmog during the sampling collection process, and explained their testing techniques. Some questions Rooney deflected, telling DeSmog he'd answer if contacted later.
However, Rooney did not return DeSmog's calls or emails requesting further information. Derby also failed to respond to DeSmog's follow-up questions – though she said she or her boss could answer any questions after the testing was done.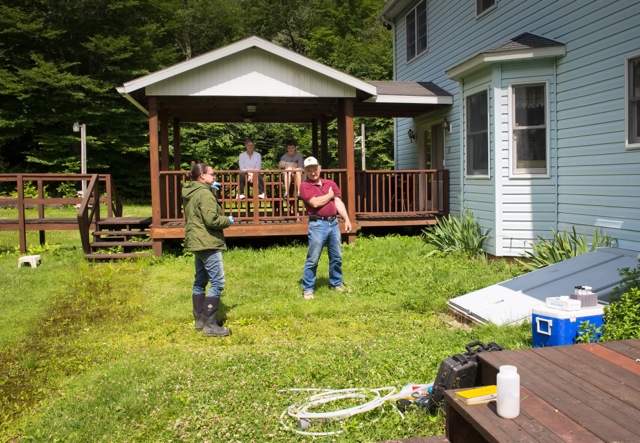 Sierra Derby of Moody and Associates with the Chichura family. ©2015 Julie Dermansky 
The Chichura's first concern was whether the well had been purged before the testing began. The water test started after the water was purged for "15 minutes," DEP's standard purging time, Rooney said. 
Zacariah L. Hildenbrand, a scientist, working with a team from the Collaborative Laboratories for Environmental Analysis and Remediation (CLEAR) at the University of Texas at Arlington who is involved with a number of ongoing studies of groundwater quality in areas where there is shale development, watched a video recording of the tests done on Chichura's well and found them to be inadequate.
"To say that well purging takes 15 minutes is incorrect and is gross generalization," Hildenbrand told DeSmog. "Purging a water well is a highly variable process. It is contingent on the flow rate of the well, well depth, and pump configuration, amongst other factors. Sometimes it  takes minutes, sometimes an hour."
Dr. Geoffrey Thyne, a scientist who had conducted the water testing for the EPA, concurred. "The time thing is not too useful unless you know the volume and flow rate," Thyne told DeSmog. 
DeSmog asked Rooney why the DEP was not testing for other chemicals associated with the fracking industry. The complaint made by the family was about methane, he said, "There is no reason to suspect any other contaminants."
When asked how the family should know what else to have the DEP check for, Rooney asked the Chichuras if their water tasted funny. Elaine asked Rooney if he wanted to taste it, since the family had stopped drinking it as soon as it went bad. Rooney didn't take them up on their offer and went on with his work.
Public Herald's Pribanic confirmed that the DEP primarily tests for methane when individuals make water contamination complaints that are most likely connected to fracking, unless there is a blow-out at a well site or a homeowner knows what kind of tests to ask for. Tests for BTEX compounds, which are highly carcinogenic, are left out, as well as all the different radioactive compounds that have been detected at contaminated sites near fracking activities, according to Pribanic, who has reviewed a large number of records his organization obtained from the DEP.
Hildenbrand's team not only looks for dissolved gases when they test wells thought to be contaminated by the fracking industry, but they also look for chemicals used throughout the unconventional drilling process including various alcohols, chlorinated compounds and other organic chemicals like 2-butoxyethanol.
A peer-reviewed study by Hildenbrand's team recently published in Environmental Science and Technology and based on the in-depth analysis of over 500 water wells in Texas' Barnett shale region, found volatile organic compounds, heavy metals, and known carcinogens in many people's drinking water. 
Though the study could not claim with 100% certainty that the contamination events were attributed directly to unconventional drilling, the team found a higher incidence of drilling-related chemicals where industry was most actively engaged in gas extraction. They could not find any other plausible explanations for how the water came to be contaminated with chemicals associated with fracking, after ruling out agricultural activities and other anthropogenic processes.
"There needs to be that collaboration between scientists and industry to get conclusive proof as to whether or not unconventional drilling is systemically affecting groundwater quality," Hildenbrand said. But, he added, "industry is reluctant to share information about the chemicals that are involved in the process – and in many cases we are not permitted to have access to pad sites to collect samples that would be invaluable to our research." 
But the fracking industry is not compelled to cooperate with independent scientists. In fact, the industry controls access to its sites, even when working with the Environmental Protection Agency.
Federal regulators canceled plans to test levels of contamination both before and after a well was to be fracked in Louisiana's Haynesville Shale region when the oil and gas industry failed to give regulator access to the site before it began fracking, according to Sharon Kelly's report for DeSmog.
Kelly reviewed more than 3,000 pages of emails, confidential draft study plans, and other internal documents obtained by Greenpeace through open records requests for communications between the EPA and the fracking industry pertaining to the EPA's study on water contamination in shale regions. The documents reveal the agency allowing industry to influence its preliminary study that was released in June.
Hildenbrand's ongoing research on water contamination is driven in part by his concern for families like the Chichuras who lack expertise in environmental science and rely on regulators.
"If you think that there is a monster under you bed and you don't look for it, you can hope for the best," he said. "We do tests that the EPA does not. If you look for toxic chemicals, you might find something and then you have to do something about it."
For the Chichuras the battle isn't about how methane got into their water. It is about whether or not the methane is going away and what else might be in their water.
"Cabot Oil's people keep telling us 'we are going to put you back on your well water any day—it is going to be all right,'" Elaine Chichura said. "Even if it is ok today, what is to stop it from going bad tomorrow?"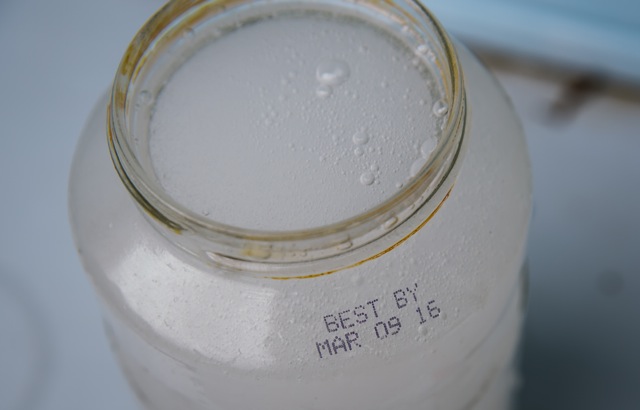 Effervescent water from the Chichura family's well. ©2015 Julie Dermansky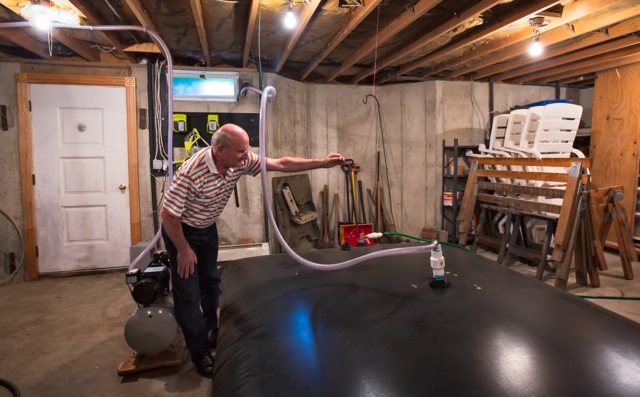 Andrew Chichura checking the water bladder in his basement.   ©2015 Julie Dermansky