On September 23, the U.S. Environmental Protection Agency (EPA) held public hearings in Dallas and Denver on its proposed rule to lower methane and associated pollution from oil and gas industry facilities. A third hearing will take place in Pittsburgh on September 29th.
Once finalized, the standards mandated by the EPA to control methane pollution will be a component of President Obama's Climate Action Plan for reducing U.S. greenhouse gas emissions.
For Texans, the hearing holds special significance because of HB40, a new law the state passed shortly after Denton, Texas, voted for the state's first fracking ban. HB40 makes fracking bans illegal and threatens all local ordinances the oil and gas industry doesn't like.
"The industry showered our Texas legislators with over $21 million to pass HB40," Sharon Wilson, Texas organizer for Earthworks Oil & Gas Accountability Project, told DeSmog. "It stripped from cities a 100-year tradition of concurrent state and city regulation of oil and gas development."
Shortly after the law was passed, Denton repealed its fracking ban, and the industry, in turn, dropped its lawsuit against the city for enacting it. 
Testimony during the Dallas hearing revealed that many citizens impacted by the fracking industry don't think the proposed rule goes far enough, while the industry doesn't believe the new rule is needed at all. 
Ed Ireland, executive director of the Barnett Shale Energy Education Council, was among the industry representatives who spoke out against the proposed rule. 
"The American economic system has made the United States the world leader in abundant and low-cost energy, thanks in no small part to contributions from Texas," Ireland wrote in an editorial for the Texas Tribune. "But new rules from the U.S. Environmental Protection Agency pose a direct threat to our oil and natural gas revolution."
And the American Petroleum Institute, a national trade association representing oil and gas companies, claimed that "the proposals are unnecessary because the industry has already significantly reduced methane through innovation and existing regulations." 
But the EPA makes its case clear on its site:
"The industry is the largest industrial source of emissions of volatile organic compounds (VOCs), a group of chemicals that contribute to the formation of ground-level ozone (smog). Exposure to ozone is linked to a wide range of health effects, including aggravated asthma, increased emergency room visits and hospital admissions, and premature death. EPA estimates VOC emission from the oil & natural gas industry at 2.2 million tons a year in 2008."

"The oil and natural gas industry also is a significant source of emissions of methane, a greenhouse gas that is more than 20 times as potent as carbon dioxide. Emissions of air toxics such as benzene, ethylbenzene, and n-hexane, also come from this industry. Air toxics are pollutants known, or suspected of causing cancer and other serious health effects."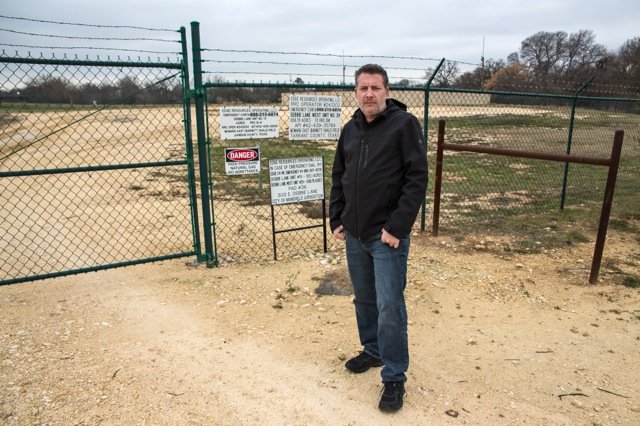 Lance Irwin at a fracking industry site in Mansfield, Texas ©2015 Julie Dermansky 
Lance Irwin, a resident of Mansfield, Texas, a gas producing suburb of Dallas, who testified at the hearing, told DeSmog that Ireland's editorial supports the EPA's move to create a new rule. 
"Methane leaking is a problem for the planet, and solving it isn't coming from producers or Texas because it is so abundant, and it's cheaper to waste lots of it during processing than to capture it," he said. Irwin urged the EPA to make its rule tougher after pointing out ways in which the proposed rule falls short.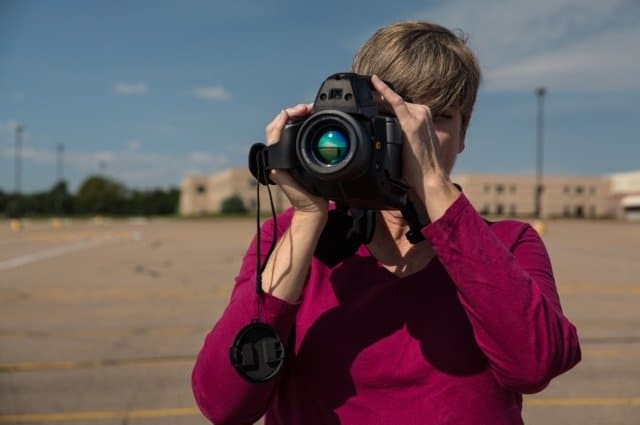 Sharon Wilson, Earthworks Gulf Coast Organizer, using a FLIR camera in Greeley Colorado at Northridge High School.
Wilson opened her testimony by showing a video she shot using a FLIR camera that records methane pollution not visible to the naked eye. The footage shows emissions spewing from fracking sites in Karnes County, Mansfield, and Denton, Texas, and in Greeley, Colorado, next to Northridge High School. 

VIDEO: FLIR video shot by Sharon Wilson on behalf of the Citizen Empowerment Project
"You are the last hope for Texans. We are counting on you to make these methane rules strong enough to keep oil and gas pollution out of our neighborhoods," Wilson told the EPA.
Wilson claimed that state regulators are not responsive to complaints from the public about air pollution in the Eagle Ford Shale, recounting her own experience.
She called the Texas Commission on Environmental Quality (TCEQ) office after recording a site emitting a massive amount of fumes. Over 24 hours later the emissions worsened, so she called again and spoke to the region's director who refused to investigate because Wilson is not a Karnes County resident.
Three months later, a Texas A&M atmospheric chemist found data that showed TCEQ's own air monitor recorded a hydrocarbon spike on those same two days, yet TCEQ refused to investigate. Now that HB40 has stripped municipalities of their ability to protect their citizens, federal regulators are more important than ever, Wilson said.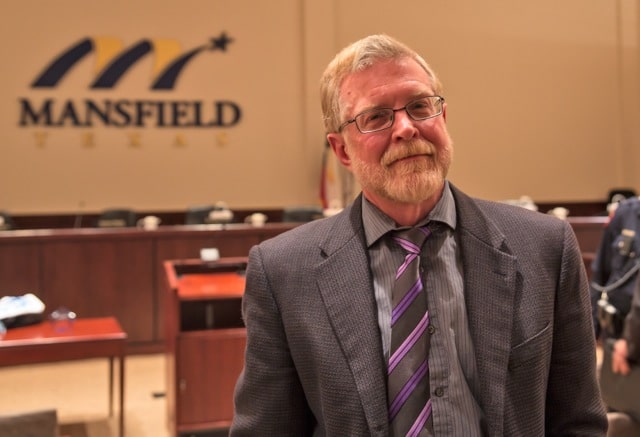 Jim Schermbeck, Founder of Downwinders at Risk at Mansfield City Hall Meeting. ©2015 Julie Dermansky 
Jim Schermbeck, anti-fracking activist and founder of Downwinders at Risk, doesn't believe the new regulations offer adequate protection either. His organization points out that while the rules promise to cut future pollution levels as new equipment comes on line, they do almost nothing about existing facilities. 
"Texas is the VW of State Governments," Shermbeck told the EPA during the hearing.
DeSmog asked residents impacted by the fracking industry to weigh in on the proposed rule.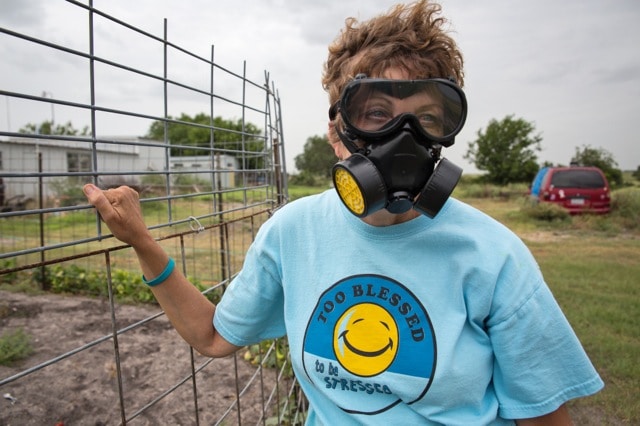 Lynn D. Buehring often wears a respirator outside of her home in Karnes County. ©2014 Julie Dermansky for Oceans 8 Films
Lynn Buehring, a Karnes City resident in the Eagle Ford Shale region where 50 wells have been drilled within 2.5 miles of her home, told DeSmog she didn't come to the hearing because she suffers "from [post-traumatic stress syndrome] PTSS from my two accidents with 18-wheeler trucks." But she shared her message to the EPA with DeSmog:
"I hope regulations are put into place to curb and/or stop the release of the methane gas from all facilities. Since the release of these gases, I now have full-blown asthma, watery burning eyes, skin rashes and bumps, nasal discharge, dry mouth, stomach issues and terrible migraine headaches…just to name a few of my health issues. We are not expendable just because we live in a rural area. Please help us, as no one else will."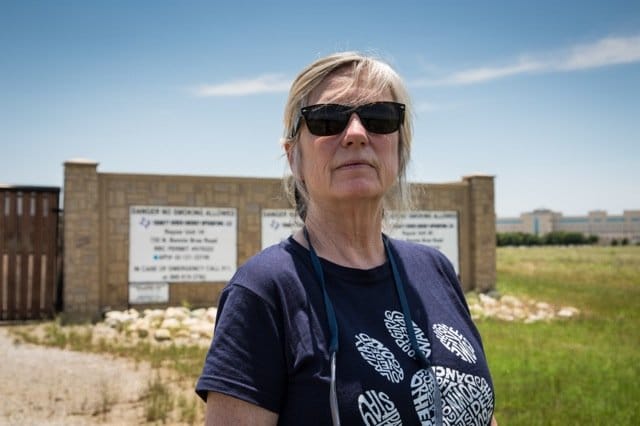 Cathy McMullen, former president of the Denton Drilling Awareness Group, in front of a frack site across from a hospital. © 2015 Julie Dermansky  
Cathy McMullen is the former president of the Drilling Awareness Group in Denton that was instrumental in making the fracking ban a reality. She is now involved with Texas Grassroots Network, a group leading the statewide effort to overturn HB40, and she commented at the hearing. 
She asked the EPA to enact and enforce the strongest rules possible to reduce methane emissions. McMullen dispelled the industry's claim that new rules controlling emissions will imperil job creation.
"Colorado has more stringent methane emission capture rules than the EPA is imposing, and their job growth has exceeded Texas," she said. A report by E&E confirms that.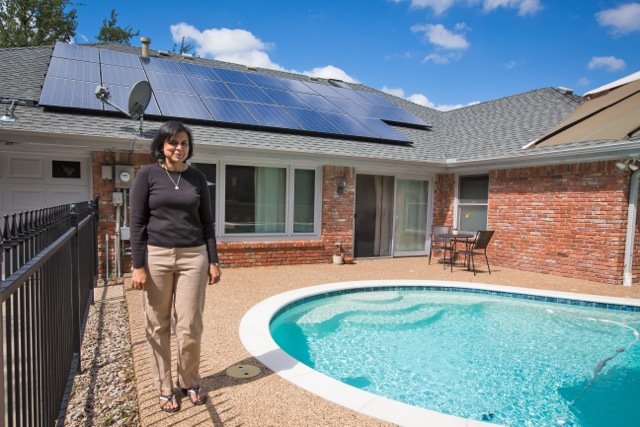 Ranjana Bhandari, co-founder of Livable Arlington, in her backyard. ©2013 Julie Dermansky
Arlington resident and co-founder of the grassroots environmental group Livable Arlington, Ranjana Bhandari, stressed the need for the strongest rules possible in connection with her children's well-being during her testimony:
"The Texas Railroad Commission does not have enough inspectors, 158 at last count, to monitor the large number of wells we have – 400 in Arlington alone. While supporting a rapid shift to clean, renewable energy, we strongly urge the EPA to implement these rules for new and existing oil and gas facilities in the interim, to help preserve not just a Liveable Arlington, but also a Liveable Planet."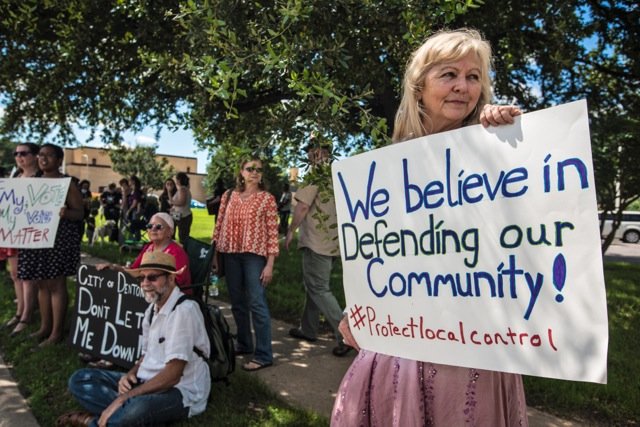 Tammie Carson, a member of Livable Arlington, at a rally to support the fracking ban in Denton. © 2015 Julie Dermansky 
Tammie Carson, an environmental and social justice activist, took a day off work to attend the hearing despite doubting her effort would make a difference. Carson presented a photo of her grandchildren and said she believes it is her duty to protect them before pleading with the EPA to do the same.
"I am willing to go to any lengths to help facilitate whatever it takes to get clear air," Carson told DeSmog. In 2012, during a Tar Sands Blockade action in East Texas, she locked herself to a truck carrying pipelines, delaying the construction of the southern route of the Keystone XL (renamed the Gulf Coast pipeline) for a day. The action landed her in jail overnight, and although her case was dismissed, she has a police record and an FBI file.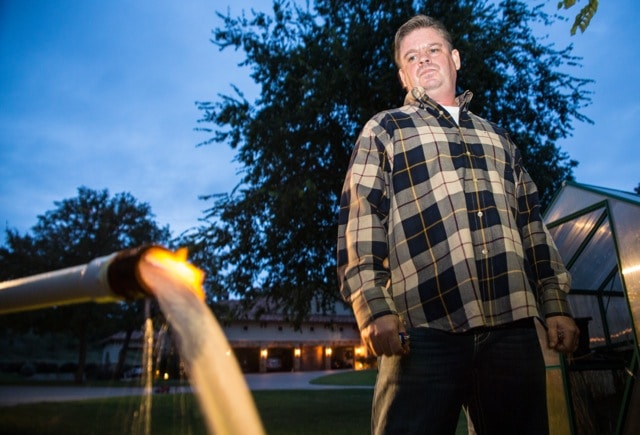 Steve Lipsky ignites water coming out of his well on Oct. 13, 2013. ©2013 Julie Dermansky
Weatherford, Texas homeowner Steve Lipsky, whose flammable water was featured in Josh Fox's documentary, Gasland, told DeSmog he did not attend the hearing because he has little faith in any governmental agency.
He lost faith in the EPA after the agency dropped his case despite his water being contaminated with methane levels that are three times over the explosive limit, and shown to contain toxins like benzene and toluene over permissible limits.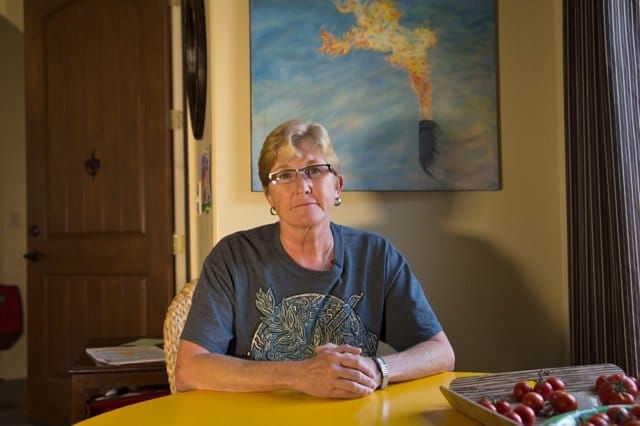 Anti-fracking Oklahoma activist Angela Spotts at her home with a painting of a flare behind her. ©2014 Julie Dermansky
Angela Spotts, Oklahoma homeowner and one of the founders of Stop Fracking Payne County, a grassroots organization, wanted to attend but was too busy fighting against the fracking industry in Oklahoma, where the number of earthquakes caused by the industry's use of waste injection wells are record-breaking.
Spotts is skeptical that the EPA's effort to set standards will be good enough. "How will the EPA actually address the seriousness of the issue of our air quality, despite the current administration's pro-fracking stance?" she told DeSmog. "The Oklahoma Corporation Commission is not adequately addressing the man-made earthquakes and the EPA has yet to step in and take over though we have asked them to do so."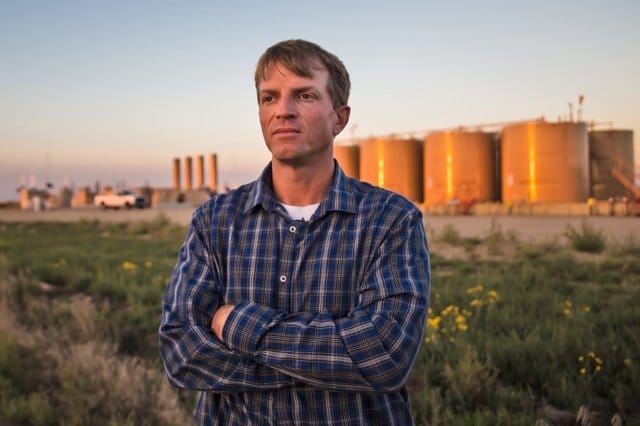 Eric Ewing next to a fracking industry site near his home in Weld County, Colorado. ©2014 Julie Dermansky 
And in Colorado, despite some of the strictest emissions rules in the country, Eric Ewing, a resident of Weld County, north of Denver, had to temporarily relocate his family due to air pollution emitting from a frack site.
"I planned on speaking at the EPA hearings in Denver regarding the methane rule, but felt that effort was futile considering the revolving door between industry employees and regulatory agency staff, as well as the financial influence of the industry on our local and national government," he told DeSmog. "Since I am not writing a check, I probably won't be heard."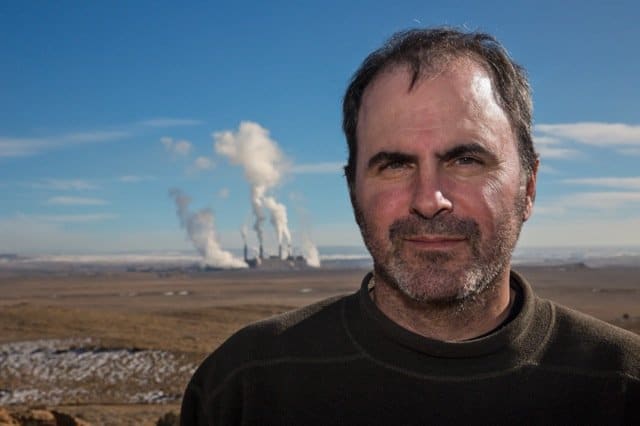 Mike Eisenfeld at the San Juan Generating Plant just outside of Farmington. ©2015 Julie Dermansky
Mike Eisenfeld, New Mexico energy coordinator for the San Juan Citizens Alliance, didn't attended either, though his group submitted comments.
"We're glad to see reasonable measures to stop the oil and gas industry from continuing to foul the air in the San Juan Basin due to their leaking facilities," said Eisenfeld. "The rule is going to help us tackle the sources that have caused the national disgrace of New Mexico's 2,500-square-mile methane 'hot spot.'"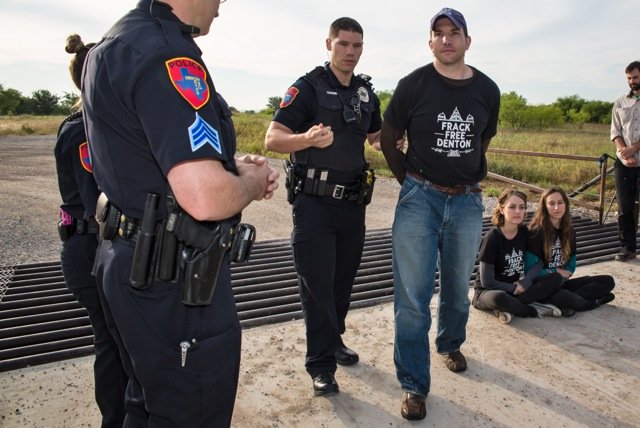 Adam Briggle arrested for trespassing at a Vantage frack site. ©2015 Julie Dermansky
Testimony by Adam Briggle, a professor at the University of North Texas and leader of the Denton Drilling Awareness Group, ended with a message to the EPA that echoed throughout the day by those in favor of regulations tougher than those the EPA has proposed.
"I need your help. I need you to go back to Washington, D.C. and tell them that folks on the gas patch are watching. Remind them that they are deciding what will go into the bodies of children," he said before asking them to do the right thing.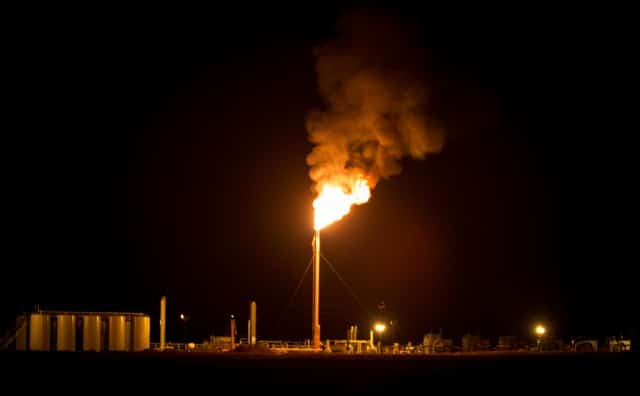 Flare at a fracking industry site in the Eagle Ford Shale region in Texas. ©2013 Julie Dermansky