Pope Francis's resounding message that it is mankind's moral obligation to address climate change made many politicians uneasy during his visit to the United States.
The Pope issued a call to take action against climate change when he spoke at the White House and again, the next day, when he addressed Congress.
His message that we must protect the young and the poor who are the most at risk from the effects of climate change gave a boost to many in the environmental and social justice movements.
Much of what the Pope advocated during his visit echoes Vermont Senator Bernie Sanders' campaign agenda, although their stance on abortion and gay marriage remain at odds.
Both stress that the unequal distribution of wealth must change to create a just society that takes care of its most vulnerable members and works to combat climate change. 
The moral call to action echoed by the Pope and Bernie Sanders stands in sharp contrast to the Republican Party platform that continues to ignore climate science and social justice imperatives.  
Republican Congressman Paul Gosar of Arizona boycotted the Pope's address to Congress. "If Pope Francis wants to devote his life to fighting climate change, he should do so in his personal time — not as pope," Gosar wrote in a column for the conservative news website TownHall.com.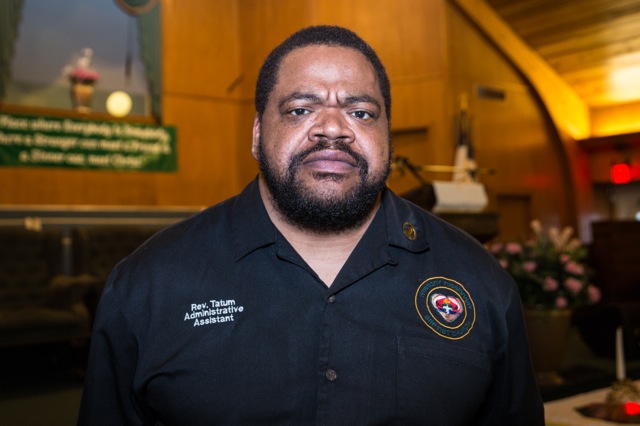 Pastor Kyev Tatum at Harmony Missionary Baptist Church in Forth Worth, Texas. ©2015 Julie Dermansky
Pastor Kyev Tatum, an anti-fracking and civil rights activist in the gas-rich Barnett Shale region of Texas, finds Gosar's objection ludicrous. 
"The church has a moral obligation to encourage social responsibility, which makes it impossible to separate politics from religion," Tatum told DeSmog. "Keeping politics out of religion is not the same thing as keeping religion out of politics, though the two concepts have been conflated." 
"Pope Francis has reminded us of our shared responsibility to care for our air, water, and soil," Sister Elizabeth Riebschlaeger, a 78-year-old nun with the Sisters of Charity of the Incarnate Word, told DeSmog.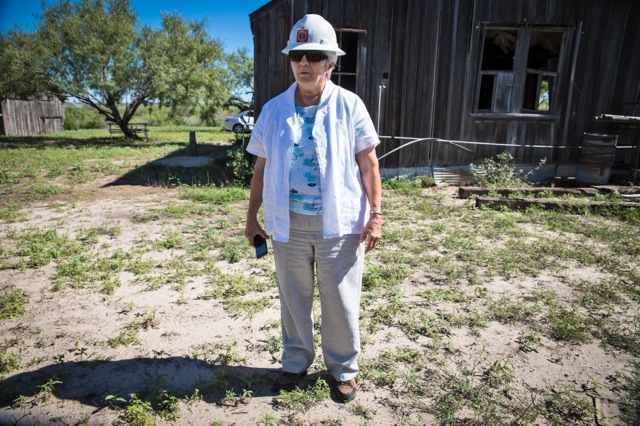 Sister Elizabeth Riebschlaeger in Texas' Eagle Ford Shale region. ©2013 Julie Dermansky
Sister Elizabeth gives tours to those wanting to learn about the impact of the fracking industry in the South Texas Eagle Ford Shale region, home to one of the most productive oil fields in the United States.
"For those I work with to promote knowledge of Eagle Ford Shale's impact on the environment, the Pope's statement is a great blessing and inspiration," Sister Elizabeth said.
"For others who spent their lives in oil fields or petrochemical plants, and have sons and daughters doing the same, the Pope's message is confusing. A Pope who identifies with environmentalist views perplexes them. Many have bought the propaganda of [the fracking] industry that it is safe, and are brainwashed by ultra-right messages identifying those who call the industry out for bad practices as 'extremists.' Environmentalists are considered extremists and are associated with communists," she continued.  
Pastor Tatum, like Sister Elizabeth, educates others about the harm the fracking industry has inflicted on his Forth Worth community. "Since the fracking boom, our air quality has gotten worse and childhood asthma is on the rise," he said.
He thinks the Pope's message presents a moral dilemma for religious and political leaders who are doing little to deal with the moral collapse of society that has enabled climate change to take place. 
"How can politicians drive through neighborhoods where fracking industry sites make it impossible for children to breathe clean air and do nothing about it?" Tatum wonders.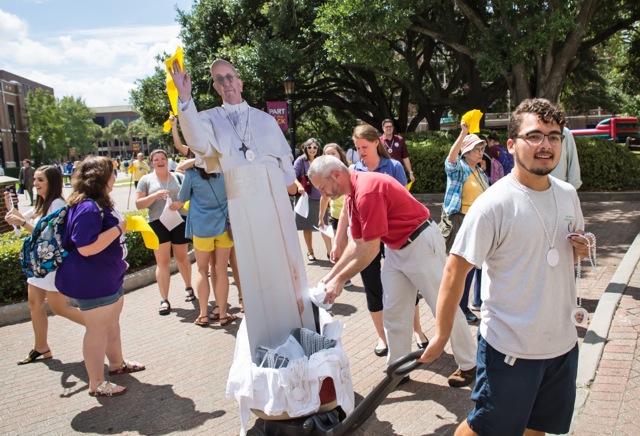 Pope-A-Palooza event at Loyola University in New Orleans, Louisiana. ©2015 Julie Dermansky 
Loyola University, a Jesuit school in New Orleans, held events celebrating the Pope's visit, with a panel discussion on faith, Pope Francis, and climate change. The university events included a "Pope-A-Palooza" celebration that started off with a Mardi Gras-style procession, featuring a life-size cardboard cutout of the Pope and Mardi Gras beads with the papal emblem. The procession led to the student center where a screening of the Pope's address to Congress was rebroadcast.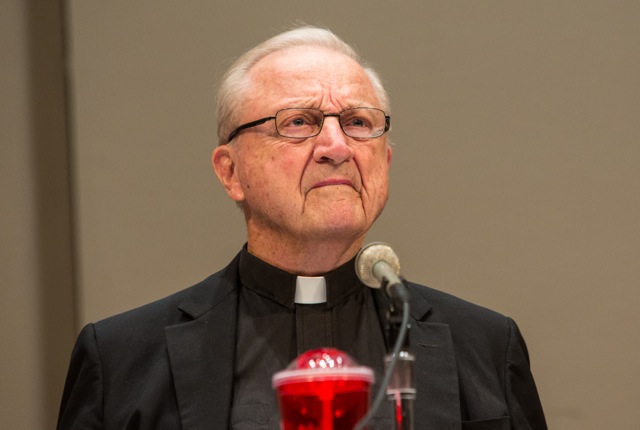 Rev. James Carter, SJ, Ph.D at a panel discussion on faith, Pope Francis, and climate change at Loyola University. ©2015 Julie Dermansky
During the panel discussion, Rev. James Carter, SJ, Ph.D., Loyola University New Orleans president emeritus and professor of physics, dismissed arguments that instances of cold weather disprove climate change. "Weather is not climate," he said. 
The other panelists included Political Scientist and Honors Alumnus Chris Wiseman, Ph.D.; Environmental Biologist and Mass Communication Professor Bob Thomas, Ph.D.; Environmental Biology Professor Aimee Thomas, Ph.D.; Vice President for Mission & Ministry John Sebastian, Ph.D.; and moderator Naomi Yavneh Klos, Ph.D., director of the university honors program.
They made it clear that the science behind the cause of climate change is irrefutable and easy to understand.
Instead of going over the science, they discussed the Jesuit principles in Pope Francis's encyclical, "Laudato Si." Despite the fact the leader of the Catholic Church embraces climate science, it remains a hard sell for many.
The Pope referred to part of his encyclical when he addressed Congress. He called for an effort to "redirect our steps" in a way that would "avert the most serious effects of the environmental deterioration caused by human activity." Only half of the audience rose to its feet and applauded when he let Congress know that he is convinced they can make a difference.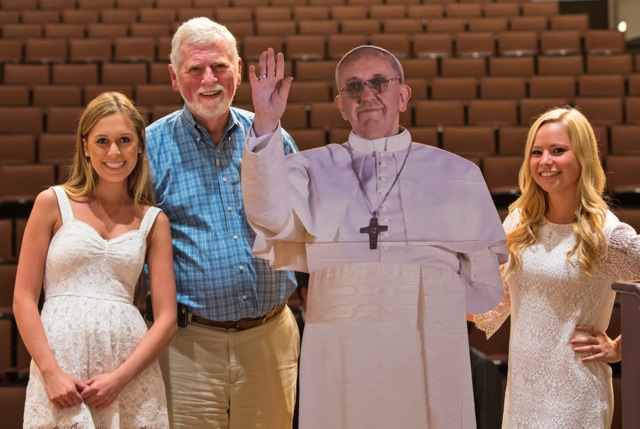 Kate Blasco and Olivia Parks, with Professor Bob Thomas after a panel discussion at Loyola University. ©2015 Julie Dermansky
Two students who came in toward the end of the panel discussion at Loyola told DeSmog they were not convinced climate change is real. "I'm undecided," Kate Blasco said. Her sorority sister, Olivia Parks, who was reluctant to comment, admitted she felt the same. Professor Thomas, with whom the women have a class, told DeSmog he is certain that by the end of his class they will change their minds.
Speaker of the House John Boehner, who invited the Pope to address Congress, resigned the day after the Pope spoke. Many saw his resignation as a signal that right-wing elements in his party are pushing for a government shutdown unless Planned Parenthood is defunded. Boehner cited the Pope's visit as part of the reason for his resignation. 
Though Boehner's act does not mean he'll join the environmental movement, to Sister Elizabeth the Pope's teachings move others to act in ways that lead the country on a path to reverse climate change. "To be pro life means to support the Earth," she said. 
"It must be stated that a true 'right of the environment' does exist," Francis said during his address to the United Nations. "Any harm done to the environment, therefore is harm done to humanity." 
Image credit: Pope Francis speaks about climate change during his address, as reported on Fox News. ©2015 Julie Dermansky