When it comes to effective lobbying groups, the American Petroleum Institute has to be near the top of the list with its relentless quest to preserve oil company profits at all costs. However, with the current threat of a rail shutdown over the rail industry's failure to implement positive train control (PTC), which would effectively shut down much of North Dakota's Bakken oil production, the API isn't getting involved.  
Apparently they aren't worried. As masters of the game of spinning stories for profit, perhaps the API knows a good bit of spin when it sees one.
The coal industry is also heavily dependent on rail. Yet, as Platts reports, Tom Canter, the executive director of the National Coal Transport Association, doesn't appear to be losing sleep over this potential crisis.
"The railroads could just embargo everything and bring this thing to a crisis, but Congress will probably come through and Obama under great reluctance will sign it," said Canter.
The railroads had eight years to implement positive train control. And while the issue has come up in congressional hearings over the past two years, there was never a sense of urgency.
In May of this year, DeSmog reported the following,
"…the rail industry has managed to avoid implementing positive train control, a congressionally mandated safety measure from 2008, and has stated they will miss the completion deadline of 2015 and will require at least another five years to implement positive train control."
Yet despite the fact this was openly discussed in congressional hearings, there was no talk of shutting down the railroads. Until now.
The Association of American Railroads has laid out the options on its website. Extend the deadline or we shut down America, and based on the graphic on its site, apparently that means the country will sink into darkness.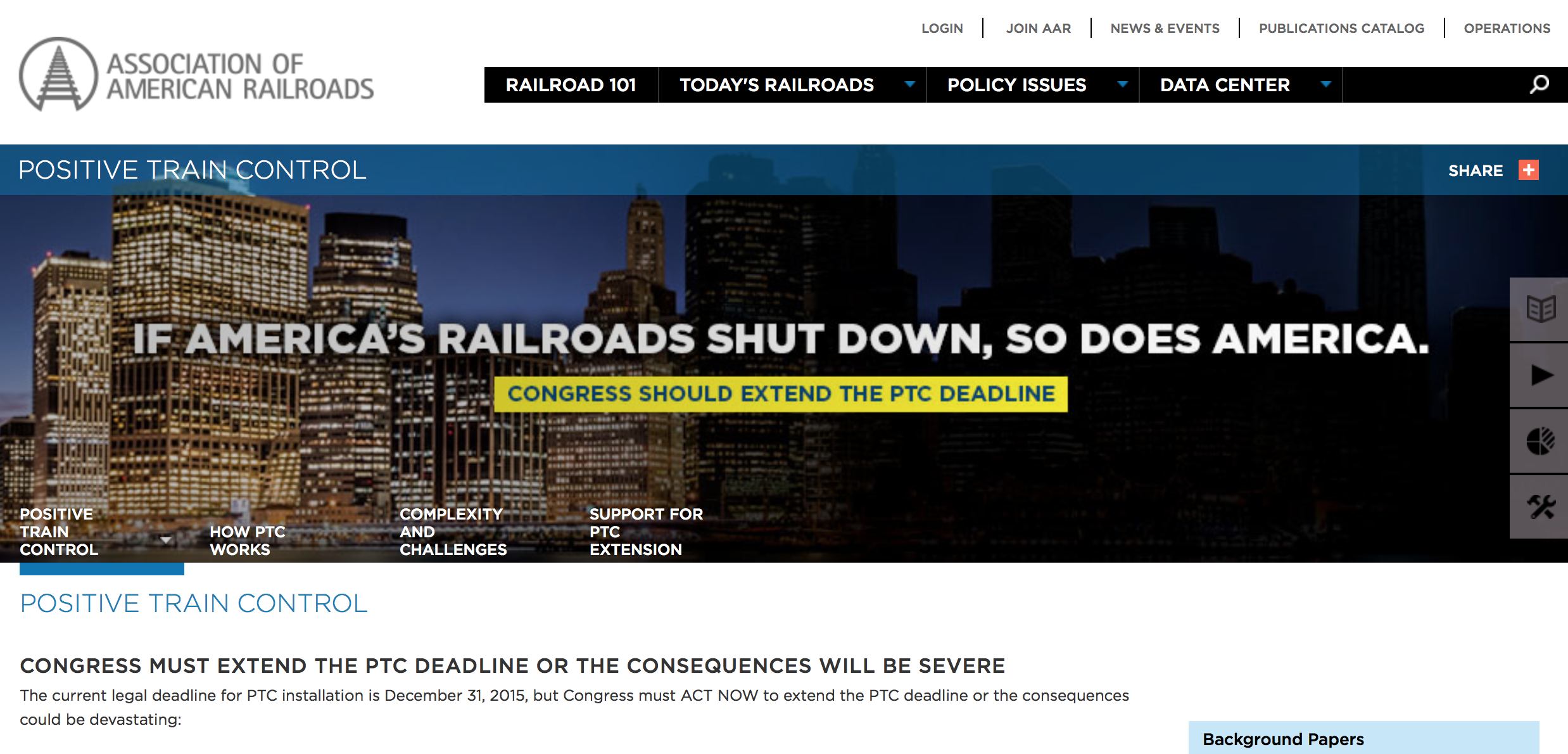 Norfolk Southern recently released a statement saying it will begin shutting down service starting in December.
"Norfolk Southern sincerely regrets the inconvenience that customers, passengers, and commuters will experience," said James A. Squires, President and CEO. "Our strong hope is that Congress will act quickly and decisively to allow us to restore full access to our rail network."
It must be very troubling to release a statement saying you are going to have to shut down your business.
However, Wall Street doesn't appear to buy the spin. The day after Norfolk Southern said it may shut down operations, the stock price was up slightly.
Wall Street, Big Oil and Big Coal all seem completely unconcerned about the likelihood of the rail system shutting down and obviously expect that the rail industry's plan will work.
As the deadline approaches, editorial boards across the country are urging Congress to act. In the New York Times piece, they appear to acknowledge the reality of what has happened and ask Congress to not make the same mistake again when granting the extension.
"Congress should extend the deadline but make sure railroads are not in a position to demand another delay in three years by holding the economy hostage again."
Image credit: Cargo train on tracks via Shutterstock