By Kaitlin Butler
The new U.S. oil and gas rush brings certain places to mind: the Midwest, California, the East Coast — Josh Fox's Gasland, Governor Cuomo's ban on fracking, the contentious battle over the Keystone XL pipeline.
Amidst mounting public controversy over fracking practices, pipeline spills and exploding oil trains, one corner of an often-overlooked state weighs heavily on our future. Utah: home to some of the most remote landscapes left in the lower 48 and a forgotten lynchpin to an all-out domestic energy bonanza.
The course our energy future, and to some extent our climate future, takes could be determined by what happens in this remote desert basin. Earlier this month, Salt Lake City, Utah housed the 35th annual Oil Shale Symposium to discuss this future.
The event, hosted by the Utah Governor's Office of Energy Development and the Colorado School of Mines, focused on the status of developing this huge fossil fuel resource still locked up in sedimentary rock.
Attendees took part in a two-day technical session followed by a two-day field trip to visit oil shale outcrops and test-production facilities. People heralded from regional and international locations, mostly company representatives and engineers, with pockets of academics and public officials from all levels of government.
I was, by my count, one of two attendees from the non-profit sector. I'd come to learn about the status of the industry: the barriers, the opportunities — just how close is commercial production here in the U.S.?
Game changer
An energy game changer, the Green River Formation, saddles portions of Utah, Wyoming and Colorado, and holds the richest, thickest, largest oil shale deposits in the world.
According to the Programmatic Environmental Impact Statement (2012) prepared by the Department of the Interior and the Bureau of Land Management, of the estimated 1.2 to 1.8 trillion barrels of oil locked up in the rock, a "moderate estimate" of recoverable oil is 800 billion barrels, or three times the proven oil reserves of Saudi Arabia. That's not including the estimated 12-19 billion barrels of oil from tar sands. Those numbers rival OPEC's proven crude oil reserves.
Michael D. Vanden Berg with the Utah Geological Survey, our field-trip leader, conducted an evaluation of the Uintah Basin's oil shale resource, and found that even when adding several constraints to the 'unconstrained' resource totals – such as thickness, richness, depth – the basin's "more realistic" potential economic resource still totaled around 77 billion barrels.
However, the deposits have yet to be significantly tapped. The resource is in the rock or sand and, in the case of the oil shale, needs to be heated at extremely high temperatures before giving up its oil.
In Utah, oil shale and oil sands projects are underway. Of the 600,000+ acres of state and federal land available for oil shale and tar sands development, nearly 139,000 acres for pilot projects are already under active lease in the Uintah Basin. Commercial-scale development remains, however, just out of reach.
The oil shale industry has had some tough breaks, most notably the fluctuating oil prices that reflect the volatility and speculation inherent in the industry. Geopolitics, regulation, and high development costs contribute to the challenges of scaling up production. Nevertheless, the industry remains hopeful. No stranger to bust cycles, it maintains a dogged sense of resolve.
The difficult business environment, representatives explained, is not a step backwards. Rather, it should be seized as an opportunity to improve business practices. Environmental "obstacles," technological shortcomings, and business risks were described as manageable barriers to development. Overall, companies feel they have made great strides, both in operational efficiency and "reclamation" strategies.
The oil and gas industry continues to court boomtowns like Vernal, population 10,000, which it has had an on-again off-again affair with extraction for nearly seven decades. All in all, the majority of the puzzle pieces are in place and the oil shale industry stands poised to begin large-scale production here.
The PR problem
When the economic conditions are right, there is nothing standing in the way of developing Utah's oil shale. Save for one other issue. The industry has a PR problem.
And the industry knows it. Everyone acknowledged this, were forced to, in fact, when the elephant in the room was made loud and clear. Not ten minutes into her opening remarks, Dr. Laura Nelson, Executive Director of Utah's Office of Energy Development was interrupted by protestors holding a banner reading: "Invest in our Future, Not Climate Chaos."
Public awareness matters because the vast majority of the oil shale deposits occur on federal land, and the majority of pilot projects are happening on state trust, public, and tribal land. What is done with the land is in theory the collective decision of the people.
The public is the rightful collective "Mineral Owner," as Ron Stites, of consultants Stites & Associates, LLC, and his co-authors point out in their presentation and eBook, Oil Shale: Treasure Trove or Pandora's Box. As central stakeholders, the public can, in theory, allow or delay development indefinitely.
The majority of residents and public officials in Uintah County appear to support the oil shale industry. The industry, government and public perception in Utah follows that since everyone needs energy and jobs, and renewable energy is not ready to sustain our 'way of life,' developing oil shale resources is a moral obligation for the public good. Speakers pointed out, often, that oil shale development is not only good for the local economy but could also impact foreign policy in a major way.
For Utah Lt. Governor Spencer Cox, bringing oil shale to the state is "more than a jobs issue," but "absolutely critical to our future…to the national security of our country." For Tom Faddies from Utah's School and Institutional Trust Lands Administration (SITLA), "we march to a noble cause."
Thus, the PR problem facing the industry here in Utah is not what the industry makes or even how it makes it. The real problem, according to many presenters at the symposium, is the rampant misinformation being spread by the media and the "Advocacy Industry."
Advocacy industry?
In his opening remarks, Uintah County Commissioner Mike McKee felt that, as a political leader and a community leader, "one of the biggest issues that we deal with is the amount of misinformation that's out there."
McKee told of coming across a protestor's sign in Vernal that he remembers reading: "Mike McKee + [undisclosed] oil company = death and dead babies." Along with Vernal's mysterious spike in infant mortality, McKee referenced the supposed immense amounts of water and energy required to develop oil shale and tar sands as the kind of misinformation holding the industry back.
It's unclear exactly who is part of something Stites and his colleagues referred to in their presentation and eBook as the "Advocacy Industry."
Those protesting outside and inside the symposium most likely qualify. But would someone like me qualify, who studies – indeed 'believes in' – climate change?
Regardless of who falls under this ambiguous category, the lesson for the audience across presentations was that "misinformation" is one of the biggest issues for the industry, and counteracting exaggerated propaganda should be an industry priority.
Climate change was not discussed at the symposium. Emissions were mentioned, but only in the context of improved operational efficiency. The only mention of climate change in connection with the symposium that I could find was in the eBook presented on at the event.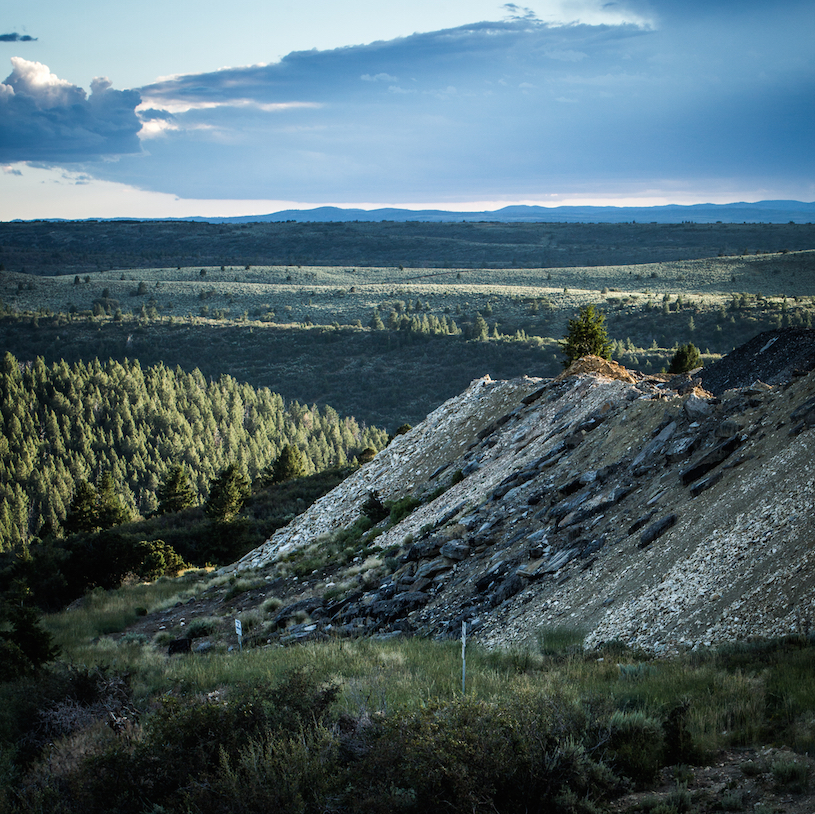 Bulldozed earth spills into the adjoining valley at a US Oil Sands Inc test site close to the La Salle mountain range. Image credit: Brian James Roller. 
Climate impacts
According to the eBook: "Not everyone agrees that anthropomorphic CO2 CAUSES global warming/change."
First, let's acknowledge that typos happen. With that said, let's also state for the record in case there is genuine confusion: around the world scientists agree, anthropogenic, aka human-caused, greenhouse gases are causing global warming.
We are all complicit in this problem — a point people at the symposium were quick to make. Unfortunately for the industry, and their PR problem, excluding the facts doesn't make the facts less relevant or impactful.
Given what we know about climate change and current rates of consumption, the majority of fossil fuel reserves need to stay in the ground if we are to avoid dangerous (and potentially catastrophic) climate change. There can be no increase in unconventional oil production. Despite the facts, issues of climate justice are also mired in PR problems.
The world has an insatiable demand for energy, and "Utah has been blessed by the lord to have a lot of resources that need to be utilized and monetized," said Dr. R. Gerald Bailey, CEO of MCW Energy Group. But, as presenters also pointed out, this fortune comes with a cost. As retired geologist and symposium presenter Glen Miller said: "Our generation may be on track to leave future Americans with significantly reduced resources that will be more costly to utilize."
The messaging emerging from both "industries" — the oil shale and the advocacy industry alike — is that our children's future and the legacy we are leaving future generations are at stake.
Oil industry people like Bailey are optimistic: "I took my four grandchildren up here to Utah to the oil sands" he tells the group, "and I said, 'one day, I hope you're driving your vehicles on some of this stuff…on oil sands and oil shale resources.'"
Or, as Stites and colleagues wrote in their overview of the US oil shale industry: "When the benefits to be gained and the costs to be born are disconnected there is the potential for Moral Hazard. Those seeking benefits often fail to be fair about the costs to be borne by others." 
Kaitlin Butler is Program Director of the Science and Environmental Health Network. She is a writer and researcher with a focus on climate change, environmental policy and justice. 
Main image: A US Oil Sands Inc test site in Utah. Image credit: Brian James Roller.