It was the third quarter of this week's Monday Night Football matchup between the struggling Indianapolis Colts and the undefeated Carolina Panthers, who were playing before a hometown crowd of 70,000. Colts quarterback Andrew Luck was about to engineer a startling comeback to force the game into overtime, but most eyes were probably turned away from the action on the field.
Two activists had managed to smuggle climbing gear through security and were now rappelling from the upper deck of Bank of America Stadium in Charlotte, North Carolina, BofA's home town.
In front of tens of thousands of football fans in attendance and a live national TV audience, the protesters unfurled a banner reading "BoA: Dump Dominion, WeAreCovePoint.org." According to sports blog Deadspin, the banner drop was aired live on ESPN.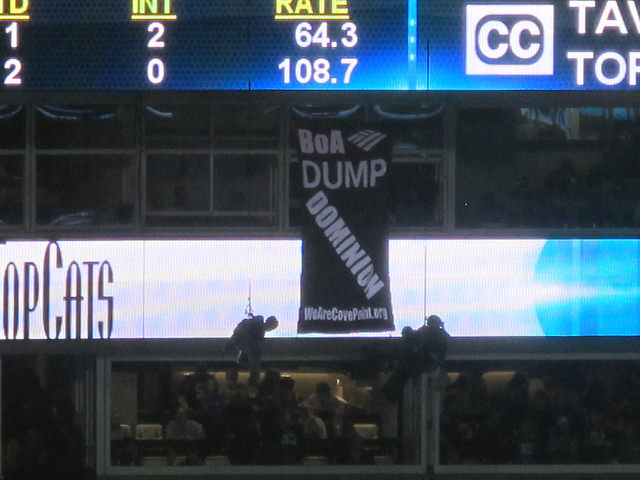 Image credit: We Are Cove Point via Flickr.
The protest was organized by We Are Cove Point, a group that opposes Dominion's liquefied natural gas export facility planned for Cove Point, Maryland.
"I think it went really fantastically well, and there's not something I can think of that I would do differently," We Are Cove Point spokesperson Kelly Canavan told The Charlotte Observer.
But did the sports fans in the stadium, or those watching at home, understand the message? NFL reporters certainly seemed perplexed:
Two bozos hanging from Bank of America Stadium with a banner that says "BOA Dump Dominion." #CLT #NFL #Panthers pic.twitter.com/l7OXZGDmPH

— Ron Clements (@Ron_Clements) November 3, 2015

Who are these people? pic.twitter.com/Po9k3iYG65

— Chris Hagan (@ChrisHaganIndy) November 3, 2015
It's a shame sports reporters didn't have a clue, because the We Are Cove Point activists were conveying an important message that deserves wider attention.
"Bank of America is financing the Cove Point LNG plant, and the surrounding community in Southern Maryland is forced to bear the human cost. This is unacceptable," Rica Madrid, one of the two climbers who hung the banner, said in a statement.
We Are Cove Point says that Bank of America has played a major role in financing several natural gas infrastructure projects Dominion has planned, including the $3.8-billion LNG export facility at Cove Point. In June of 2013, for instance, the group says, Bank of America underwrote $275 million to contribute to the capital expense of the Dominion Cove Point facility.
Dominion has faced stiff resistance from a broad coalition of local citizens that arose as soon as the company's plans to export liquefied natural gas via a new facility at Cove Point was first brought to light in the fall of 2013.
This is far from an isolated incident. Bank of America and other financial institutions are facing increasing pressure to stop financing dirty energy projects that negatively impact communities within close proximity to fossil fuels facilities as well as contribute to global warming.
Environmental activists are currently working to pressure Morgan Stanley to drop coal financing, for instance. If the investment firm were to do so, it would be following the lead of none other than Bank of America, as well as Credit Agricole, both of which announced they were phasing out coal financing earlier this year.
 
Image Credit: Deadspin