You might have noticed the age old barrier separating advertising and editorial in your news weakening recently.
The Guardian's Rugby World Cup coverage is sponsored by Heineken, The Telegraph's is brought to you by Dove Men Care.
We've also seen the rise of something called native advertising, where brands work with media organisations directly to produce content. Hailed by some as the saviour of the media industry, Interactive Advertising Bureau report that in the US it will generate $21 billion in ad spending by 2018.
When it comes to environment and energy coverage, the question of who is behind the news we read becomes a little more interesting. In the age of online media, with traditional advertising markets falling down, DeSmog UK looks at who is paying for the stories you read on climate change.
"We've noted for quite some time that great stories can come from anywhere, and certainly from brands," said Michael Zimbalist, senior vice president of advertising products and research & development at The New York Times back in March this year.
Since the launch of T Brand Studio, the Times' in house native advertising department, the newspaper has been getting more great stories from brands. Brands like Chevron.
A series of interactive charts on energy use produced with Chevron lead with the idea that while our "energy mix" will become more varied by 2040, "stalwarts such as oil and natural gas continue to expand and will still account for most U.S. consumption".
The Guardian, who have an international campaign calling for divestment from fossil fuel companies, also make heavy use of native advertising, inviting sponsors of its professional networks to write content to be published on the Guardian's site, as well as lending their brand to editorially independent stories on the publications hubs.
This can create awkward juxtapositions, like a comment piece on the Sustainable Business section asking whether companies can be trusted to combat climate change, sponsored by mining giant Anglo American, in which the author asserted: "Most people do not readily identify with typical environmentalists."
The Telegraph, lambasted by ex-political columnist Peter Oborne for kowtowing to major advertiser HSBC during the stories about the bank's Swiss accounts earlier this year, carries sponsored content by Shell, publishing hot scoops like 'Diesel tuning – the professional opinion', 'the world's fastest diesel car', and 'the diesel hall of fame'.
Reputable scientific magazines apparently aren't averse to taking oil money to produce advertorials, either.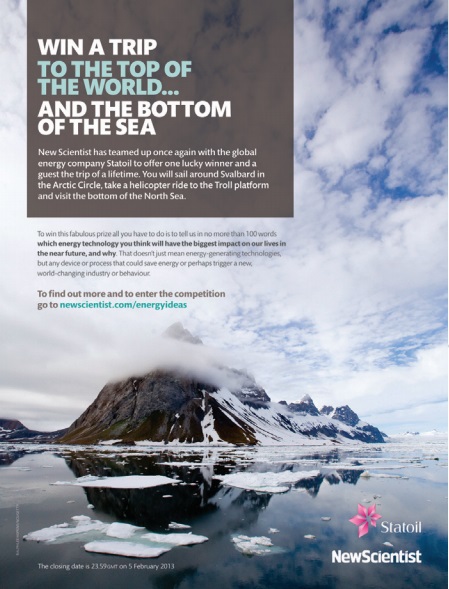 Back in November last year, National Geographic published a sceptical piece about the environmental impact of solar panels which was sponsored by Shell.
"As the world seeks cleaner power, solar energy capacity has increased sixfold in the past five years, begins the piece. "Yet manufacturing all those solar panels, a report shows, can have environmental downsides."
Interestingly, a recent YouTube video from Shell, features two young women saying much the same thing. "In a few decades we might be able to rely solely on solar and wind energy," says one of them. "But we can't do that right now. The best way for us to run right now is using natural gas."
The New Scientist, meanwhile, have produced a case study on Norwegian state-owned oil firm Statoil.
New media outlets are also on board the native advertising train.
Politico, who last year gave BP a platform to declare that anger about the BP oil spill was overblown, have a morning energy newsletter sponsored by FuelsEurope – an organisation formed in 1989 to represent the interests of companies conducting refinery operations in the EU with the EU Institutions. As well as an Energy Visions series, sponsored by Shell.
Buzzfeed, perhaps the pioneers of lucrative advertorial content, carry content produced by ExxonMobil. Stories like 15 Signs You Were Born To Be An Engineer and 12 Classes You Can Actually Take.
These are aimed at encouraging Buzzfeed's millennial readers to take up jobs in the oil industry. At this rate, the site isn't a million miles away from publishing BPs 11 Sea Creatures Who Deserved To Die, as seen on John Oliver's satirical show Last Week Tonight.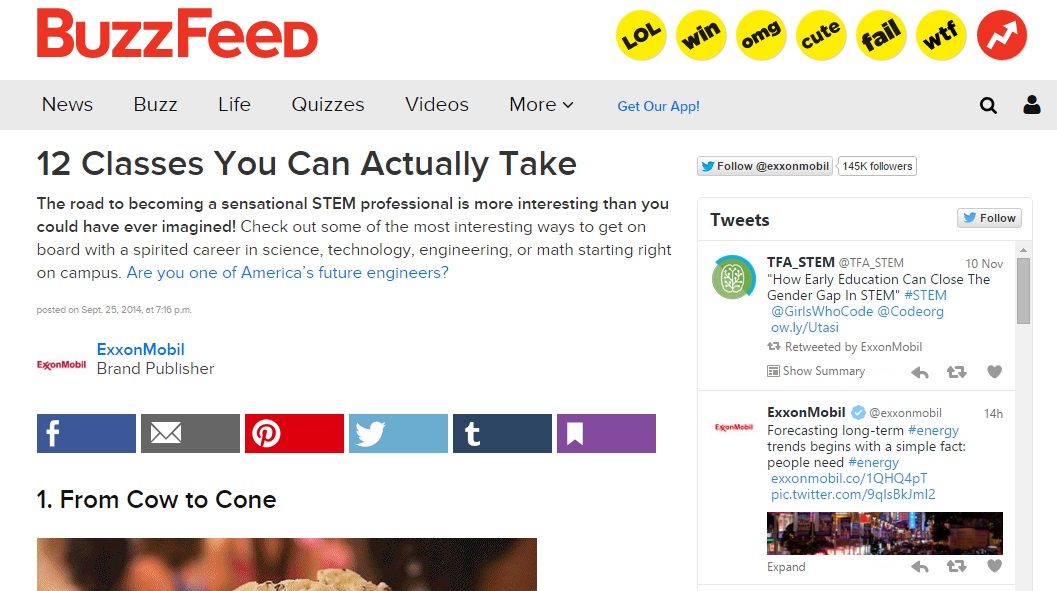 Explainer journalism site Vox produced a flashy series of articles and interactives on 'the future of energy in North America' in conjunction with Goldman Sachs. It's tempting to ask, how do they explain this?
In the run up to the UN climate conference, with energy companies looking to make all the right noises about climate change in order to remain politically relevant, expect more content to fill the news you read.