California Governor Jerry Brown was in Paris this week at the COP21 climate talks burnishing his credentials as a climate leader.
Which has a lot of folks back home wondering: Why isn't Governor Brown using his authority to declare a state of emergency to protect the health of Californians currently endangered by the Sempra Energy methane leak at Porter Ranch?
At Tuesday's High Level Assembly of the Climate and Clean Air Coalition, Gov. Brown talked tough about his efforts to "dramatically lower" emissions of short-lived climate pollutants, including methane.
"This is probably the most immediate challenge, and the most important thing to do leaving this conference," Brown said at the event. "Short-lived climate pollutants are something we can tackle."
And yet, back in the Golden State, a methane leak at Sempra Energy subsidiary Southern California Gas Co.'s Aliso Canyon storage facility has been spewing massive amounts of gas for well over a month and making residents in the San Fernando Valley community of Porter Ranch sick. Hundreds of residents have already been relocated due to health issues associated with the methane leak.
 The facility reportedly began leaking on October 23 and is emitting 50,000 kilograms of methane per hour, which is about equivalent to one-quarter of all California methane emissions. Methane is estimated by scientists to be as much as 35-times as potent a greenhouse gas as carbon dioxide, though it does not persist in the atmosphere as long as CO2.
Residents affected by the leak have filed a class action lawsuit, joined by environmental lawyer Robert F. Kennedy, Jr. as well as attorneys Brian Panish and R. Rex Parris.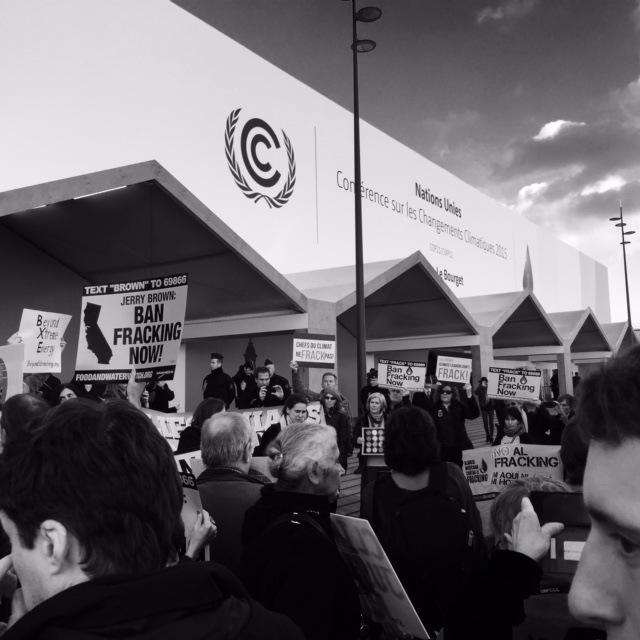 Image: Protest outside the COP21 Paris climate talks calling on Gov. Brown to ban fracking in California. 
Southern California Gas Co. officials have said it could take months to plug the leak. Los Angeles County Supervisor Michael Antonovich, who called the company's timeline "nonsensical and irresponsible," called for a state of emergency to be declared so that state and federal assistance could be provided for residents of Porter Ranch and to help with air quality monitoring and efforts to cap the breached well.
Yet, despite Brown's evident confidence that global methane emissions are "something we can tackle," he has yet to take any meaningful action on Sempra Energy's methane leak, deferring to state regulators to handle the situation at Aliso Canyon and Porter Ranch.
Environmentalists note that while Aliso Canyon is a dedicated methane storage facility, all oil drilling sites emit methane, and Brown has shown no willingness to take on the entrenched power of fossil fuel lobbyists in his state — all of which, they say, calls into question just how serious Brown is about lowering emissions.
"Gov. Brown's weak response to the ongoing crisis at the Aliso Canyon Storage Field proves he is a lot more talk than walk when it comes to fighting climate change at home," Alexandra Nagy, an organizer with Food & Water Watch, and Matt Pakucko, president and co-founder of Save Porter Ranch, wrote in an op-ed for the LA Daily News.
Gov. Brown's inaction on fossil fuels meets protest at climate talks
Governor Brown's support for fracking, coupled with a disastrously lax regulatory environment around fossil fuel development in California, has drawn criticism for years.
It was revealed last year that state regulators at California's Division of Oil, Gas, and Geothermal Resources (DOGGR) — the very same regulators in whose hands Brown has left the Porter Ranch debacle — illegally permitted thousands of oil field wastewater injection wells to contaminate underground aquifers that should have been protected under the federal Safe Drinking Water Act.
Environmentalists say the contamination of potential water supplies that grow ever more crucial as California's epic, climate change-exacerbated drought continues is a direct consequence of the regulatory environment created by the Brown Administration — and the governor's continued support for expanding the practice of fracking in California, the third-largest oil-producing state in the U.S.
On the final day of Brown's trip to the UN climate summit, frontline community members, climate experts and activists from California held a protest against the governor's support of fracking outside the Le Bourget conference site.
"We held these events here in Paris to tell Jerry Brown that climate leaders don't frack," Kassie Siegel, the director of the Climate Law Institute at the Center for Biological Diversity, told DeSmog.
"Brown says some wonderful things about fighting climate change, but his support for fracking and other dangerous drilling in California undermines all the other progress he may make on climate."
Siegel says that it's not just California at stake because, as a "climate leader," Brown's support for fracking sets a terrible example for the rest of the world.
Representatives from the world's most vulnerable countries are in Paris calling for a climate deal that commits the world to limiting temperature rise to no more than 1.5 degrees Celsius and fully decarbonizing the global economy (i.e., 100% renewable energy) no later than 2050.
For the world's developing countries, Siegel said, achieving the most ambitious climate accord in Paris is a matter of their very survival, and expanded fracking is incompatible with the clean energy future we need to be working towards.
"We know that it's possible and absolutely necessary to meet these targets," Siegel added. "The movements to ban fracking and keep fossil fuels are creating the pressure needed to reach these goals and do so in a way that addresses the fundamental justice issues at the heart of the climate problem."
 
Photos by Jim Dougherty