Final exams and winter break loom large for students at Columbia University, but at the upper echelons of the university's administration, new calls for transparency about the funding of a university affiliated center are likely to create plenty of homework as well. 
A letter sent out today and shared with DeSmog from several high-profile advocacy groups addressed to Columbia President Lee Bollinger calls for Columbia to reveal the funders of the influential — and to-date, dark-money funded — Center on Global Energy Policy (CGEP).
The letter was signed by groups ranging from Public Citizen, ForestEthics, Bold Nebraska, Environmental Working Group, Chesapeake Climate Action Network and the Checks and Balances Project.
"Now that POLITICO has revealed that ExxonMobil donated, through its foundation, $25,000 to CGEP in 2014, we ask that you insist the Center report its funding sources and amounts since it was created," the letter reads, pointing to a Politico revelation first reported on by DeSmog.
As DeSmog reported, we have also contacted CGEP on multiple instances to ask where its funding comes from, every time receiving no response.
So too has the Checks and Balances Project, which has sent two letters in September 2014 and January 2015 respectively, to founding director Jason Bordoff. Bordoff formerly served as a top-level energy advisor to President Barack Obama's National Security Council.  
Exxon Not Alone
Beyond just serving as a call for transparency, the letter also breaks ground in revealing that the $25,000 donation given to CGEP by ExxonMobil was just the tip of the iceberg. Further, the letter reveals, 19 CGEP affiliated faculty and advisors have fossil fuel industry ties.
"We know that The Center on Global Energy Policy, formerly known as the Center for Energy, Marine Transportation and Public Policy, received at least $875,000 from ExxonMobil before its rebranding several years ago."
DeSmog used the Way Back Machine to review an old version of the Center for Energy, Marine Transportation and Public Policy's website and discovered that Exxon wasn't the only fossil fuel industry donor to the Center. Though on most versions of the website reviewed by DeSmog — lasting between 2002-2013 — the Center did not disclose funders on its website, it chose to do so in 2010. 
Beyond Exxon, Columbia lists donors ranging from French energy giants Total SA and EDF,  water privatization giant Veolia, oil and gas platform company Mitsubishi and others on the 2010 version of its website.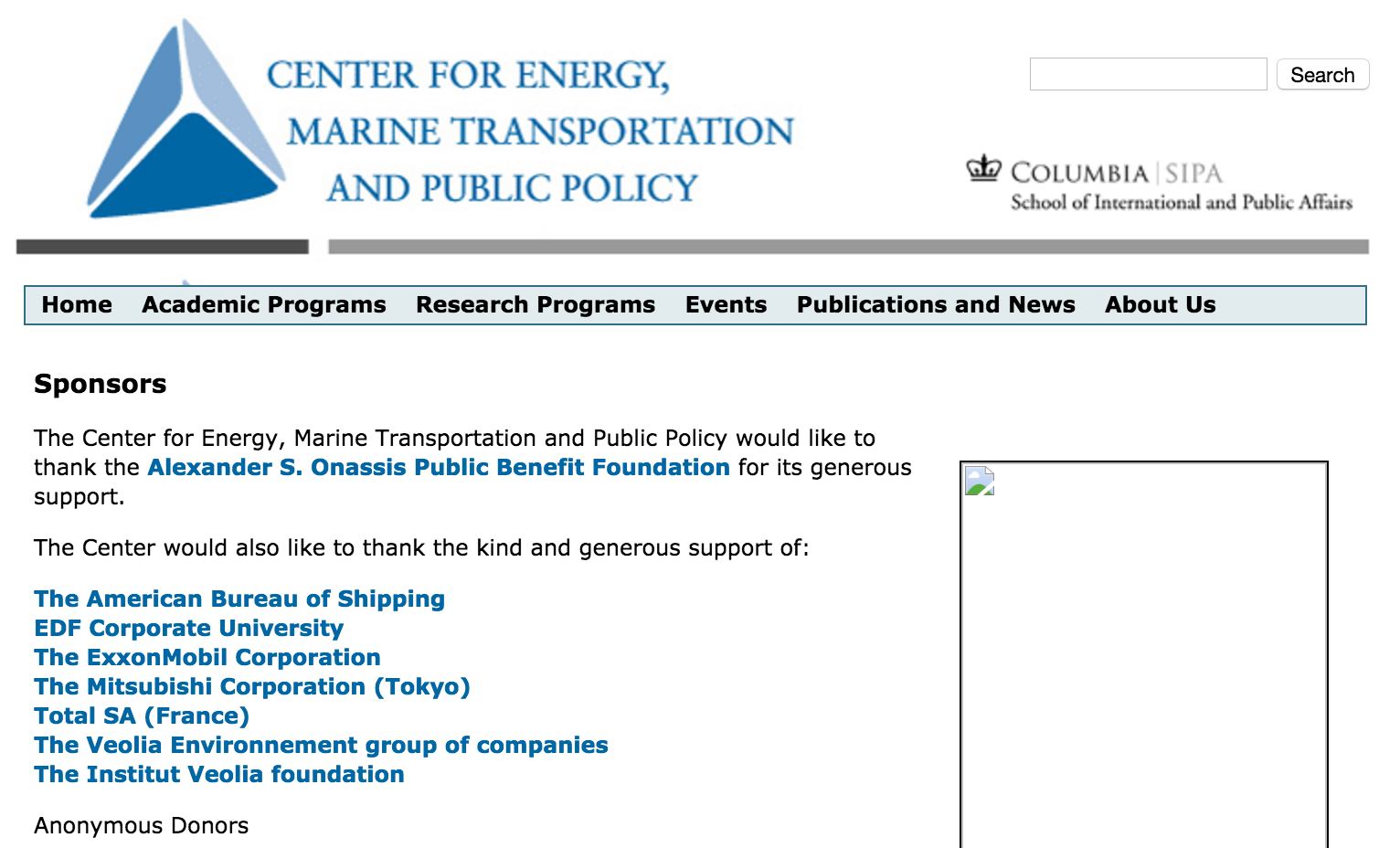 Image Credit: Columbia University
Though the same website structure existed in 2011 as compared to 2010, it appears Columbia removed references to funders in the "About Us" section, as had existed in 2010. Which raises the question: what did Columbia have to hide and what might it be hiding today? 
Oil Export Think Tank
While still a fairly new program, launched in 2013, CGEP has already made a major dent in at least one major debate: oil exports. 
Producing reports supportive of the idea, friendly discussion forums and lending congressional testimony doing the same, Big Oil is on the cusp of a big oil exports legislative victory in the aftermath of an intense lobbying effort. 
As a recent Public Accountability Initiative (PAI) report detailed, industry-funded think-tanks (aka "oil tanks") have proven instrumental in moving the debate on the exports issue, just as we detailed here on DeSmog back in November 2014 on the issue of LNG (liquefied natural gas) exports. 
"Over the past two years, nine of the most frequently cited US think tanks have released reports endorsing crude oil exports, sent experts to advocate exports in Congressional testimony, and published op-ed columns supporting a repeal of the ban on exporting crude oil," reads the report's preamble. "The think tanks' new push for lifting the ban only makes sense in light of their deep and extensive ties to oil companies."
One of the think-tankers pointed to repeatedly in PAI's report is David Goldwyn, former head of the U.S. State Department Bureau of Energy Resources under 2016 Democratic Party presidential candidate and then-U.S. Secretary of State, Hillary Clinton. Goldwyn, DeSmog discovered on the Way Back Machine, formerly had an adjunct faculty affiliation with Columbia's Center for Energy, Marine Transportation and Public Policy according to a 2004 version of its website. 
CGEP, with some of the very same actors like Goldwyn at the helm as documented in the "Oil Tanks" report, clearly fits in the "oil tanks" camp. But until they disclose their funders, much of the news-reading and political following U.S. public may view those affiliated with CGEP and think they are merely independent energy analysts. 
Not so, of course, but as the advocacy groups' letter asks of Lee Bollinger: "Will you compel Mr. Bordoff to release the names of CGEP's funders and amounts donated since its inception?"
Only time will tell if Bollinger will respond. But a response would go a long way in explaining the numerous oil and gas industry-tied figureheads associated with CGEP and why it has been given such a prominent voice in elite U.S. energy policymaking circles since its 2013 launch.
Photo Credit: Shutterstock | Jacek Dudzinski