Cleanup crews were dispatched to beaches in Hancock County, Mississippi, on December 27th to remove over a thousand dead fish and the remains of other animals.
Scientists attributed the fish kill to a "red tide" algae bloom that took hold in early December. It won't go away until temperatures drop and fresh water from the north spilling out from the Mississippi moves through the area. 
"Red tides produce neurotoxins that affect not only marine life, but humans who can breathe it in when it is aerosolized by wave action," Jennifer Hecker, director of natural resource policy for the Conservancy of Southwest Florida, wrote on a social media post about the fish kill. "Some scientists believe exposure can contribute to human nervous disorders such as Parkinson's…not just an eyesore." 
Although red tides are a natural occurrence along the Gulf Coast, they don't occur in the winter. The record-breaking temperatures and less than average rainfall have created favorable conditions for the red tide.
"Nutrients from fertilizer, human wastewater, and animal waste all contribute to increasing severity and duration of red tide events," Hecker wrote.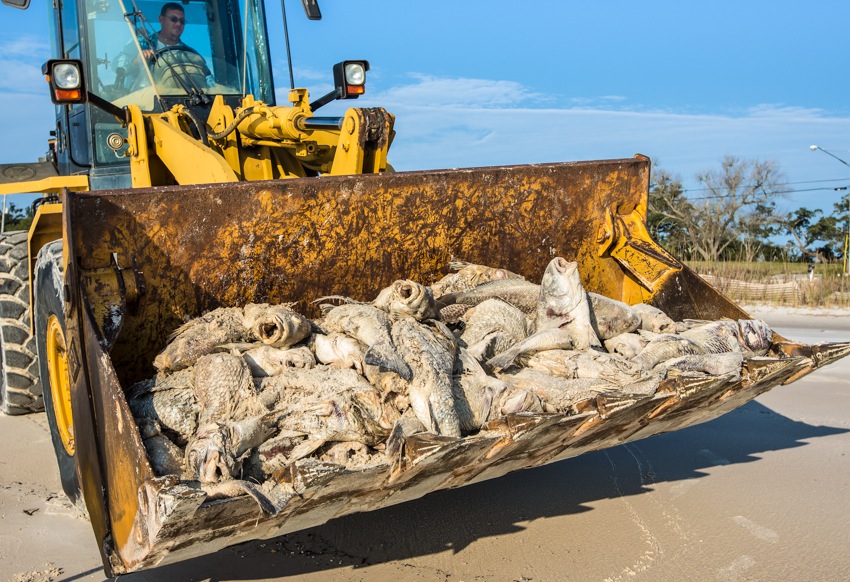 Black drum fish pickup off the beach in Waveland, Mississippi. ©2015 Julie Dermansky
Two days later I caught up with a crew as they hoisted large black drum fish into a Caterpillar vehicle following behind them. Once full, the Caterpillar operator dumped the fish into a truck following along side on the road that parallels the beach.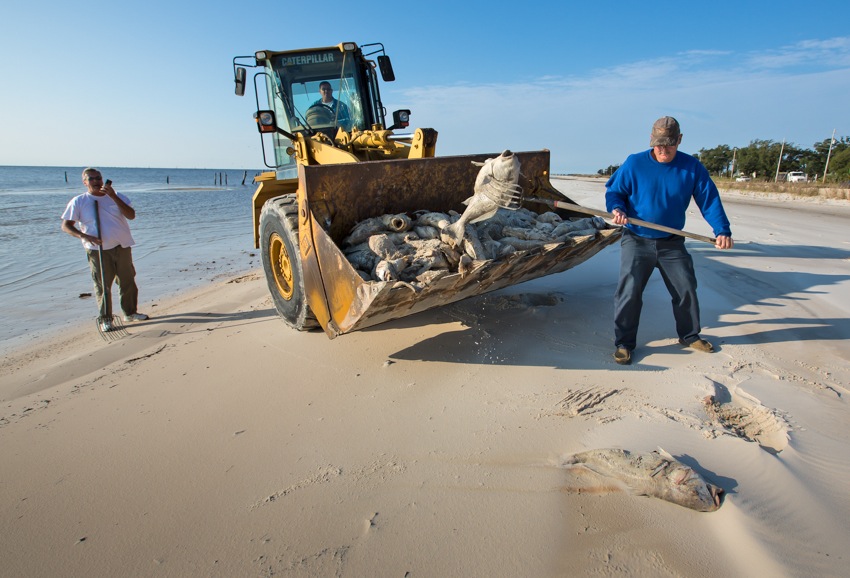 Cleanup crew picking up black drum fish in Waveland, Mississippi. ©2015 Julie Dermansky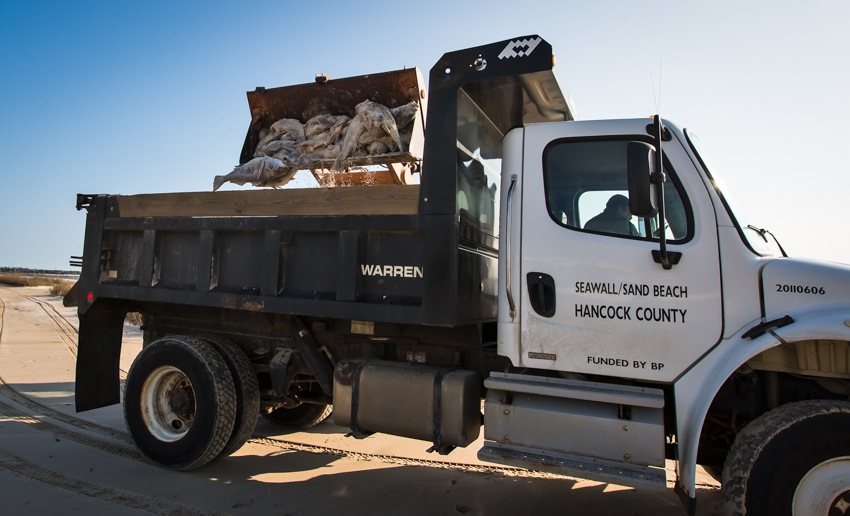 Caterpillar operator dumping fish in a truck in in Waveland, Mississippi. ©2015 Julie Dermansky
Most of the fish being picked up were black drum fish, some weighing as much as 50 pounds. The waters off Hancock County are the species' breeding ground and their spawning period is about to begin, so schools continue to swim into the area. The cleanup crews also removed a few dead ducks and nutrias. 
"I have lived here thirty years," one of the workers told me, "and I have never seen anything like this." 
Other Mississippi beaches further east aren't littered with as many carcasses, but there are still plenty of dead animals. On random stops I made from Pass Christian to Gulf Shores I found the bodies of fish, ducks, and other creatures every couple of feet along that shore.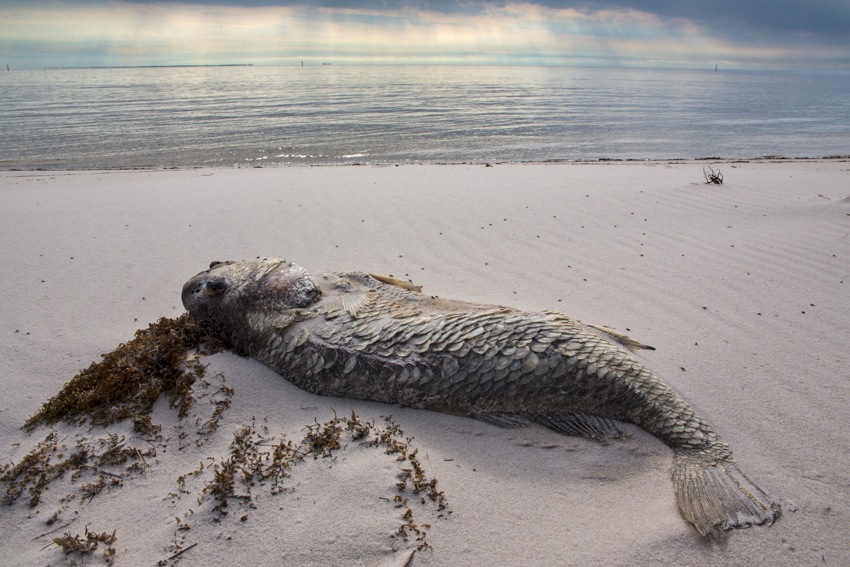 Black Drum Fish in Pass Christian, Mississippi. ©2015 Julie Dermansky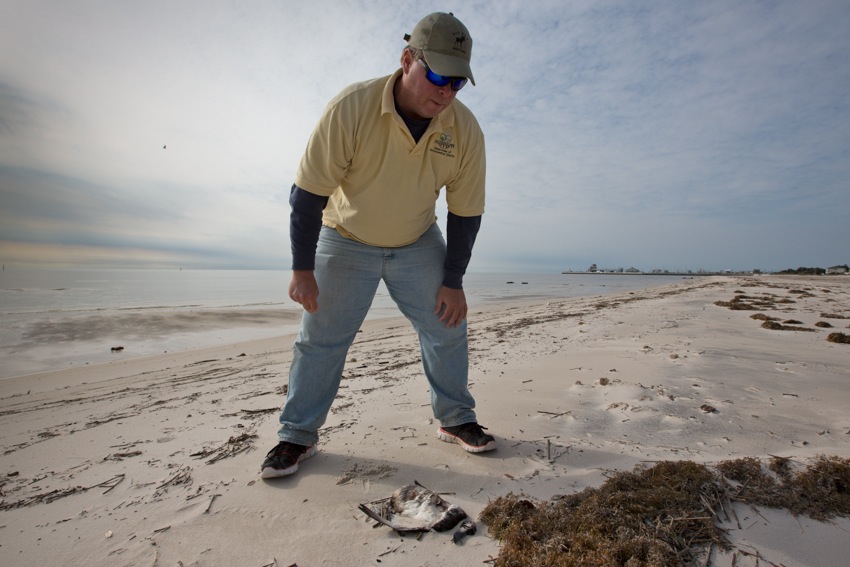 A biologist surveying dead ducks on a beach in Harrison County. ©2015 Julie Dermansky
A biologist with the Mississippi Department of Environmental Quality who was surveying dead ducks counted 41 of them along the 6/10th of a mile stretch of a Harrison County beach he had just covered. The ducks were all males from one species of diving ducks, the lesser scaup. I walked with him for a while and we came upon a female and one other species of duck, too.
In Long Beach I saw hundreds of Portuguese man-of-war entwined in globs of sargassum, a type of seaweed; man-of-war or sargassum are rare in the area at this time of year. I also found dead menhaden and catfish.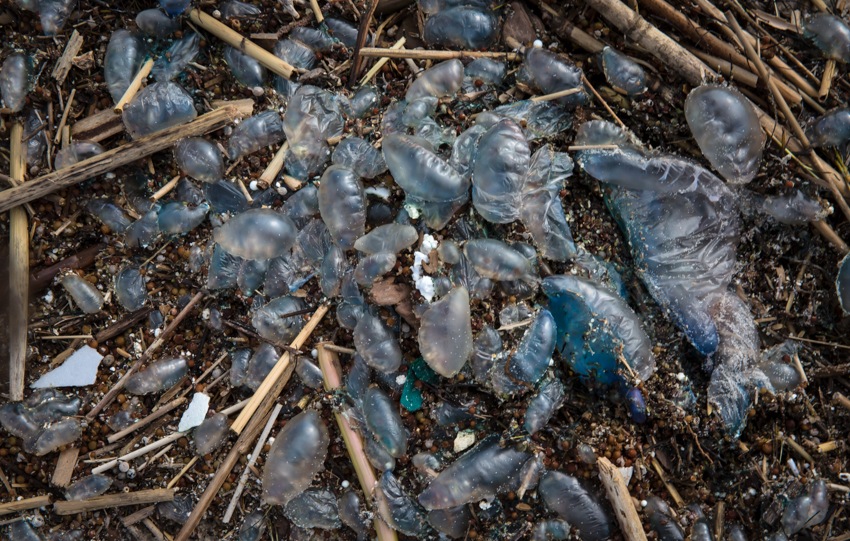 Portuguese man-of-wars in Long Beach, Mississippi. ©2015 Julie Dermansky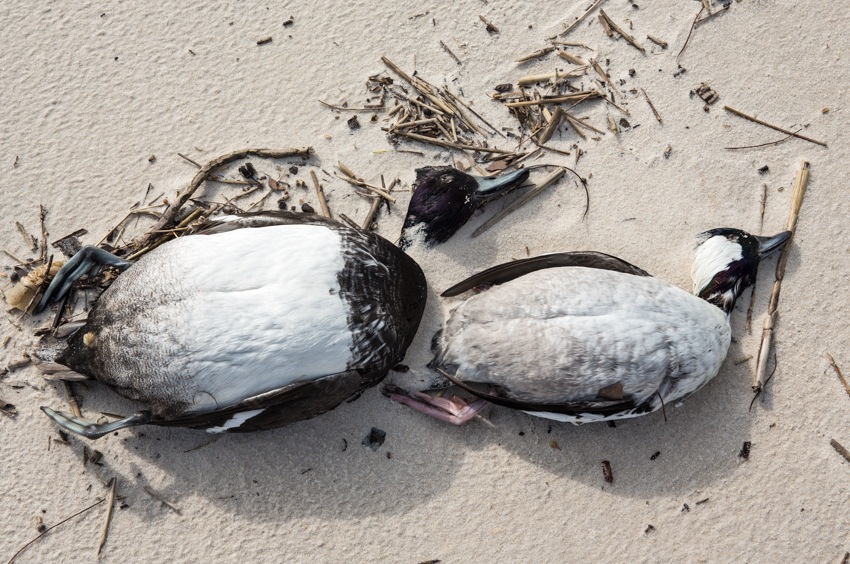 Ducks on a beach in Harrison County. ©2015 Julie Dermansky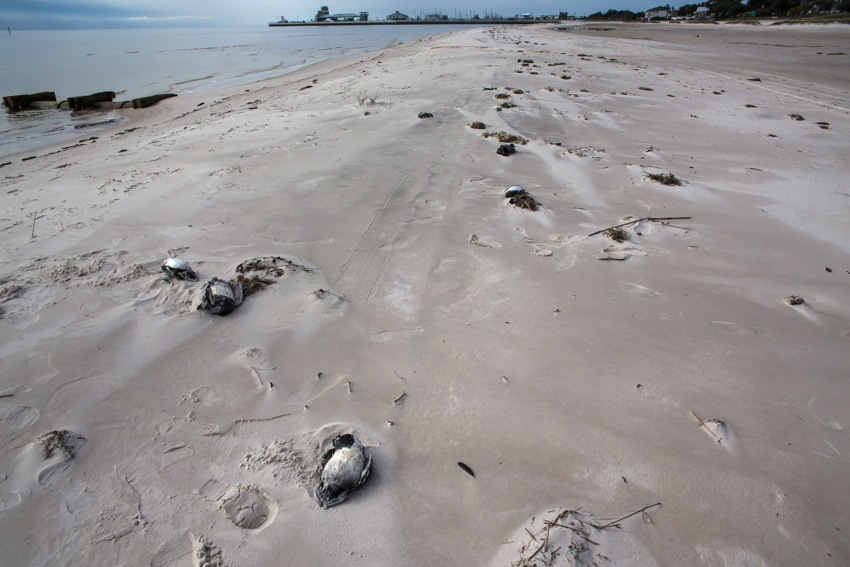 Dead ducks on the beach in Harrison County ©2015 Julie Dermansky
In mid-December, the Mississippi Department of Environmental Quality closed all state beaches and oyster reefs indefinitely. Mississippi officials have warned people not to eat the dead fish, but gave the go ahead for consumption of anything people catch. 
In Louisiana, oyster-harvesting areas were also closed along parts of the state's southeastern coast.
And in Alabama, health officials warned anyone with respiratory problems to avoid impacted waters. 
The ongoing fish kill has many locals still recovering from the BP oil spill on edge. Denise Rednour, a Long Beach resident who lives two blocks away from the beach, avoids going out because the toxins in the air leave her short of breath and give her headaches, she says. 
During the BP oil spill, Rednour documented the impact of the spill and shared her photos on social media to raise awareness, which she continues to do periodically. However, she is leaving the fish kill for others to document because she said her health is too compromised by toxins from the BP oil spill to do it.
Although the Mississippi beaches were closed over the Christmas weekend, people went in the water and fished off the piers. There are no signs indicating the beaches are closed, only red flags along the shoreline. 
In some areas there are signs that warn not to go in the water due to high bacteria levels, but officials are not keeping people away from the beaches.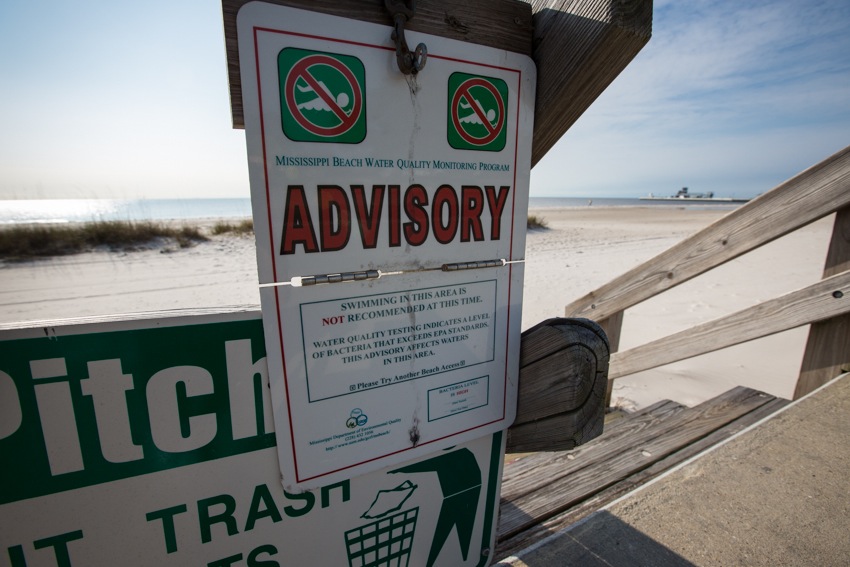 Warning sign at a beach in Pass Christian Mississippi. ©2015 Julie Dermansky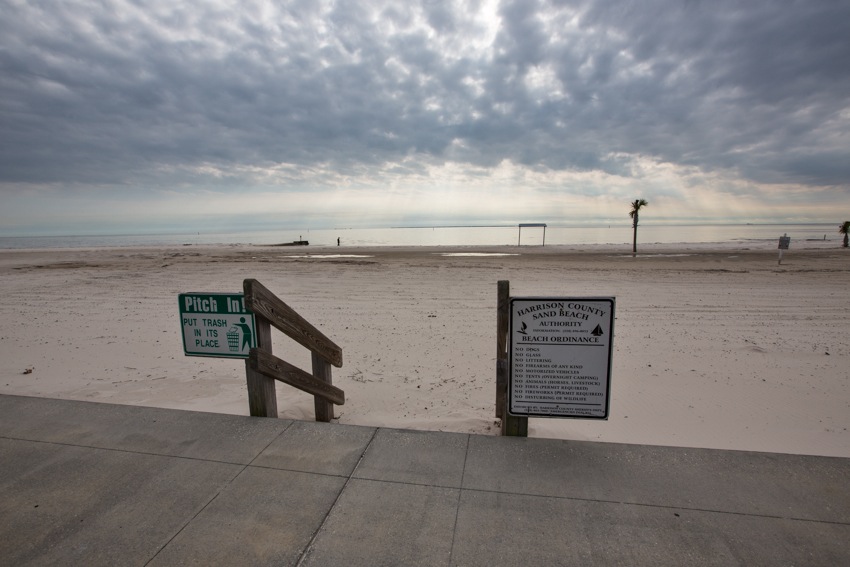 Beach entrance in Harrison County, Mississippi without a warning sign. ©2015 Julie Dermansky
Rednour believes the government isn't doing enough to protect people.
"Not only is the news of this fish kill being down-played, so is news of Vibrio vulnificus, the flesh eating bacteria that has killed more people this year than ever before," she said. "And no one is reporting on the environmental impact of the remaining tar mats off Cat Island left in the wake of the BP oil spill. For the most part, the media is ignoring environmental issues along the coast, instead focusing on new economic developments as if everything was fine."
Not only is the Gulf Coast threatened by rising sea levels and coastal erosion, warming waters created conditions welcoming to killer algae. With 2015 closing as the hottest year on record, this fish kill, although unprecedented in Mississippi at this time of the year, is a warning of things to come.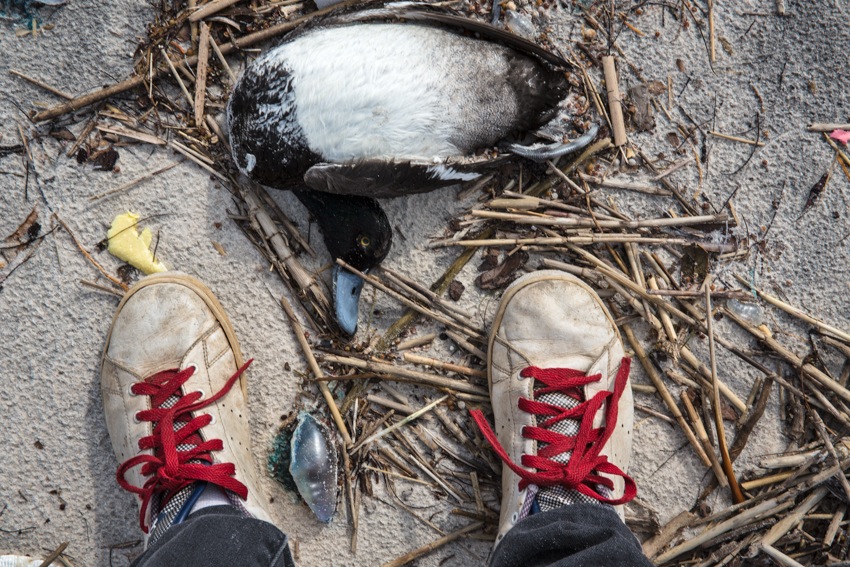 Dead duck on the beach in Pass Christian, Mississippi. ©2015 Julie Dermanksy