Methane first started leaking from Southern California Gas Co.'s Aliso Canyon storage facility on October 23, two and a half months ago.
More than 2,300 homes have been evacuated in nearby Porter Ranch, a suburb of Los Angeles, and many more people are reportedly applying for help relocating after suffering nosebleeds, rashes, headaches and other serious health impacts due to the gas leak and the sulfuric stench permeating their home town.
DeSmog first reported on the Aliso Canyon gas leak and the unfolding public health crisis in Porter Ranch on December 11, while California Governor Jerry Brown was in Paris attending COP21 to burnish his credentials as a climate leader.
By December 22, the California Air Resources Board estimates, as much as 66,000 metric tons of methane, a greenhouse gas that scientists believe to be as much as 35-times more potent than carbon dioxide (though it doesn't persist in the atmosphere as long as CO2), had escaped from the well.
That same day, it was called "a catastrophe the scale of which has not been seen since the 2010 BP oil spill" by famed environmental activist Erin Brockovitch.
More than two weeks later, on January 6, 2016, Governor Brown at last declared a state of emergency over the Aliso Canyon gas leak.
To date, according to the Environmental Defense Fund, more than 80,000 metric tons of methane have poured, and continue to pour, into Earth's atmosphere.
At the Paris climate talks, Governor Brown pledged to "dramatically lower" emissions of short-lived climate pollutants, including methane, calling it "probably the most immediate challenge, and the most important thing to do leaving this conference."
"Short-lived climate pollutants are something we can tackle," Brown said. Back home in California, methane was spewing from the Aliso Canyon storage facility at such a rate that it constituted a quarter of California's total methane emissions.
Though the methane emissions rate from the well is variable over time, Jeff Peischl, a scientist with the US National Oceanic and Atmospheric Administration, told Carbon Brief that the Aliso Canyon leak is "approximately equal to 1-1.5% of U.S. anthropogenic methane emissions."
Food & Water Watch's Alexandra Nagy says Brown's emergency order is both necessary and overdue, coming as it did on the 75th day since the leak began.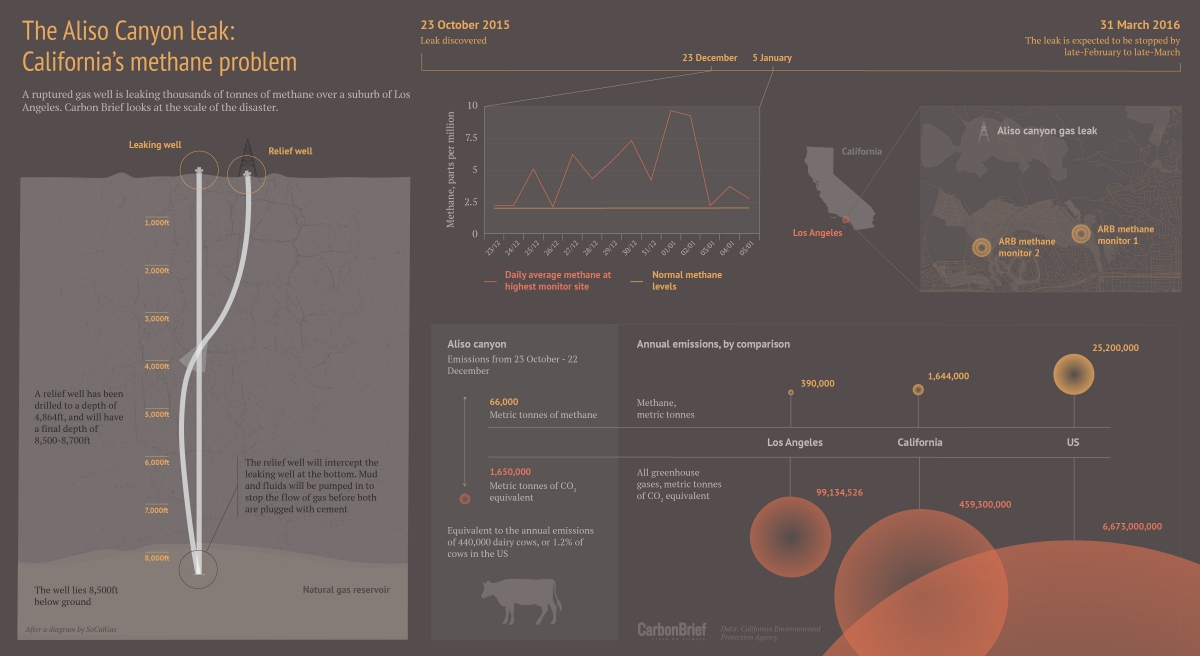 "We are relieved that the residents of Porter Ranch, whose lives have been severely disrupted, will be getting additional resources that are greatly needed," Nagy said in a statement.
Nagy also welcomes the fact that Brown's order also stops additional injections of gas into the storage field, but said that in order to protect the long-term health of the community and to honor California's commitment to reduce greenhouse gas emissions, the governor should follow up on the emergency order by taking action to shut the Aliso Canyon storage facility down permanently.
According to a statement released by the Environmental Defense Fund, the leak was pouring 72 million cubic feet of methane into the atmosphere per day at its peak, which is equivalent to having 7 million more cars on the road over the next 20 years.
Though the natural gas escaping Aliso Canyon's underground storage well can't be seen, the EDF obtained this footage using an infrared camera on December 17:
"This leak has been a state of emergency for the Porter Ranch community and the climate since day one," Mark Brownstein, EDF's vice president for climate and energy, said in the statement. "Governor Brown is right to call it such and to shut down the facility until it is made safe."
Brownstein added that leaks from the oil and gas industry occur on a daily basis, and that Aliso Canyon, while an extreme example of what can happen when oil and gas companies don't adequately monitor and maintain aging infrastructure, points to the need for far stronger policies at both the state and federal level to prevent these types of problems in the future.
SoCalGas, as the company that operates the Aliso Canyon facility is known, estimates that it could take as long as four months to totally stop the leak, which is at a depth of nearly 1,000 feet. The company began digging a relief well that it expects to complete by March 15 after initial efforts to plug the leak failed.
If that timeframe is correct, by the time it's capped, the leak will have put 10 million metric tons of carbon dioxide equivalent into the air, Tim O'Connor, director of the EDF's oil and gas program in California, said in a statement.
Governor Brown has ordered new inspection and safety measures that require all operators of natural gas storage facilities to conduct daily inspections of wellheads using infrared leak-detection technology, among other new requirements, according to the LA Times. But it's not clear what, if anything, the emergency declaration will do stop the Aliso Canyon leak any quicker or to alleviate its immediate impacts on nearby communities.
"This gas leak is one of the largest fossil-fuel disasters in California history, but the governor is only now getting personally involved," Maya Golden-Krasner, an attorney with the Center for Biological Diversity, said in a statement. "It's time for a comprehensive reassessment of the huge risks posed by oil and gas storage and production."
 
Image Credit: Overhead photo of the leaking Aliso Canyon well pad that is polluting Porter Ranch community in Los Angeles County. Photo by Earthworks / Flickr