The just-published book "Dark Money," penned by New Yorker staff reporter Jane Mayer, reveals that the Koch Brothers hired the former commissioner of the New York Police Department (NYPD) — and his daughter, a former FBI agent — to smear her as a "plagiarist" in the months after the release of her August 2010 bombshell article on the Kochs.
That article, titled "Covert Operations," served at the time as one of the first in-depth pieces of long-form investigative journalism on David and Charles Koch and the influential right-wing political and climate change denial Tea Party network they had Frankensteined. Mayer's book exposes that the Kochs hired the firm Vigilant Resources International, run by former NYPD head Howard Safir and his daughter Jennifer Safir (the former FBI special agent), to do dirty work on their behalf.
The story, as Mayer told it in "Dark Money," began when she received a January 3, 2011 email from her New Yorker editor, David Remnick. 
"In his e-mail," to me, Mayer wrote, "Remnick explained that ten minutes earlier he'd received a baffling inquiry about me from Keith Kelly, the reporter who covered the media industry for the New York Post."
Remnick's query centered around accusations — most likely emanating from somewhere within Koch World and handed to the New York Post and other outlets — that Mayer's journalistic track record, according to their research, was rife with plagiarism. The main issue: it wasn't in the slightest. Mayer has impeccable journalism credentials.
That didn't stop the witch hunt from proceeding and nearly reaching take off mode, though. 
Smear Appears
With or without real evidence, the point of the covert campaign was not to find genuine evidence of plagiarism, but rather a classic case of attacking the messenger. 
"Their aim, according to a well-informed source, was to counteract The New Yorker's story on the Koch brothers by undermining me," wrote Mayer. "'Dirt, dirt, dirt' is what the source later told me they were digging for in my life. 'If they couldn't find it, they'd create it.'"
Vigilant Resources International, "Dark Money" details, got a retainer fee to help the effort along according to sources who spoke to Mayer on the condition of anonymity.
"VRI's Threat, Risk and Vulnerability Assessments focus on safety and value and address a full spectrum of physical security, integrity, intellectual property and other operational risks," VRI explains of its work on its website.
VRI goes on to explain of its business conduct:
We provide our findings and prioritized recommendations as actionable 'blueprints' for what should promptly and continuously be addressed to drive the best outcomes in risk management, crisis prevention and mitigation for each facility assessed. Our findings, recommendations and plans comport with applicable regulatory requirements and present industry best practices that are custom-tailored to the unique organizational structure, culture, profile and operations of each client.
After receiving initial contact from the New York Post, Mayer also got what she described in her book as a more alarming plagiarism query from the right-wing news website The Daily Caller, along with more benign ones from The Washington Post, ThinkProgress and a couple others. The Washington Post and ThinkProgress denied plagiarism victimhood, however, as did two other outlets not named by Mayer in the book.
"Paul Kane, a reporter at The Washington Post, quickly looked up the story in question and sent me an e-mail saying, 'Not only did you not steal from me, you Frickin' credited me in the VERY NEXT line,'" Mayer explains in "Dark Money." "The New Yorker had even linked to his story online. And, I later learned, my husband, who was then an editor at The Washington Post, had edited the story that I supposedly stole."
Lee Fang, now a reporter at The Intercept and formerly a blogger for ThinkProgress, similarly denied the copyright infringement accusation. 
"Ms. Mayer properly credited me in her story, and clearly did a ton of her own research," Fang declared in a January 2011 statement provided to the New York Post. "I have nothing but admiration for her integrity as a journalist."
Smear Disappears
Mayer killed the smear campaign before it gained any momentum or press time, however, mostly due to deft handling of the situation before it spun out of control and developed a life of its own.
"With only a few hours before these allegations were set to go online, all I could do was to try to get out the truth before the lies were spread," Mayer explained of how she management of accusations. "By midnight, I had reached three of the four authors from whom I was alleged to have plagiarized. All offered to make public statements supporting me and denying I had misappropriated their work."
Most importantly, Mayer had the truth on her side. The allegations? Tantamount to a ruse, as she laid out in the book:
Someone, probably using a computer program, had mechanically sifted through almost a decade of my work and isolated quotations from officials, and other widely repeated phrases, to argue that 'the structure and wording' were 'quite close' to four other reporters' news stories. None of the supposedly purloined sentences were of any particular significance…Even sillier, in two of the four stories I was alleged to have 'plagiarized,' I had specifically given credit to the authors whose work The Daily Caller was claiming I'd stolen.
Rather than plagiarism becoming the story, then, the genesis of how the smear campaign appeared and subsequently disappeared was picked up by the likes of the New York Post, Business Insider and Salon. At the heart of that campaign was The Daily Caller, an alternative right-wing version of The Huffington Post founded by Tucker Carlson, the former MSNBC host and senior fellow at the Koch-founded and Koch-funded Cato Institute. 
"In the end, even the Daily Caller found the allegations to be unfounded, and to its credit, abandoned the story," wrote the New York Post. "The story is dead but the person or persons behind the allegations remains a shadowy mystery."
Tucker Carlson proclaimed cluelessness as to how his publication was tipped off to the so-called story to begin with.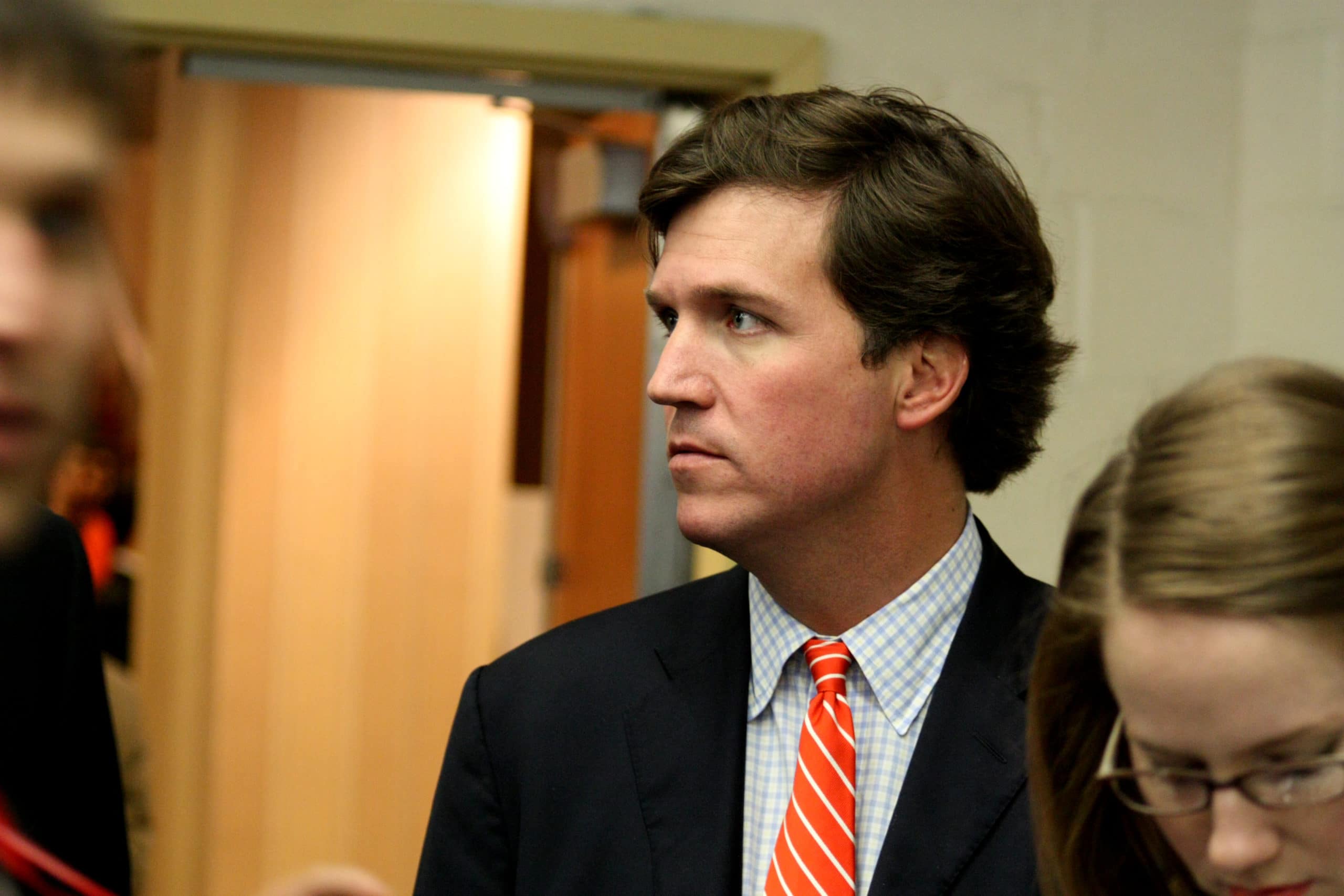 Tucker Carlson; Photo Credit: Wikimedia Commons
"I never ask the reporters where they get stuff, only whether it's true," he told the New York Post. "In this case, we didn't have enough."
Safir and VRI did not confirm or deny any retainer ties to the effort, Mayer reported in the book.
A source told Mayer that Nancy Pfotenhauer — former head of Koch front group Americans for Prosperity and Citizens for a Sound Economy, as well as former Koch Industries lobbying in Washington, DC and senior adviser to U.S. Sen. John McCain (R-AZ) — served as one of several ringleaders of the effort.
Koch Industries already came out swinging in advance of the book's publication, responding to an advanced review by New York Times reporter Nicholas Confessore by accusing Mayer of working to "further an agenda-driven story line [that] is grossly inaccurate."
Photo Credit: Leonard Zhukovsky | Shutterstock.com