An industry-friendly bill in the Florida statehouse designed to nullify existing fracking bans and sharply curtail local control over oil and gas drilling activity is facing pushback.
 
Floridians are pressuring their state senators to vote against Senate Bill 318, which takes away a community's right to regulate all well-stimulation techniques, including fracking. The pressure is having an impact, as the bill has been temporarily held back.
 
Public disapproval of the bill intensified after the Florida House of Representatives approved a companion bill, HB 191, on January 27..
 
Both bills seek to preempt local ordinances pertaining to well-stimulation techniques and existing bans on fracking at the local level. 
 
Senator Tom Lee, chair of the Appropriations Committee, ended the fasttrack trajectory of SB 318 by delaying a vote until the Florida Department of Environmental Protection (DEP) provides him with "honest answers" about the bill and fracking. 
 
Florida's Republican Governor Rick Scott, who prohibited state employees from using the term "climate change," is responsible for appointing the head of the DEP.
 
Some environmentalists, including Betty Osceola, a member of the Miccosukee tribe and Panther clan, expressed grave doubt that the DEP will be forthcoming with the answers Senator Lee is seeking.
 
"The DEP can't be trusted because they answer to Governor Scott," Osceola told DeSmog.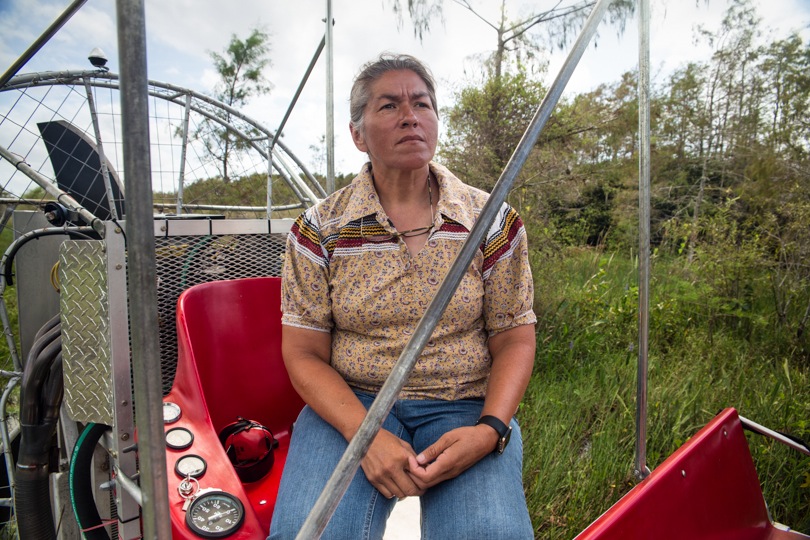 Betty Osceola on an airboat in the Everglades. ©2015 Julie Dermansky
 
Osceola thinks slowing down the vote is a great sign.
"The special interest groups' tactic of claiming environmental groups are crying wolf isn't working for them this time. Too many people's livelihoods are at stake, since so many communities depend on tourism."
 
Although she is hopeful the bill can be killed, bills that make it into committee rarely are. 
"Legislators aren't listening to the will of the people. If they were, that bill would never have made it to committee.The current system resembles a criminal enterprise, not a democracy." 
 
VIDEO: Florida Senator Bullard Speaks out against Senate Bill 318

 
"Lobbyists for the oil industry and mineral owners are spreading misinformation faster that we can counter it," Jennifer Hecker, director of natural resource policy for the Conservancy of Southwest Florida, told DeSmog.
 
The Miami Herald reported that in the last six months, special interests spent $28 million on Florida legislative campaigns.
"Since lawmakers finished their 2015 regular session in June, at least $9.5 million — in five- and six-figure checks — were sent to the political committees of individual lawmakers. Another $6 million went directly to the campaigns of state representatives, and $3 million to state Senate campaigns. The Republican Senatorial Campaign Committee raised another $3.2 million for Republican senators. The Republican Party of Florida, which is collecting checks for state House campaigns, raised $4.3 million, and the Florida Democratic Party, which raises money for all its legislators, collected $2.1 million."
 
The flood of money is, in part, due to statewide redistricting. All of the Senate seats are up for grabs following the current legislative session. And because the Supreme Court's 2010 ruling on Citizens United allows special interest groups to make unlimited donations to legislative political committees, large donations are made to influence the vote.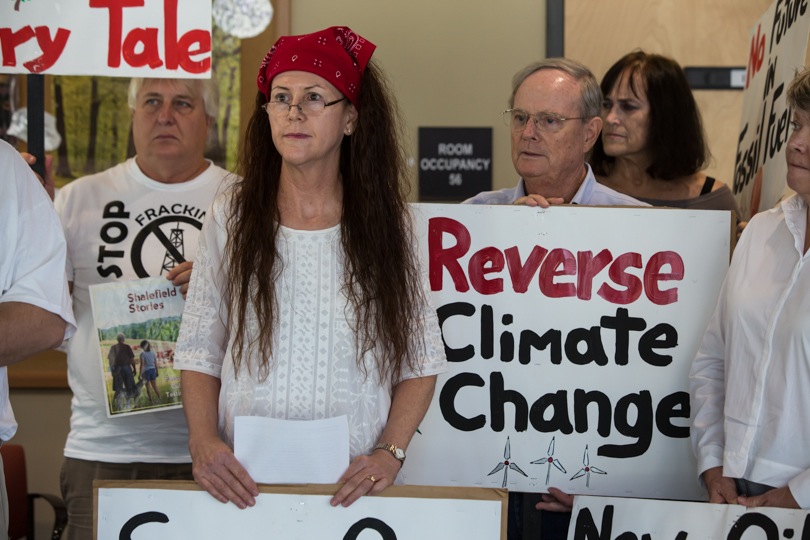 Karen and John Dwyer at a press conference in Collier County, Florida. ©2015 Julie Dermansky
 
The threat to usurp homerule has fueled resistance to the bill.
 
"Because fracking brings local harm, it should be subject to local control," Karen Dwyer, co-founder of the Stonecrab Alliance, told DeSmog. She participated in an ongoing "virtual blast to stop fracking in Florida" that encourages people to call senators to vote "No" on SB 318.
 
"We believe the calls have made a huge difference," Dwyer told DeSmog, and she hopes people will continue to call. 
 
About 40 cities and 20 counties, including Miami-Dade, have passed resolutions or ordinances banning fracking.  Cape Coral joined the growing list on Monday by banning fracking within its city limits.
 
The Florida Association of Counties' (FAC) voted to oppose the bills pre-emption measures and a provision that does not require full disclosure of chemicals even if they are considered trade secrets. The bills require companies to use FracFocus, an industry-created national hydraulic fracturing chemical registry run by The Interstate Oil and Gas Compact Commission (IOGCC) and the Ground Water Protection Council.
 
Fans of FracFocus's registry incorrectly claim it offers full disclosure of chemicals used in frack jobs. But last year the EPA released a report that analyzes FracFoucs data, which found the registry falls far short of full disclosure.
 
DeSmog's Sharon Kelly reported the EPA study found that, "70 percent of the chemical disclosure statements that drillers posted on FracFocus between January 2011 and February 2013 were missing key information because drillers labeled that data 'confidential business information.'"
 
The Interior Department issued new federal rules for fracking on federal land last year. They too only require the industry to use FracFocus, but similarly act as though disclosures on FracFocus are synonymous with full disclosures.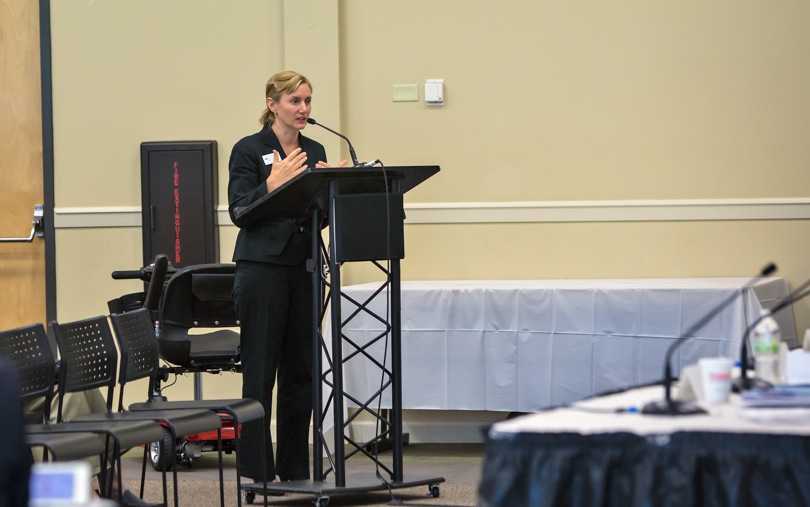 Jennifer Hecker speaking against SB 318 and HB 181 to the Collier County legislative delegation on October 15 in Naples. ©2015 Julie Dermansky  
 
The bill's language is problematic on so many levels, Hecker said. She doesn't think it is possible to remove all the loopholes, and she hopes it can be stopped.
 
"The bill only deals with fracking," Hecker said. "Yet it takes away the local control from regulating all forms of well stimulation techniques. In Florida, matrix acidizing, a process similar to fracking, is more likely to be utilized than fracking, and won't be regulated under the bill in its current form." 
 
"The best scenario is rejecting the bill in its entirety. It does more harm than good, and would move us backward in terms of oil and gas regulations in the state," Hecker said. But because it is more likely the bill will be amended and then rectified with the house bill in committee, she hopes that at least "the language pre-empting local rules and the definition of which processes are regulated are changed." 
 
Hecker pointed out that newly proposed language in the bill that allows limited local control states that "regulations must be reasonable," leaving the industry with wiggle room.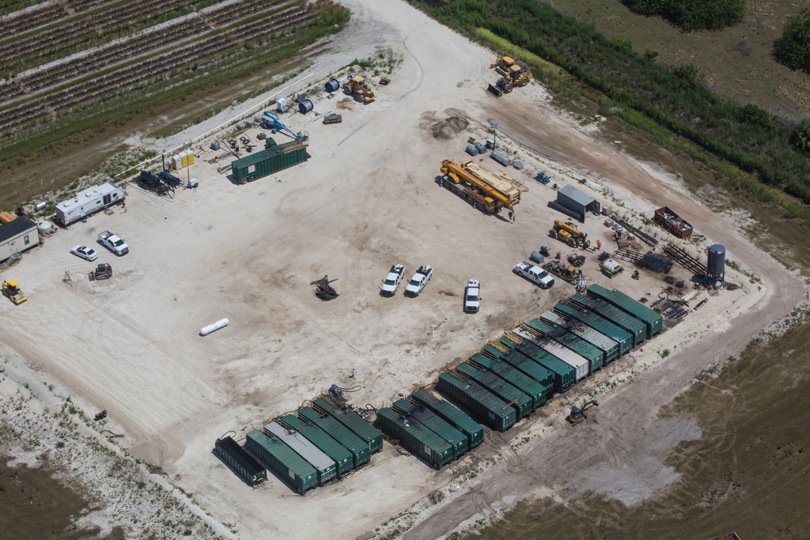 Aerial view of the Collier Hogan 20-3H well site in May 2014, weeks after a spill was reported to the Florida regulatory agency. ©2014 Julie Dermansky
 
The push for bills regulating fracking began after the Dan A. Hughes Company was caught defying a DEP order not to frack the Collier-Hogan well in Naples, in Collier County. Hughes, the first known company to frack in Florida, has since had its permit revoked, and only recently settled a lawsuit with regulators.
 
Democratic State Senators Dwight Bullard and Darren Soto filed SB 166, which calls for a statewide ban on well-stimulation techniques, including fracking. The Senate is not considering their bill, as of now.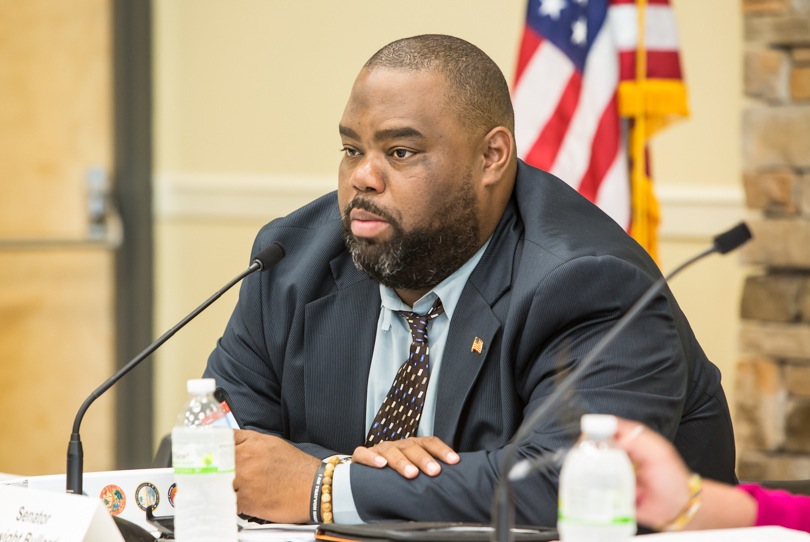 Senator Bullard, part of the Collier County legislative delegation, on October 15 in Naples. ©2015 Julie Dermansky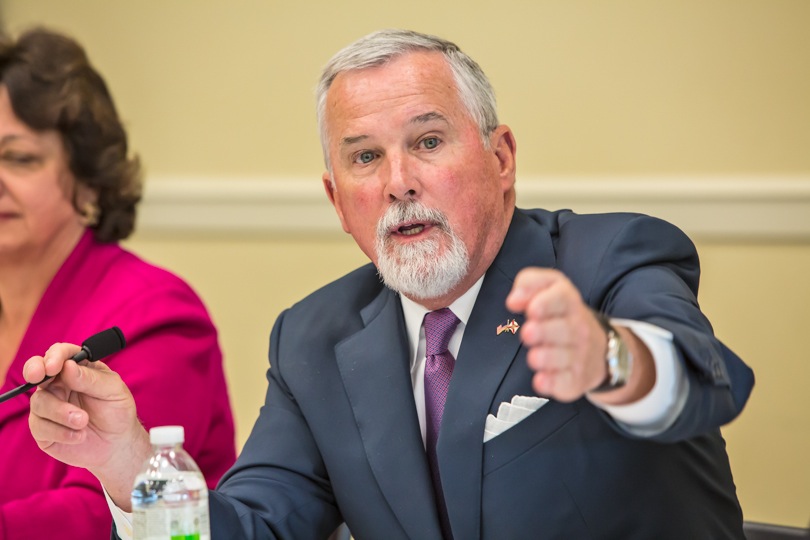 Senator Richter, part of the Collier County legislative delegation, on October 15 in Naples. ©2015 Julie Dermansky  
 
At a public meeting last October, Republican State Senator Garrett Richter, a sponsor of SB318, said he believes fracking is safe. He cited the EPA's water contamination study as his proof that fracking poses no risk to Florida's water.
 
Like other pro-industry supporters, Richter's takeaway from the EPA's preliminary report on fracking's potential impact on drinking water resources was, "Fracking can be accomplished without any material harm to our water supply."
 
The Stonecrab Alliance's Dwyer reminded him the study was preliminary, but that didn't appear to concern him. 
 
Since then, the Science Advisory Board sharply criticized the report, concluding the EPA's findings don't support the report's conclusion, but that hasn't stopped Richter from pushing ahead.
 
ALEC

Fingerprints On Industry-Friendly Fracking Regs

There are the American Legislative Exchange Council's (ALEC) fingerprints on SB 318, which Republican State Representative Ray Rodrigues co-sponsored. 
 
ALEC describes itself as a non-partisan, non-profit organization, but critics call it a "corporate bill mill."
 
"Through ALEC, global corporations and state politicians vote behind closed doors to try to rewrite state laws that govern your rights," The Center for Media and Democracy explains on its site."ALEC is a pay-to-play operation where corporations buy a seat and a vote on 'task forces' to advance their legislative wish lists and can get a tax break for donations, effectively passing these lobbying costs on to taxpayers.
 
Rep. Rodrigues pushed a bill in 2013, supported by ALEC and written by Exxon, that would have required any potential frack jobs to make chemical disclosures through FracFocus. This would have assured companies utilizing well-stimulation techniques would never have to disclose all of the chemicals they use, because FracFocus lets companies leave out chemicals deemed trade secrets.
 
The bill never made it to committee, but using FracFocus is built into SB318.
 
A recent post on ALEC's website on a law passed in Texas to pre-empt Denton's fracking ban said: "The primary reason states may be interested in local preemption is to ensure a stable business environment that is able to promote economic development and job creation. Forcing employers to negotiate a 'patchwork' of laws and regulations from city to city or county to county makes it significantly more difficult for them to conduct business within the state."
 
SB318 and HB181 resemble the law passed in Texas a couple of months after citizens voted for a fracking ban in November 2014, which nullified the first local fracking ban in Texas and stopped any future fracking bans
 
"The only groups that have backed HB 191 and SB 318 are related to industry: the Florida Petroleum Council, the Associated Industries of Florida, and the Florida Chamber of Commerce," Hecker said. "The majority lies with Floridians, who are against it, including all the environmental groups, some medical groups, labor groups, and all the cities and counties that have expressed serious concerns."
 
"Fracking in Florida is like playing Russian roulette," environmentalist Osceola said. "We all depend on the same one aquifer, so once that bullet of fracking is fired and it contaminates our aquifer, it is over and done for."

 
Blog image credit: Anti-fracking protest in Broward County on January 26. ©2016 John BobCarlos