Plans to build a major Marcellus shale gas pipeline were briefly paused this month by a protest launched by a collection of community and environmental activists who gathered on the Holleran-Zeffer property in New Milford, PA.
Pipeline company Williams Partners, LLC plans to start clearing trees on the property as early as this week to make way for a proposed 124-mile pipeline stretching across the Pennsylvania-New York border.
Tree felling for Williams' Constitution pipeline project began in Pennsylvania on February 5, before New York state had finished its regulatory approval process. Environmentalists fear that the company hopes to present New York state with a fait accompli on the Pennsylvania side, which would put pressure on New York regulators to approve the expansion on its side of the border.
On February 10, tree-cutting crews arrived at mile 5 of the planned route through Pennsylvania, the Holleran's land, which a federal judge ordered condemned by eminent domain last year.
"Our position as landowners was explained and it was made clear that the assembled group intended to prevent tree clearing on the property," Megan Holleran, a field technician for North Harford Maple and part of the family that owns the property, said in a statement.
The Holleran family operates a roughly 250-tree commericial maple sugarbush directly in the path of the proposed pipeline, and Williams plans to cut down 80 percent of those maple trees, along with other hardwood trees on the family's land. The family has harvested maple sap on the land since the 1950's.
"They don't have permission to do the whole pipeline yet. It's not even a done deal," Maryann Zeffer told Time Warner Cable News. "We can't see cutting trees that take 40 years to grow back or longer when it's not a done deal yet."

The line has been marked, and the cutting has already begun, but the Constitution Pipeline has raised outcry and disputes all along its route, and has yet to be approved by New York state legislature. Until Governor Cuomo grants his approval, the Constitution Pipeline cannot begin construction, but Williams has begun the process of logging anyway, to stake their ground and stamp their footprint of the route. © 2016 Laura Evangelisto
The $683 million Constitution pipeline would run from Montrose, PA – one town over from Dimock, where claims of fracking-related water contamination have drawn international attention – to Albany, New York. The pipeline company crews turned back after police arrived, but the company sought a emergency order from a federal court in response.
On Friday, a judge declined to hold the Holleran family in contempt of court or fine them, but authorized U.S. Marshals and police to arrest any protesters who attempted to halt tree cutting, and warned the family that if they coordinated with the protestors to block tree felling, they could be held financially liable for the costs of project delays.
"We appreciate the court's prompt resolution of the matter," Williams said in a statement, according to a local news outlet.  
The protests come amid growing resistance to pipeline construction nationwide. Even as low oil and gas prices have slowed the rush to drill for shale nationwide, the oil and gas industry has continued to relentlessly pursue plans for what they call the build-out: the construction of a massive network of pipelines for transporting fossil fuels from shale basins nationwide to consumers.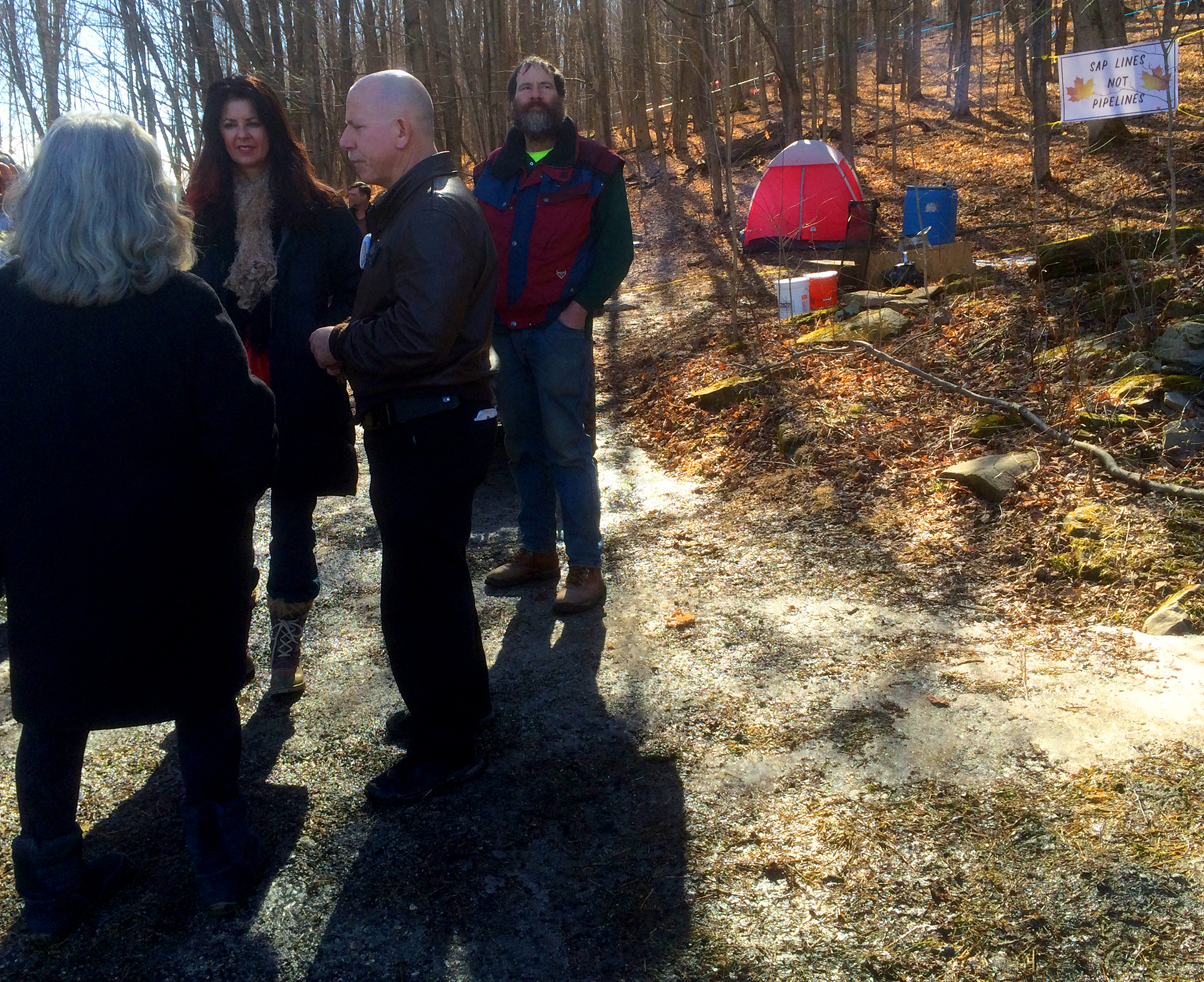 People travelled to Holleran's to support their resistance to the imminent logging on their property to cut the way for the Constitution Pipeline. An impromptu camp arose amidst the maples for organizers and supporters to gather and watch for the impending cutting. © 2016 Laura Evangelisto
A January 2016 survey by the Pipeline and Gas Journal reported 34,112 miles of new or planned pipelines across North America – and the industry is especially interested in building out across the East Coast. "The new gas that will replace supplies from the Gulf primarily originate from the Marcellus and Utica shale formations, where pipelines – such as the 250-mile NEXUS Gas Transmission LLC system that will be constructed in Ohio and Michigan by Fluor Corp," the Journal wrote.
But many of these projects have run into a nearly unprecedented level of public opposition, with environmentalists arguing that instead of building fossil fuel infrastructure, now is the time to invest in renewable energy projects.
"I think at FERC we have clearly seen increased opposition to infrastructure," Federal Energy Regulatory Commission chairman Norman Bey testified before Congress in December. "Even in the field when we're holding scoping hearings, it is not uncommon for the staff who do those hearings to report back that there seems to be a great deal of opposition in many communities to the construction of more infrastructure."
FERC has come under fire from environmental advocates who have labeled the agency a "rubber stamp machine." The precise number of projects that FERC has denied has been disputed, with activists charging that the agency has only flat-out denied a permit once in the past decade. "Since 2006, the agency has approved 451, or 56 percent, of 803 applications for pipelines, compressor stations, storage and liquefied natural gas export facilities," E&E News reported in 2014. "Of projects that failed to advance, 94 are pending and applications for 258 either were denied or were withdrawn by companies. FERC could not provide a more granular breakdown."
For activists, the Holleran's sugarbush has become an icon, offering the opportunity to show not only what is lost when fossil fuel projects push forward, but also what alternatives to extractive industries can look like.
"I actually consider maple syrup to be a good analogy to renewable energy," said Deborah Gill, of New York state, who arrived to offer her support, "because you're taking sap but the tree continues to grow and thrive."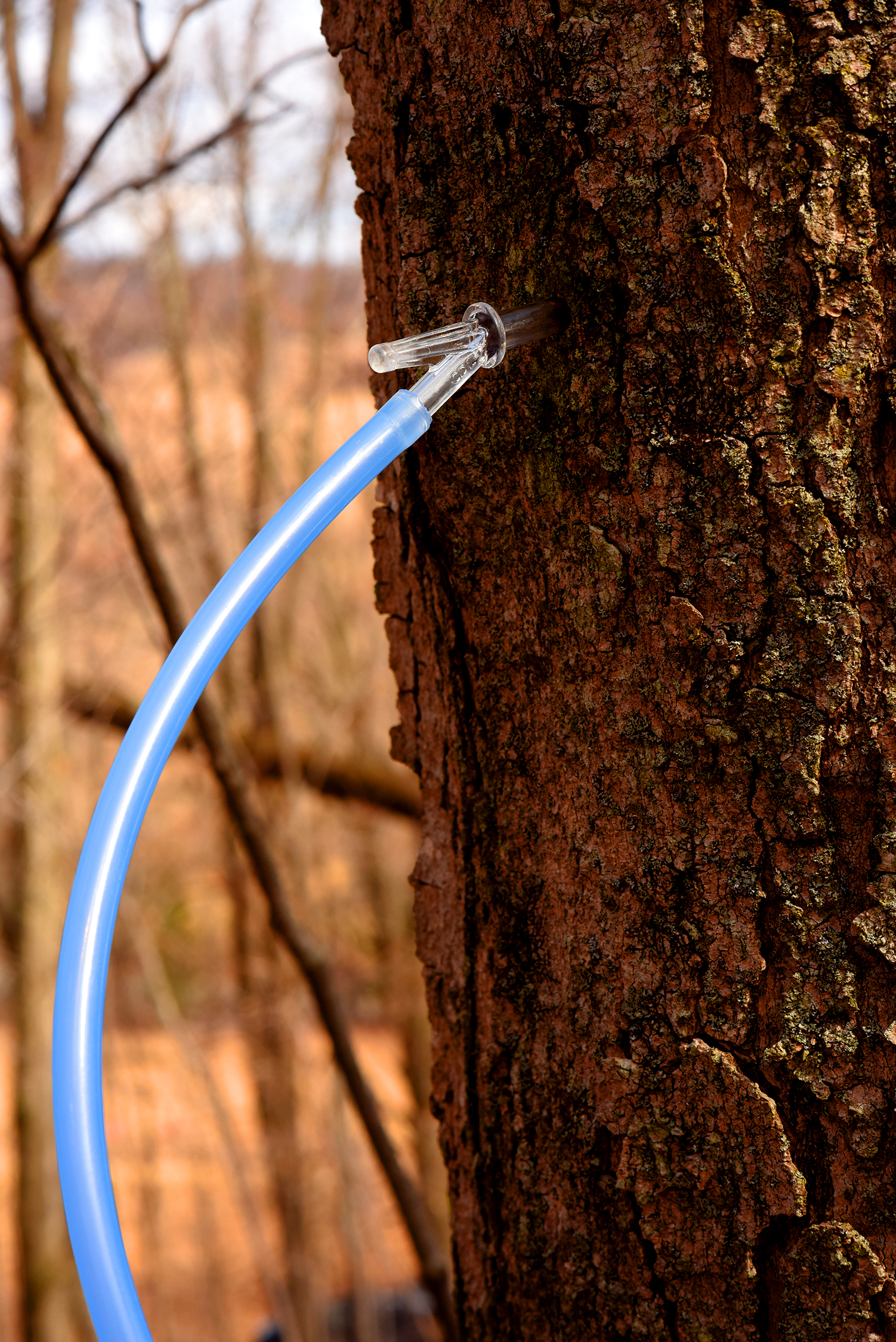 Perhaps the final batch of North Harford Maple syrup; sap is being tapped on the Holleran's sugar bush in New Milford, Pennsylvania. These trees are destined for destruction as the way is cleared for the Constitution Pipeline. © 2016 Laura Evangelisto
2015 was the warmest year ever recorded, and signs are already emerging that this year may once again break records. Unseasonably warm weather has meant that maple sugaring operations across the region have started early. "Last year we didn't start boiling sap until the 12th of March," David Campbell, president of the Upper Hudson Maple Producers Association, told The New York Times. "This year we got started on the first of February."
For the past couple of weeks, activists from across the East Coast had encamped on the Holleran's land. Actor James Cromwell, known for his roles in The Green Mile, I Robot, and numerous other films and T.V. shows, toured the site.
"This kind of outpouring, it's never happened," said Craig Stevens, a drilling opponent who says his own personal experiences with the industry drove him into activism. "It's not happening on the drilling side."
"There's 121 families facing eminent domain on the New York state side," he added.
Area residents are already quite familiar with the impacts from the shale gas that the Constitution pipeline is expected to carry. Fracking industry trucks already routinely rumble down the dirt road on which the Holleran property sits – a wastewater impoundment is sited atop a nearby hill, and tanker trucks labeled "residual waste" make trips there or back dozens of times a day, hauling shale gas industry waste.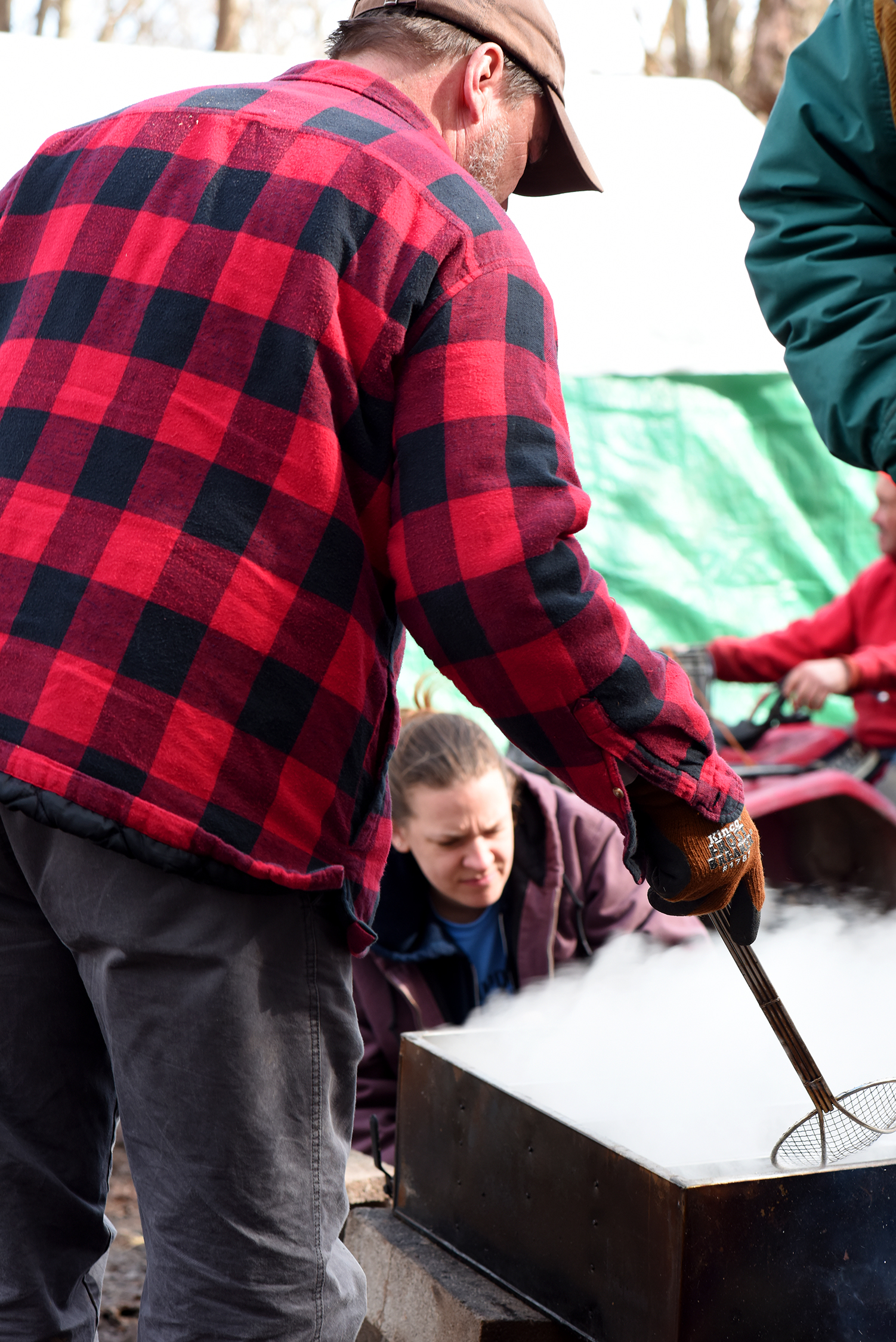 At the camp on the Holleran's mountainside property, maple syrup production was in full swing, trying to harvest and refine as much of the sweet sap before Williams logging operation moved in to fell their trees.  This may be the last batch of syrup from their land, as the logging is estimated to destroy 80% of their trees. © 2016 Laura Evangelisto
Some of the family's supporters now say that any possibility of direct action on the Holleran property is over, since blockading pipeline crews would likely buy only a matter of hours.
Instead, they are turning their attention to New York state, pressing for an immediate decision on pending matters there. "Loggers have already begun cutting down trees in Pennsylvania but if New York denies the 401 Water Quality Certificate the pipeline cannot be built and the destruction of trees will stop. Please send your message to Governor Cuomo now," reads an online petition currently circulating by email.
Many of the protesters who arrived at the encampment hailed from New York state, where last year activists successfully secured a ban on the type of fracking used in shale gas extraction. Organizers like ecologist and author Sanda Steingraber have expressed their support for the resistance to the pipeline in both New York and Pennsylvania.
For its part, Williams has said that it plans to resume tree-clearing on the Holleran's land as early as this week.
The company must conclude any tree-cutting by March 31st in order to avoid impacts on migratory birds under federal law, so only roughly five weeks remain if the company is to complete the tree cutting on schedule.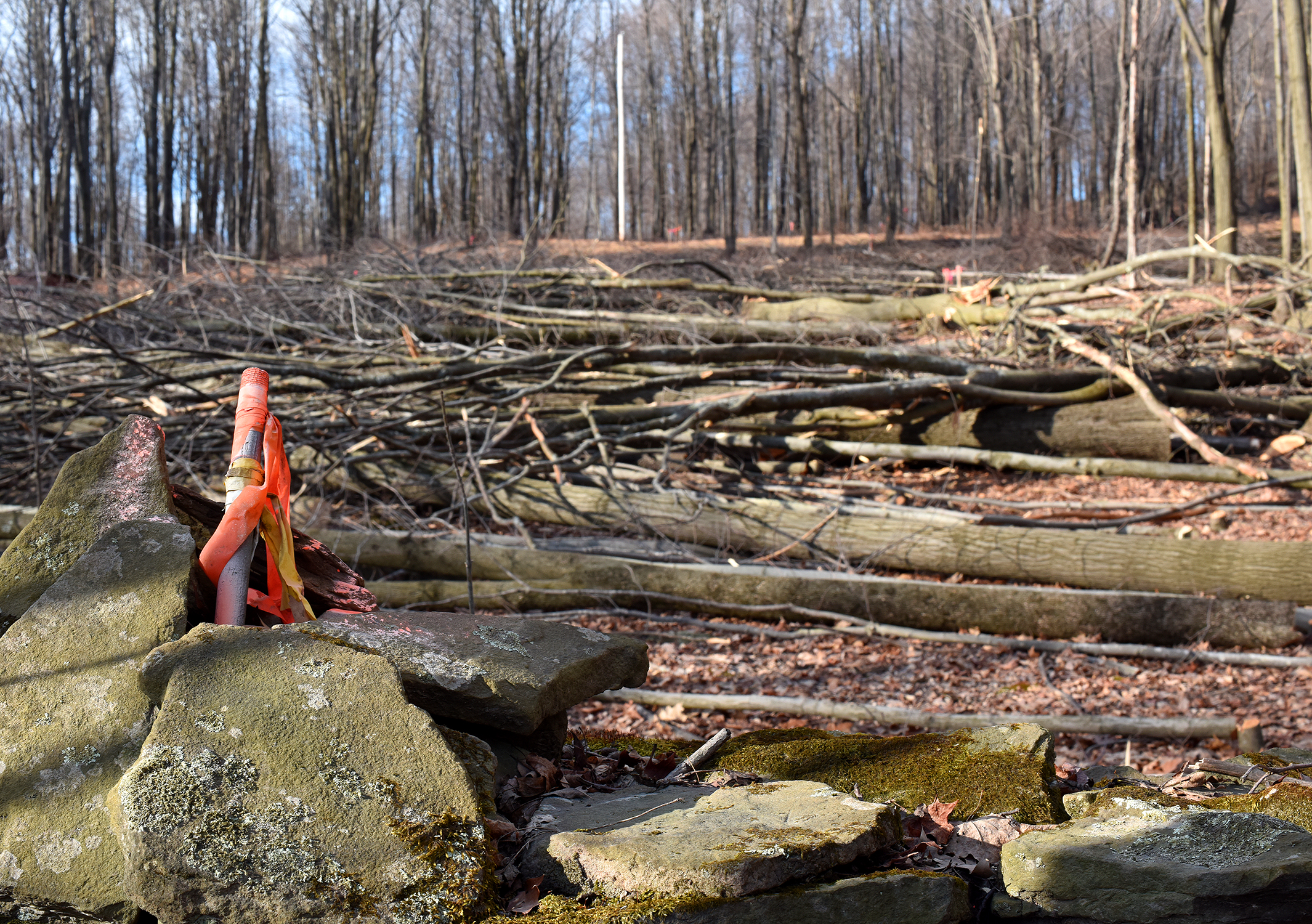 The future of Holleran land may look much like this parcel from a neighboring property, where large cuts through the landscape make way for the proposed natural gas Constitution Pipeline.  Markers and ribbons indicate what the pipeline company says must be razed. © 2016 Laura Evangelisto
Photo credit: Activists and neighbors have been congregating in this New Milford maple sugar bush in hopes that Williams would not chop the trees that cover the Holleran's property and provide for their family business. © 2016 Laura Evangelisto