Republican front-runner Donald Trump and Democratic presidential candidates Hillary Clinton and Bernie Sanders made their positions on fracking clear last weekend. Trump is all for it. Clinton too, but only if a list of conditions met. Sanders is against it.
 
Trump brought up fracking on Friday at a New Orleans campaign rally. "New York has been let down, they didn't allow them to frack," Trump said.  "If they fracked in New York, New York would lower its taxes, would have no debt, would have made a fortune. Instead Pennsylvania took all their money."
 
Praising Pennsylvania, Trump said, "They took those beautiful, beautiful natural resources. They took 'em out." He failed to mention hundreds of reports of water contaminated by the Pennsylvania fracking industry.
 
VIDEO: Donald Trump promotes fracking at a rally in New Orleans

His assessment was also out of step with Louisiana's economic reality. While Louisiana's fracking industry boomed for years before the recent downturn, the state is currently facing a budget shortfall that is close to a billion dollars.
 
Trump claimed he can win in New York. Upstate New Yorkers — deprived of exploiting the natural gas under their land due to the state's fracking ban — love him. But New York's fracking ban was passed as a result of popular support. His position is unlikely to gain him many votes.
 
And it probably failed to win him many votes in St. Tammany Parish, Louisiana either, where there is an ongoing battle to stop fracking before it starts.
 
On Sunday, during the Democratic debate in Flint, Michigan, the first question on fracking in any of the debates to date was raised. A member of the audience asked Clinton, "Do you support fracking?"
 
Clinton listed four conditions that must be met before she can support fracking. "I don't support it when any locality or any state is against it, number one. I don't support it when the release of methane or contamination of water is present. I don't support it, number three, unless we can require that anybody who fracks has to tell us exactly what chemicals they are using," Clinton said.
 
Clinton's declaration was a surprise to many. It contradicts her campaign's stance on embracing the natural gas industry. The natural gas industry is reliant on an active fracking industry, which until the debate, she supported.
 
VIDEO: Josh Fox analyzes statements on fracking made during CNN's debate by Sanders and Clinton.
Bernie and Hillary #1DBBD13 from JFOX on Vimeo.
Anti-fracking activist filmmaker Josh Fox thought Clinton's statement was insincere, according to his post on Alternet.
 
Fox's most recent movie, Gasland Part ll, exposed Clinton's role in promoting fracking throughout the world via the State Department's Global Shale Gas Initiative, when she was Secretary of State.
 
For Fox to take Clinton seriously, she would need to renounce her plan for "Ensuring Safe and Responsible Natural Gas Production," that is currently displayed on her campaign website.
 
Clinton's call for the fracking industry to disclose all of the chemicals it uses is contrary to the new federal rules for fracking on federal land issued last year by the Department of the Interior. The rules only require companies to make disclosures outlined by Frac Focus, an industry-created national hydraulic fracturing chemical registry run by the Interstate Oil and Gas Compact Commission and the Ground Water Protection Council. The registry allows companies to omit listing chemicals they deem trade secrets, falling short of full disclosure.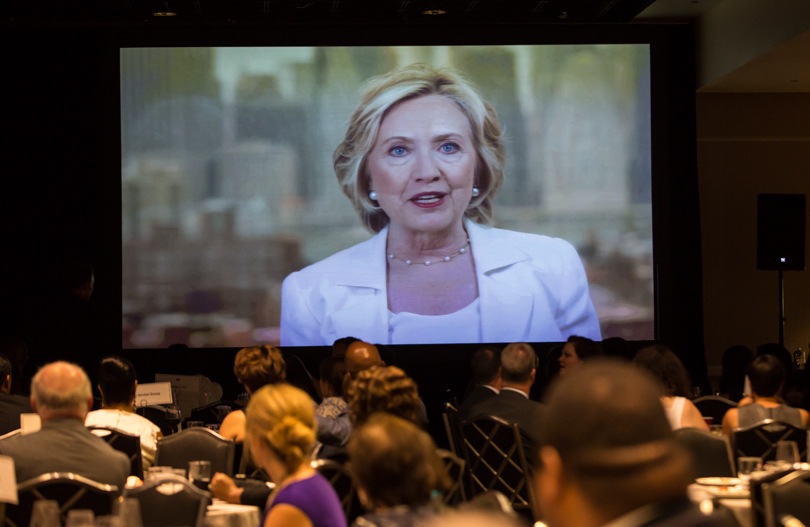 Hillary Clinton's video message plays during a Democratic fundraiser in New Orleans on July 1, 2015. 2015 ©2015 Julie Dermansky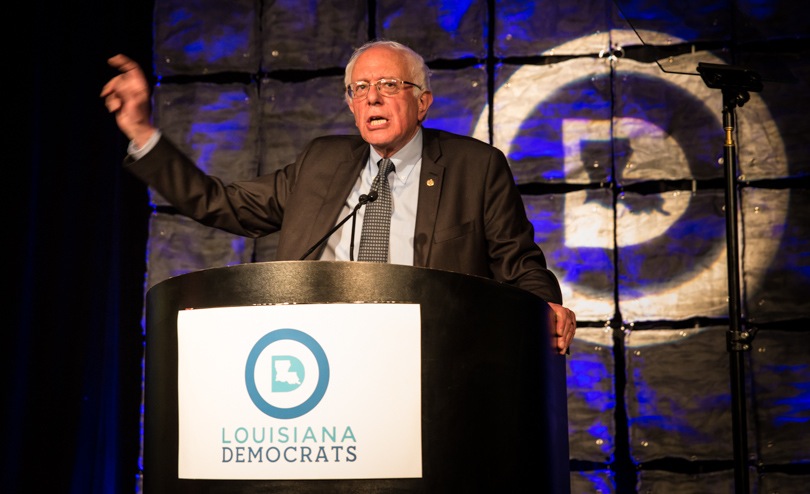 Bernie Sanders speaks at a Democratic fundraising event in New Orleans on July 1, 2015. ©2015 Julie Dermansky
 
Bernie Sanders' answer to the fracking question was more to the point.
 
"No, I do not support fracking," Sanders said.
 
When asked by moderator Anderson Cooper if he thinks the Democratic governors who say fracking can be done safely and has helped their economy are wrong, Sanders replied, "yes."  
 
Further differentiating himself from Clinton, Sanders made it clear Clinton has the support of the governors and senators in the Democratic Party who, like her, are the establishment players taking money from the oil and gas industry. He contends taking money from corporate sponsors makes you beholden to their interests.
 
Yet Clinton maintains she is not influenced by money from her contributors. When asked by Cooper about a fundraiser she attended in Philadelphia at the headquarters of Franklin Square Capital Partners, a major investor in the fracking industry, she said, "I don't know that."
 
"Maybe while she was courting fracking financiers in Philadelphia she missed the massive leak at Porter Ranch, where for over 100 days a natural gas storage facility sent a geyser of potent greenhouse gas into the air, " Fox wrote. "Let's hope that she can reject the path being paved for her by fossil fuel industry money."
Blog image credit: Republican presidential candidate Donald Trump at campaign rally in New Orleans. ©2016 Julie Dermansky